Close Encounters: Black Bear Meets Rider
In adventure motorcycling, also known as ADV moto, you often go places cars can't, people often don't, where animals happily live in peace. So when you stop for a snack, or to check on your bike, you may have a close encounter of the motorcycle kind. In May of 2009, that's what happened to Karen Sea on the Mt. Washington Auto Rd in New Hampshire. Living in Conneticut, she and her hubby were out on a road trip a couple states away. 
"My bike overheated and began to leak antifreeze so I pulled over to let it cool down. My husband was on a bike behind me and took all the photographs.The sow smelled the sugar in the antifreeze and came out of the woods to investigate. I had no idea she was there when I stopped. When the twins also came out of the woods I realized how serious the situation was. She came out, sniffed around my bike, passed behind it and actually climbed up onto the rear rack before my husband shouted to me to start my engine back up. NH Fish and Wildlife figure she was a first year mamma at 180lbs and the twins were estimated at 6lbs each."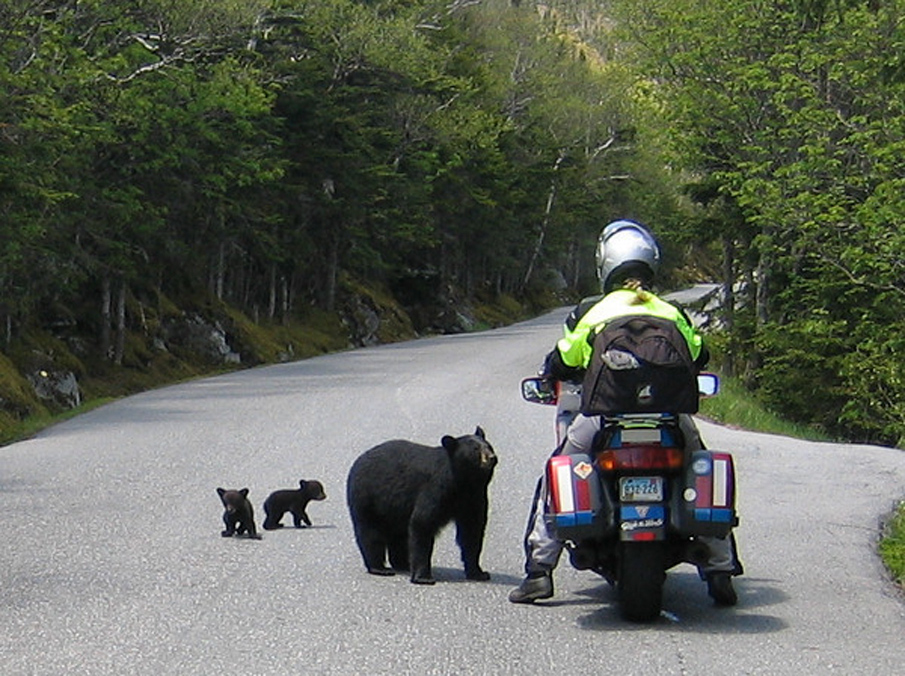 "There really are no words to describe the terror. She may have been a little bear, but she was still a mama with twins. And the black bag on the back of the bike contained 2 sandwiches, a bag of chips, some cookies…"
"When he suddenly yelled, 'Stabilize your bike, stabilize your bike… START YOUR ENGINE… while honking his horn, she got down and went to the side of the road and we road off.' The situation had gone from neat, to dangerous to… 'ohh god I am gonna die in a hurry.' It was time to get out of dodge!"
Good thing she did, too. As we all know, it's a bad idea to get between a mama bear and her cubs. Seems to me like Karen didn't have much of a choice- wrong place, wrong time. Remember to familiarize yourself with animals native to areas you choose to ride through- having species specific knowledge can save your tuckus in a sneaky situation like this.
Oh, and for those of you concerned, Karen is a cat owner and only uses animal-safe antifreeze, so if in case the bears did lick it up, they'll not have been poisoned.
Posted on August 19, 2014 in MotoLadies, News & Features by Alicia Mariah Elfving