Motorcycle Pumpkin Carvings
Pumpkin carving is an art practiced (usually) only once a year. Which is why I find cool pumpkins so impressive. Some of these are less amazing than others, but A for effort and subject matter. Yay… motorcycle pumpkin carvings!
Great Marco Simoncelli wheelie tribute pumpkin carving by Nikita on the South Bay Riders forum.
Detailed Honda CBR sportbike from DeviantArt.
Detailed Harley shield (clothes logo, though, which is strange) from MotoBlogn.
A 3D Yamaha R1 from Custom Fighters forum.
Bonus round! A Triumph motorcycle that looks like a pumpkin!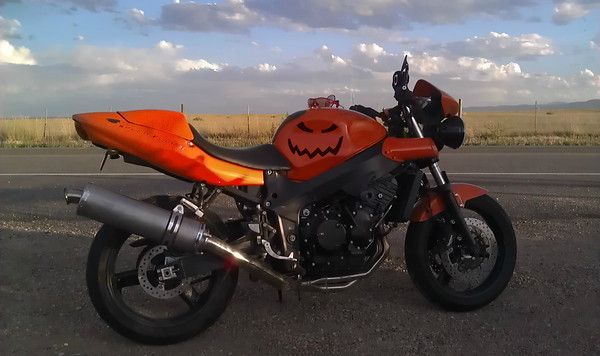 Happy Halloween, everyone!
Send me your motorcycle related costumes and pumpkins on the contact page!
Posted on October 31, 2014 in Art, Blog by Alicia Mariah Elfving