Reader Question: Knee Armor
Q. Hi MotoLady! I was wondering where you got your armor for your legs from (make and model would help greatly!)? I am so tired of wearing my riding pants, as it heavy and just not flattering..looking for another option that will allow me to wear regular pants and still feel safe. Thanks! love your blog!
A. Hi there, and thanks for the compliments on the blog! Very glad you enjoy it.
As for the knee armor, I have two different types that I use and enjoy for different purposes and with different boot/pant combos for comfort.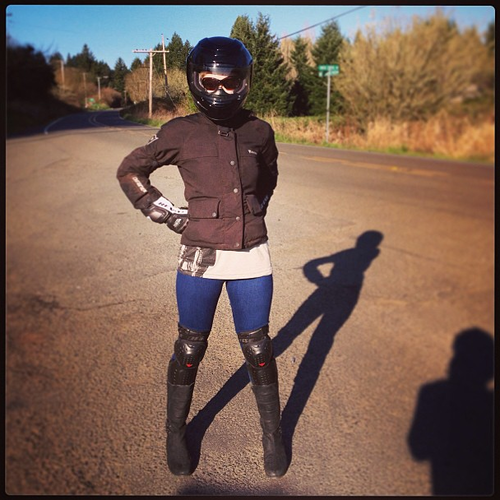 Icon Stryker Knee Guard ($105 on RevZilla)
Some of the perks of these is that they're very sturdy, would fit bigger people well (I'm petite and they fit fine), and that they're lined with Hydradry which wicks moisture. Air channels help with cooling, too.
Dainese Knee V Guard ($65 on RevZilla)
The Dainese shin and knee guards are a little longer than the Icon version, and they've come down in price since the style I have. Mine don't have the same lower straps (they just tuck into boots) but otherwise are very similar. The perforation in the plastic is nice too.
I would definitely suggest picking some up! While it's not as safe as wearing leather or textile riding pants (especially with the lack of hip/thigh/butt protection) it is a huge step up from riding in only denim.
Posted on April 23, 2013 in Blog, Gear & Gizmos by Alicia Mariah Elfving