Motorcyclist Magazine + Motolady Ducati Scrambler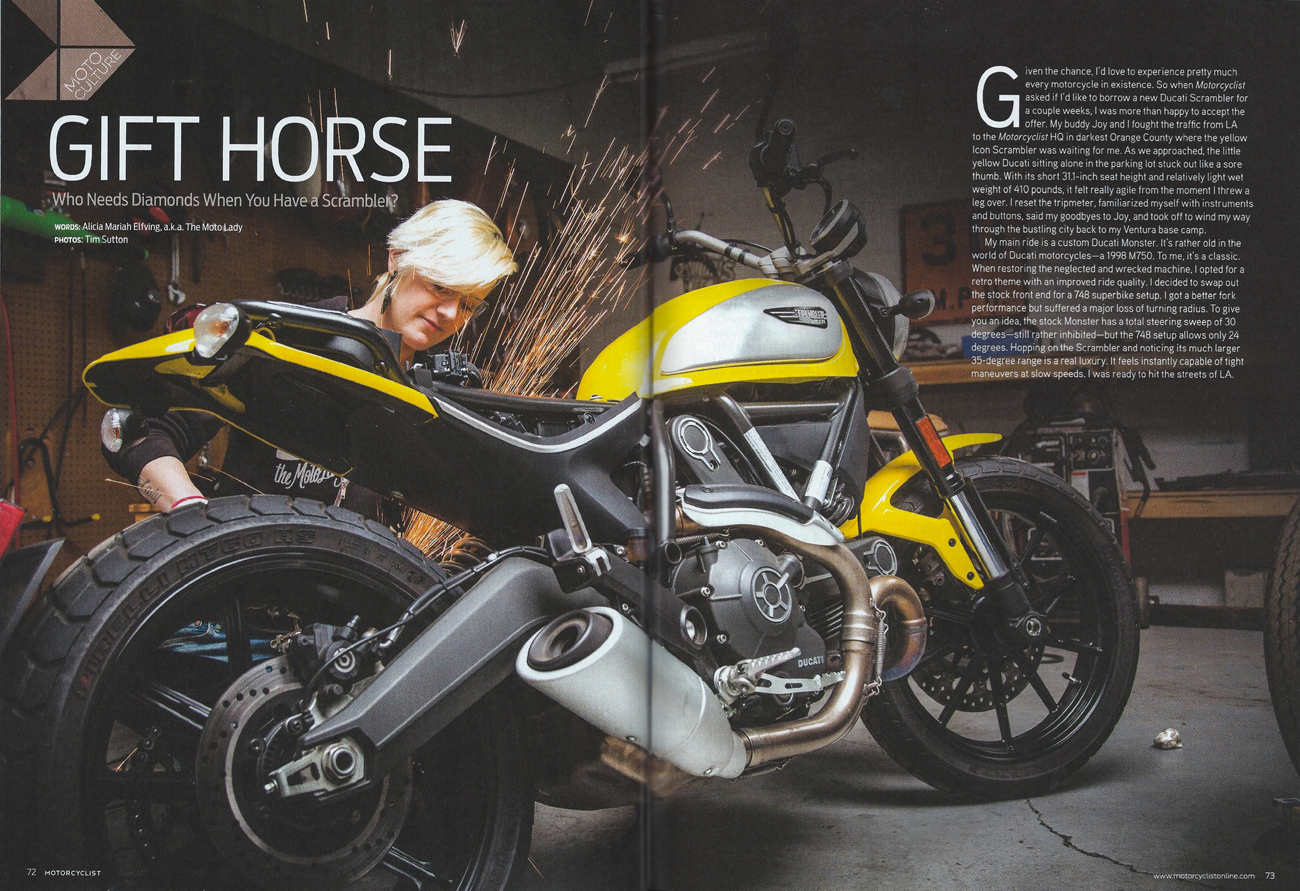 A few months ago, shortly after the Ducati Scrambler was released upon the world, I was fortunate to have one to ride for a little while.
Motorcyclist Magazine hooked me up with the new Ducati Scrambler 'Icon' model, and after a few weeks of riding, we got together for a photoshoot before I sadly had to return it. All good things must come to an end, right? Well, as many of you have probably seen, the images ended up accompanying an article I wrote about the experience, and the ride quality and nature of the Ducati Scrambler. If you haven't read it, you should go pick one up.
In general, I loved the Scrambler. With a few modifications some of the superfluous plastic bits would be no more, and you could make it yours with some extra baubles and bits in a flash. That being said, the throttle is really touchy and I wouldn't necessarily suggest it for beginners without some fuel mapping or whatever you have to do to fancy new EFI bikes (I don't have a lot of experience with that side of things). For instance, riding on the [terribly bumpy and poorly paved] Los Angeles 405 freeway at about 70 mph, it takes great effort and throttle control to keep an even speed. I had to work to ride smoothly behind a photo-car in Santa Barbara up hill through twisties at 25 mph on really torn up pavement. Ducatis aren't known for being crazy smooth especially at low speeds because of their torquey engines, but still, this one is a little extra snappy. I do think it could be solved, however. And some people don't complain of it as much as I do… but with sore lil wrists from computing most of the day it got tiresome for sure.
Through twisties and turns I was reminded it is not my Monster, nor is it a sportbike really, and your riding must be adjusted as such. Once I got the hang of the radical change in body positioning I fully realized it's capabilities in corners because it's super light and has the quickness. It's not fast to the point that it's completey excessive for the street, but it'll happily wheelie if you want it to- all night long. And no, I didn't.
It sounds good, feels good, looks great, and comes in at a great price point. It's size and weight is totally manageable for a petite lady. So generally speaking, I give the Ducati Scrambler a big thumbs up.
Photographer Tim Sutton had some fun with me throwing sparks (they make everything cooler right?!). Insert serious face.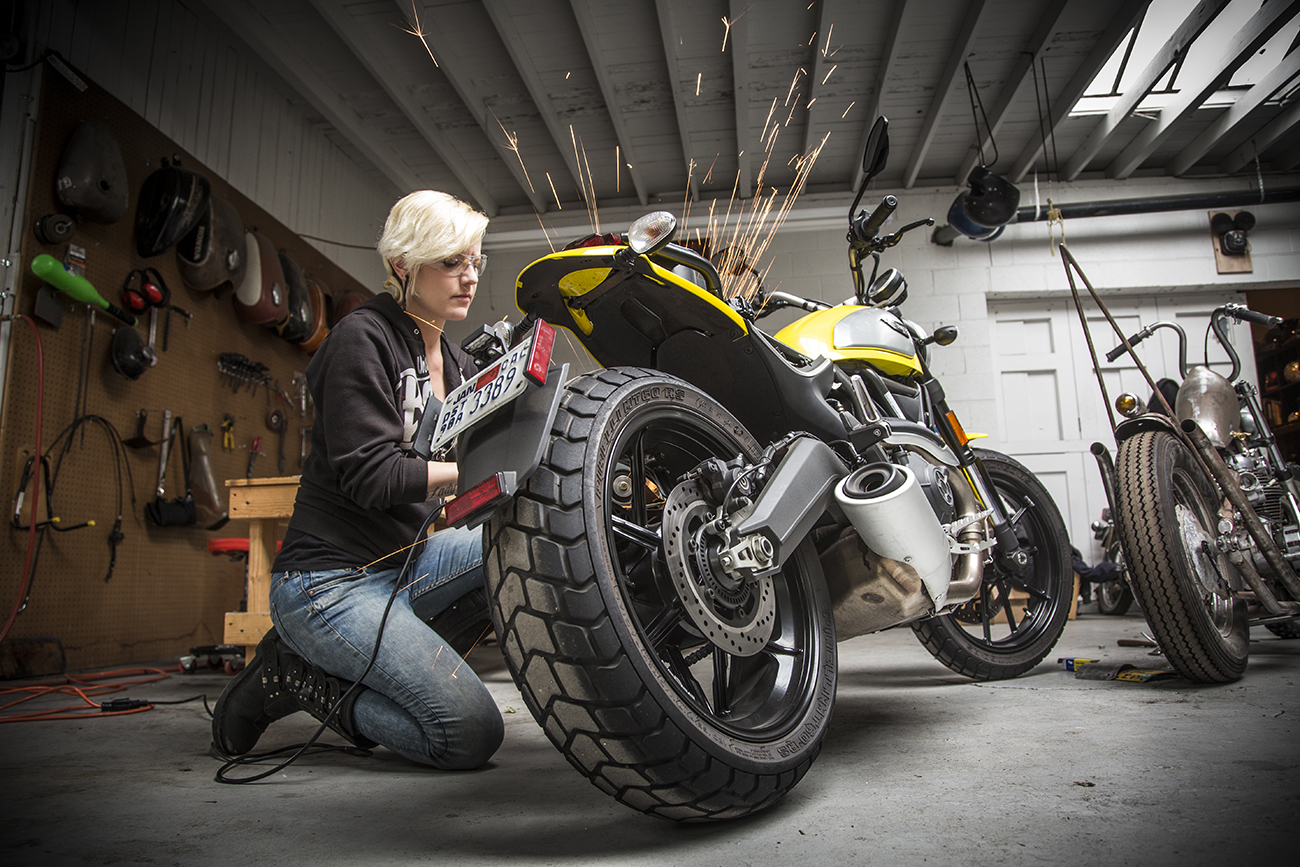 The photos were taken at the Ventura Compound (no longer a MotoLady base) before I crashed the Monster, so Pandora also makes an appearance. These are some of my favorite photos because Tim is such a talented photographer, I mostly just hung out and chatted with Motorcyclist's editor Marc Cook for a few minutes while he sneakily snapped shots in the background, and before I knew it we were done. Candid images are always way more representative of a someone's personality.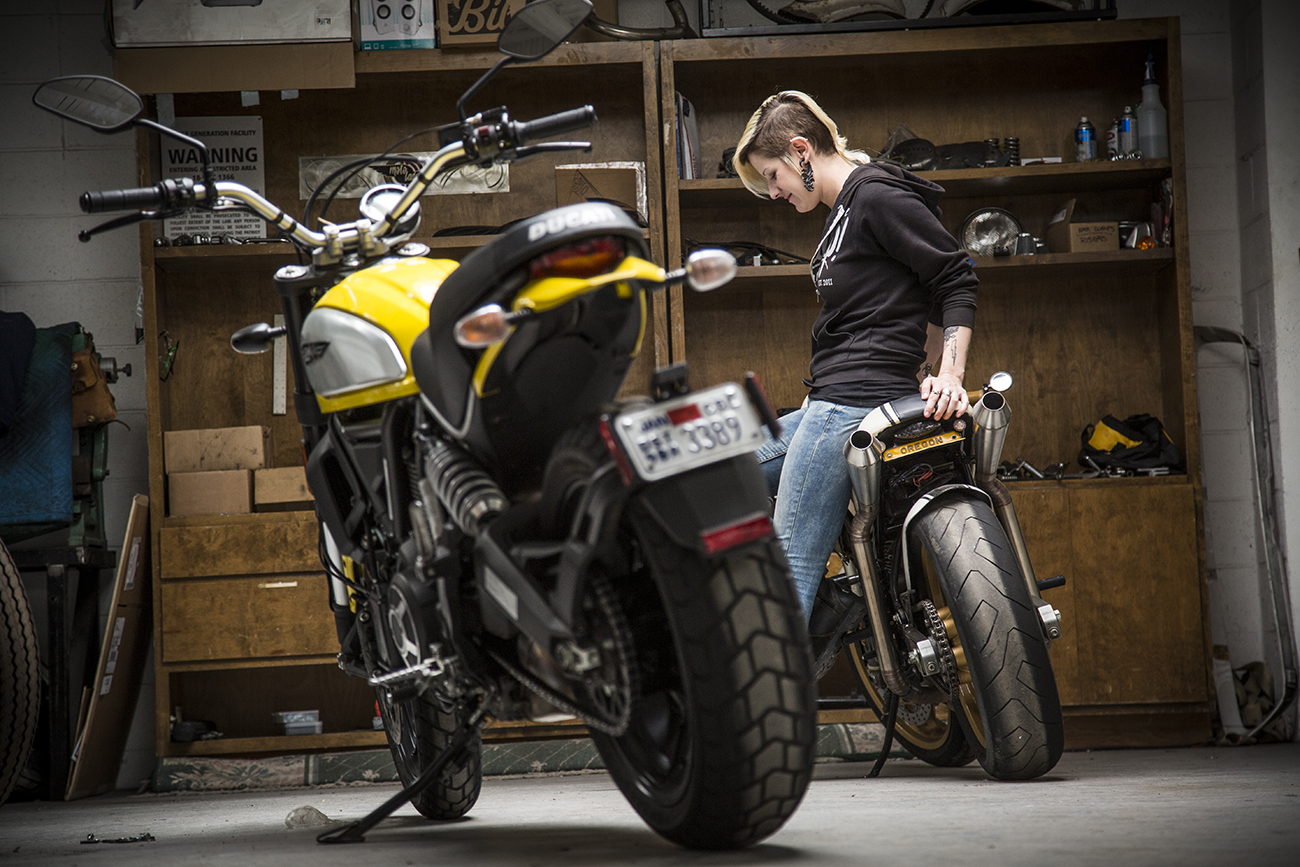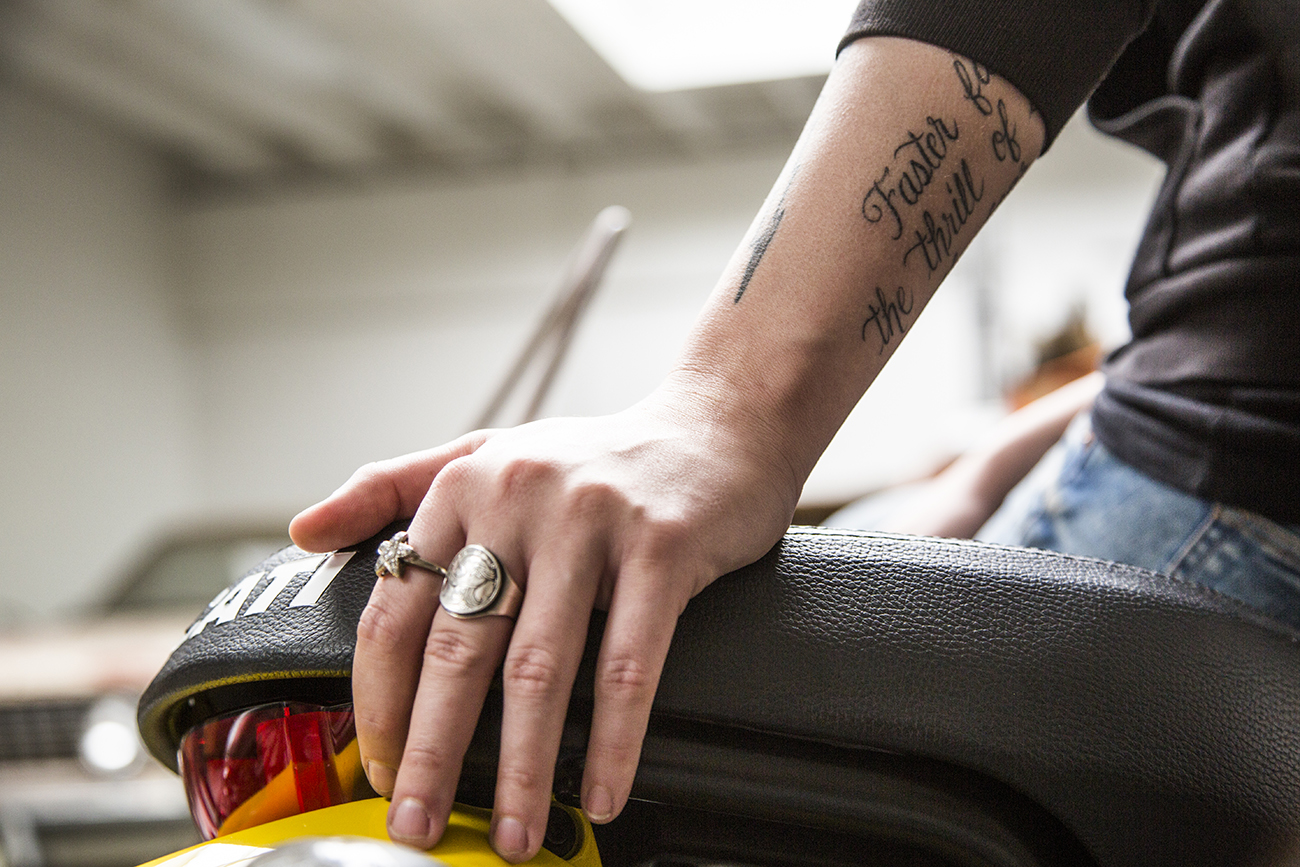 After the photos inside, we geared up and got lunch on Main Street at Saloon BBQ. (If you're curious about any of the gear- the list will be at the bottom of thr article!)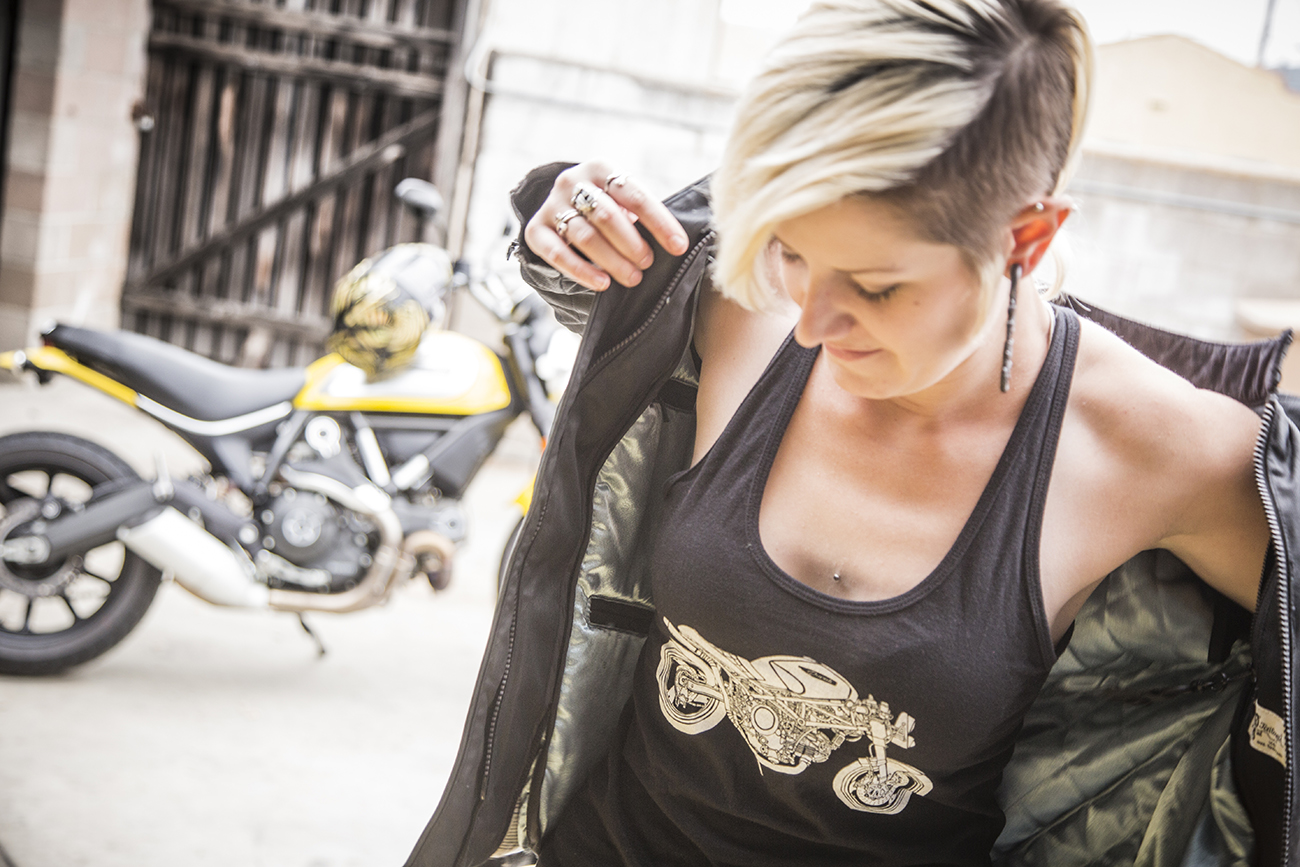 After lunch we took some photos riding down by the beach and Ventura Pier.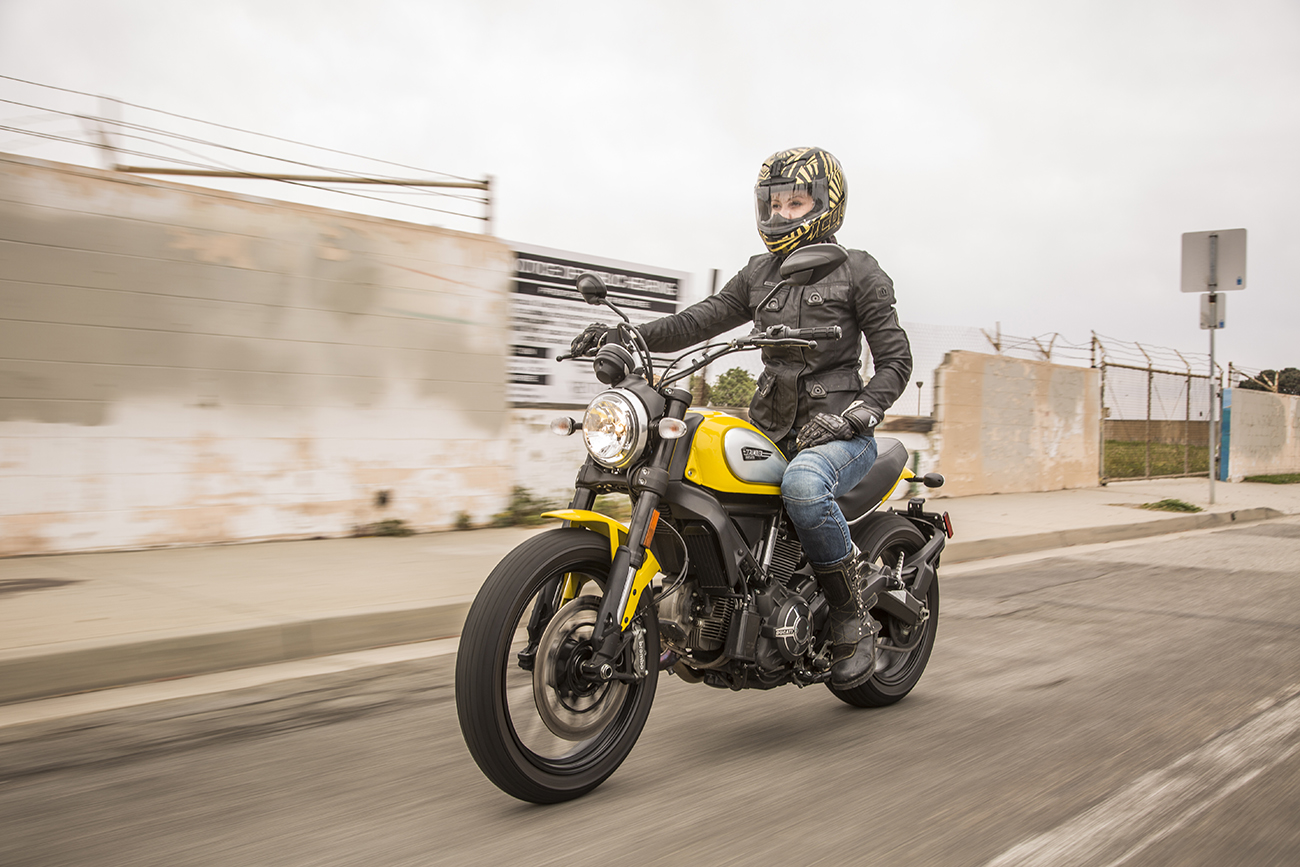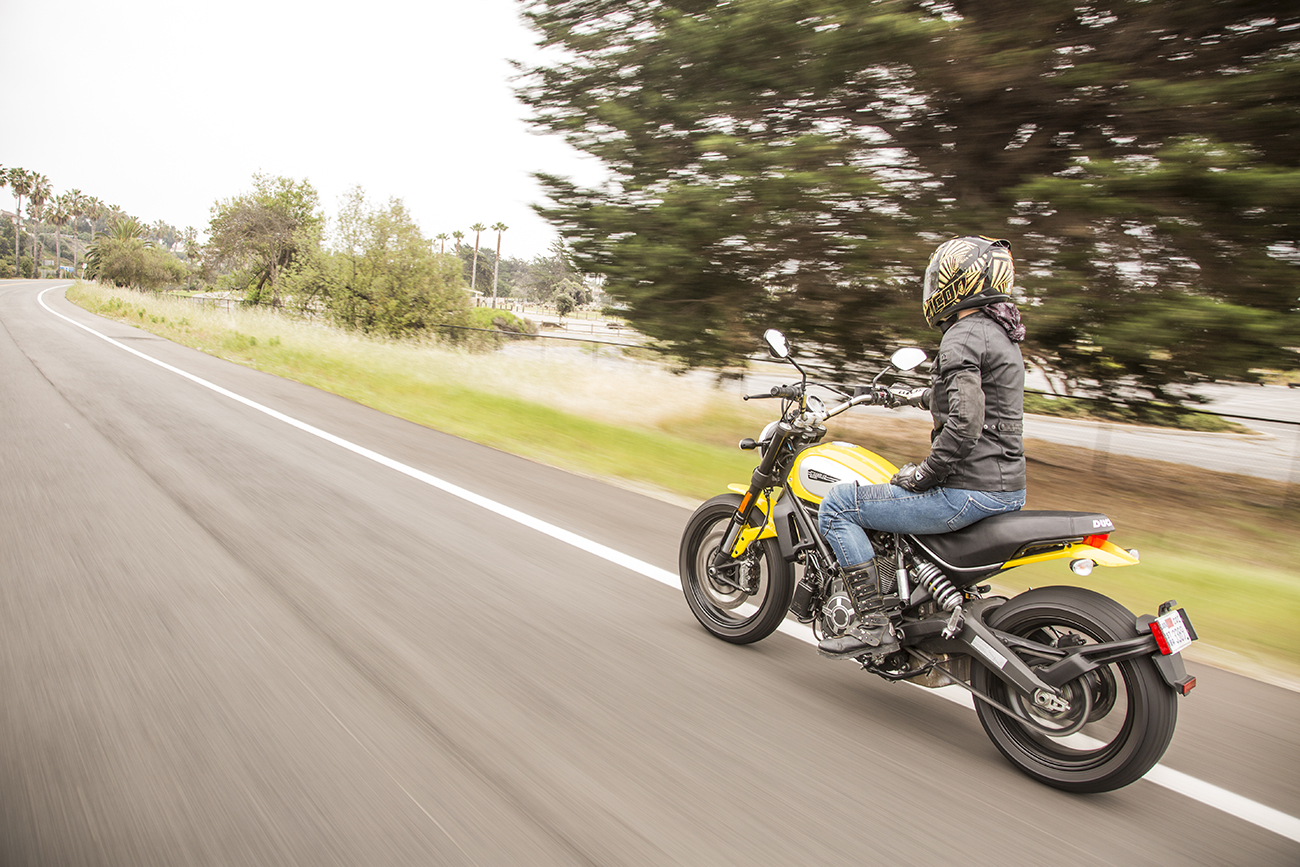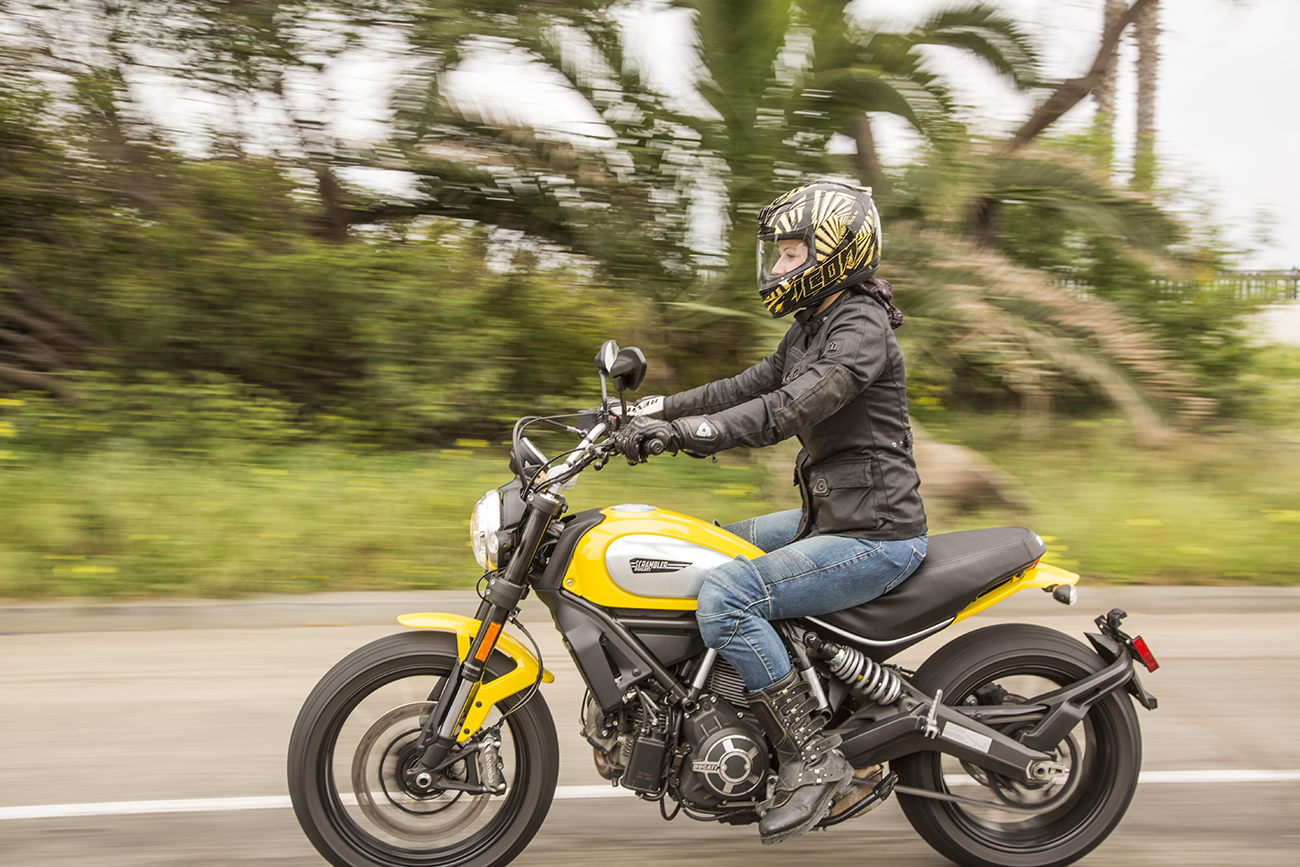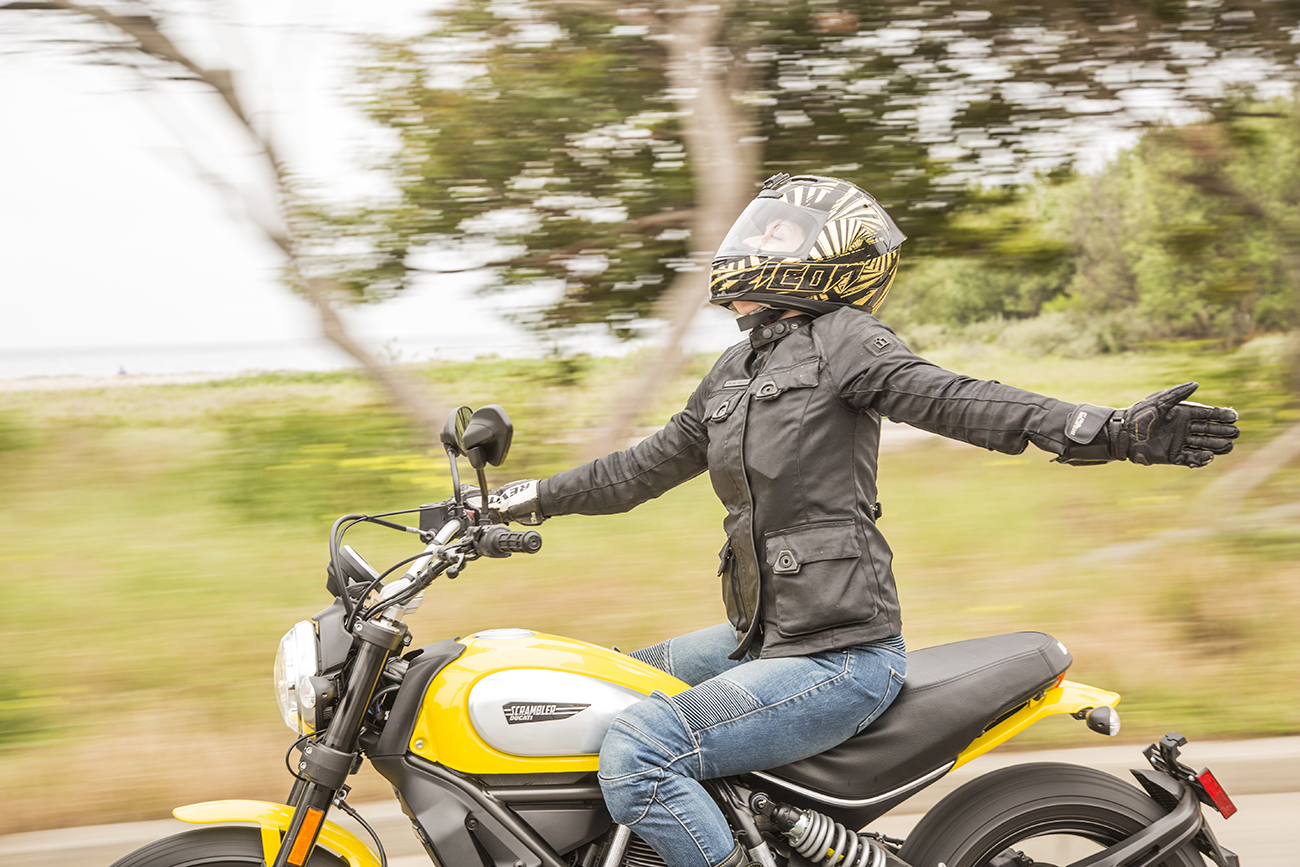 Yeah, it makes ya feel like that even with a touchy throttle and having just gotten a $360 speeding ticket on it the day before.
gear: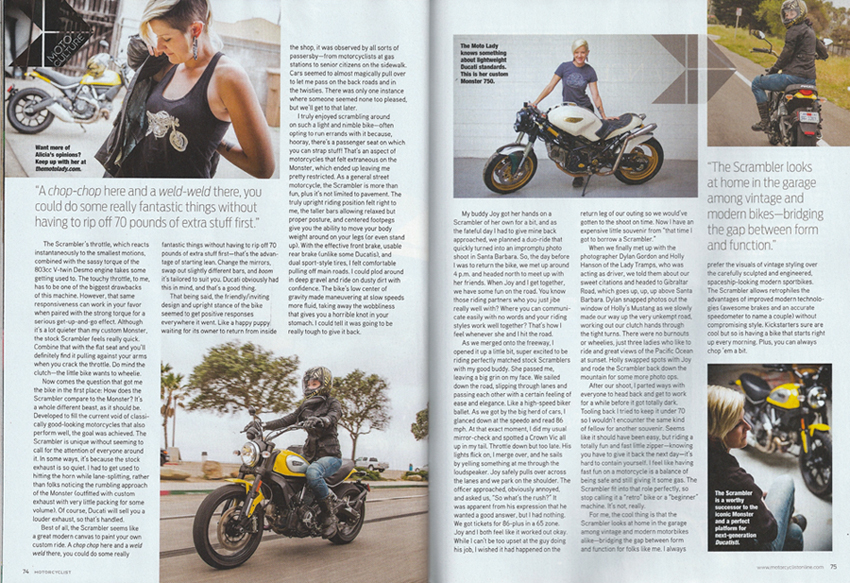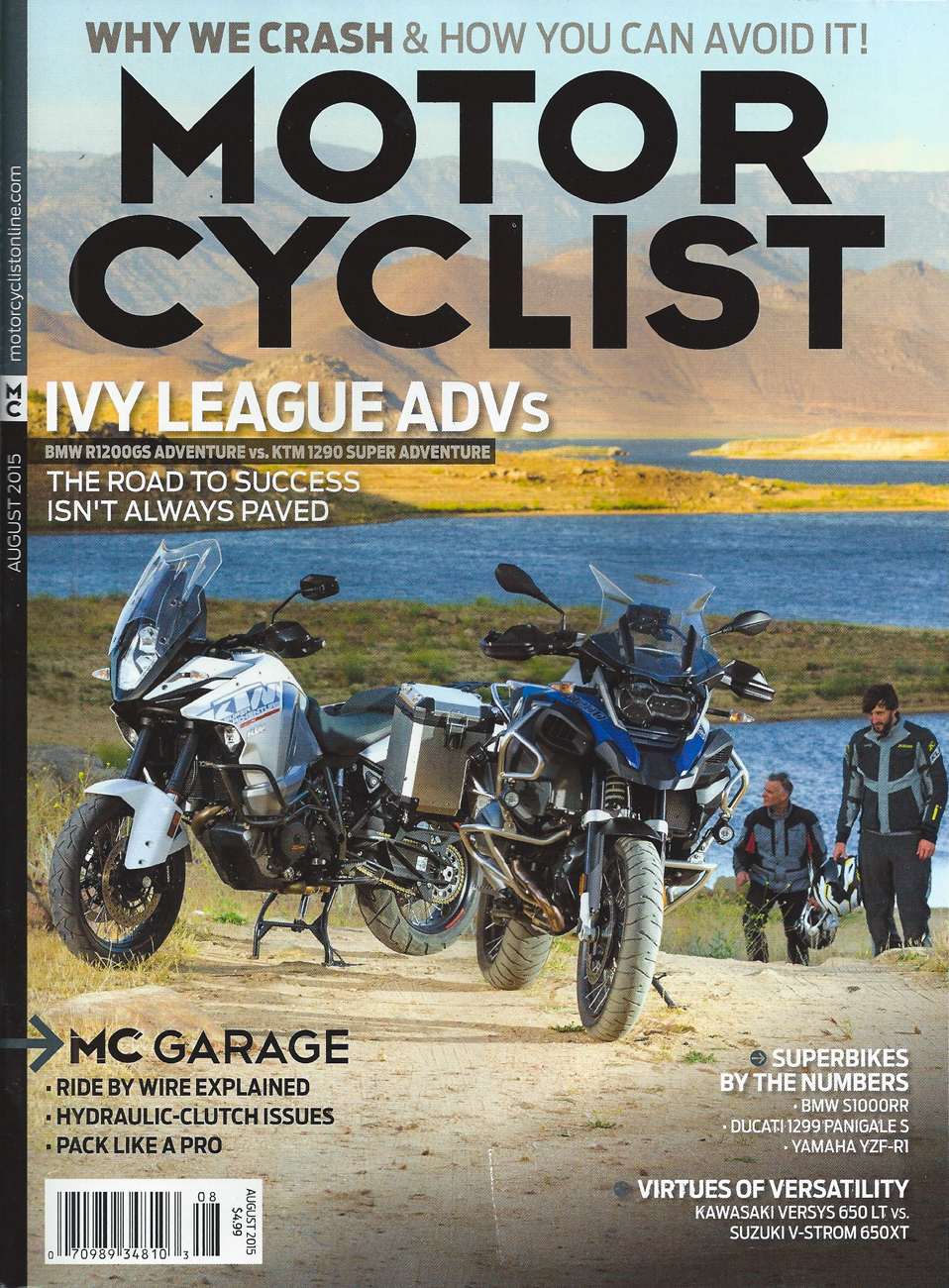 Big thanks to Motorcyclist Magazine for the article, Marc Cook for making it happen, and Tim Sutton for the great photos.
Photos copyright Tim Sutton/Motorcyclist Magazine 2015.
related: 
tagged: Ducati | MotoLady
Posted on August 24, 2015 in Blog, Motorcycles, News & Features by Alicia Mariah Elfving