The One Motorcycle Show 2015
The One Motorcycle Show started six years ago in Portland, Oregon.
Event organizers always showcase a wide variety of motorcycles- rare, weird, frankenbuilds, restorations, or even vintage barn finds, that were all chosen by the owner as the ONE bike they would want forever. We all know that the proper formula for how many motorcycles you should have is always n + 1, where n represents the number you currently own. However, if you could only have one, what would you choose?
It was my intention to go this year as I have each year prior- but it just didn't work out. So, in my stead, Karissa Coffey of the Rainier Ravens took photos and wrote a guest post covering the event. While I may not have been able to make it, I was at least there in spirit- photographs taken by Shaik Ridzwan at the ESMB Babes on Motos 5 event on display (above) included one of me and my Monster!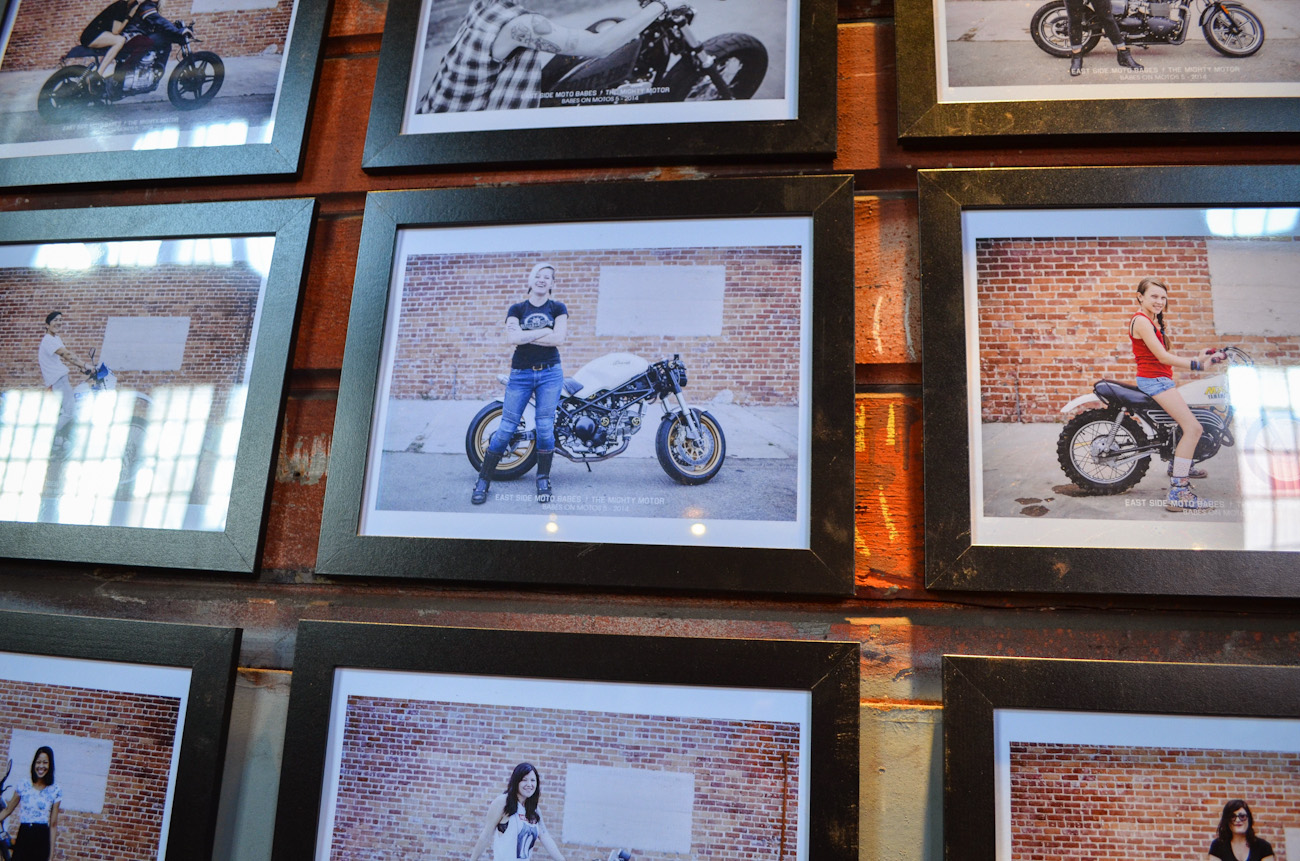 Alright, now for the goodies from Karissa-
With much anticipation, I departed for The One Moto Show (the1moto.com) on Friday. The text messages, instagram direct and facebook messages were constantly flooding in, "Are you here yet? Where are you? Hurry up, the line is already around the block!" Around the block? After attending five out of the six shows, each show outgrowing the last, I wondered if maybe this year's venue was smaller or maybe the show had gained even more popularity. Regardless of the line's length, I arrived at the show expecting to recognize people in the crowd, but the crowd was so large all I could see were smiling faces eager to enter the show. I joined them in line while drinking bourbon from my flask and eagerly waiting for someone to leave so that I could get my turn in the show.
After twenty minutes in line, I passed through the gate and couldn't help but notice the mini bike track, where for ten bucks you could sling your way around the track and if you're lucky end up in the hay bails.
I continued inside to a very open industrial space that appeared to have been a factory at one time but now has been converted into motorcycle heaven for the show.  The exposed brick walls were covered in various forms of moto themed art most of which was hands down impressive; obviously contributed by artists with a passion for motorcycles.  Throughout the building custom motorcycles were carefully placed along with the art in a way that enhanced the character of the whole presentation. I was in awe. Seriously in awe. The creativity and quality of craftsmanship of each bike has improved year over year.  This year is no exception.
After a quick walkthrough I decided to grab a beer of which they had a nice selection this year and search for friends and other motorcycle fanatics that I wanted to finally meet in person. Finding those folks in the large and growing crowd proved to be a difficult task. I navigated my way to the Twinline Motorcycles display in hopes of seeing their incredible bikes and finding fellow Rainier Ravens members Tanya Wenborg and Caitlin Quinby, both of whom helped their significant other build their own bikes displayed at the show. Tanya presented a lime green '72 Honda CL175 Scrambler and Caitlin showed her '91 Honda CB250 (originally a Nighthawk). Catilin's bike was specifically built to accommodate her petit size and fit her perfectly. Both bikes were very popular at the show and for good reason.
Next up I was off to find the folks from One Down Four Up – Gabrielle Jones and Wayne Corbett. This is their second year entering a bike in the show. Last year they made quite the impression with their '75 Harley Sportster and to their surprise earned the "Yes I Would" award. This year they entered  Gabrielle's sweet '75 Yamaha DT250.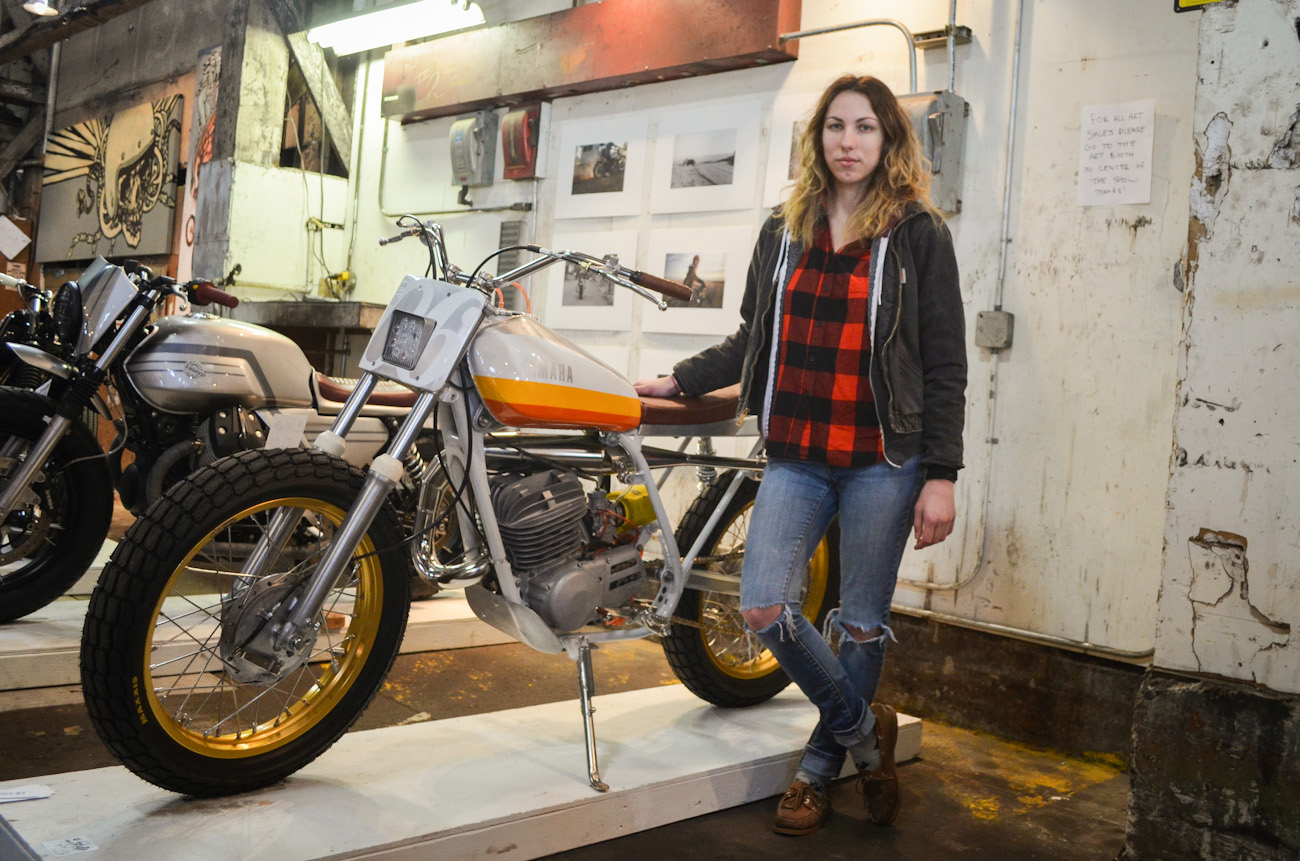 This bike was built to meet all of the rules to race flat track and it is street legal. Gabrielle spent many hours hand sanding the aluminum tank and prepping the bike for it's unique paint job and Wayne spent countless hours in fabrication to make this bike exceptional. The bike's exposed aluminum shines beautifully through the clear coat to create an incredible contrast with the orange and creme paint scheme, nickel replaces chrome to give the bike a very robust and substantial look.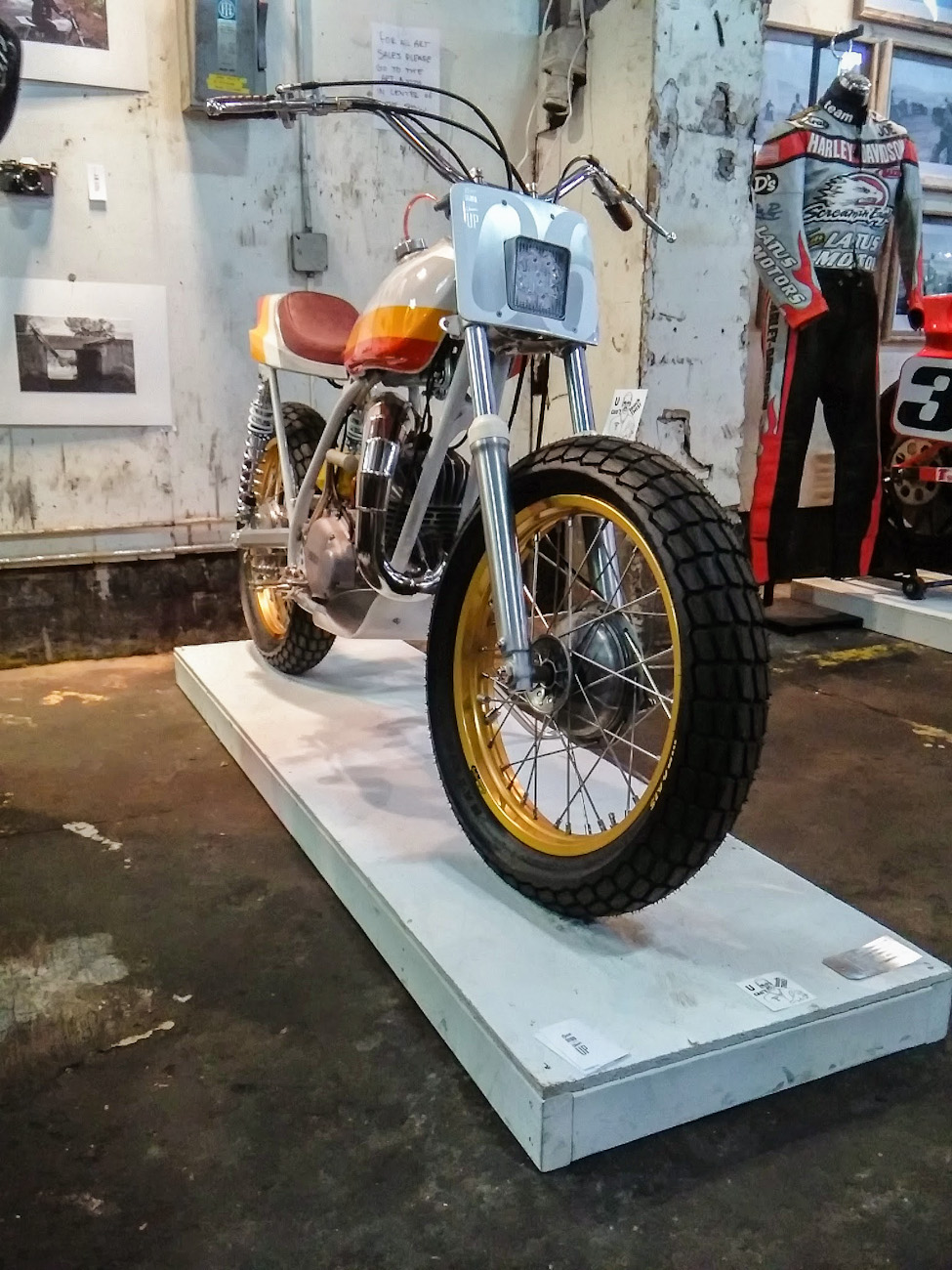 I'm certain this contributed to their winning of the "People's Choice" award this year. In a surprise contest to determine the ultimate winner Gabrielle knocked out 20+ pushups to seal the deal and went home with a belt buckle leaving a custom One Moto Show flask to the builders who tied for the award Scott and Brad Baker. Gabrielle & Wayne have told me they have plans to enter another bike in the 2016 show, and I think given their track record they just may in the running to win a third award!
Friday night's band rocked it until the Fire Marshal shut the show down sending everybody out to the local bars to continue the party.
Saturday morning I stopped by See See Motor Coffee Co. for my usual americano and ran into Leticia Cline, and her husband Jason Paul Michaels co-founder of Dime City Cycles.. I have only known Leticia through social media and it was great to finally meet her face to face. She has a tremendous love for motorcycles and is an inspiration for ladies who ride.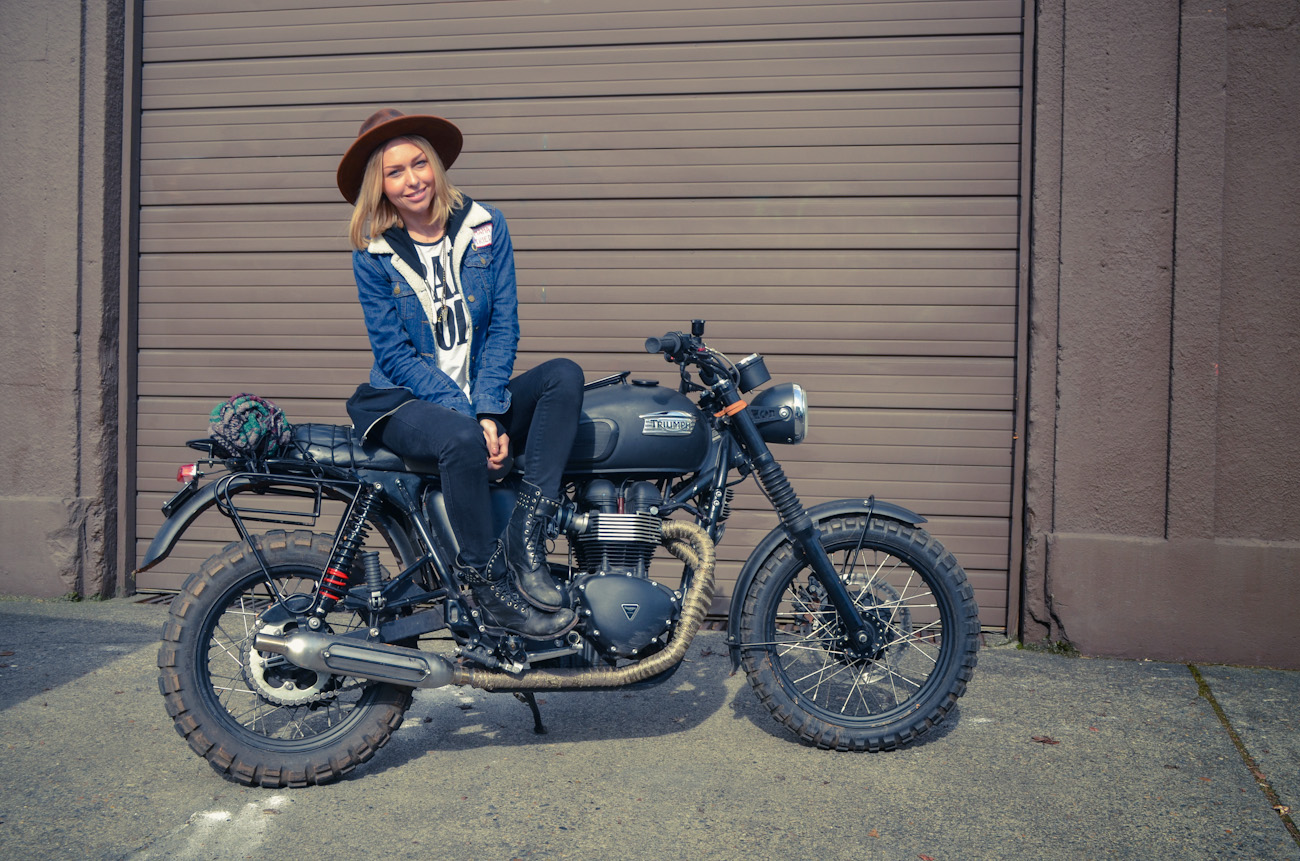 After coffee, I met up with the Rainier Ravens from Seattle, The Headlights based in Oregon, and Abby Anderson of the Denver based Scarlett Headers for a quick photo shoot. It was great to see these groups come together and share their enthusiasm for motorcycles. I can't tell you how exciting it was to get so many amazing ladies together in one place. A few of us went to breakfast with Abby, where talked about motorcycles, clubs, as well as what we've learned about riding and wrenching on our bikes.
I returned the show Saturday evening and was enthusiastically greeted by Stacie B London and Kristin Rademacher of the Los Angeles based East Side Moto Babes. These girls are crazy! We giggled and laughed, talked about the ESMB club and what they have coming up, exchanged a few stories and promised to visit each other in the coming months.
As the weekend came to a close, and I thought of all the people I met, I was reminded that the bond between those who ride is strong. Whether you're a man or a woman, there's something special about being in this collective club. Maybe it's the passion each of us has for whatever it is that inspires us and when you get that many passionate people in a room, how can you not be stoked? This year's show definitely featured beautiful bikes, but more than anything, it brought extremely passionate people together and gave them an opportunity to share what they love with people from near and far away. It gave birth to new friendships, opened the door for new opportunities and inspired many to get out and explore the world on two wheels. If you have never been to The 1 Moto Show, I encourage you to go next year, don't just admire the beautiful bikes, talk to the beautiful people who built them, who ride them and who love them, find out who's there and what inspires them, you won't be disappointed. ▪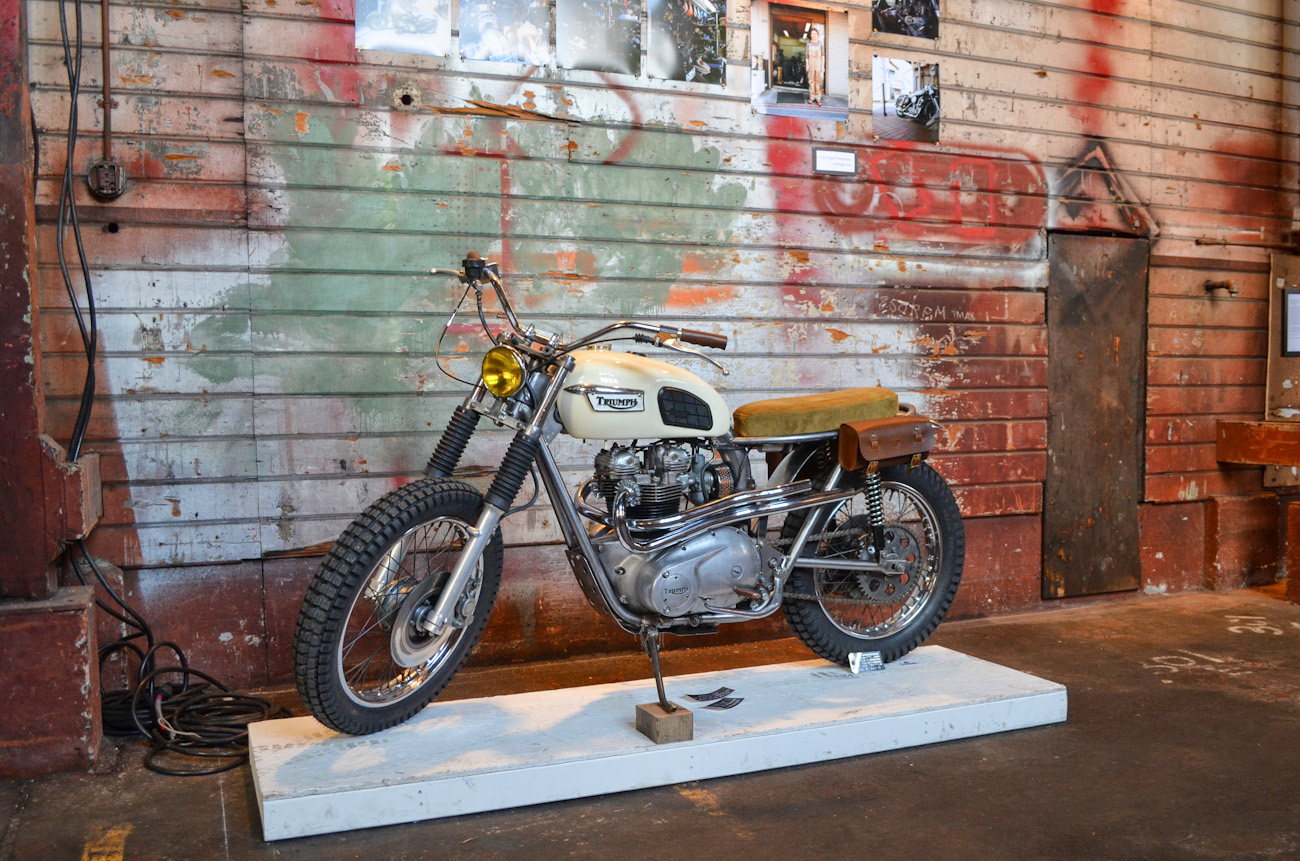 Photographs by Karissa Coffey for themotolady.com, copyright 2015- follow Karissa's blog at karissawould.com. 
And to top it off, here are some other great photos from this year's show by Travis Holland. For instance, Icon's new builds, some detail from RSD, etc.
…Plus one more of Travis hitting the minibike track by Micah Vince.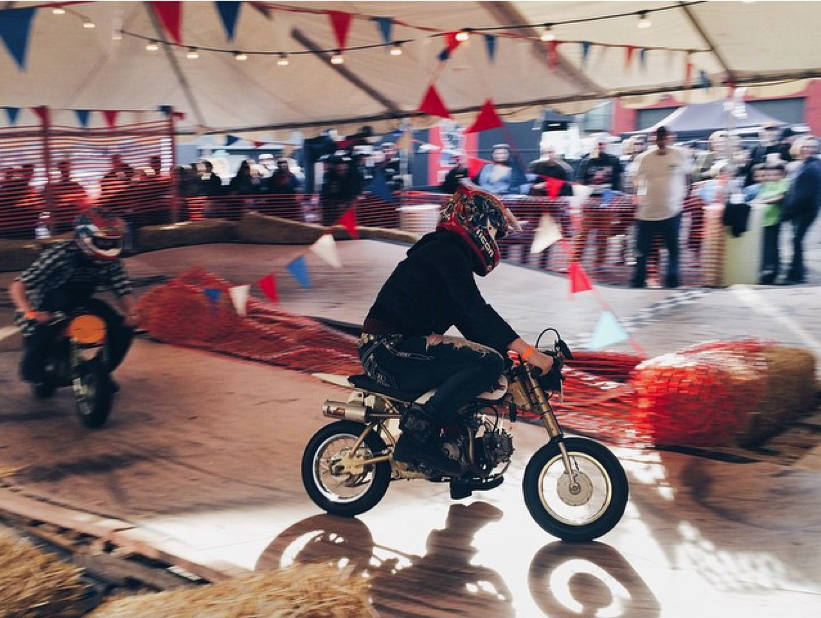 Take a look at past posts featuring the One Motorcycle Show– for instance when the Monster was turned into an ice sculpture.
Posted on February 20, 2015 in Events, News & Features by Alicia Mariah Elfving