Stolen Cannonball Motorcycles Recovered: The Power Of The Internet?
Let me just start by stating the fan-freaking-tastic news- THE STOLEN CANNONBALL MOTORCYCLES WERE RECOVERED TODAY.
The motorcycles, trailer, and truck were stolen from the Hotel Murano in Tacoma sometime Monday night/Tuesday morning. Just a day after they were announced stolen by owners, they were recovered in Seattle, Washington. The posts immediately went viral- almost every American based motorcycles news venue, blogger, and many riders posted the news in effort to help recover the bikes. Yesterday my instagram feed was literally flooded with posts about the lost vintage motorcycles.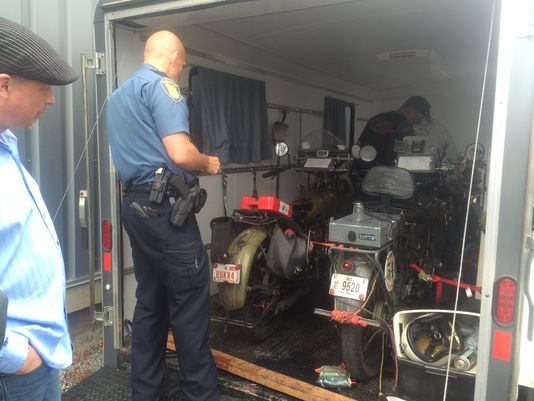 In case you don't know, the Motorcycle Cannonball event is a big deal- a coast to coast ride on antique motorcycles. We're not talking bikes from the 1970s- these are rare, often irreplaceable bikes. No motorcycles manufactured after 1936 can compete for the prize.
King5 news states-
"Early Wednesday morning, a worker in Seattle's SODO district noticed the trailer parked in an alley near the Old Rainier Brewery. He looked inside the window of the trailer and recognized the bikes and the Motorcycle Cannonball logo on the trailer from Facebook posts about the theft."
The stolen Ford truck was recovered later in Auburn, a town about 30 minutes outside of Seattle. The news is reporting only four of five bikes were recovered, however in the original post I saw yesterday it stated only four bikes were stolen… so we'll see.
From Buck Carson, the owner of the shop transporting the bikes-
"ALL FOUR MOTORCYCLES RECOVERED. Spare parts are gone, spare engines gone, and some small things stripped off. Appears that the trailer was located in the Port of Tacoma, ready to be shipped overseas. THANK YOU to all for helping spread the word."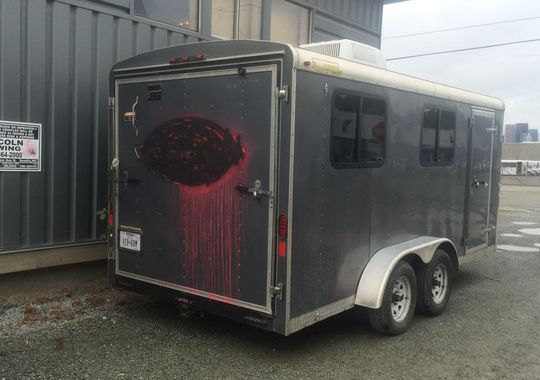 Now, this is all hypothetical hyperbole- but could this be related to the power of the posts going viral on the internet? Last year my friend Emma's Triumph Bonneville was stolen (and recovered) in Long Beach. It was said that the thief saw that the bike theft blew up on instagram and facebook, and frightened from the extra heat, he ditched the bike. Could it be that the crook(s) who jacked the Cannonball bikes either a) realized after the fact the precious cargo in the trailer, or b) there was no way in hell they could do anything close to valuable with these bikes, as they quickly became infamous across television broadcasts, huge news mogul sites, grass roots sites, and social media platforms.
Either way, we're all super happy that they'll be back in the owners hands.
Posted on September 24, 2014 in Blog, News & Features by Alicia Mariah Elfving