The Greatest Escape: Ride & Event for Charity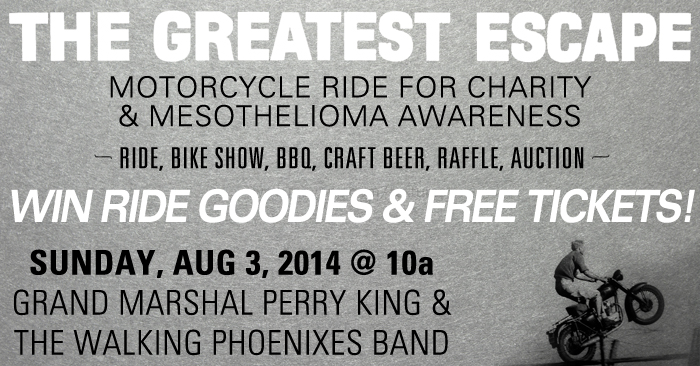 The Greatest Escape: a motorcycle ride for charity and mesothelioma awareness on August 3rd, near Los Angeles (thegreatestescape.org).
You may or may not know that Asbestos-caused Mesothelioma is the cancer that killed the motorcycle culture's beloved Steve McQueen. Out of that tragedy, the folks at the Pacific Meso Center in Los Angeles have organized an event to help celebrate how far we've come in treating the condition, and to raise funds for research to continue helping sufferers.
You do not have to attend the Greatest Escape event to win, nor do you need to be a California local. Simply follow the steps within this link (right here, click right here). 
The winner takes home: 
– Two (2) Tickets to Ride: includes BBQ lunch, craft beer, concert, prizes and more
– Event T-Shirt
– Event Ride Bandana
– Ride Pin
Posted on July 25, 2014 in Events by Alicia Mariah Elfving