Krystal Hess Rides a 1908 Thor Model 7 Motorcycle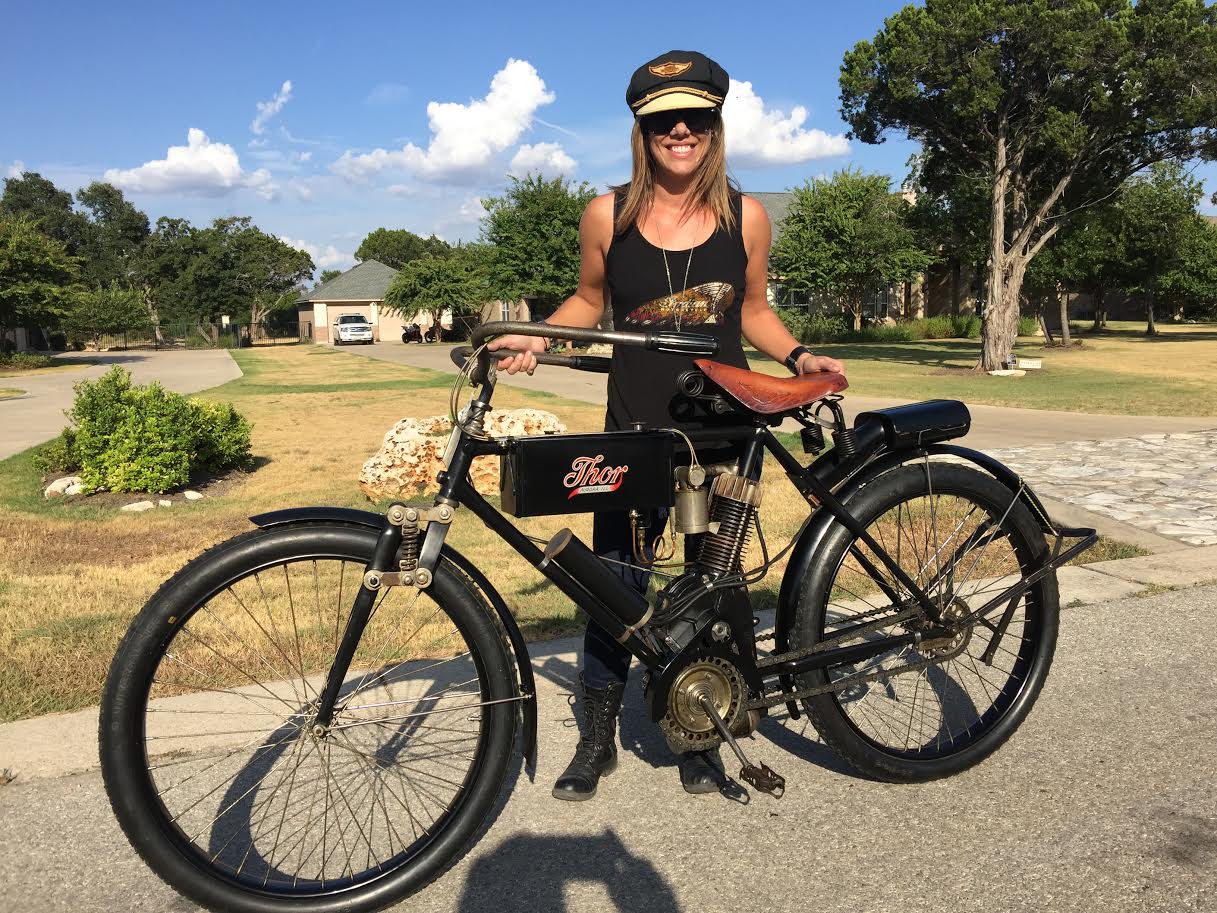 This 1908 Thor Model 7 motorcycle is one of only two in the world, and Krystal Hess got to take it for a spin.
Firstly, Krystal is a really rad lady who owns Richochet Customs, a powdercoating business in Austin, Texas, builds bikes, and is generally a really cool chick. You may remember her from previous features including "Spinderella" her custom Suzuki Savage cafe racer covered in photos of historic motorcycling women, or winning the people's choice award at the JP Cycles' Ultimate Biker Build off.
This time around, she talks about getting to ride an incredibly amazing and rare vintage motorcycle- a 1908 Thor model 7, one of only two in the whole world. And in pristine condition, I might add. As you can see, like many bikes back in the day, it's crazy tall for her. It also doesn't have the same ol "one up four down" configuration, or clutch for that matter. The bike, in the Steve Klein Collection, is a sight for sore eyes to say the least.
Alright, I'll let Krystal tell you about the bike's history, and how it rode.
"Thor was produced by Aurora Automatic Machine a bicycle parts manufacturer who initially supplied all the forged parts and motors to Indian from 1901- 1908. It has a 2.25 HP motor with direct drive (no clutch). You pedal the machine up to speed (about 20 feet distance) and snap the right grip to deactivate the motor compression release while also twisting the throttle (left side). The little motor pops right off and away you go. There is very little throttle response as carburetors were still not understood 107 years ago. So you play with the right hand grip (timing) while finding the sweet spot in the throttle on the left. Before riding one you must mentally prepare one's mind that it is 108 years ago and everyone walks, rides a bike or a horse… but you have a motor. This little Thor goes down the road easily at 35 mph. An amazing historical experience of what it was actually like at the very beginning of the motorcycle sport in America.
When my good friend Steve asked me if I wanted to ride his 108 year old motorcycle, my response was, "Uhhhh, YEAH"! But once the instructions on how to ride it were discussed, it was easy to get overwhelmed. Also, I'm 5'2″ and I couldn't get onto it or off without someone there to hold the bike upright (which made me wonder what I would do when it came time to stop). Not only that, just jumping off wasn't an option because the handlebars wrap right around you making it difficult to do so without being tangled. But, they did it 100+ years ago, so why cant I? Turns out, Thor was way more forgiving than I expected and I stopped gracefully (with a little help). Thor had speed and gusto and was a blast to ride, and I'm so honored I got to have that experience."
Color us all jealous. 🙂
related:

Twenty previously unreleased photos with the MotoLady built custom Ducati Monster by the incredibly talented photographer Jimmy Ban!
Posted on August 26, 2015 in MotoLadies, Motorcycles by Alicia Mariah Elfving