Mitch Sander's 1966 Custom Triumph Bonneville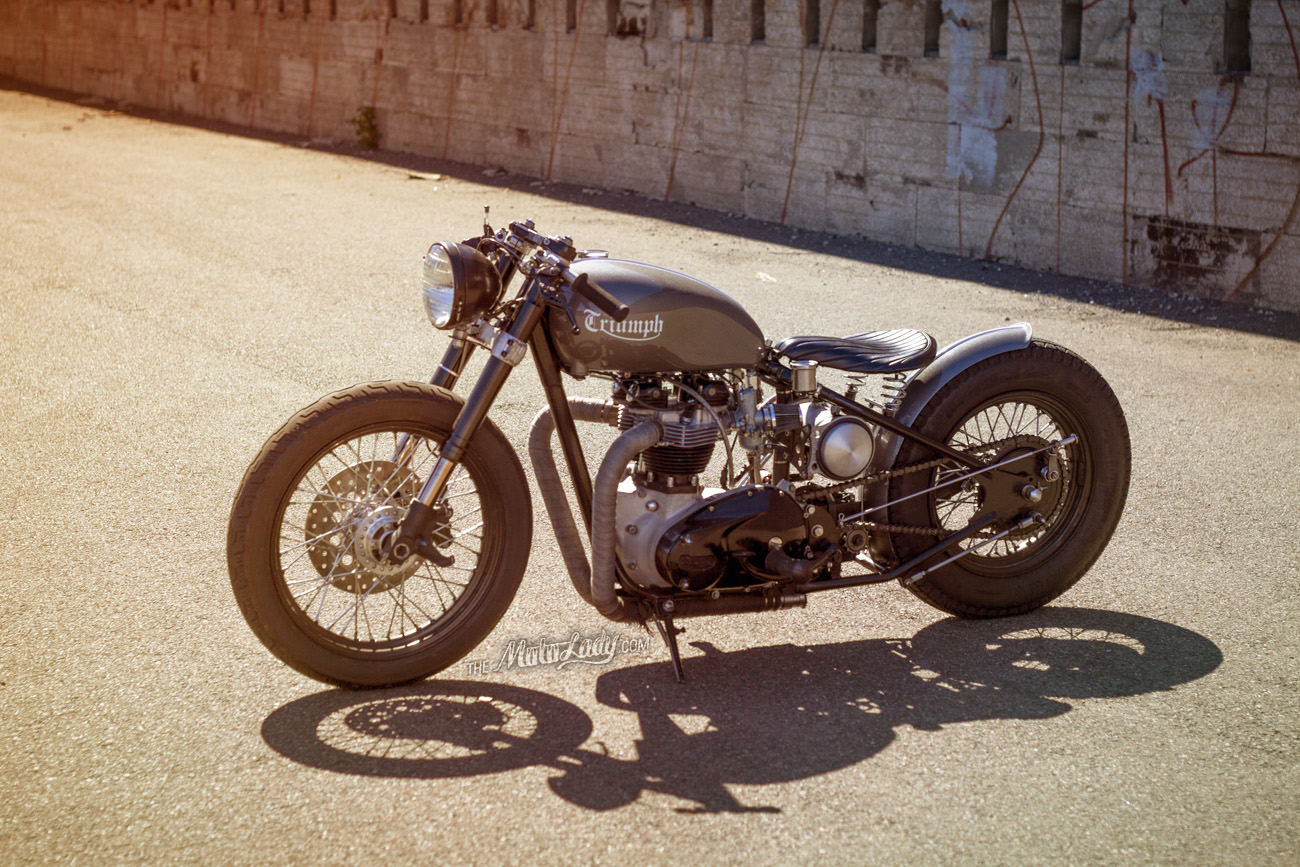 A while back (seriously, a while ago) I met Mitch Sander up in Yakima, WA (he now lives in Seattle) through our mutual friend Dave Buchanan (redandblackattack.tumblr.com) and laid eyes on his beautiful Triumph.
Mitch's 1966 custom Triumph Bonneville motorcycle has a hard tail with a modern front end… most would call it a bobber.
We all sat down and ate burritos and talked about bikes, I picked his brain about his build because dammit… I would so love to ride that thing. It's classy, functional, sounds awesome, and has history. Read on for my interview with Mitch.
ML:Let's start with the basics. In a nutshell, what is your bike? How long did it take you to build?
MS: 1966 Triumph Bonneville. The frame is a '66 Bonne I scored from a dude in Spokane. I lucked out and found a decent engine, also a '66 in L.A., rebuilt it to the nines with all new bearings and whatnot. The front end is from a 2007 Suzuki GSXR I found on eBay. Threw a 2009 Harley wheel on it and voila! Everything else is pretty much Triumph stuff. Built a bunch of custom brackets and mounts for the engine and the Mooneyes oil tank. Took roughly 5 years to build it.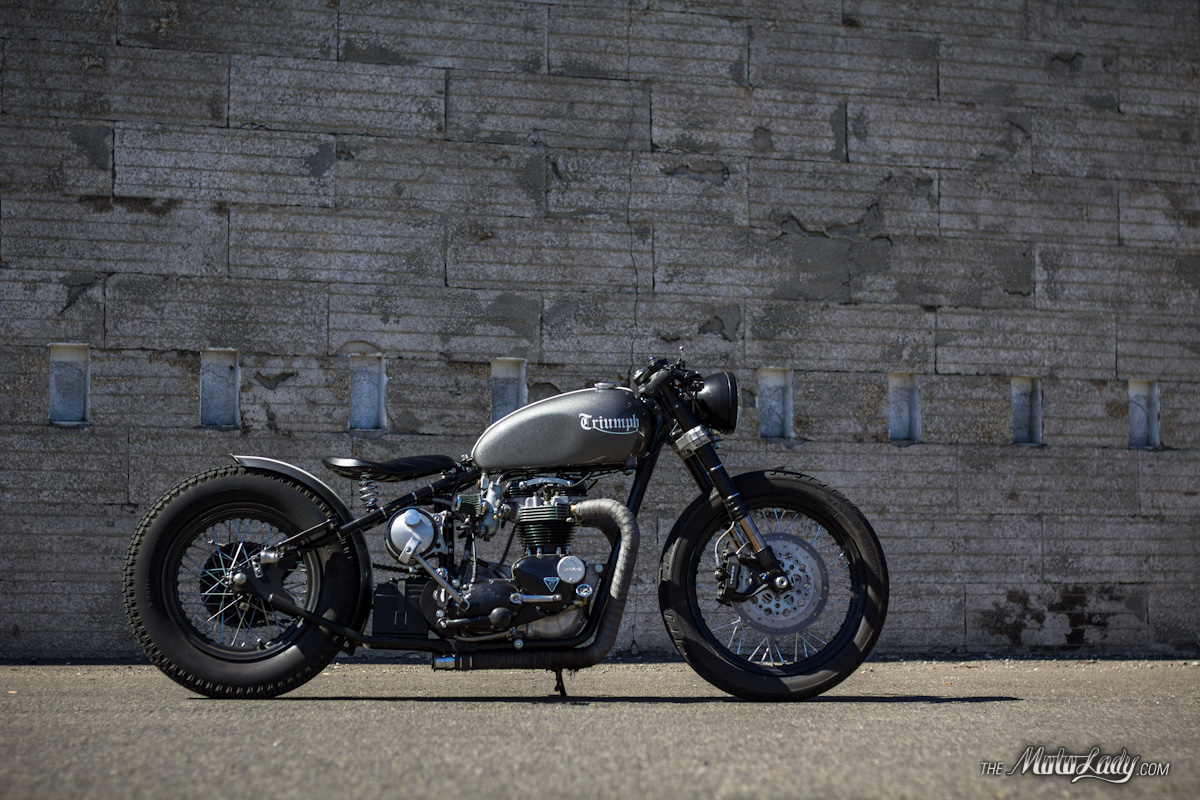 ML: How long have you been riding and what did you have before this beautiful Triumph?
MS: Been riding for about 4 years. This triumph was my first bike.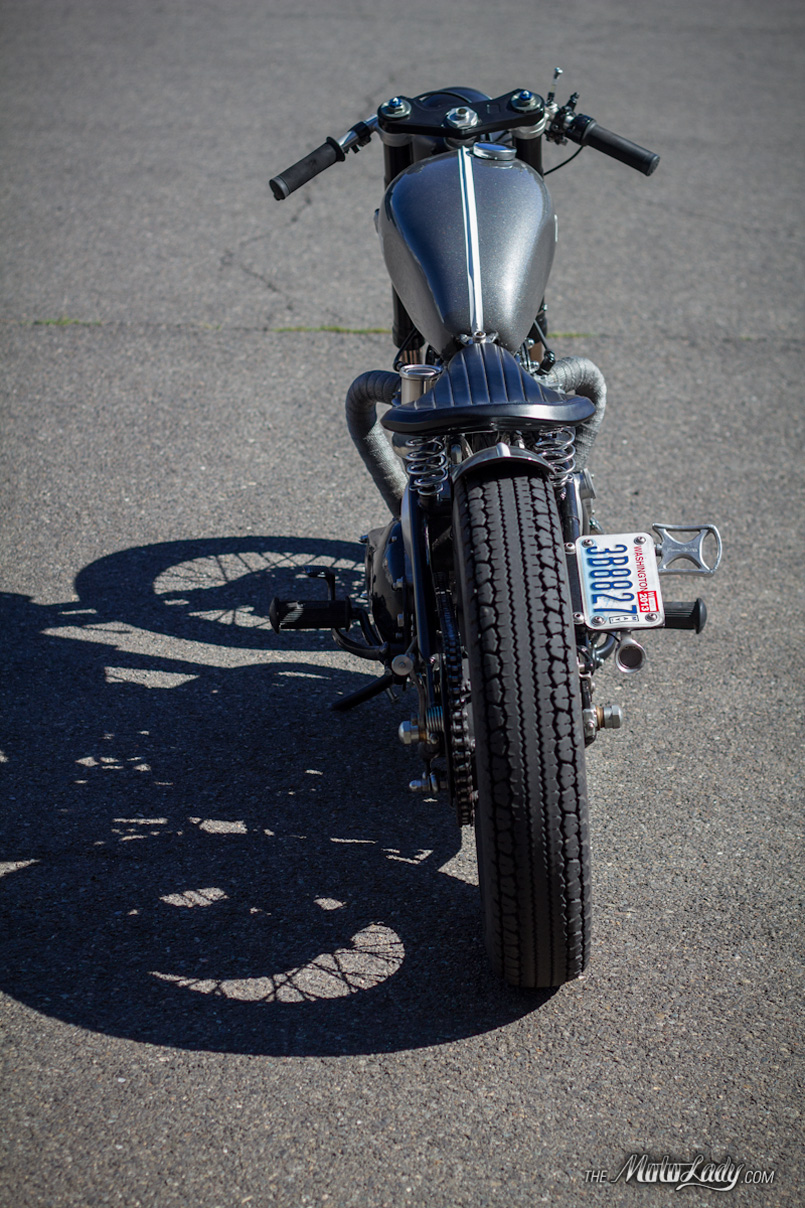 ML: What mod are you most proud of?
MS: The front end was definitely the hardest part of the build. I turned down the stem on the triple trees, re-threaded it, and made custom aluminum nuts. But I think I'm most proud of the actual look of the bike. At first I was into the bobber thing, but about halfway through the build I got into cafe bikes and that's where the front end came to be. Luckily it all meshed and I didn't end up with a Frankenturd.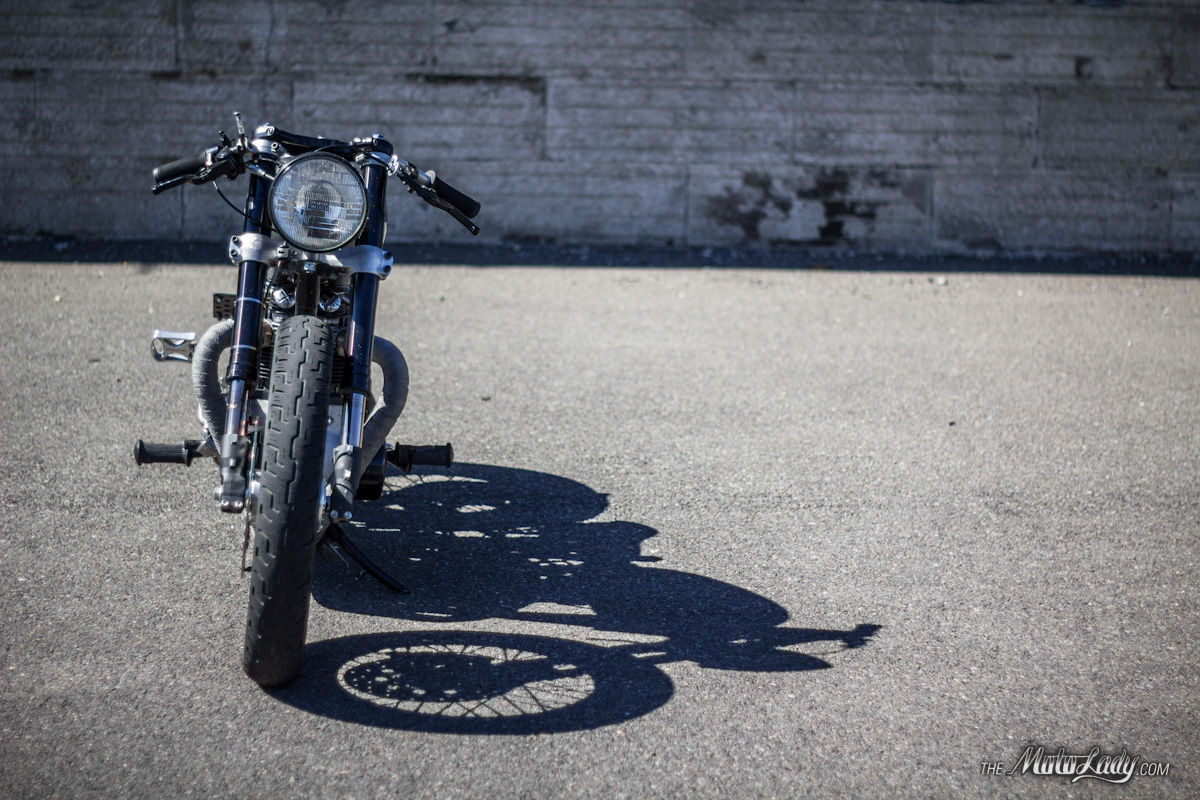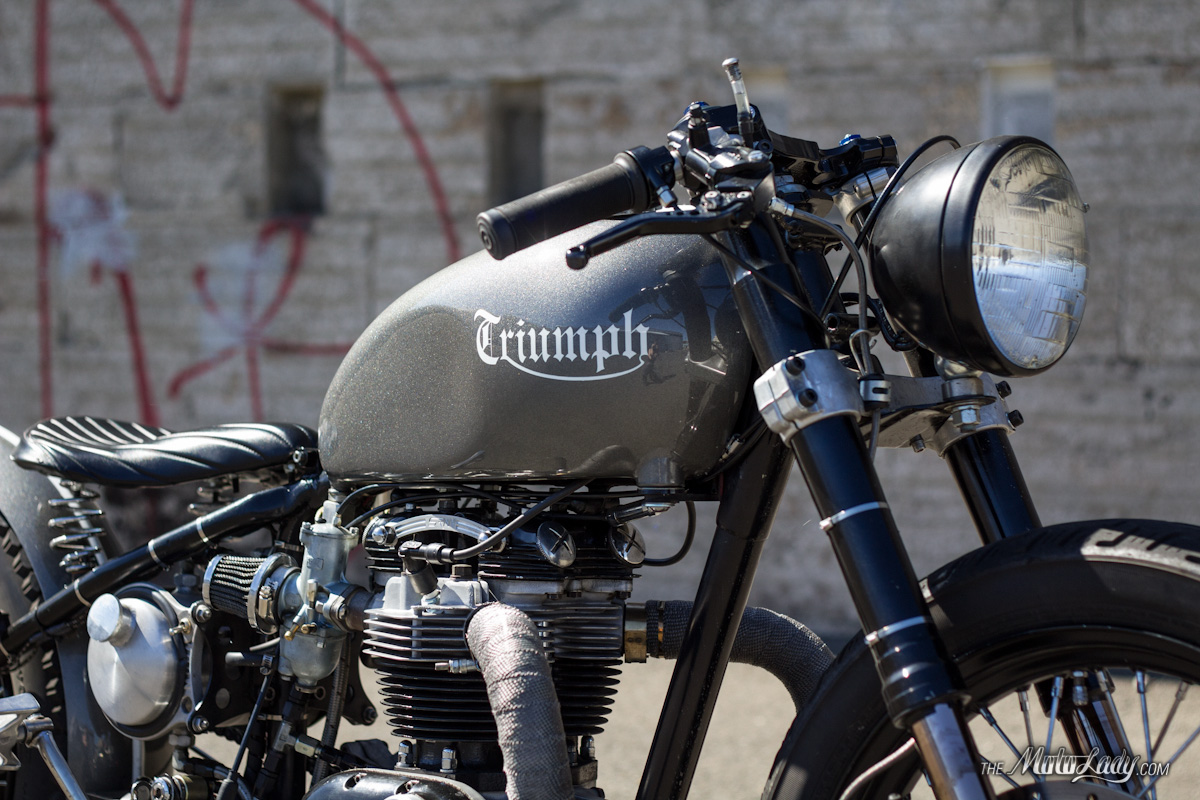 ML: Where did you learn to work on bikes?
MS: Everything I ever learned about anything with 2 or 4 wheels I learned from my father and grandfather. They were both gearheads who made what they had work. Being around that all my life made it easy to say "I want to build a cool bike" and just go do it. But when it comes to Triumphs, theres a whole new learning curve. It would have been tons harder if I didn't have the help of a stubborn old man in town who is a Triumph wizard. He reluctantly let me pick his brain and every once in a while sold me the whitworth bolt or nut I was missing.
1966 Triumph Bonneville Frame
1966 Triumph T120 Engine
Trispark Electronic Ignition and coil
2007 Suzuki GSXR 750 forks/brake with custom stem and nuts
2009 Harley 19" front wheel and brake rotor, custom wheel spacers
Clutch and brake levers are shorty racing thingamajigs and stock perches
Friggin monster headlight from a semi truck
Triumph gas tank, paint from an 80s mazda
Koso digital speedo
Biltwell solo seat
Triumph 16" rear wheel wrapped in an Avon SM MKII
Titmouse itty bitty tail light and custom plate mount
Currently running a La Rosa saddle bag that fits about 3 tall boys…..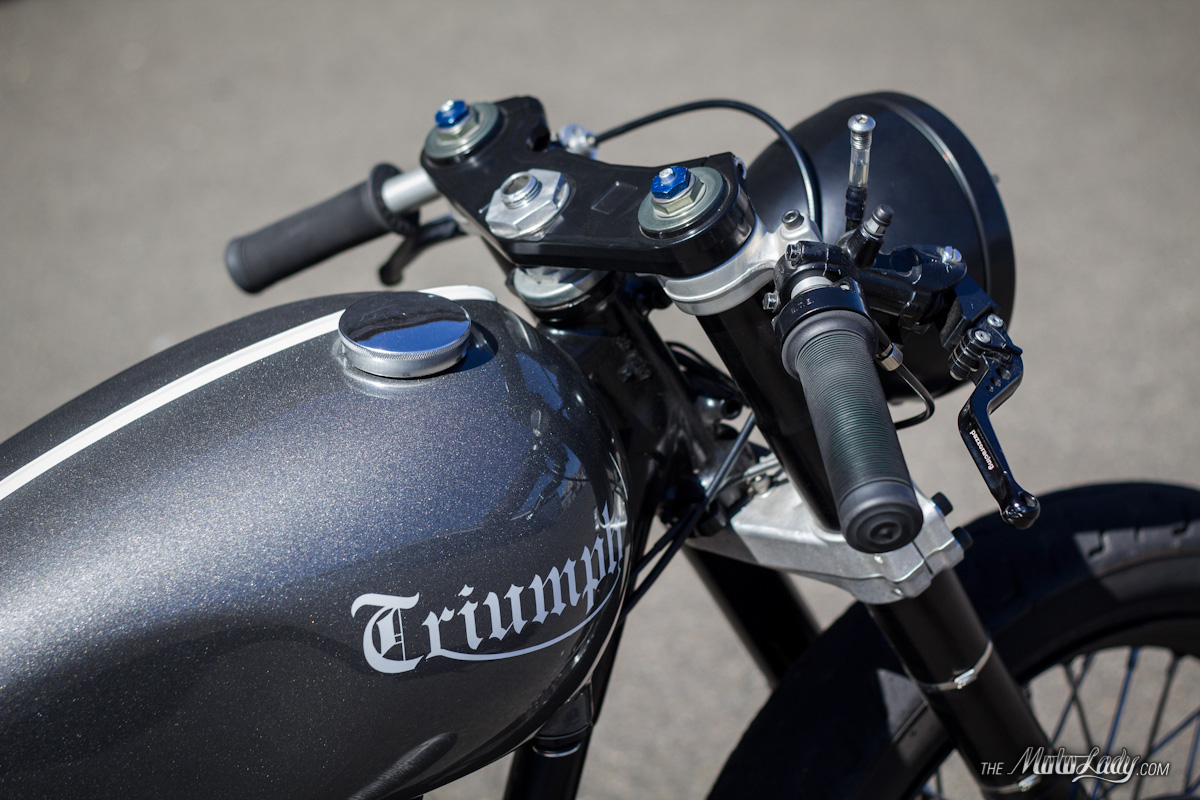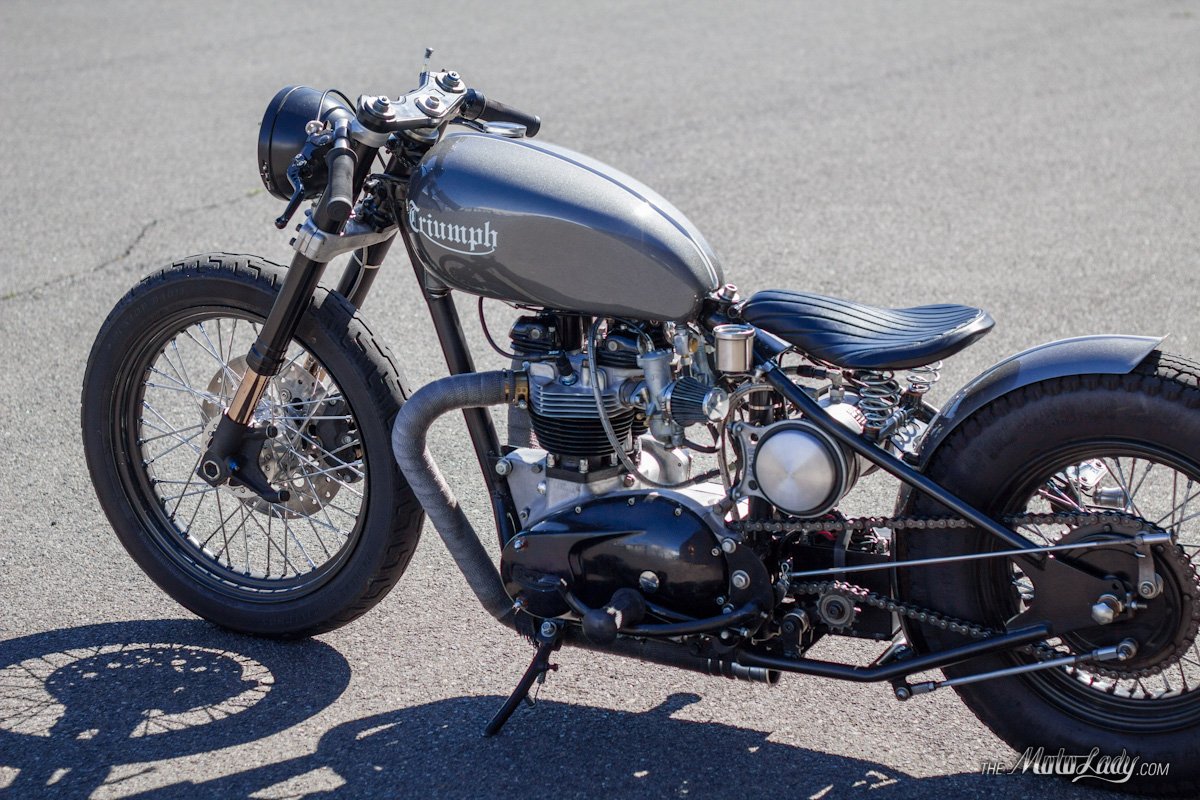 Well done, Mitch. Well done.
Photographs by Alicia Mariah Elfving, copyright themotolady.com 2012.

Twenty previously unreleased photos with the MotoLady built custom Ducati Monster by the incredibly talented photographer Jimmy Ban!
Posted on December 30, 2013 in Interviews, Motorcycles, News & Features by Alicia Mariah Elfving