2017 Honda Rebel First Ride & Review
The classic Honda Rebel got a makeover!
Last year, the 2017 Honda Rebel was announced in Long Beach at the Federal Bar Underground with a handful of one-off custom bikes. You may remember my excitement over the chartreuse and blue BMX inspired version in the original announcement. Well, a couple weeks ago the Honda Powersports team threw their press launch in Venice, California for the newly evolved Honda Rebel and it was time to take 'em for a spin.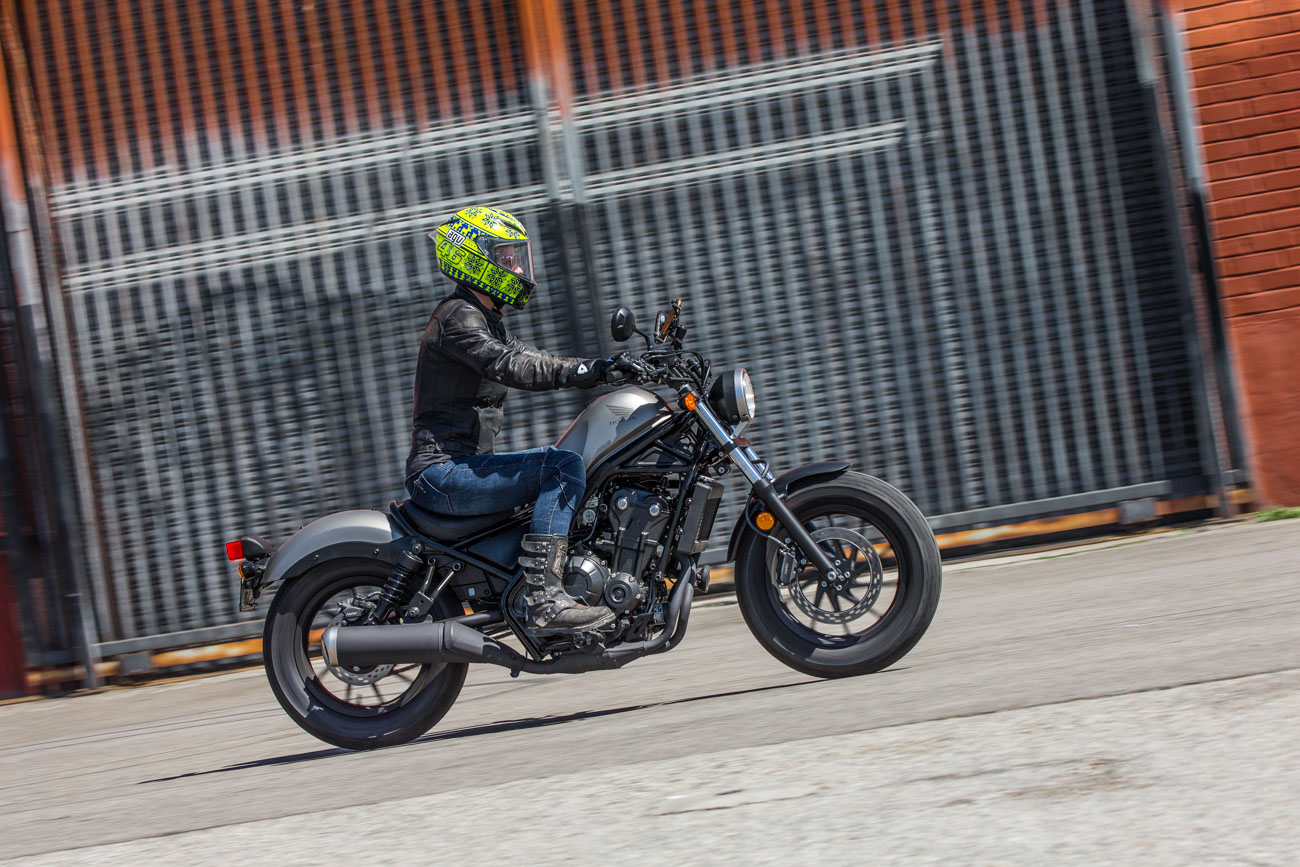 I put both Rebel 500 and 300 through their paces on poorly maintained pavement of Venice alleyways, tested it's maneuverability lane splitting through rush hour traffic, and scraped pegs in Malibu canyons.
The verdict? I LOVE IT!
Okay, I say that about a lot of motorcycles I try… because well, they're motorcycles! And I personally feel some affections for each one in their own way. There are only two motorcycles that I don't particularly want to ride again, the Yamaha R3 and the Honda NC700… just a whole lot of "meh" there to me. Now that we've reviewed my bias toward two wheels, let's discuss the Honda Rebel.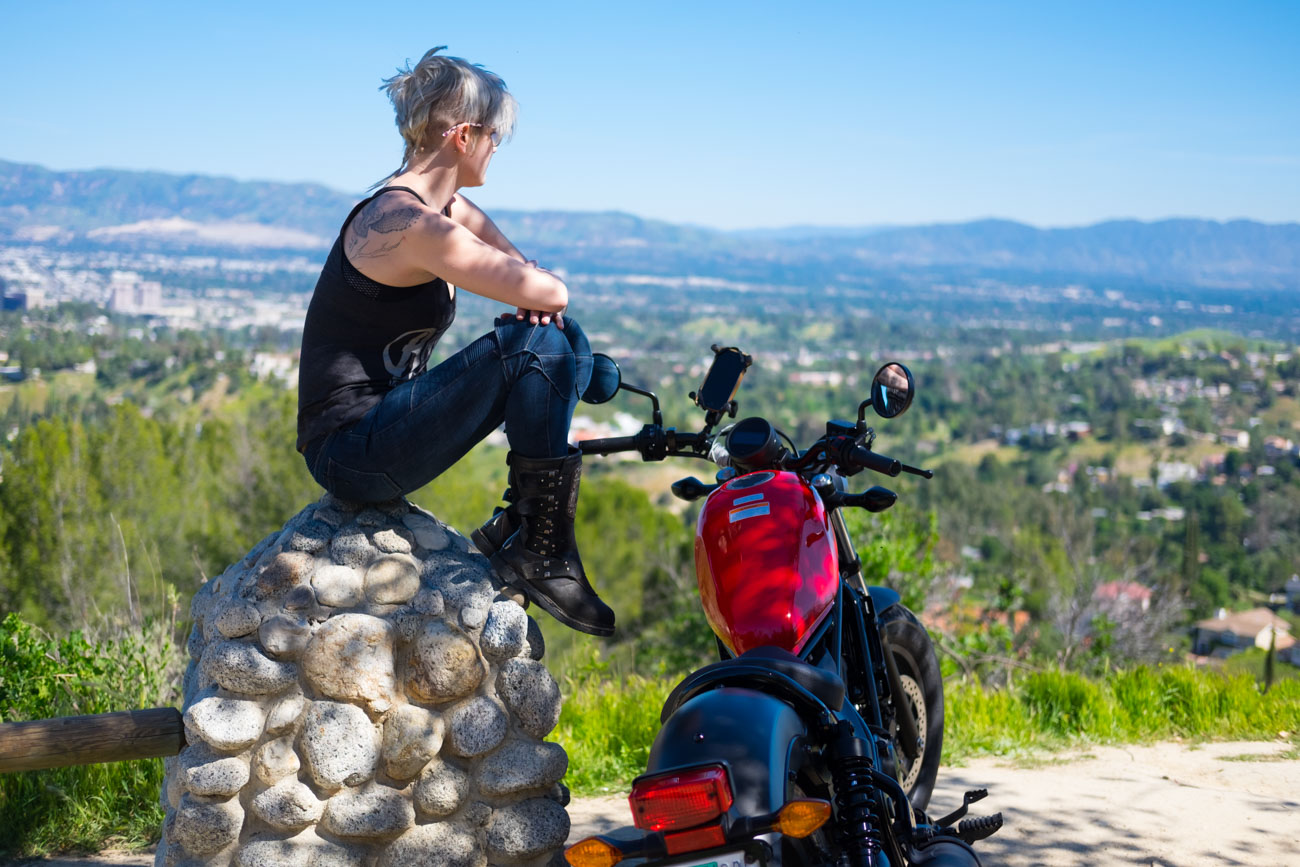 The 2017 Rebel is an inexpensive, light weight, peppy, good looking little whip. The design crew Keita Mikura and Edward Birtulescu worked with customization in mind. Rather than designing the motorcycle, sticking a stamp on it and going, "Done. It is as good as it will ever be. It shall never be improved upon!" the Honda team designed a motorcycle that could be left as is, or easily modified to the owner's preference.
Which makes sense… don't name something Rebel and then expect it to take orders.
The trellis frame is the same between the 300 and 500 models (and even the 250 Japan version) with a variation in the engine mounts. The headlight is a classic smaller round bucket, bars and pegs a neutral riding position for smaller or taller folks alike. One of my favorite details is the subframe shaped to the curve of the fender instead of being straight and requiring immediate amputation.
If you squint I think it sort of looks like a Ducati Scrambler… and it's about $3,500 USD cheaper than one. That's a lot of money for gas, or aftermarket parts, or RACING (I would totally flattrack that lil guy)!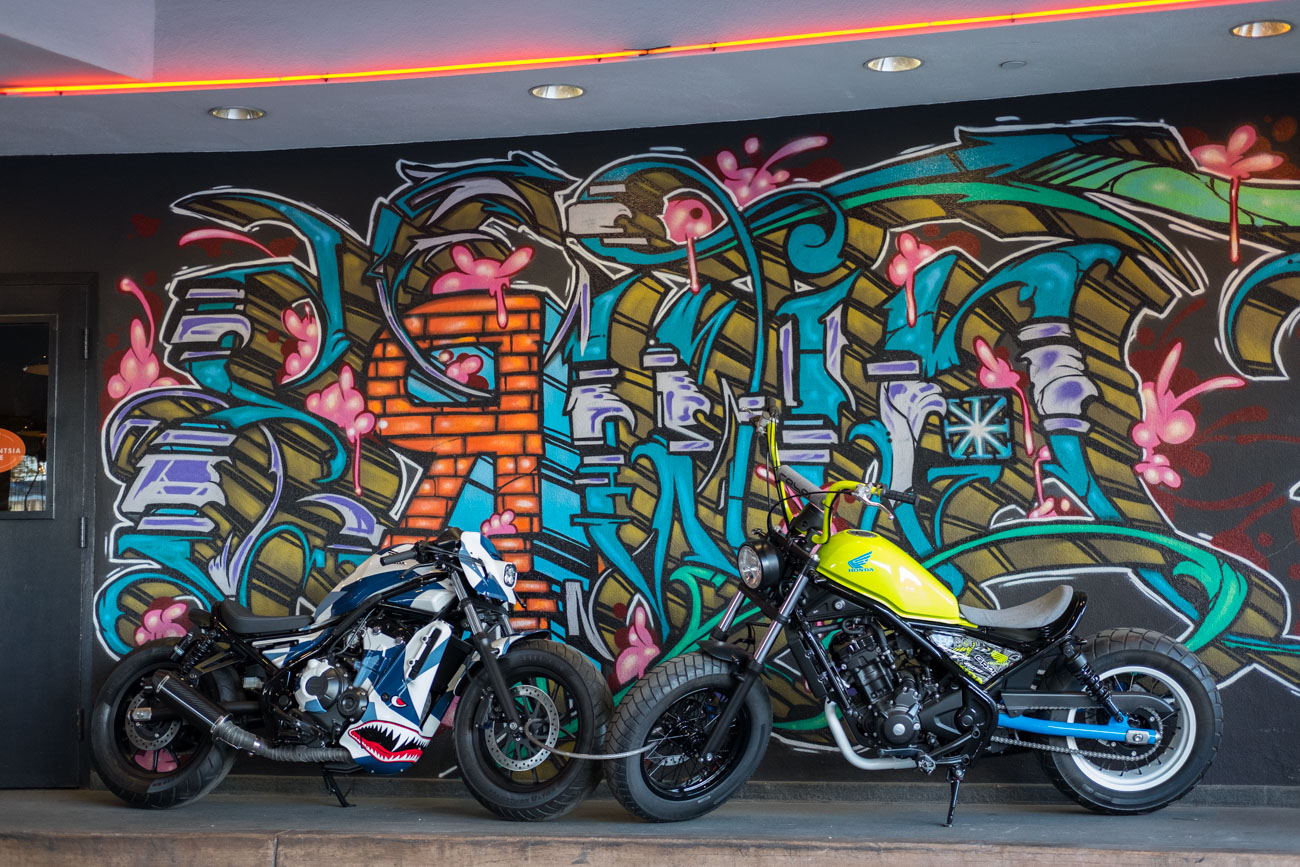 Let's talk about the engine size. We didn't sit down and get an hour long presentation about the torque curve, bore and stroke, or top speeds. We were shown some examples of custom options, learned about the idea behind the design, the heart-and-soul history of the Honda Rebel for many riders… and then we were sent off to hit the road. Release the Kraken!!! With routes/places of interest marked by Honda in a ride map app called Rever, we headed out at 8:30a.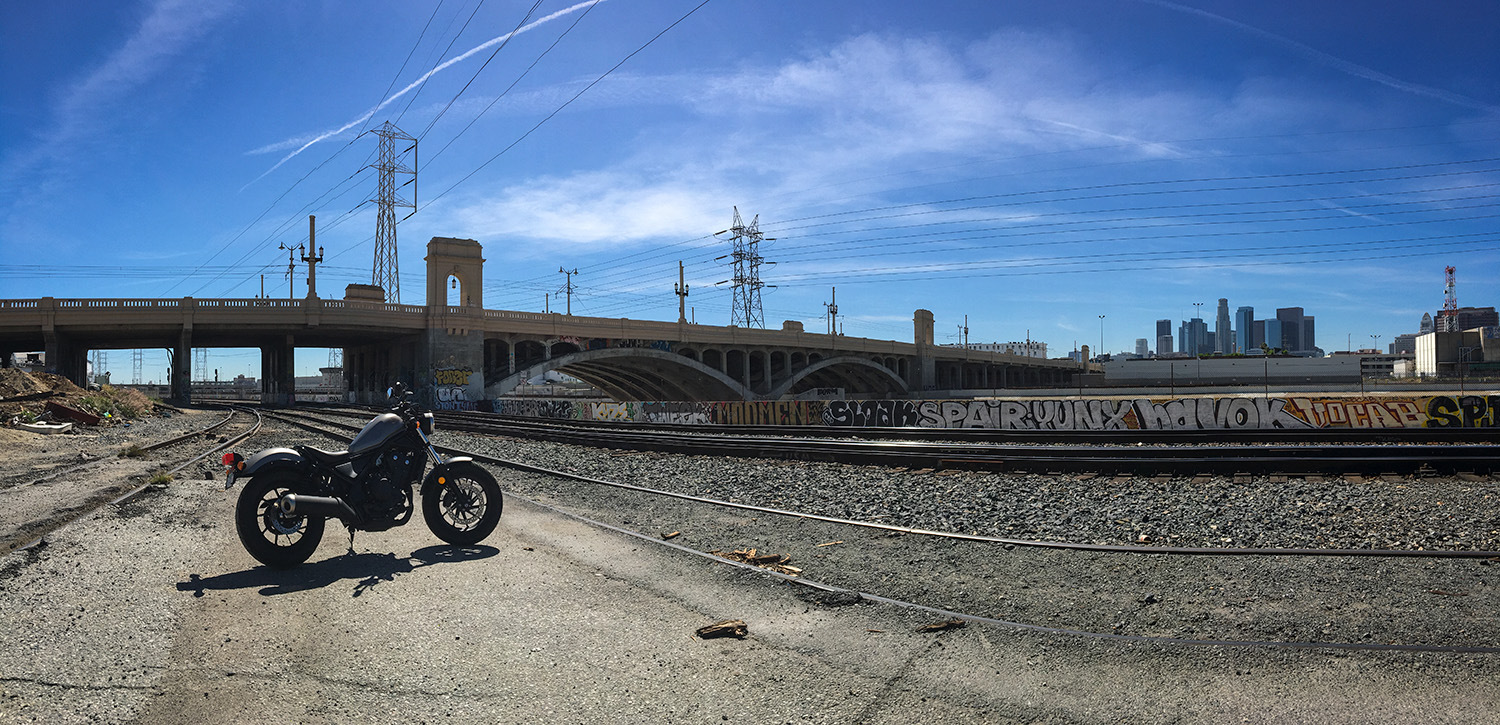 Here's what I know… it's easy to ride and makes you smile! I'm 5'7" tall with average length legs, and the Rebel's small frame with low 27.2" seat (just a tiny bit higher than the original Rebel) gives you a ton of maneuverability. The non-ABS version was pretty fun to skip around; mash on the rear brake while giving it a little smooth front brake and feel the tail slide a little bit. While I'm aware not everyone wants to be able to throw the rear end of their bike around like that, I want to remind everyone that I'm not a stunt rider, nor am I the best at rear end slides, wheelies, or anything else. The light (364 lbs / 405 lbs) and low slung bike, combined with "regular bike" size wheels and tires, gives you a lot of confidence and comfort in your bike control. That level of comfort made me swoony for the little 300 immediately. The fellas I ended up riding with actually had to convince me to swap to the 500 in the first half of the day because I was having so much fun on it.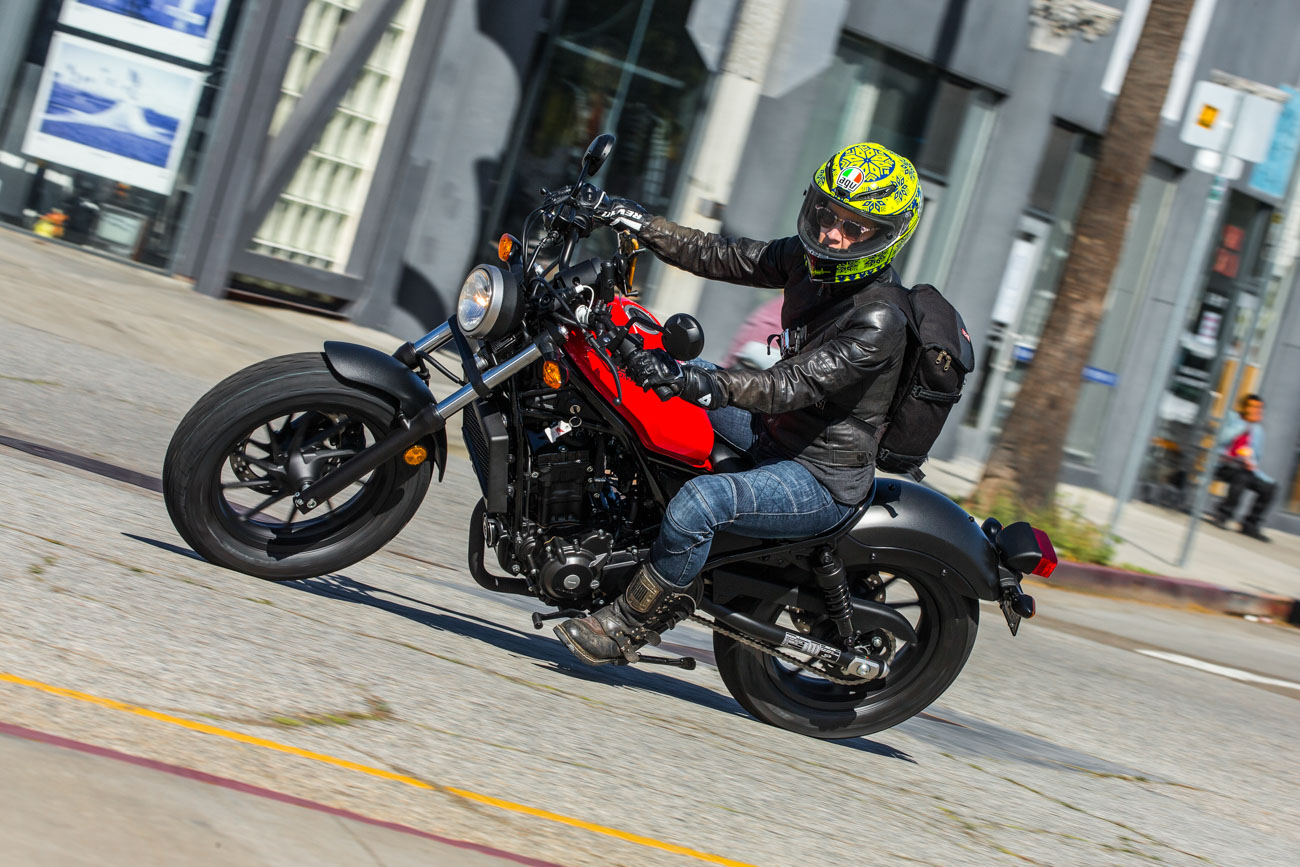 Power wise, if you crack the throttle off the line, the launch is relatively gentle but the engine winds up and snaps into it's power band sort of like a rubber band has to stretch before it shoots off. The single cylinder 300 and I hit 96 miles an hour with a giant camera bag on my back, tucked behind the handlebars a little bit. So no, it's not a snail despite being a thumper. On the other hand, the 500 was a fun parallel twin with good acceleration, and I immediately started scraping pegs through corners. They definitely sit low in a neutral position, which means they'd be the first on the chopping block in my garage. I would prefer them moved up a little bit for clearance in corners.
The Rebel engines sound pretty good, though it could be argued the low-key stock exhaust makes 'em sound a little like a high speed sewing machine. I really want to see what a good megaphone exhaust would do!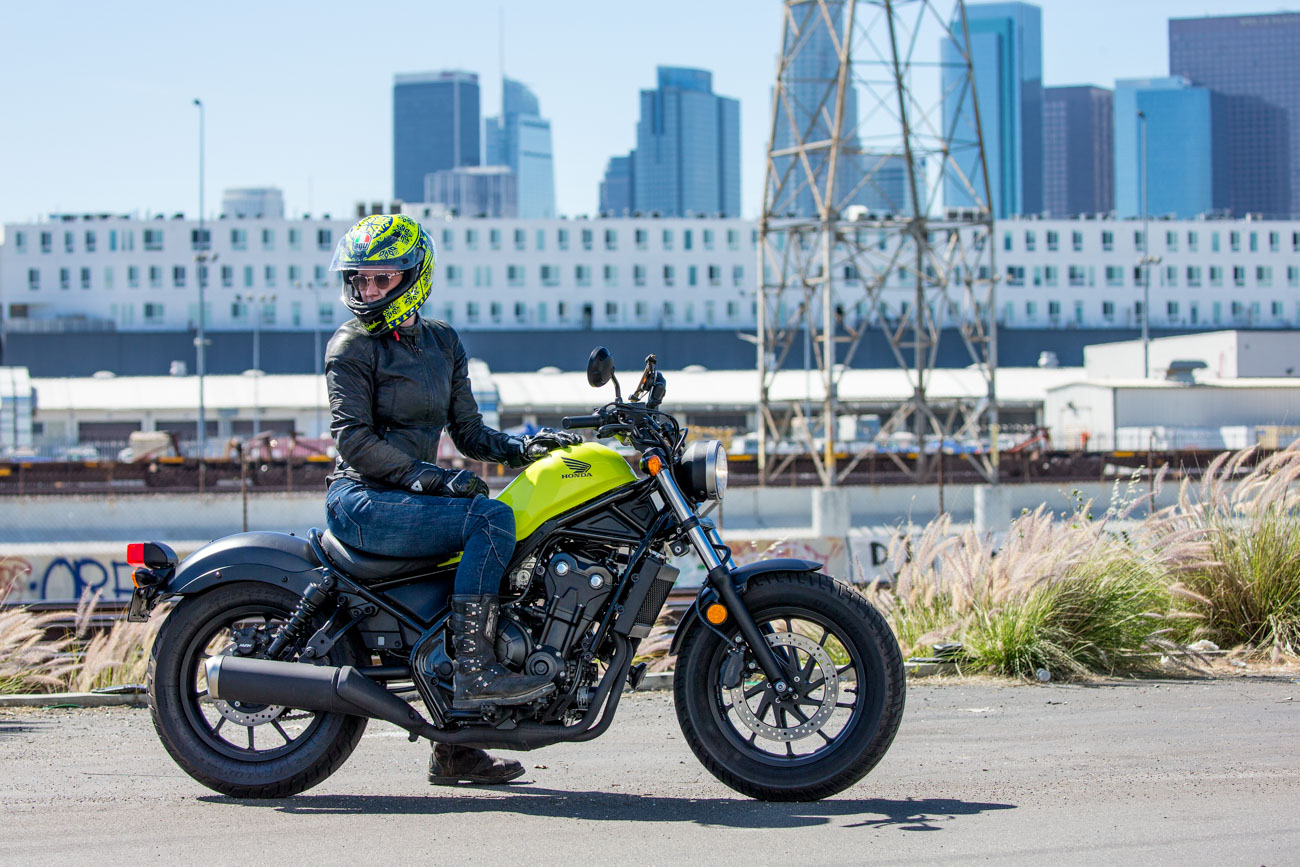 What about how it compares to the other smaller modern bikes on the market? Impressively, especially for the price. (Keep in mind the following is all my opinion based on my 135 lb weight and height.) The KTM 390 ($5,299) has a similar top speed, but a little more low end torque (faster off the line). The Duke and RC are less comfortable, but set up for better cornering. Conversely, the Yamaha SR400 ($5,999) is comfortable and classic but slower in every way, the narrow tires make it feel really unstable at times, and it doesn't even have electric start. While I'd need to spend more time on the Yamaha R3 ($4,999), the laps I did on track with it left me feeling like it needed more power in every area, plus it wasn't comfortable. As for my beloved Ducati Scrambler 400, I can't remember it being nearly four grand better than the Rebel. Sure, it's a Ducati, sure it's a little bit faster (41 HP), but it also weighs some 39 lbs more than the Rebel 500. So, you do your own math with that one… I for one feel much more agile on it.
Overall, I'm a huge fan of the new Rebels. When you're introduced to a pair of cool little small displacement motorcycles, good for whipping around town, throwing into corners, and general shenanigans, don't frump and fret about the power ratio and horsepower. Worry about how they make you feel. Does it make you smile? I know the Rebel does that for me. I'd definitely add one to my stable! After all, they say it's more fun to ride a small bike to it's limits than it is to ride a fast bike slowly. Truer words have ne'er been spoken.
Go take one for a test ride at a local dealer and let me know what you think… I'll bet you'll be pleasantly surprised!
Spec & Comparison data:
Honda Rebel
300 standard $4,399 / 364 lbs wet weight / 27.2" seat / 286 cc – 27 HP @ 8,500 rpm / 61 mpg
500 standard $5,999 / 408 lbs wet weight / 27.2" seat / 471 cc – 46 HP @ 8,500 rpm / 71 mpg
Ducati Scrambler
800 std $8,895 / 31.1" seat / 410 lbs wet weight / 803cc – 75 HP @ 8250 rpm / 52 mpg
400 std $7,995 / 31.1" seat / 403 lbs wet weight / 399cc – 41 HP @ 8750 rpm / 49 mpg
Yamaha
R3 $4,999 / 31" seat / 368 lb wet weight / 321 cc – 42 hp @ 10,750 rpm / 56 mph
SR400 $5,999 / 30.9" seat / 384 lbs wet weight / 399cc – 23.2 hp @ 6,500 rpm / 96 mpg
KTM 390
Duke $5,299 / 32.7" seat / 338 lb wet weight / 373.2 cc – 40.29 hp @ 9,600 rpm / 71.2 mpg
RC $5,499 / 32.3" seat / 364.5 lbs wet weight / 373.2 cc – 40.29 hp @ 8,600 rpm / 67.7 mpg
Questions or comments? Please leave them below!
related: 
Posted on May 3, 2017 in Blog, Motorcycles by Alicia Mariah Elfving