8 Tips to Inspire Your Lady to Ride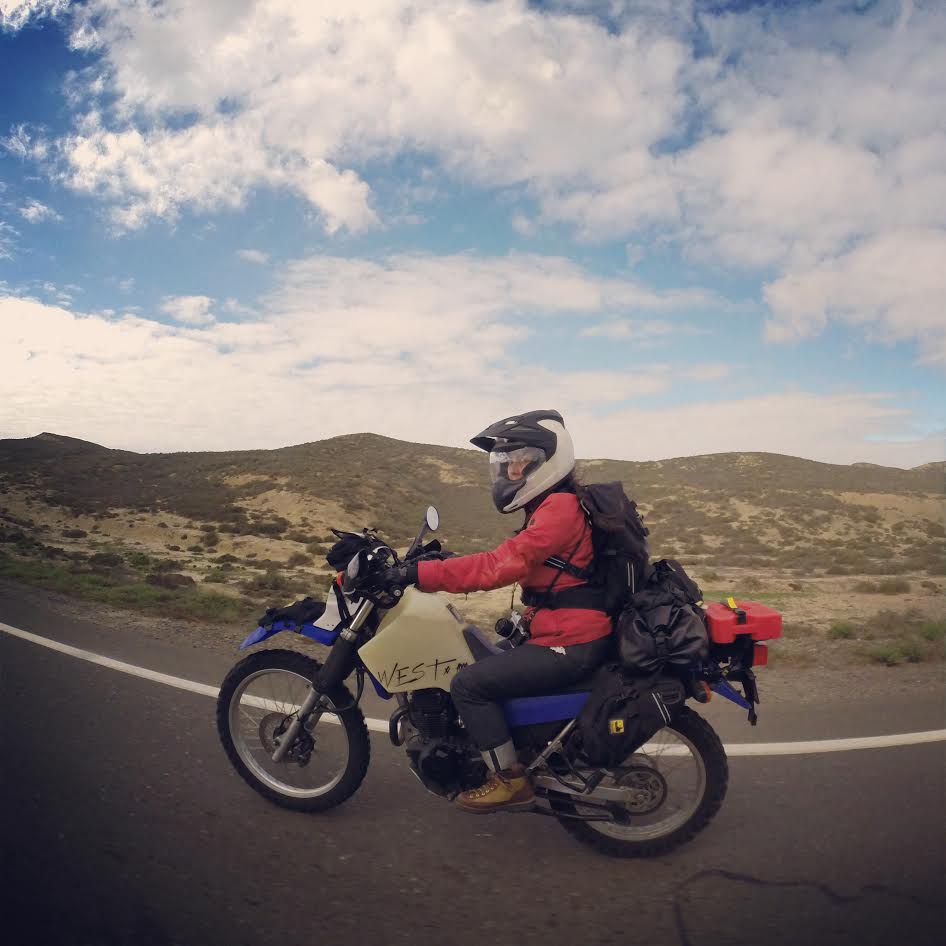 Every lady rider gets into motorcycling for her own reasons, and some women have an easier time jumping into the whole process. Learning to ride can be both exciting and scary- depending on the person, it can be daunting to do something completely new… without a close network of support. A lot of new riders, especially women, don't have a good buddy to show them the ropes. Sometimes this can deter a woman from hopping on a motorcycle, despite how much she'd like to learn. Other times ladies don't feel the drive to ride until they hop on the back with a partner. Folks, if your girl is into motorcycles, but a little resistant… take a peek at this article from Kyra Sacdalan featuring eight ways to inspire your girlfriend to get on a bike of her own. 
"Motorcycles aren't new to me. I've been riding for more than two years… on pavement. Nevertheless, my interests took a turn when my boyfriend brought up the idea of traveling the world on motorcycles. I had always wanted to travel the globe and figured motorcycles would be a cheap and fun way to do it, but I forgot that most of the world's roads are dirt or gravel. If you want to experience the earth's most beautiful locations, inevitably you have to get off the pavement.
My boyfriend, an avid off-road rider, suggested a month-long trip down to southern Baja, Mexico. We'd make our way down the coast at a leisurely pace, eventually arriving in La Paz to catch the finish of the SCORE Baja 1000 off-road race. Much of the journey would require us to travel on dirt roads in our search for breathtaking views, good food, strong drinks, new friends and warm(er) waves.
I admit I had my reservations at first, but the more we talked about it, the more my excitement grew and the more it had to happen. My willingness being the deciding factor, I traded my old Honda CM200 for a Yamaha XT225 dual-sport. Sliding down gravel roads, skidding into hairpin turns and catching myself in deep sand were all new experiences for me. This would also be the first time for both of us touring on motorcycles outside of the United States.
With our decision made, we set a departure date and began planning. As more friends heard about our trip, we received lots of advice and many questions; among them, a common question appeared, "How do I get my girlfriend to do that?!" While there wasn't a lot of "convincing" in my case, I do have some ideas on the best way to approach your girlfriend or wife with the prospect of an off-road motorcycle adventure.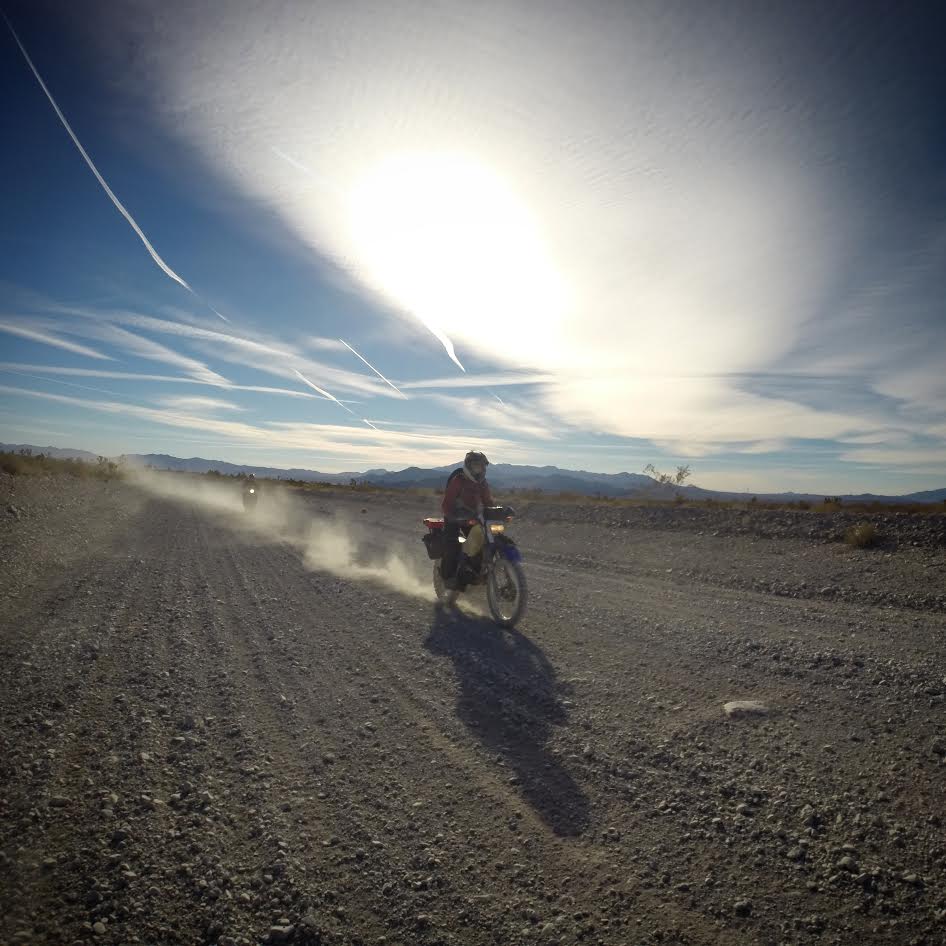 So you want to travel the world with your lady on a motorcycle?
Before you gather the courage to ask her all the impending questions, honestly answer a question yourself: Why do I want to explore the world on motorcycles with my wife (or girlfriend)? If your answer is something along the lines of, "this is a passion of mine that she could enjoy also," then you're off to a good start. If your answer is something more along the lines of, "I think she should share this with me," then you might want to try a "bargaining" approach rather than "suggesting" or "persuading."
In any case, if she doesn't already have some inclination for adventure, it's probably a waste of both her time and yours discussing the topic. If you decide to give it a try, then a thoughtful approach is the best way to proceed. Here are eight things to think about that will help give you the best chance of making her your riding partner.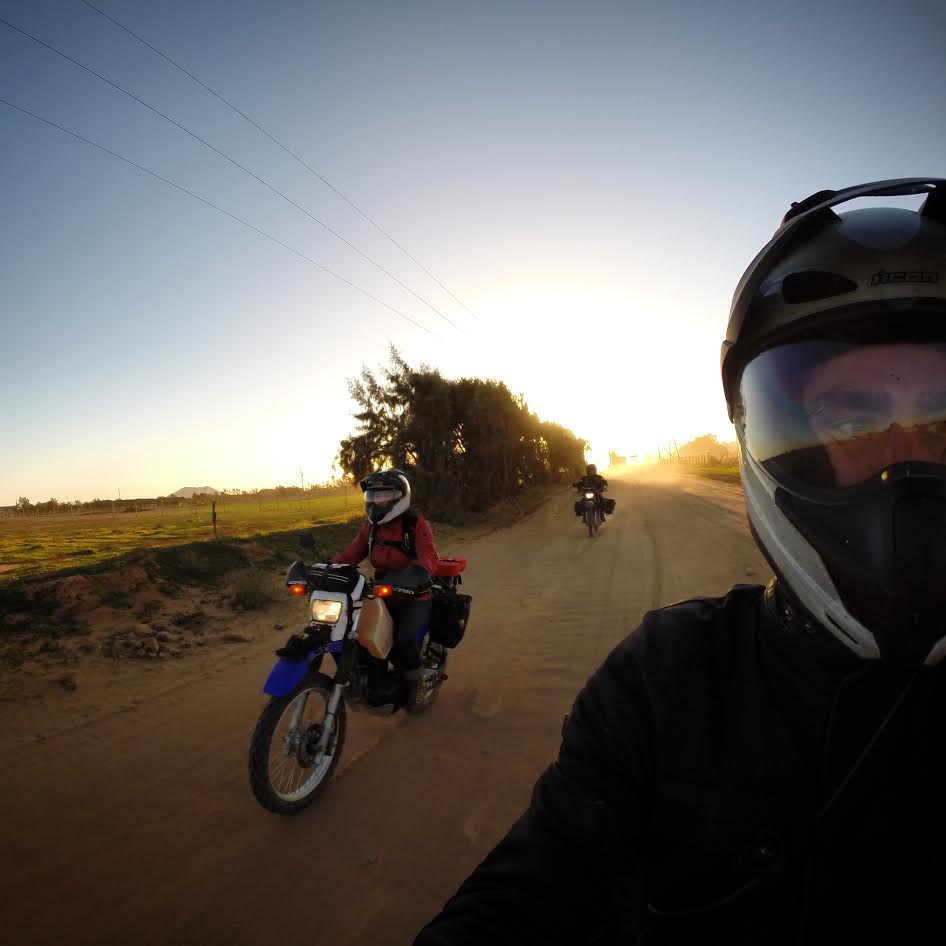 1. Do a little research.
I'm sure she trusts your opinion, but it's good to have other sources of information to help reassure her. Find some statistics (useful, not scary… just use your best judgment), have a list of bikes that you suggest she ride and why, and even provide some blogs or testimonials of other female riders for inspiration.
At the very least she will recognize that she's neither alone nor incapable. Lastly, though this may seem superfluous to you, show her that being an adventure motorcyclist can be stylish. There is a variety of both practical and attractive riding gear out there. Helping her find it may make the process a little more fun for her.
2. Get her involved in the planning.
You may be the one with all the knowledge and experience to plan your journey, but don't forget that this trip is for both of you to enjoy. Involve her in the research for places you will see, where you will stay and the best places for food and drink along the way. Find out what activities and entertainment sound most appealing to her on your rest days and integrate those into your plan.
Make sure you plan for a riding pace she is comfortable with that includes regular stops to take photos and enjoy the scenery. Remember it may not be all about the ride for her. If you are constantly pushing for too many miles each day, her most vivid memories will be full of fatigue.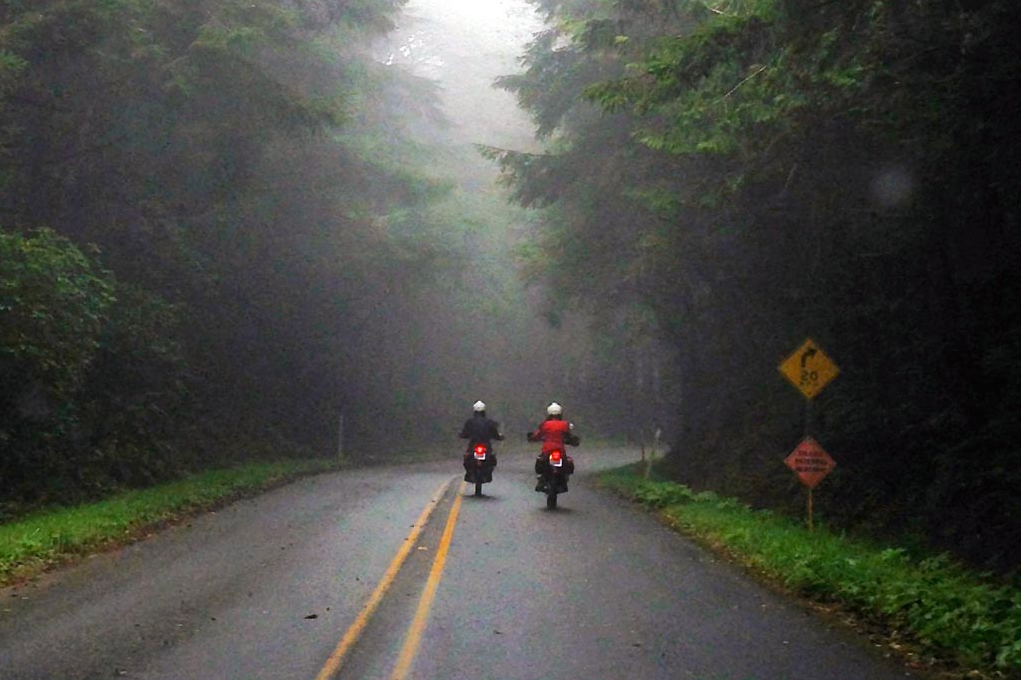 3. Consider her safety and comfort.
If she's not comfortable with her gear or the motorcycle itself, riding can become a real burden. It's important that she has a bike that fits her and gear that provides good protection. As a new off-road rider, she may feel uneasy behind the handlebars at first. Try to anticipate dangerous and uncomfortable situations before they occur. Remind her of important steps and motivate her to become a better adventure rider.
You should also encourage her to experience trails outside of her comfort zone. If she reaches an obstacle that she's not ready to overcome, offer to take her bike through it for her (this has helped me a lot). Don't judge her. Don't tease her, even if that's how you normally show affection. Pushing her too hard could discourage her and make her never want to try again, but don't be too gentle or it could harm her ability to learn. Whatever you do, make sure she is comfortable and confident behind the bars before setting off on your big adventure.
4. Listen to her questions and concerns.
This is self-explanatory. Listening to her and helping her find answers might be all she needs to ease her mind. It can help! Take notes (mentally or physically) and refer to them when planning your trip. Getting her fully prepared and up-to-speed on everything she needs to know will build her confidence as an off-road adventure rider.
5. Help her create a financial game plan.
Motorcycles aren't cheap. Gear isn't cheap. Gas and maintenance and all the other extras… you understand. Add the expenses of travel and entertainment to the equation and you're looking at spending some real money on your trip. Daunting as it may be, you have the advantage of being a duo and can pool your resources together. If she needs it, help her finance a bike. Help her find and purchase affordable gear. Budget together. She'll appreciate that you are willing to invest in her success.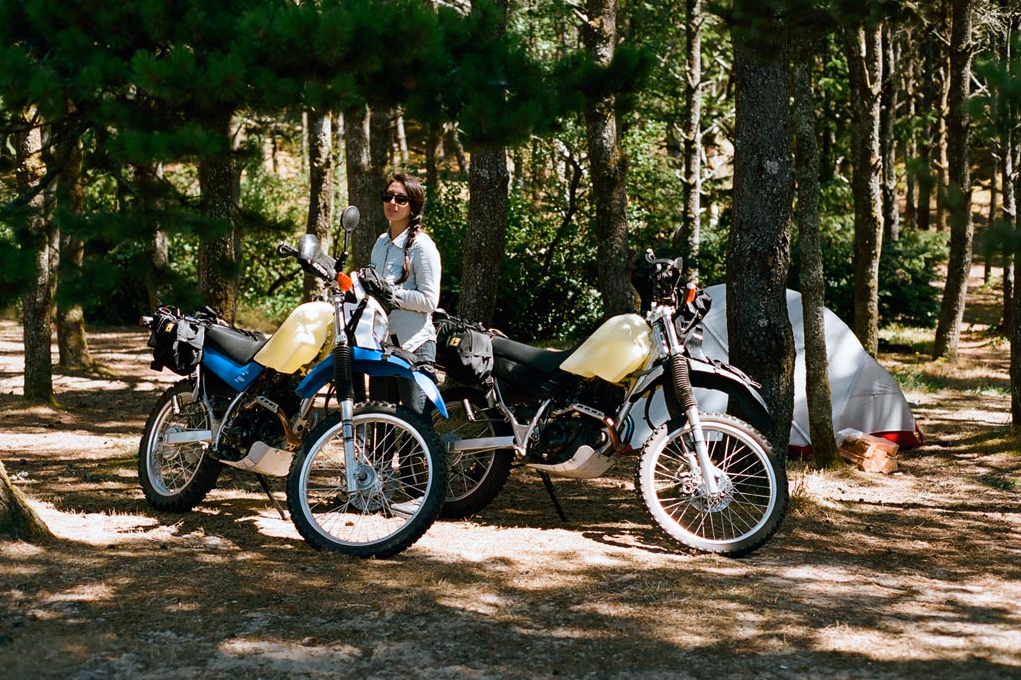 6. Comfy camping is key.
Staying solely in hotels and resorts can add a lot of extra costs to your trip. It's likely you will choose to camp a lot during your travels to save money. This alone can be a hindrance for some women (a lot of men too). Light-weight, practical gear is important, but don't skimp when it comes to comfort in your camping setup.
You may have a high tolerance for pain and discomfort, but if your lady is too hot, too cold or soaking wet, I guarantee she won't be enjoying the experience. When it comes to the place where you lay your head at night, make it plush, warm and clean and she'll thank you for it. Also, try to check into a hotel every few days so she can get a shower and wash her hair.
7. Encourage her.
Sometimes her pride or inexperience can cause her to try riding tougher terrain than she's ready for. This can put her in a dangerous position. Look for the warning signs that she may be fatigued or in over her head. If she's been pushing too hard, find her an easier route or give her a long rest. Don't be afraid to tell her that you think "now" is not the time for this particular trail, but in due time she will be ready. Be direct. Be firm. But be kind and show respect. Remind her that you believe she can do it and you have faith in her. Oh, and whenever you guys finish a rough ride, tell her you're proud of her and give her a smooch. This makes a huge difference!
8. Be patient. Stay positive.
This whole process can be disheartening at times. Try not to let the stressful situations get to you. If it seems difficult for you, imagine what she's going through. Breathe slowly and remain positive. Think about a future with the two of you cruising alongside each other through beautiful landscapes in exotic lands. All your efforts will be rewarded with the wonderful moments you will soon experience together as riding partners.
"When you understand the situation of the other person, when you understand the nature of suffering, anger will vanish, because it is transformed into compassion." – Thich Nhat Hanh
Read more of Kyra's writing on her website KyraSacdalan.com, and follow Justin & Kyra's moto adventures on WestX1000.com!

Twenty previously unreleased photos with the MotoLady built custom Ducati Monster by the incredibly talented photographer Jimmy Ban!
Posted on December 10, 2014 in MotoLadies, News & Features by Alicia Mariah Elfving
5 Comments

for "8 Tips to Inspire Your Lady to Ride"