Airframe Pro Giveaway Winner Liane
Canadian motorcycling woman Liane Langlois does a photoshoot with Magda Kirkwood in Edmonton, Canada, to celebrate winning her new lid!
As a big thank you for 200,000 facebook likes, I ran a contest giving away a new Icon Airframe Pro helmet. Participants shared the post photo and were instructed to caption their post with why they ride in a full face helmet. On the ending day of the contest, I added each sharer to a numbered spreadsheet, and used a random number generator to pick the winner. Behold, Liane Langlois wins! What I found crazy awesome about this is that Liane has been a MotoLady supporter for years. Currently a Finance & Admin Manager for a small international Information Technology company, she's constantly learning and adding more skills to her arsenal- like her Accounting degree from night classes last year, and in just a few more weeks a Human Resources diploma. She rides and races motorcycles, knits, and loves heading into the mountains.
Here's her entry-
"I never used to wear a full face then I was forced into one so I could race the salt. I had great friends who helped me find the right one for me to deal with my 'closed in' issues. Funny enough, now that's my go-to. I rarely wear anything else. I feel more alert, awake, and well, my skin appreciates it!
This is why I wear a full face!"
Liane grew up riding mini bikes on her uncle's farm, but didn't get her own pair of wheels until 2007.  She rode on the back with friends for years, pining for her own bike. And at 31, she got herself a brand new Triumph Speedmaster. In the years since she's started MODEL Edmonton– Motorcyclists Opposing Discriminatory Exhaust Legislation. Founded officially in January of 2011 (hey, same time as MotoLady!) and is currently working with City Hall and the Police Commission to find a better way to deal with excessive noise (on all vehicles, not just bikes) fairly. They intend to make sure that motorcyclists are also spoken for when future laws are coming into play.
Dedicated to helping better the motorcycle community in her region and beyond- she's working right now to release a campaign in May that will focus on the 'left hand turn problem' of North America that is the root of so many motorcycle crashes. She says her hope is to "make more public service announcements that center around rider responsibilities, driver responsibilities, and motorcycle mechanical responsibilities while continuing to lobby the local and provincial governments to do better with motorcycle safety and awareness."
For years she worked with the CMDRA (Canadian Motorcycle Drag Racing Association) taking photos and writing articles promoting the sport. In 2013 she stepped away from this side of racing, and the next year decided to go run at the Bonneville Salt Flats. At 39 years old, she ran a 2004 Triumph Bonneville at 122.984 mph. She said this is the moment when she learned that "can't" no longer exists in her vocabulary. Soon after, with the help of Blackfoot Motosports, she scored herself a 2002 Triumph Daytona 955i for future salt flats racing. Unfortunately Bonneville got rained out this year, so they're planning to head back in 2016.
Get acquainted with the new Icon Airframe Pro helmet in the prior post, or pick one up on Revzilla. And if you like the braap hoodie below, hop on over to the MotoLady shop.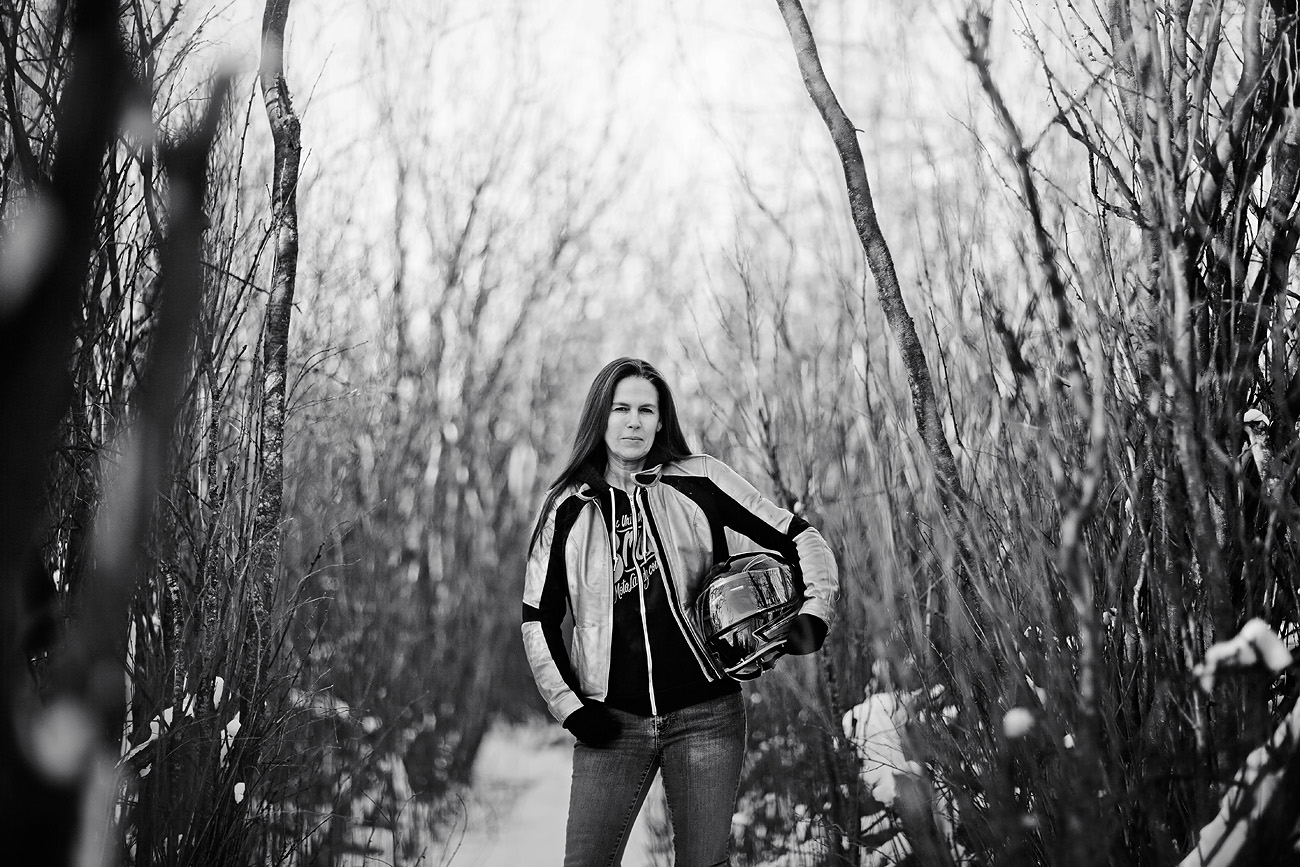 Photographer Magda Kirkwood met up with Liane in Edmonton, Canada, this last weekend for their photoshoot. While the whole area is covered in snow- it made for some really nice golden hour lighting. Magda is a talented photographer, a story teller, adventure seeker, and like Liane, a Triumph lover. "Coincidentally they released the new lineup days before my 40th birthday… so I will be buying myself a present this year."
Check out more of her work at magdakirkwood.com. 
related: 
Tags: airframe pro, alberta, canada, contest, edmonton, full face, full face helmet, giveaway, icon, icon motosports, liane langlois, racer, real, safety is sexy
Posted on December 1, 2015 in MotoLadies, News & Features by Alicia Mariah Elfving