Announcing Women's Motorcycle Show 2021… in Texas!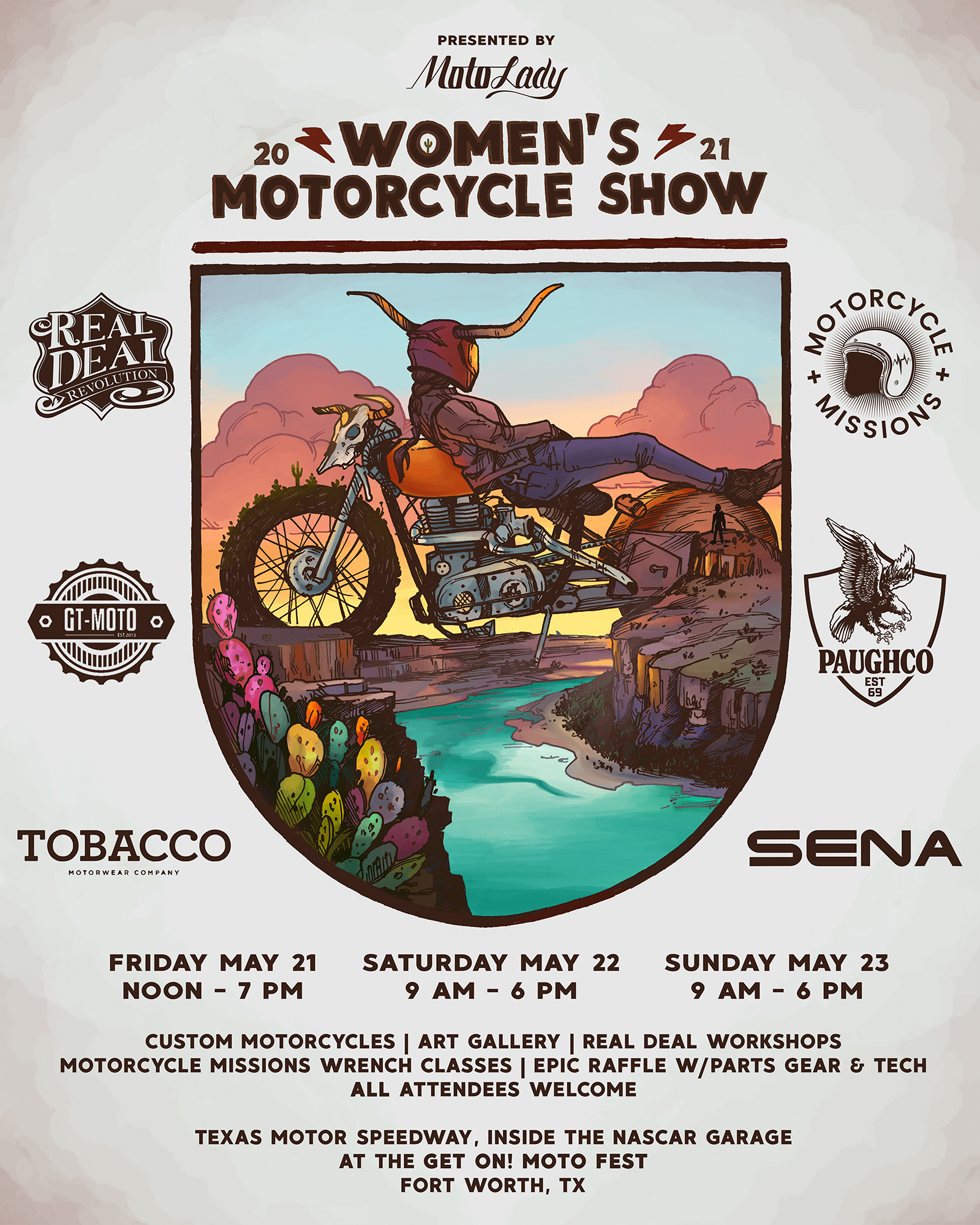 That's right y'all! The sixth annual Women's Motorcycle Show is goin' down in Texas this year! Come get your annual dose of custom bikes built and raced by women at the Texas Motor Speedway, May 21-23.
So excited to announce that Women's Motorcycle Show is indeed happening in 2021… and the Lone Star State debut is stayin' true to the well-known phrase that everything's bigger in Texas! We're setting up inside the NASCAR garage at the Texas Motor Speedway outside Dallas Fort-Worth. With 10,000-some square feet to spread our wings in, we're going to be showing up with all the favorites… and some new stuff!
We will of course have the curated custom bike show, art gallery, yearly merch, awesome raffle, and workshops with Real Deal Revolution… but we've also got a ride-in bike show on Sunday! The official MotoLady book launch, live music from Tarah Who, aaaand the worldwide Royal Enfield Build/Train/Race bike reveal!
Come celebrate women builders, racers, and riders with us May 21-23 (Fri-Sun) inside Revzilla's Get On! Moto Fest.
⚡️ Check out custom bikes built by badass women
⚡️ Gaze at awesome artwork from women riders
⚡️ Take home awesome gear, parts, and tech from our raffle
⚡️ American Flat-track Racing next door
⚡️ New rider classes, demo rides
⚡️ Hands-on workshops with Real Deal Revolution: welding, pinstriping, leathercraft, upholstery, and silversmithing
⚡️ Maintenance and basic wrench classes with Motorcycle Missions
⚡️ Bikes from award-winning GT-Moto
⚡️ Lounge around in the SENA chill section
⚡️ Win full gear sets from Tobacco Motorwear Co
⚡️ Win parts for your next build from Paughco Parts
⚡️ Snap photos with your friends in the totally tubular Pit Viper photo booth
⚡️ Sunday ride-in bike show – registration until 11a
⚡️ Trophies built by legendary Rae Ripple
⚡️ ALL ATTENDEES WELCOME ⚡️
Check out all the details and full schedule on the Women's Motorcycle Show website.

Twenty previously unreleased photos with the MotoLady built custom Ducati Monster by the incredibly talented photographer Jimmy Ban!
Posted on May 1, 2021 in Events, Motorcycles, News & Features by Alicia Mariah Elfving