Babes in the Dirt 2017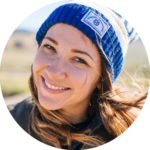 Contributing author Adrienne resides in Northern California working as a motorcycle safety instructor, making jewelry for her brand Pistons & Poppies, and hanging out with the Hot Rides lady moto collective.
Oakland, CA | instagram ≫
The Babes in the Dirt off road meet up, hosted by the Babes Ride Out crew, slays it's third year.
Dirt bikes, no drama, and no dudes. Anya Violet and Ashmore Ellis of Babes Ride Out (BRO) hosted their third annual Babes in the Dirt (BITD) event at Hungry Valley SVRA in the heart of California's Grapevine. Throw out any preconceived notions, ladies. Whether you're a new rider with a spark of passion for motorcycles or the fire of riding has been brightly burning, Babes in the Dirt is the place to be.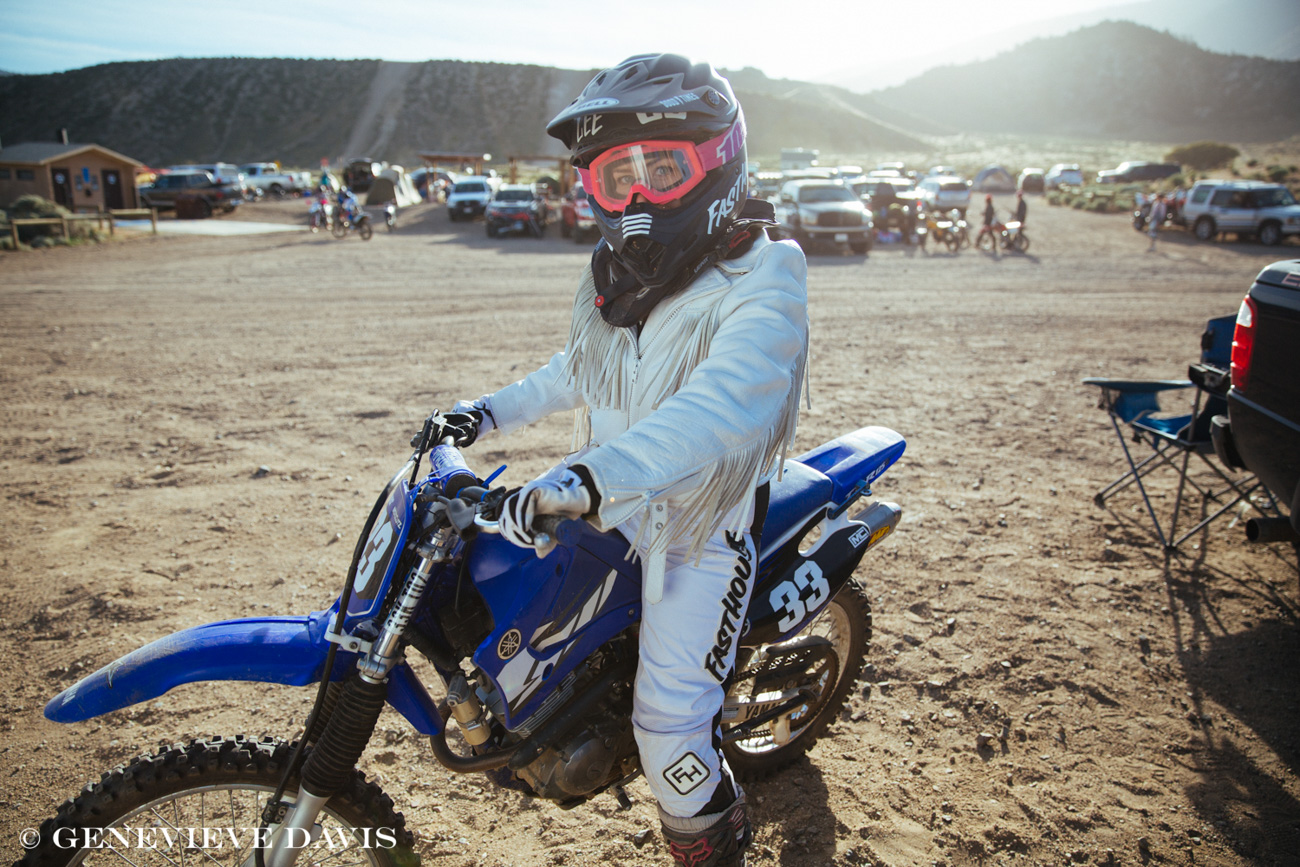 First-time BITD and long-time BRO attendee Malary Lee of Austin, Texas sums it up: "It's simple—there's not a lot of glam and activities behind it. Basically [you] show up and ride." That's the beauty of it. The desert, some dirt bikes, and a bunch of incredible women there to ride them. Malary goes on to say, "The female community is one of the most uplifting and making girlfriends is important!"
The part that veteran BITD'er Lindsay Lohden of LA loves most is that it "feels like one big family. You can jump on your bike, roll up to a group of people you might not know at their campsite 100 feet away and have a great unexpected interaction."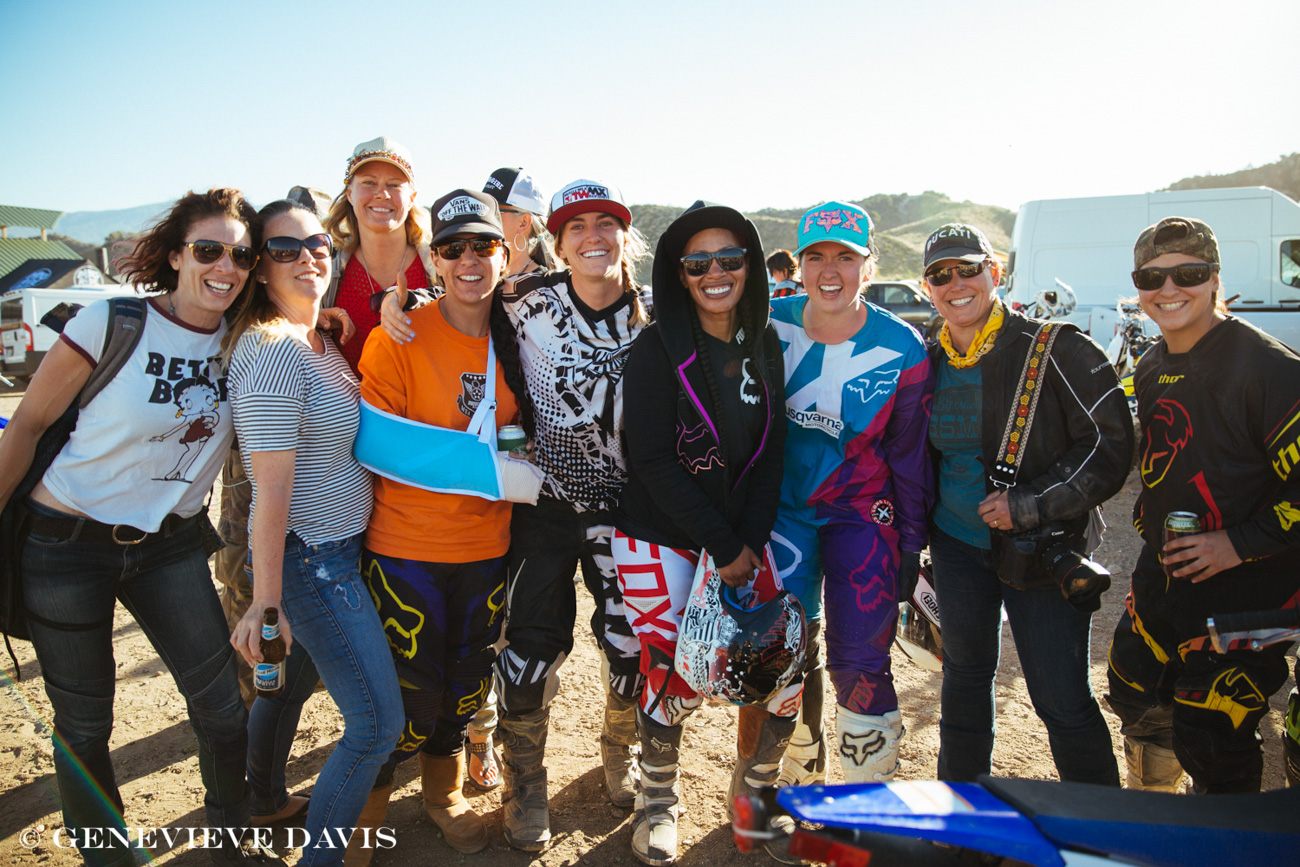 I asked Lindsay what she thought about the event being for women only. She attends lots of events throughout the year, and says that in contrast to the co-ed ones, "the energy is completely different… There is this feeling of true, unspoken camaraderie at all women only events that I don't feel at co-ed events. I can't really put it into perfect words, however it's almost as though we are all a big team, in it together and a different sort of trust and bond organically occur. I feel an openness, trust and sense of dependability that is just there no matter what, even amongst strangers. Definitely an unspoken sisterhood."
On top of hilarious karaoke hosted by reigning karaoke queens Katie Sue Weissel and Lea Sabado of Hot Rides and mini-bike races hosted by See See Motorcycles, Husqvarna hauls out a fleet of demo bikes that the attendees get to tear up the trails on for free. As if that weren't cool enough, their talented team also takes the time to give instruction to riders who have never ridden dirt or need some guidance before going off on their own.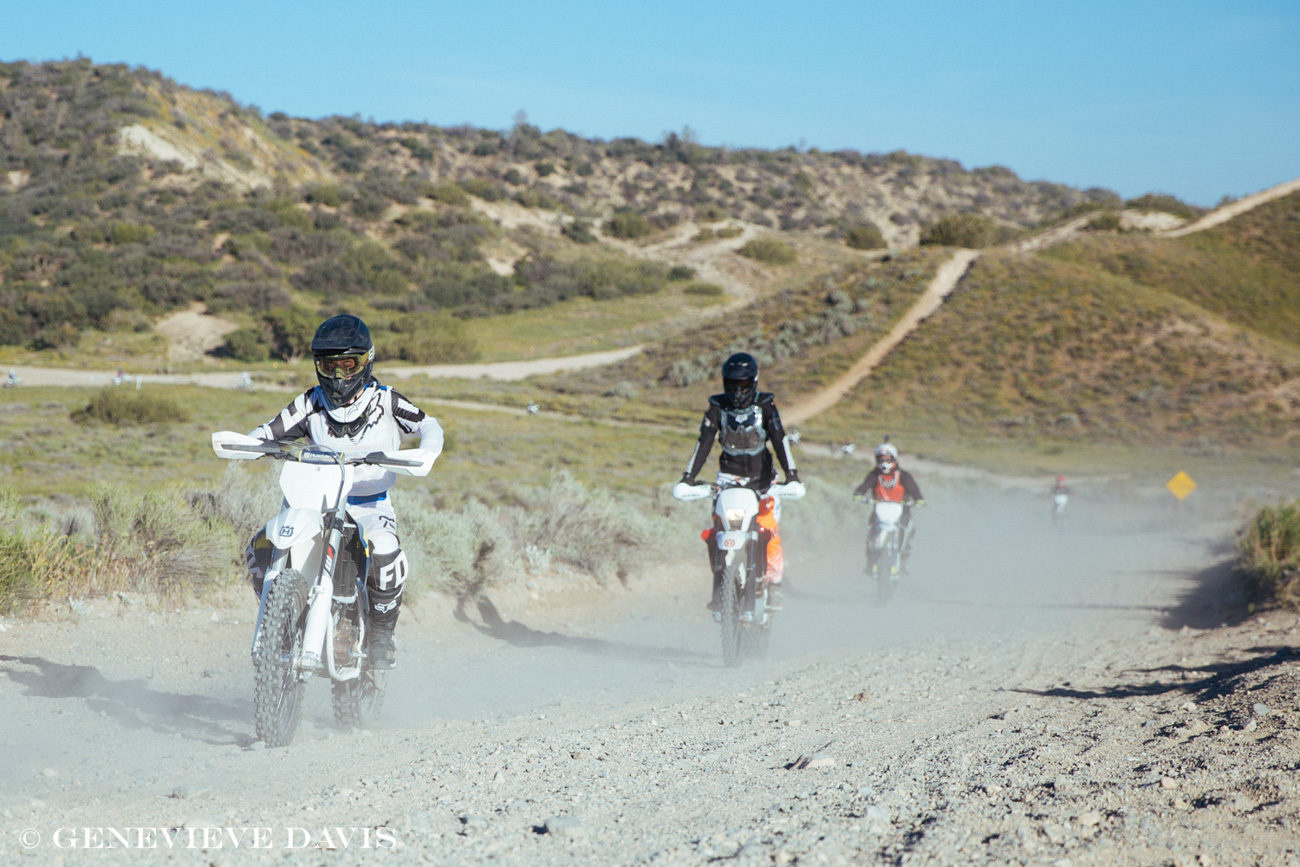 Building those bonds—that sisterhood that Lindsay mentioned is one of the most meaningful aspects of what Babes Ride Out events mean to me. The relationships forged in the three years of BITD/BRO events I have been to have grown roots much deeper than just spending a weekend getting dirty. Some of the women I've met for the first time there have become some of my closest friends and being a part of the Babes Ride Out family gave me profound confidence to get involved with other moto-related events.
Hesitant about coming out to Babes in the Dirt? Give it a shot, I'm glad I did. I can't imagine my life without my Babes.
Check out upcoming events and their dates on the Babes Ride Out website!
Photos copyright Genevieve Davis, courtesy of Husqvarna Motorcycles, 2017. 
Related: 

Hello from Honda HQ in Torrance, CA! The Rebel gets it's 500 mile service, and I get a tour.
Posted on May 22, 2017 in Events, News & Features by Adrienne VanSchoonhoven