Barber Vintage Festival 2015
 The Barber Vintage Festival is a huge event at Barber Motorsports Park in Birmingham, Alabama.
Steve West of Silver Piston jewelry called me up and asked if I was going to come to the Barber Vintage Festival- this was the third year he'd been telling me how much I'd love it and how I need to come out. But this time he also graciously offered me some space in the Ace Corner booth set up with him and Asher of Grifter Company. I couldn't pass up the opportunity to hang out with these guys so I packed up the few MotoLady leather products and apparel stuffs I had, and headed to Alabama. The guys did all the booth decorating really, minus my little Mexican blanket table, and were even handing out shots of Bulleit bourbon to customers and passersby.
If you're going to pick one event to go to all year- make it the Barber Vintage Festival. You could come with a group of friends that have totally different interests- builders and tinkerers could wander the swap meet, there are endless motorcycles to ogle, and even the sound of the races going on in the background gives you goosebumps. And of course, there's the Barber Motorcycle Museum filled with almost 750 vintage and modern motorcycles of every type. The collector, George Barber, is a philanthropist and investor who happens to love motorcycles and racing. He is an absolutely sweet guy, I was very fortunate to meet him in Ace Corner thanks to Bree Tashski who's running Royal Enfield's marketing in North America. Besides a 2.38 mile track, the event brings you both the Silodrome and the Wall of Death.
After flying into town, Steve picked me up in Asher's truck, we headed to their hotel to game plan, and ended up getting picked up by Lee Conn, the President of Motus Motorcycles, which is located in Birmingham. This was my first experience with Southern hospitality and dang, it lives up to it's name. He carted us over to Motus HQ, gave us an amazing tour (this is when I was kicking myself for not bringing the camera) and rundown on all their bikes and the process. They build completely handmade American motorcycles for about $30k. How amazing is that? The engine is basically half of a Corvette engine, adapted.
Once the awe inspiring tour came to an end, we headed to a BBQ joint called Moe's. I got an amazingly delicious bourbon and ginger that bonded me with the bartender, a huge plate of classic Southern food (including corn bread and collards), and we stuffed our faces and talked motorcycles more. After a while, my dearest Sofi's long long drive from Texas was finally coming to an end, and she swung by the restaurant to pick me up and head to the hotel she was so graciously letting me stay at.
The next morning we woke up around 8:30a, ate breakfast, and excitedly hopped in the truck to head to Barber! Sofi, the main lady at GT Moto, and her dad George, carted their bikes all the way from Plano in her Raptor (with trailer set up). They had a booth space near the race pits, a totally different area than I was going to be set up in. Barber Motorsports Park is some 740 acres, so it's definitely a big event.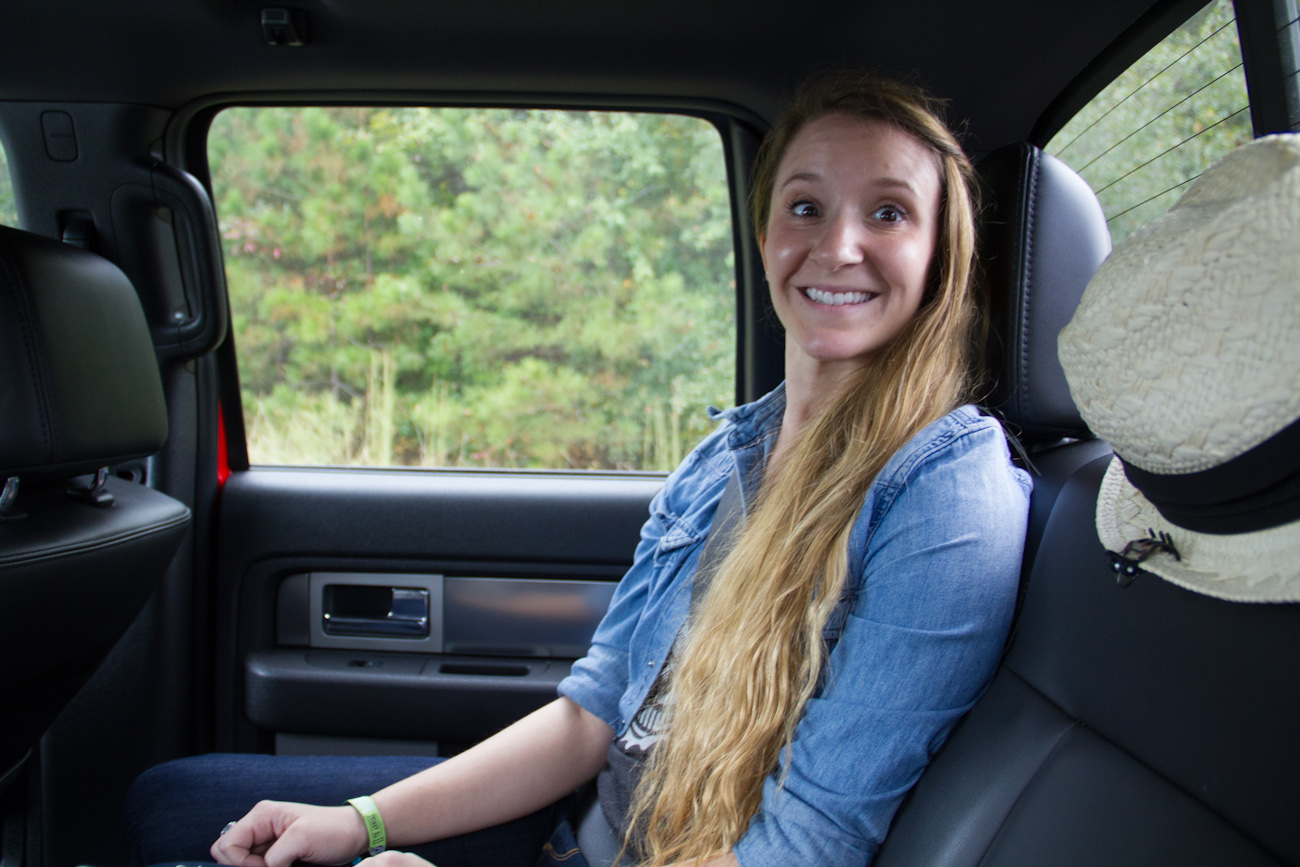 I said goodbye to Sofi and headed up into Ace Corner- sponsored by Royal Enfield and Dime City Cyclesgt, it was an area specifically for custom vintage motorcycles.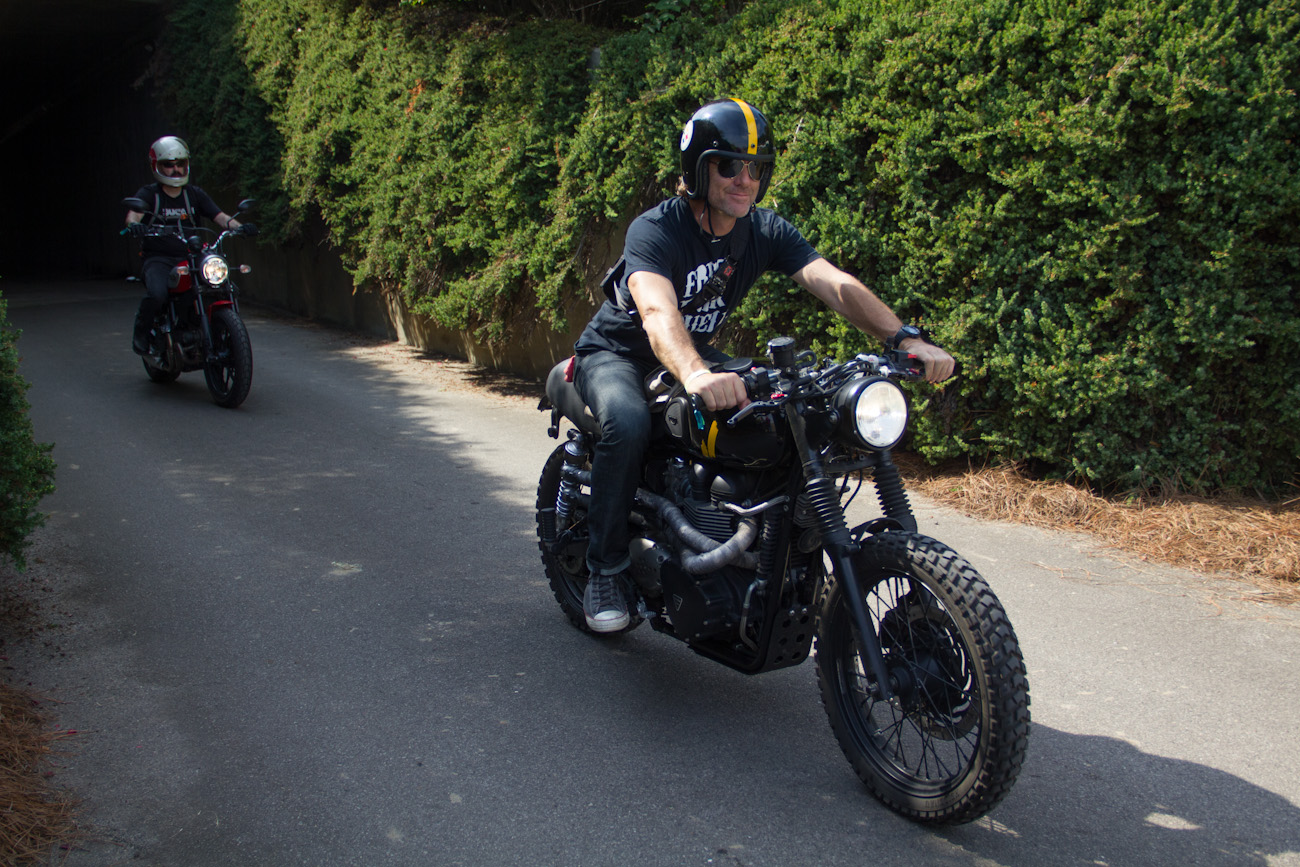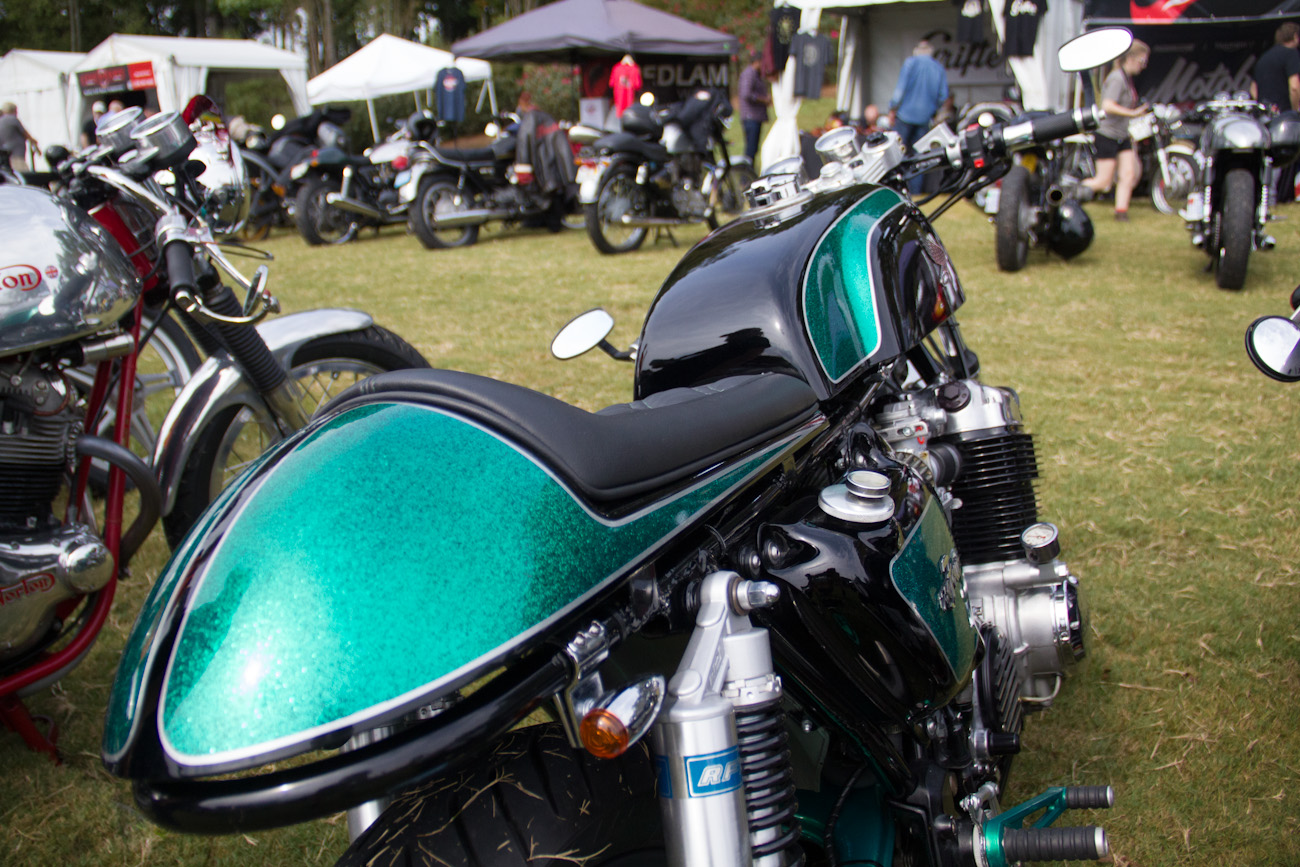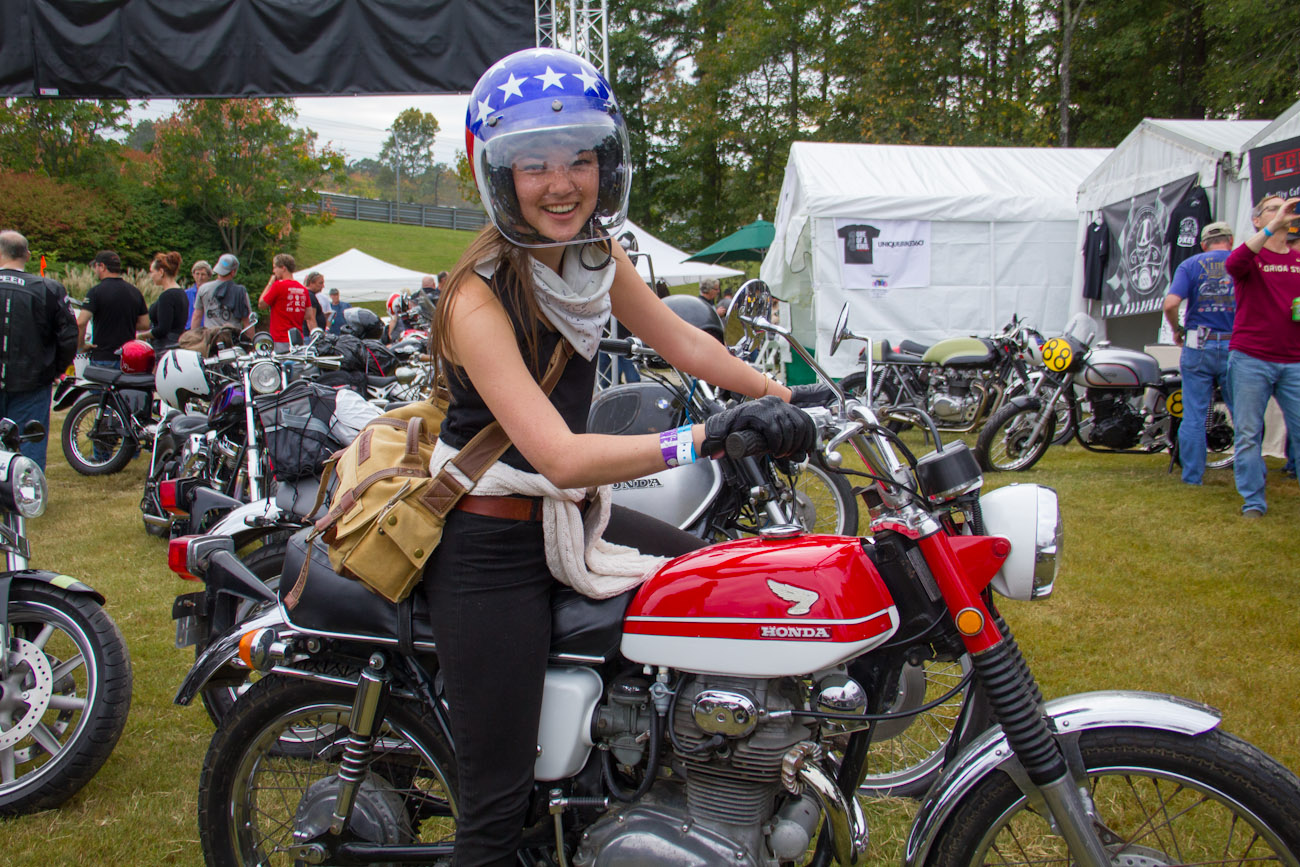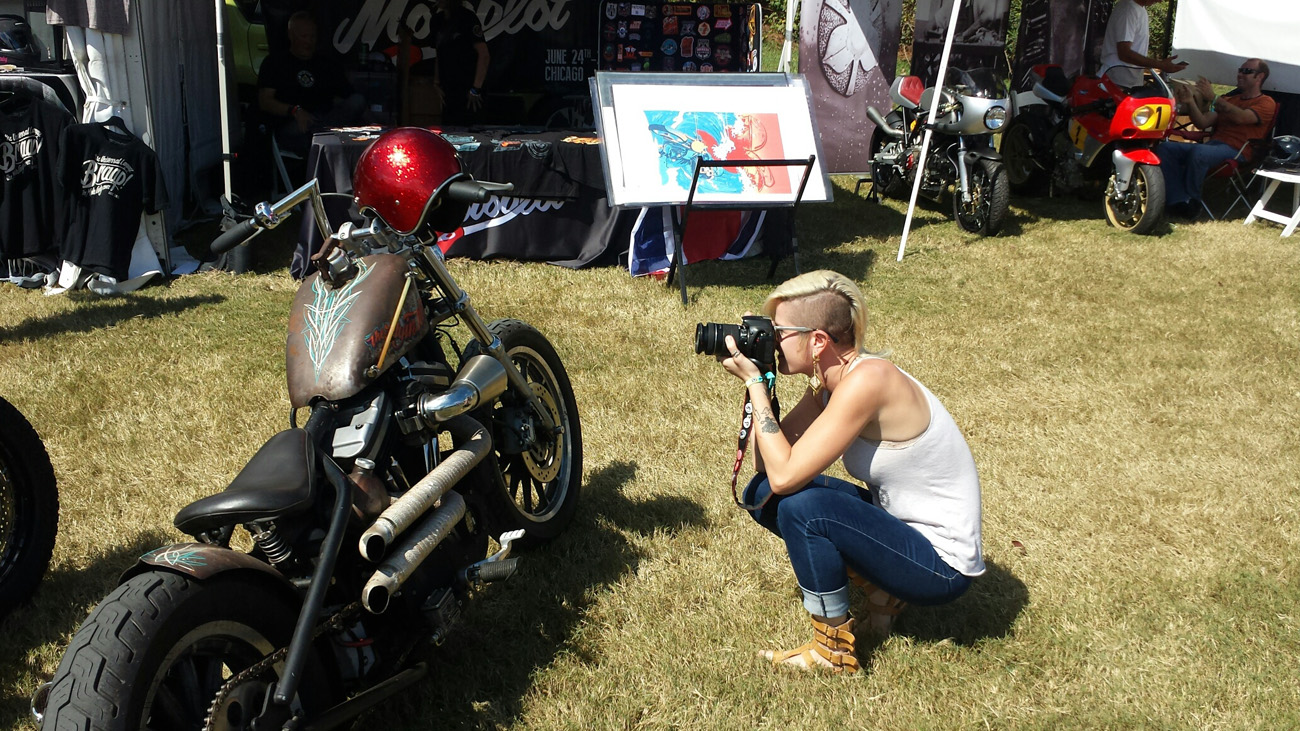 Wandering around the corner I met Ephraim of Mr. E Machines who custom mills hammers, space pens, and so much more. I lost my mind when he showed me the tiny hammer.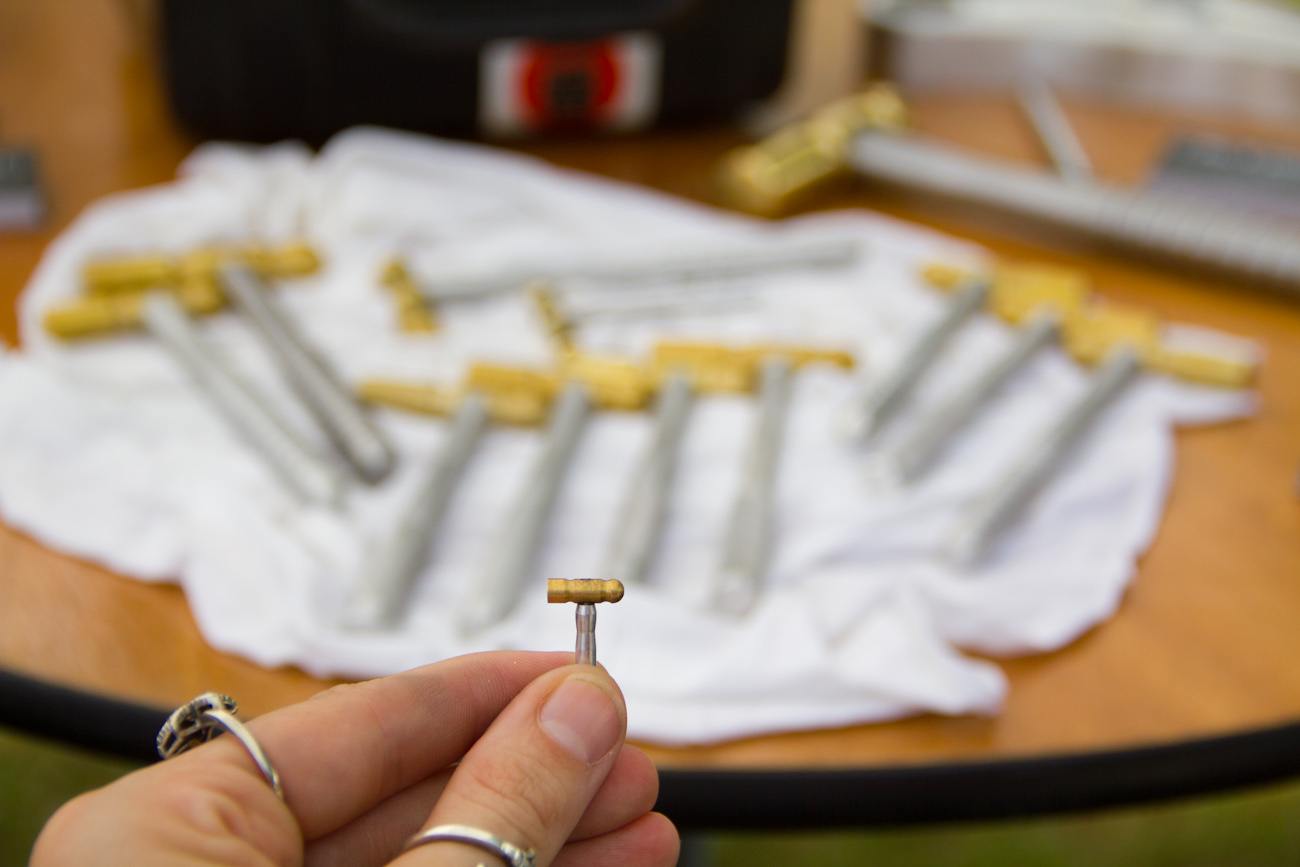 Ricky Rosal of Old Soul Young Blood showed up on his incredibly custom Yamaha XS complete with leaf spring front end which I found really fascinating. Ricky is a super nice guy, too.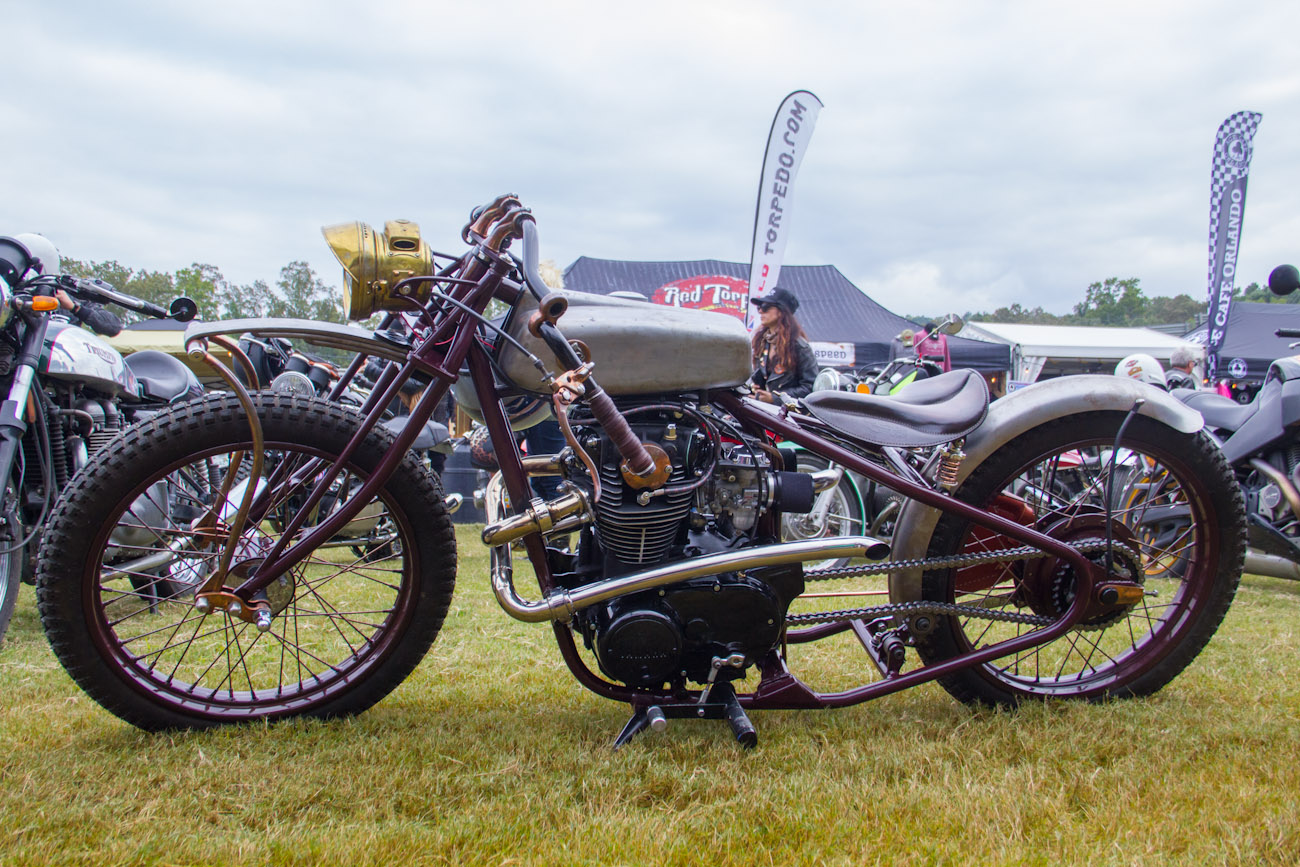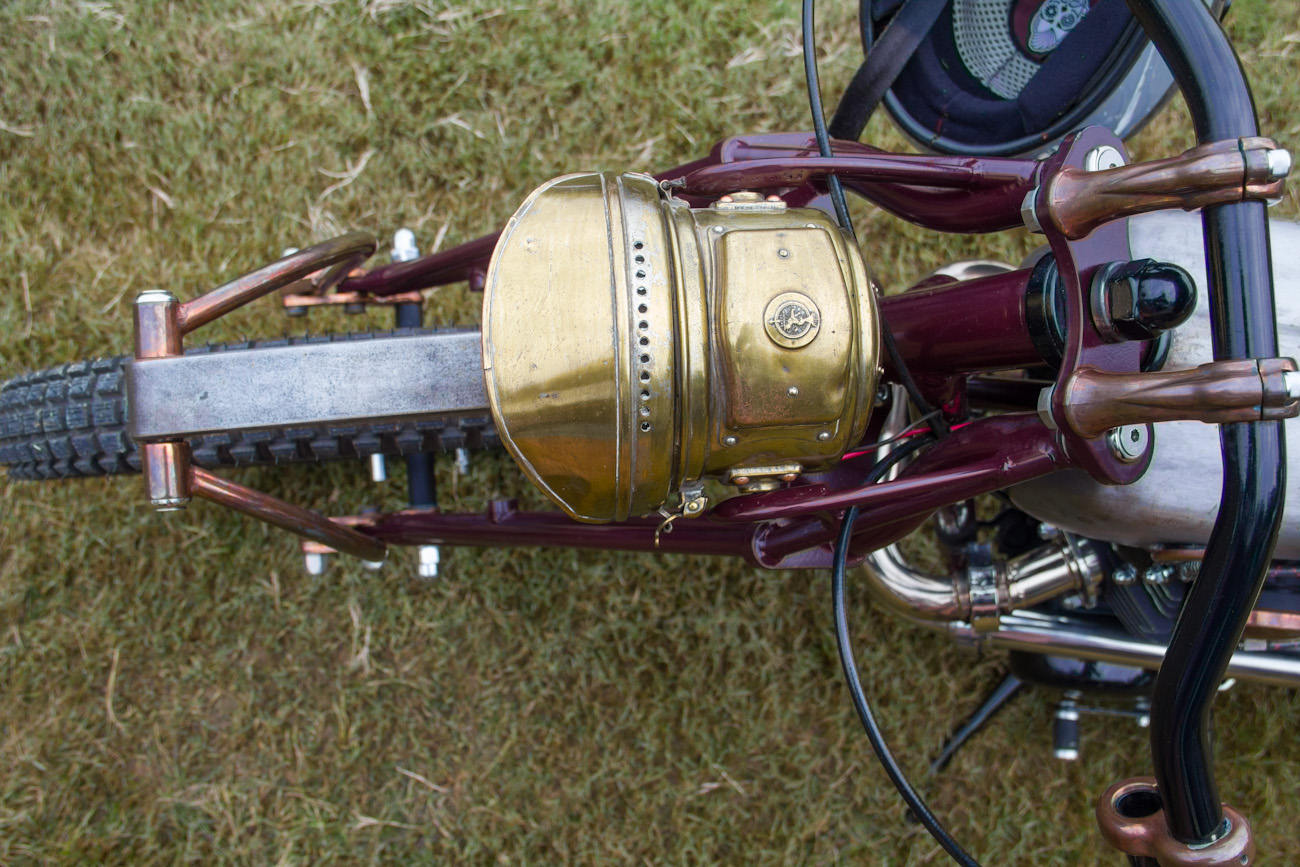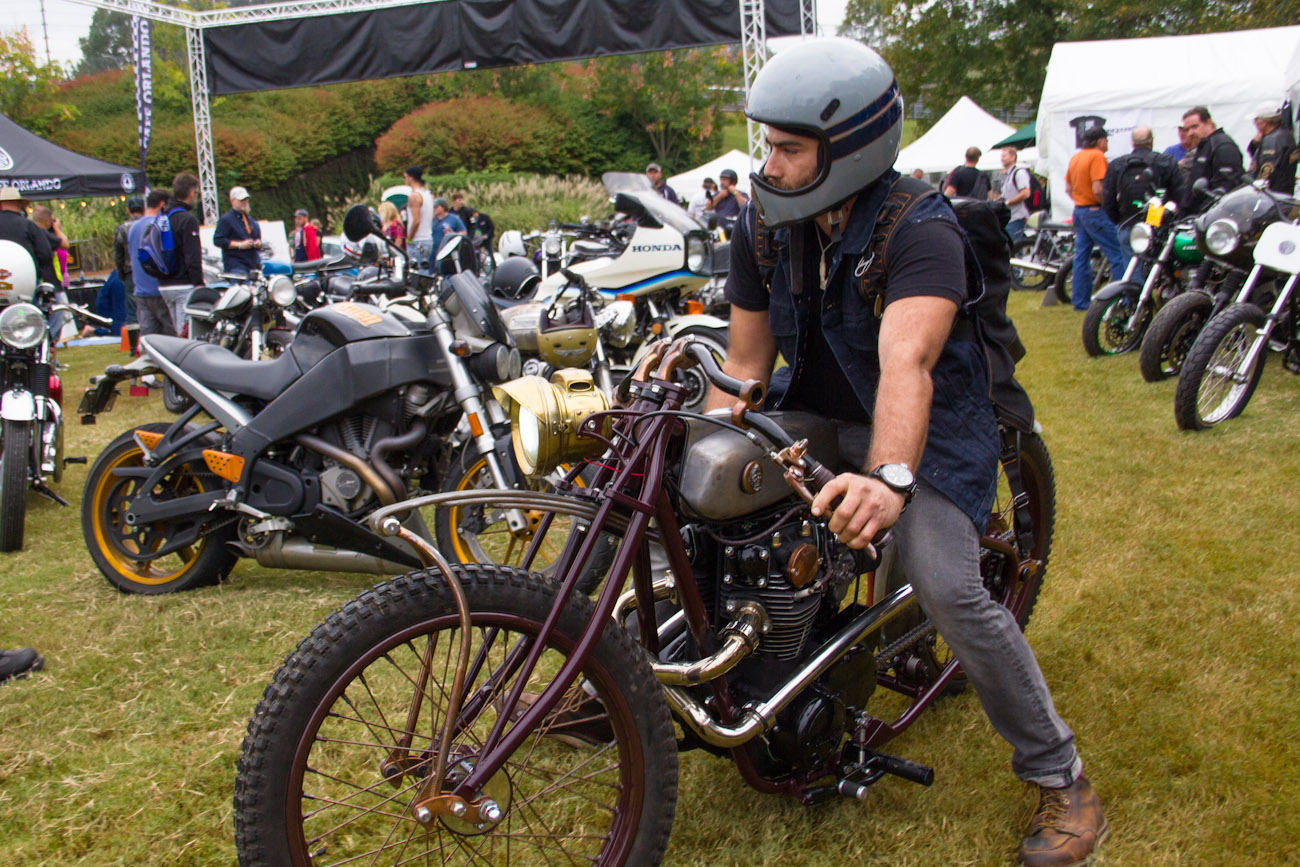 No one in the Ace Corner area trailered their bikes in that I saw, which was the best part about the area for me. Everyone got to watch these amazing pieces of history and cool custom builds being ridden in and out of the show.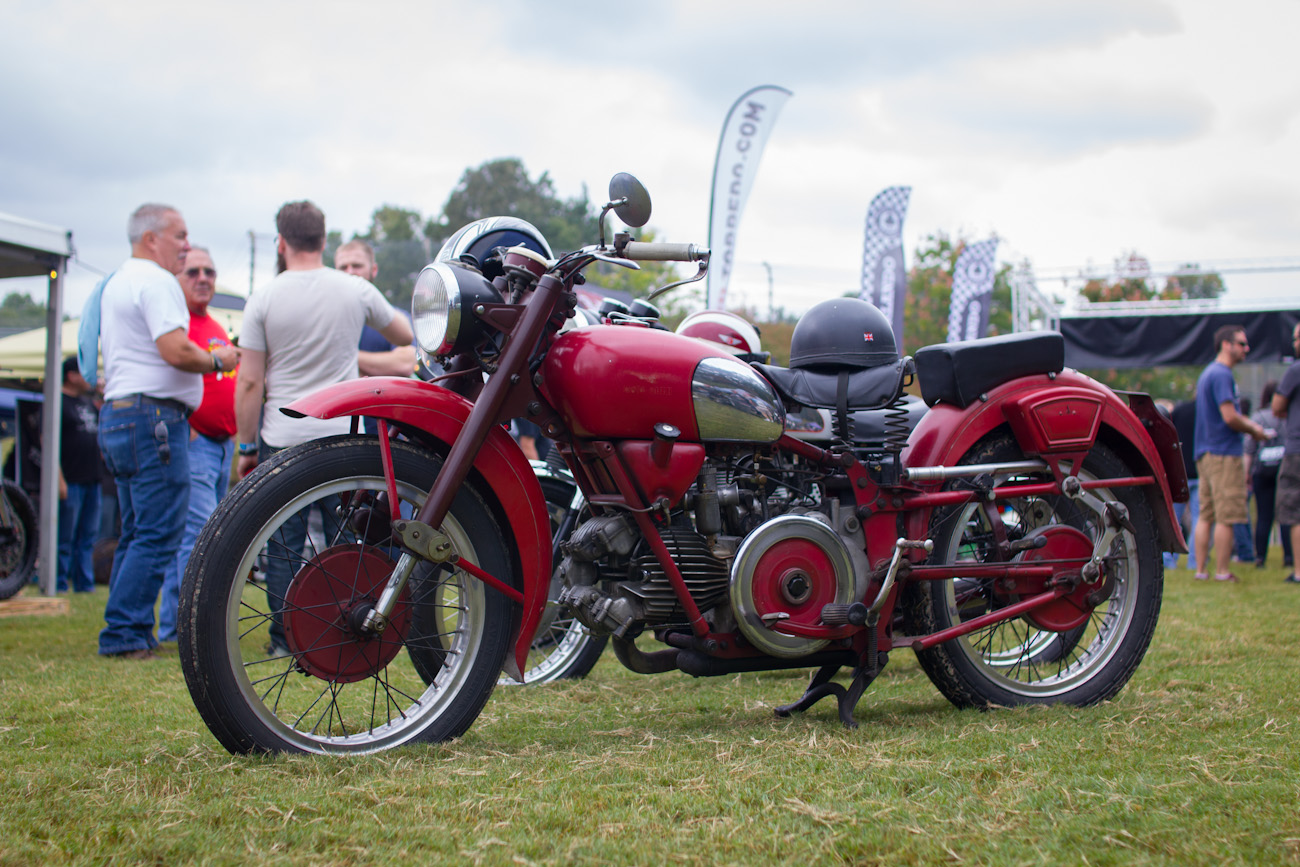 In the booth, Asher (Grifter Co) and Steve (Silver Piston) were hard at work and talking to lots of people. Since the Silver Piston rings are made to order, there was a nice display of his available products and he could size you on the spot.
Up the hill where Dime City was set up, folks could enter their bikes in the show for prizes and trophies from DCC, shop, watch the races from the hill, and get some grub.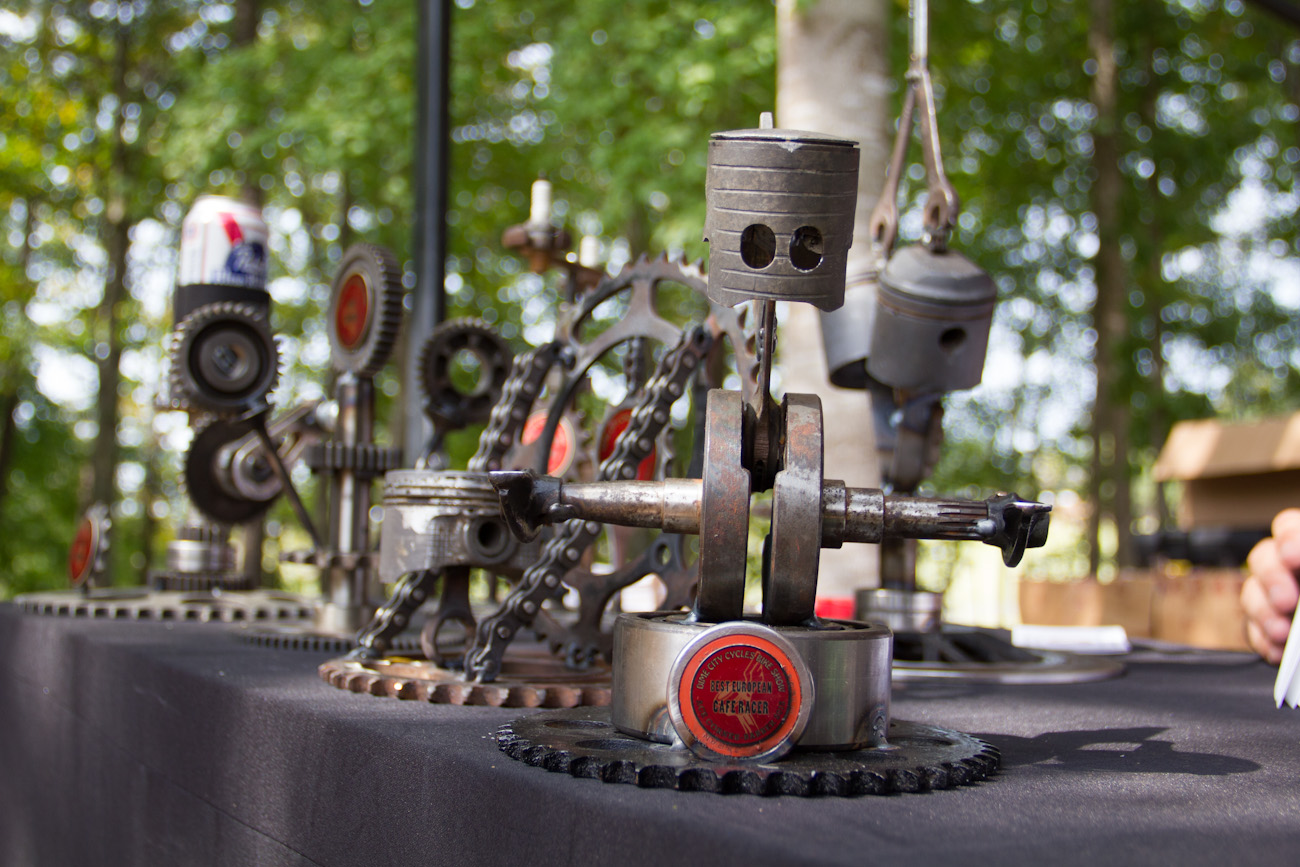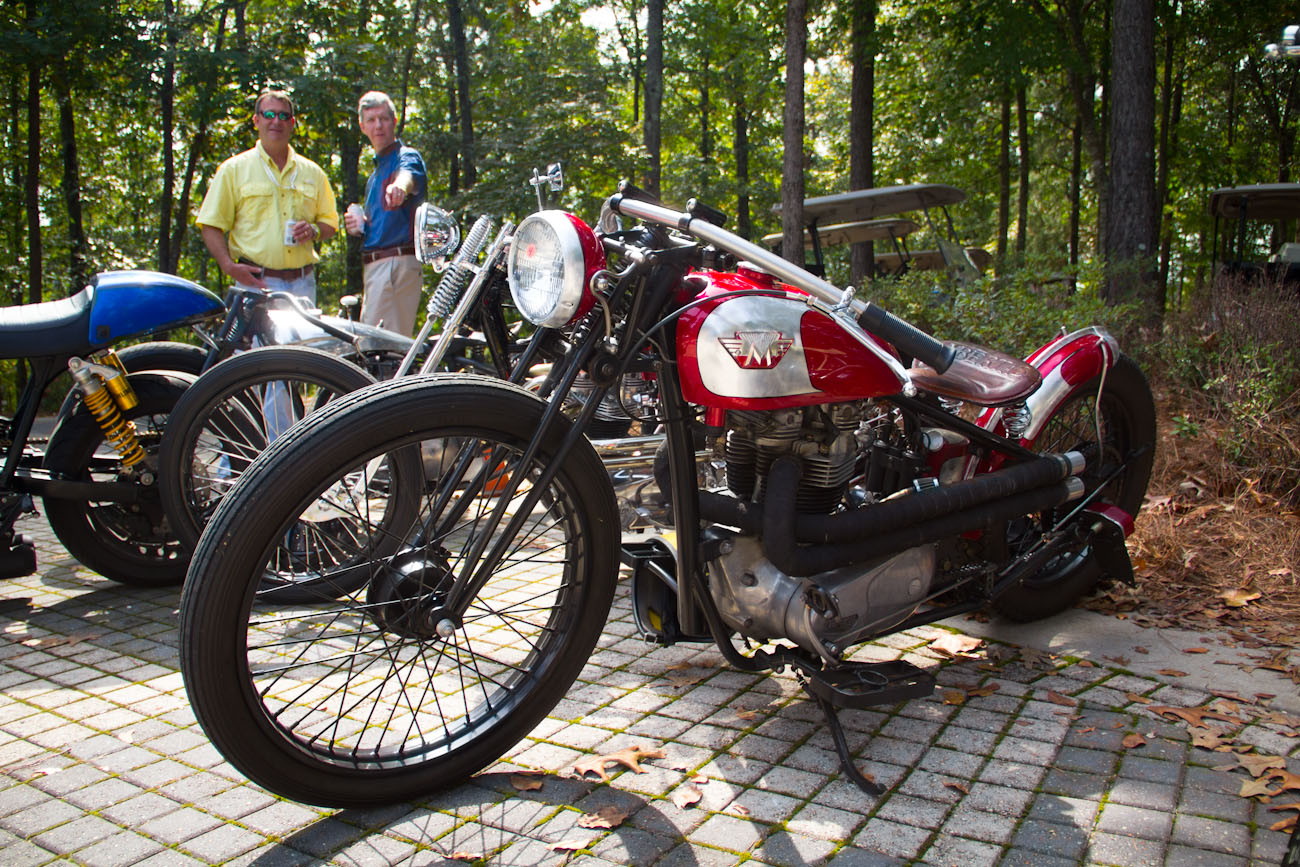 After eating a trackside burger on the side of the hill, I found a nice viewpoint and snapped some shots of the racers.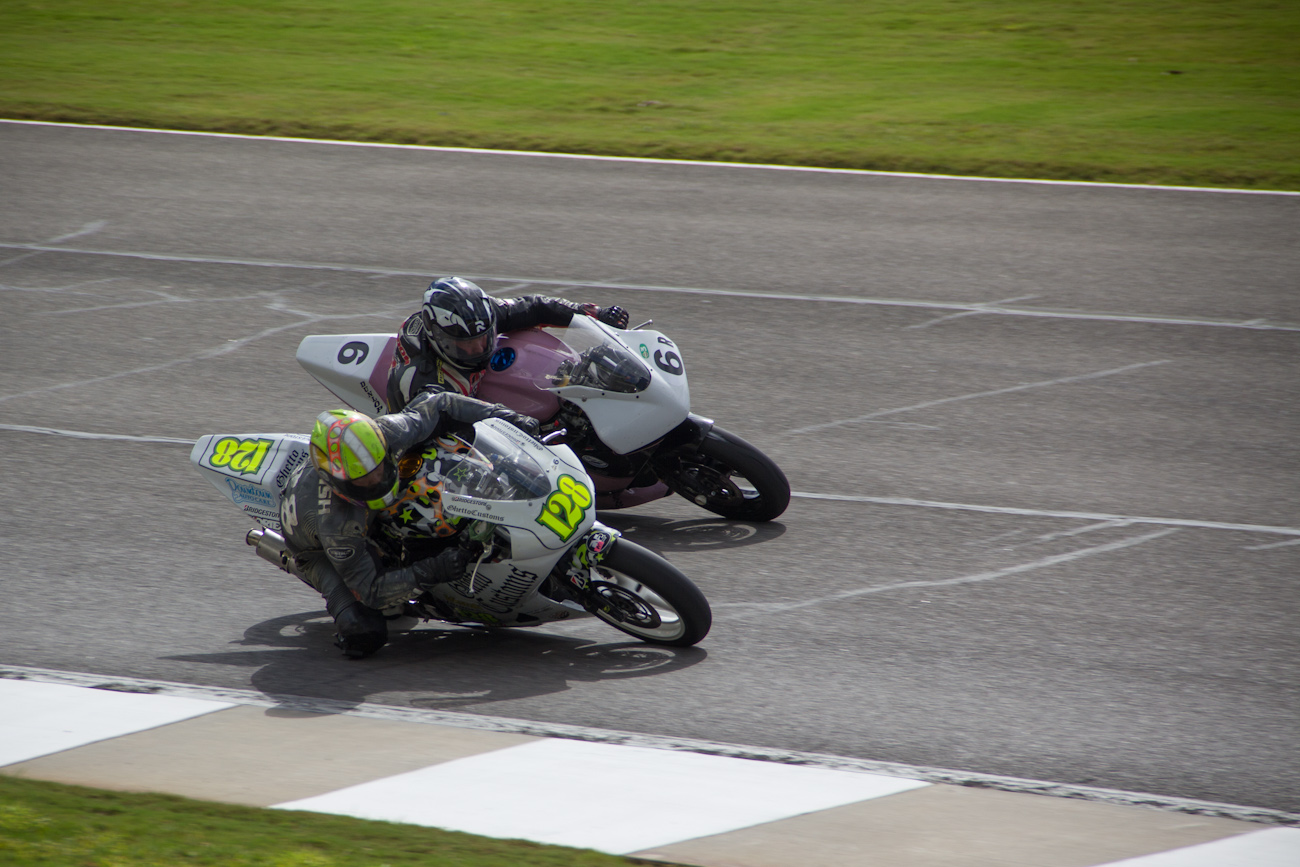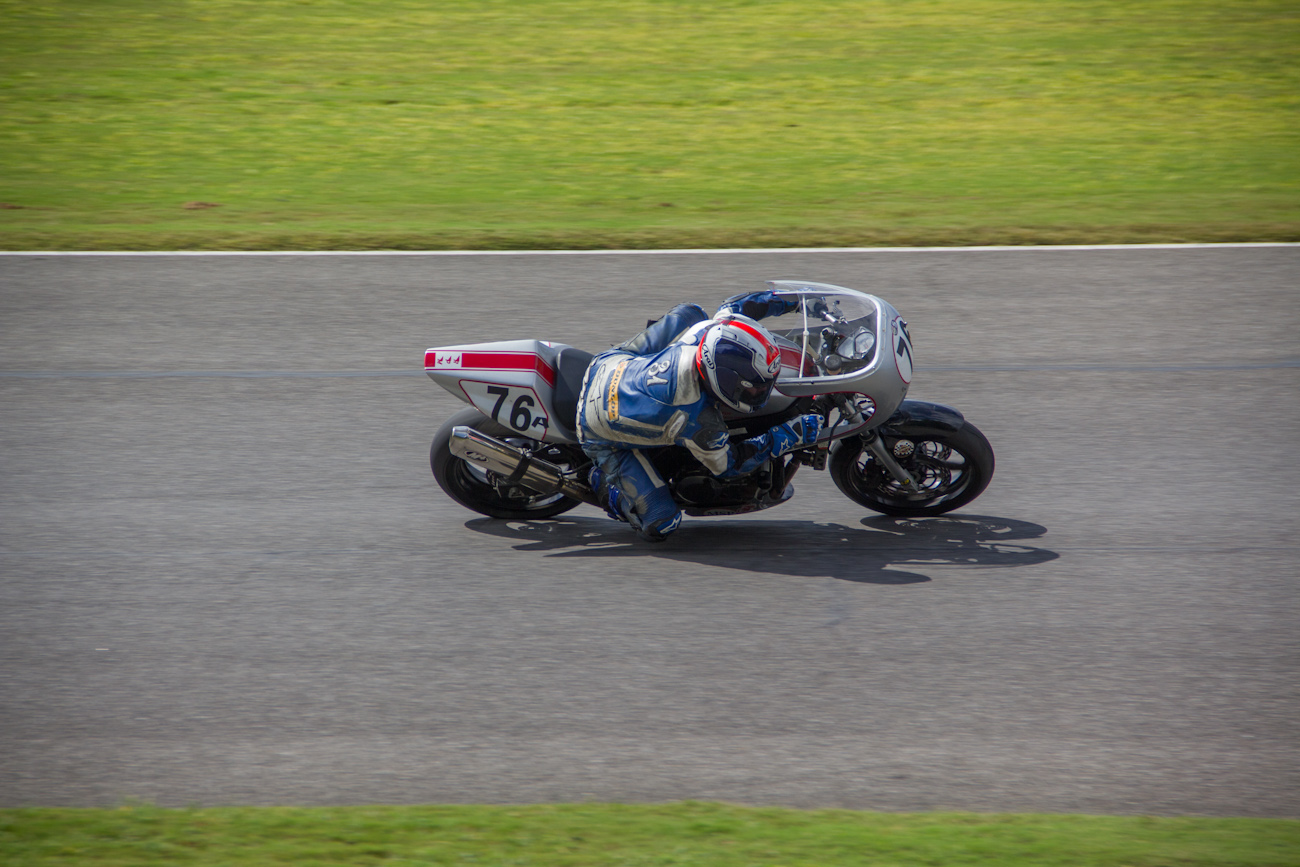 There were quite a few ladies on track, too.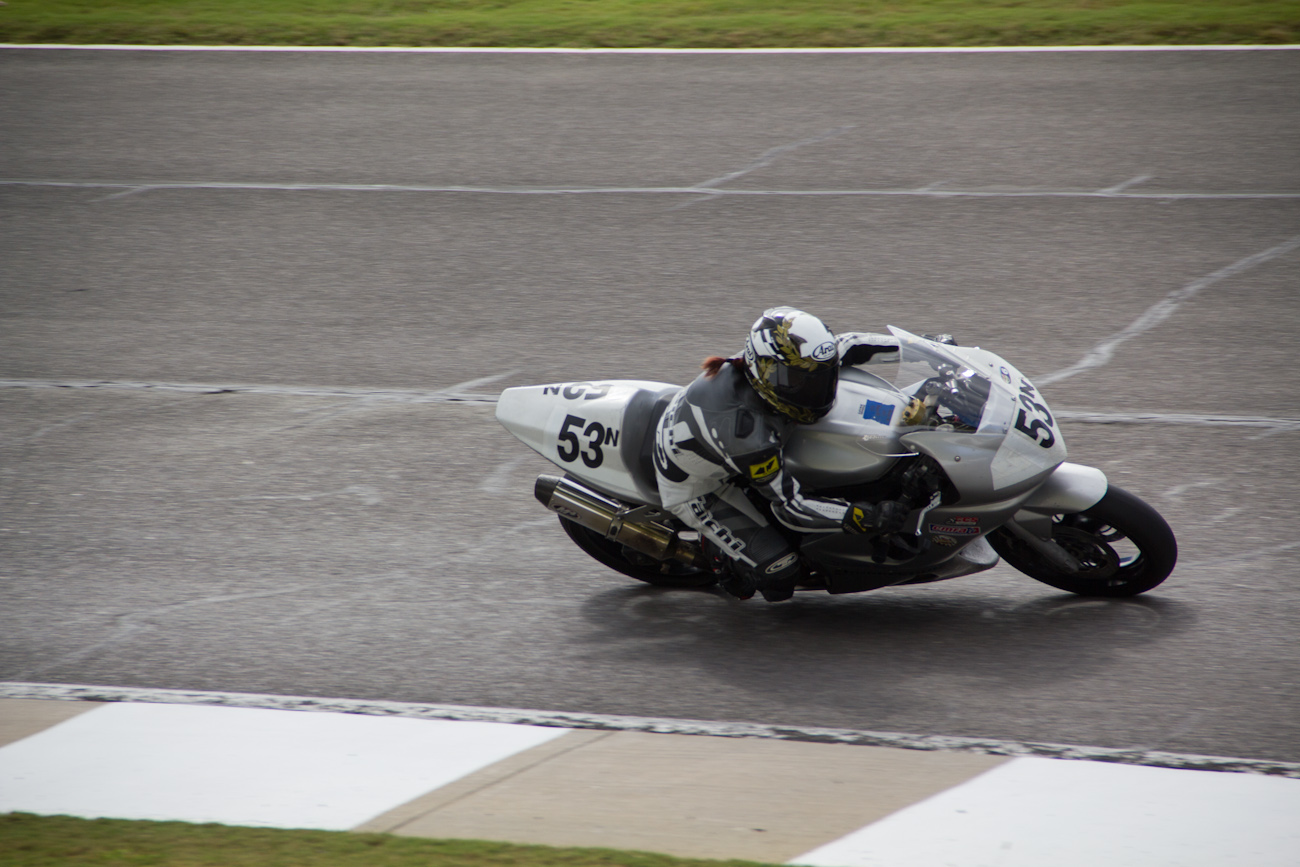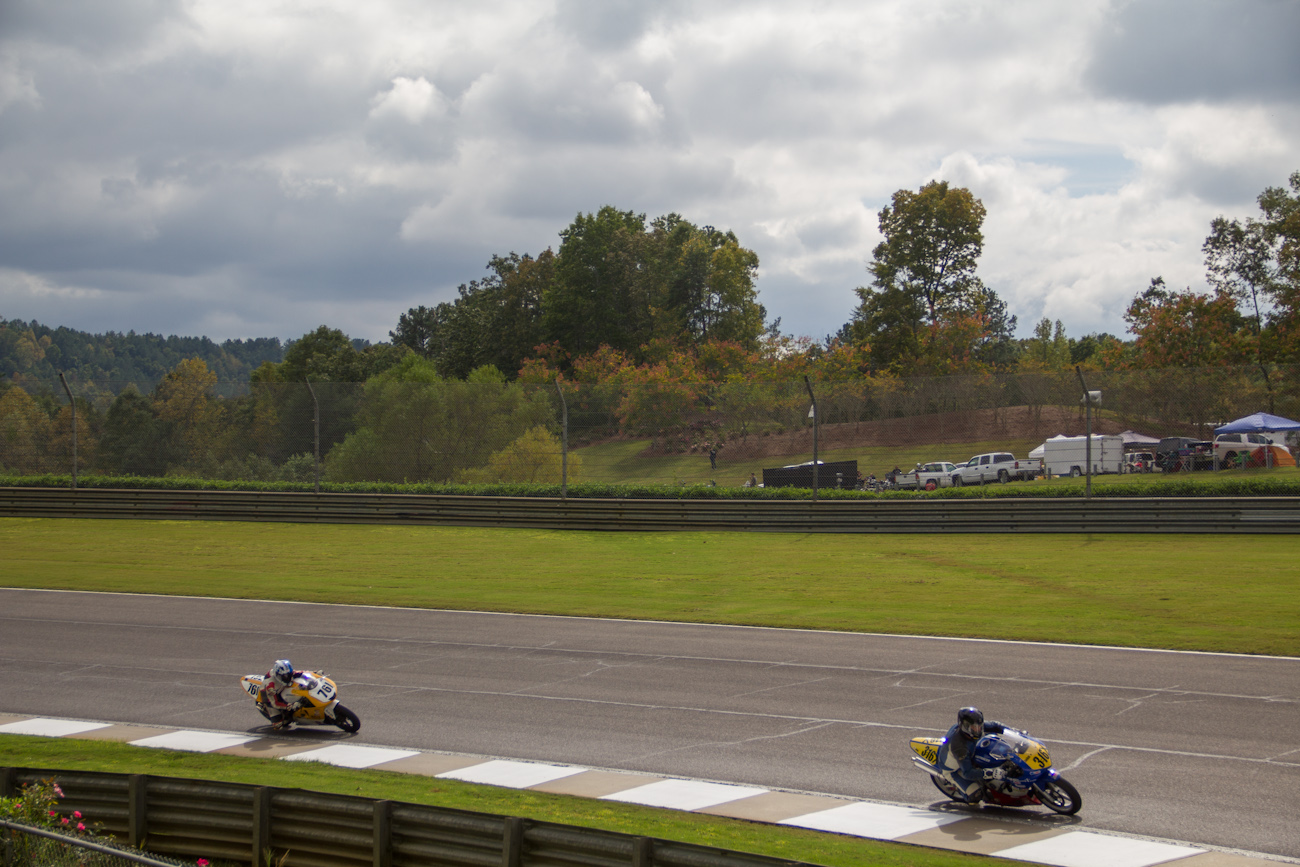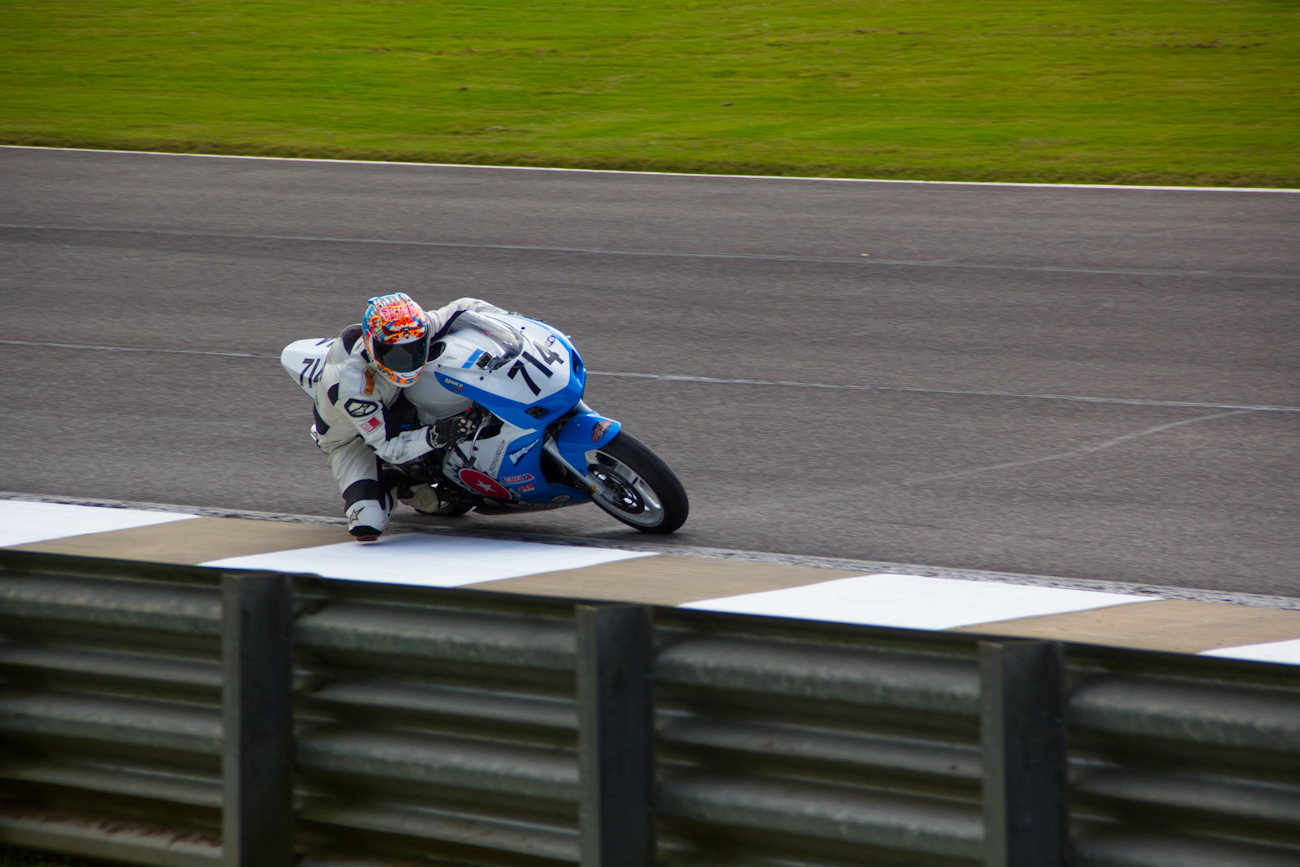 The vintage races featured my friend Stacie B. London on her Honda!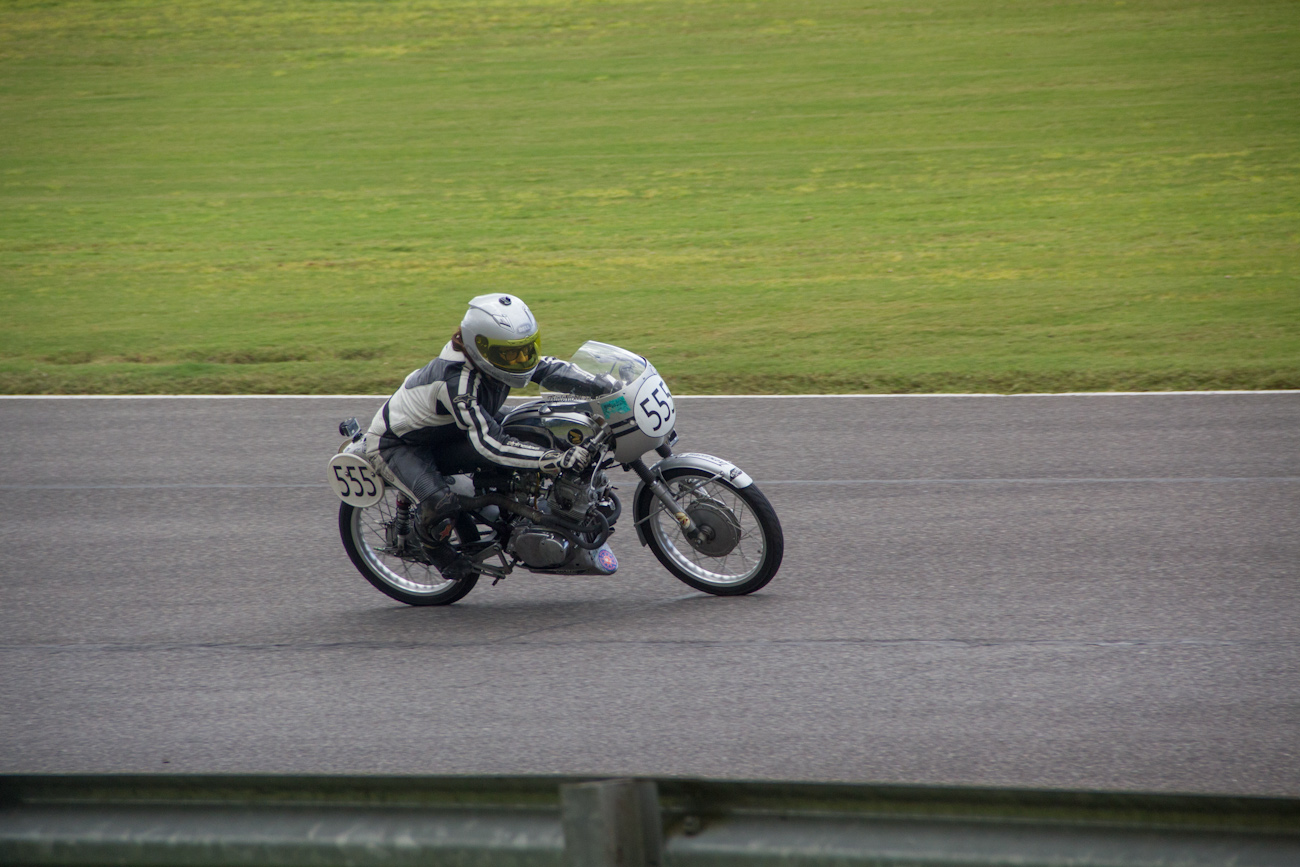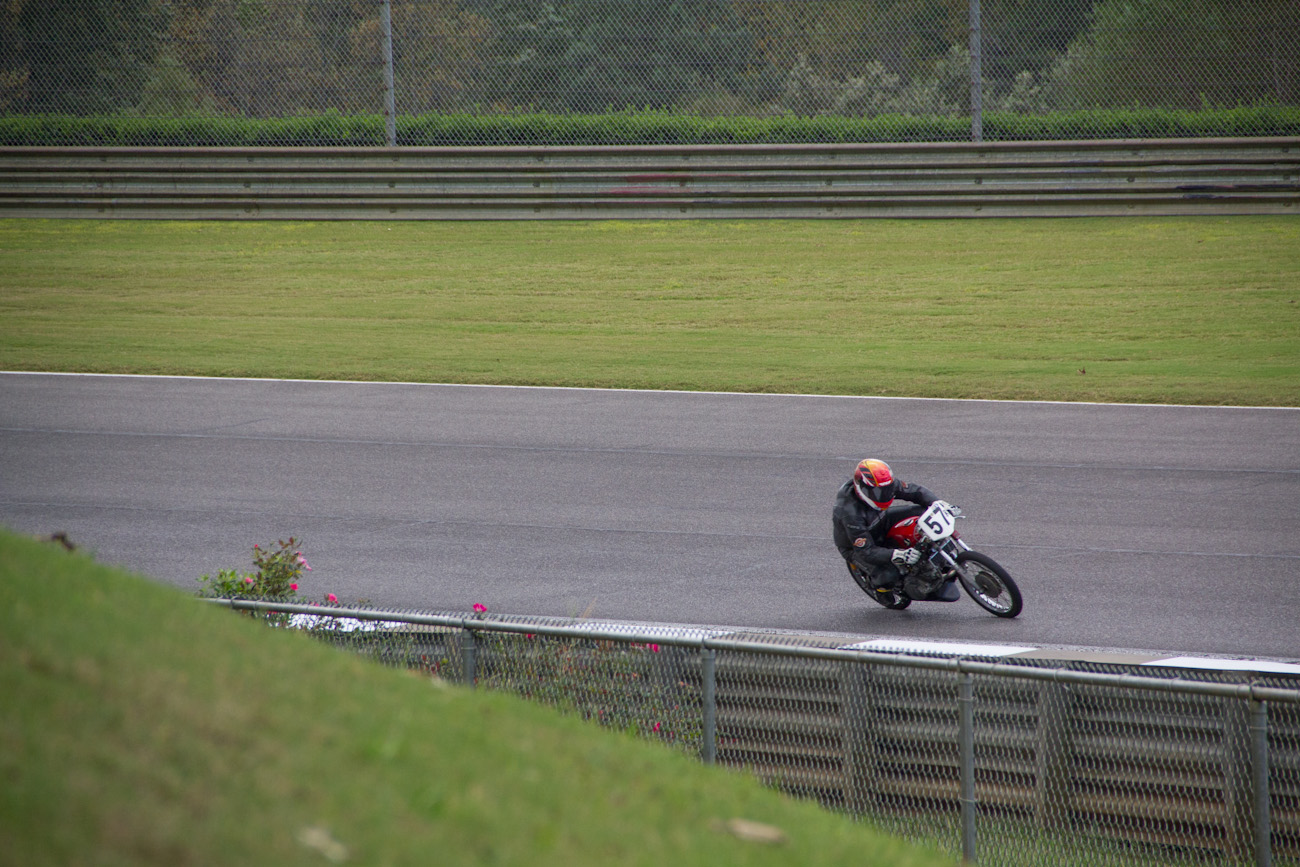 That evening I ended up at the DoTheTon.com after party in the woods with a bunch of amazing humans.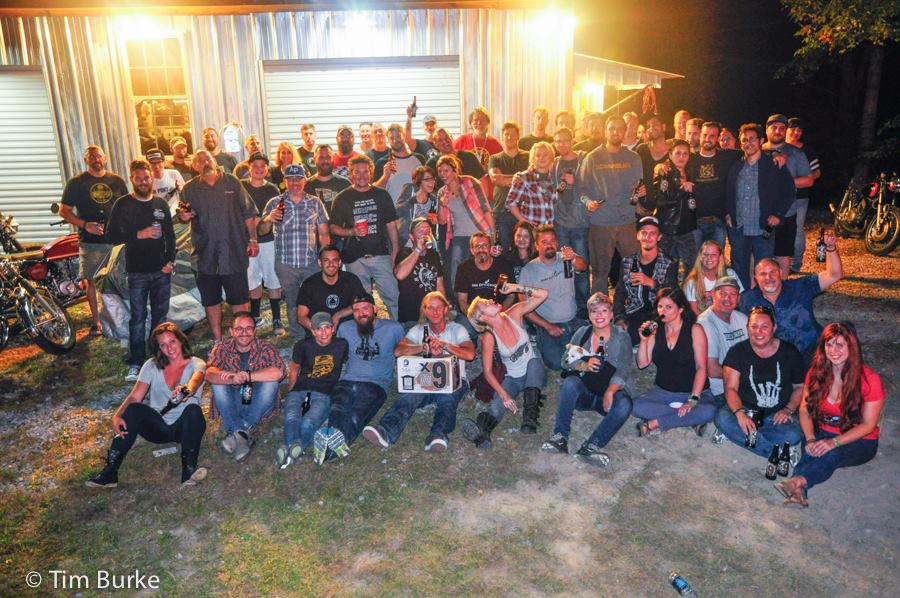 The next day Brandon LaJoie hopped on his Royal Enfield and rode to the festival with us- he had gotten in to the hotel late the night before. This was our first time hanging out after knowing each other online for a long while, and I even got to snag a good shot of him on the road! Nice to get shots of elusive photographers sometimes.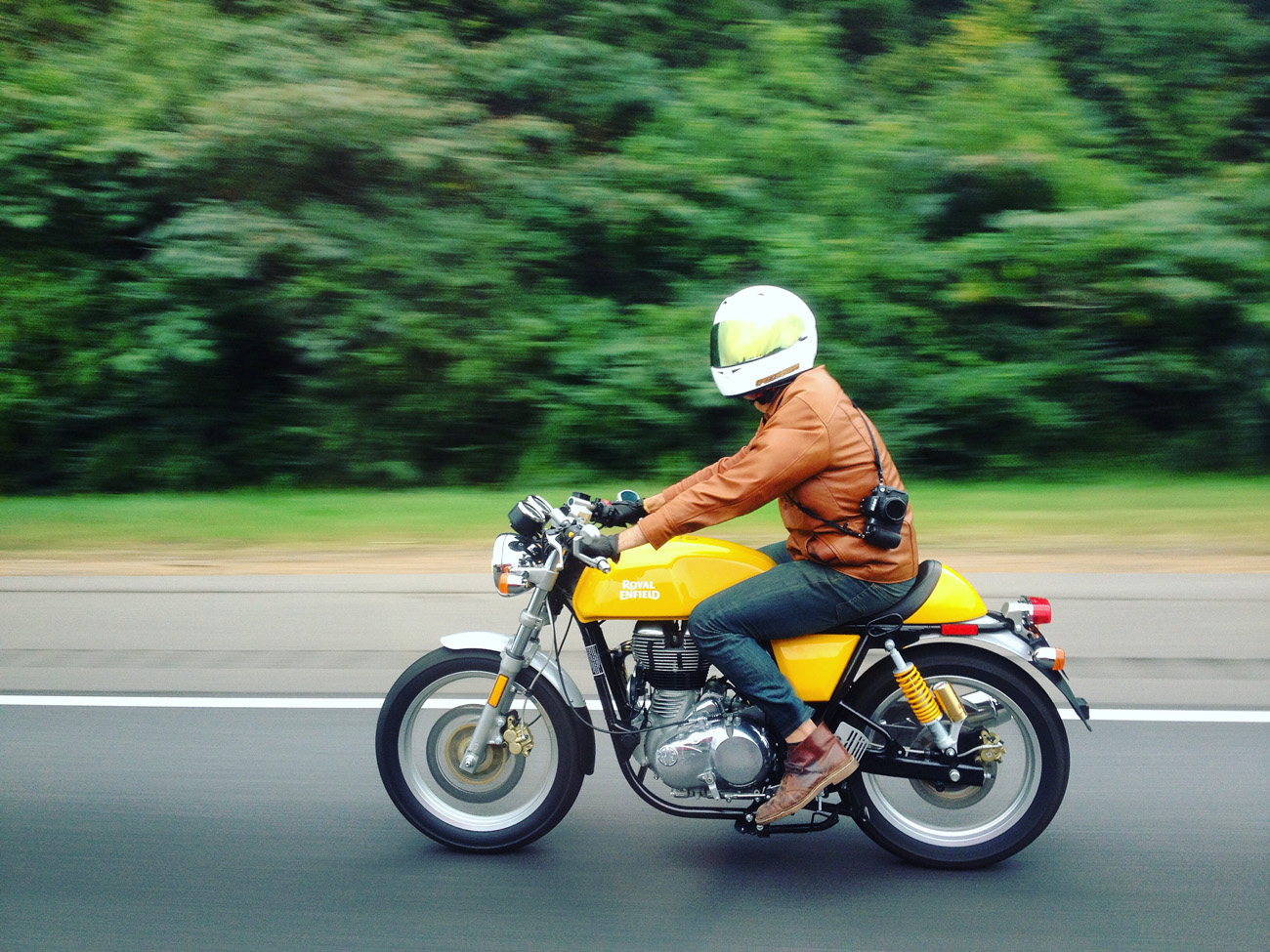 When I got to Ace Corner, the rest of my t-shirts had showed up thanks to the CROIG fellas!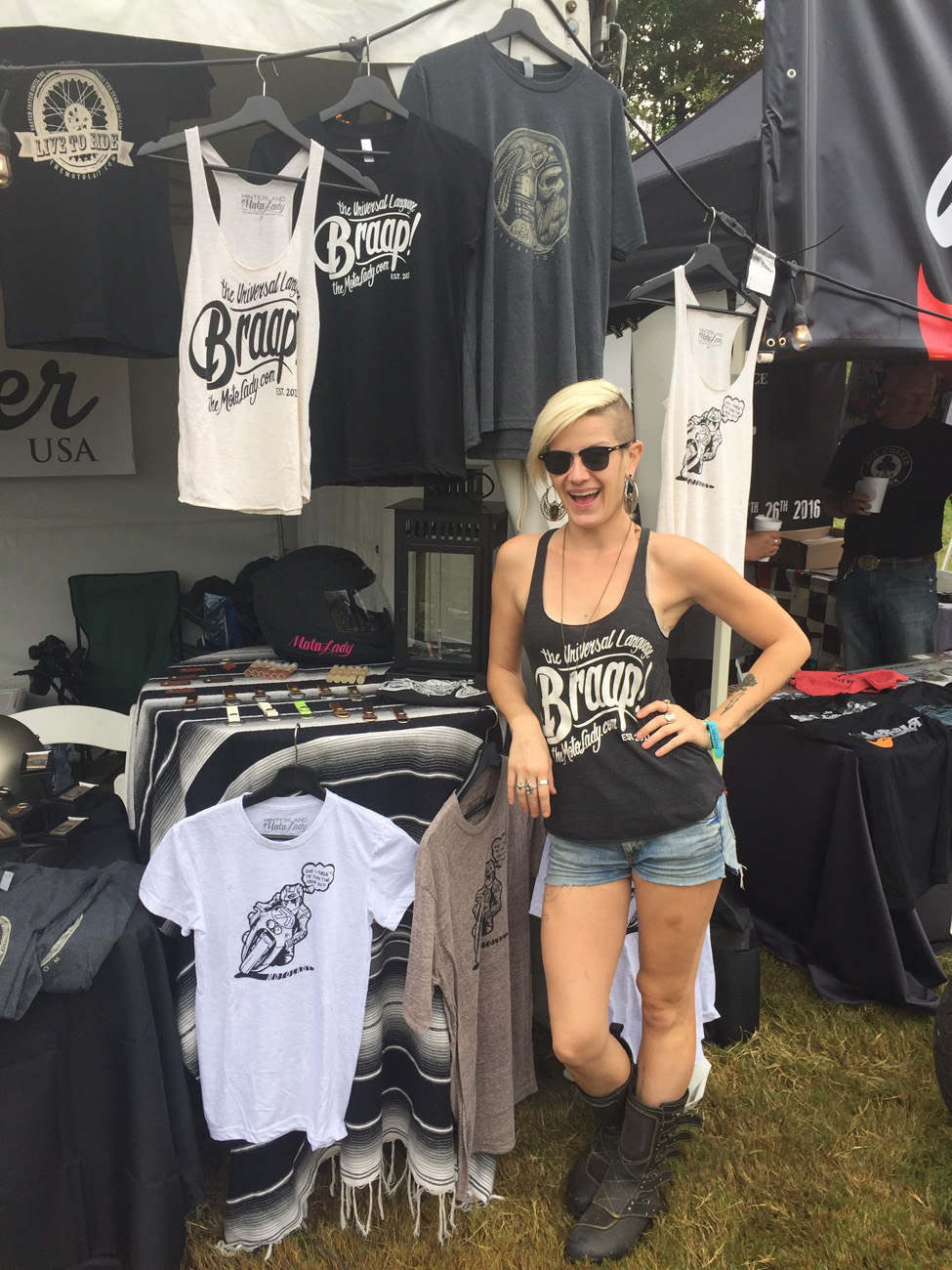 Later met Dave from BurnUp Company, located in South Florida. I didn't have any wheels at all, so he toted me around in his sidecar to the swap meet and even around the track for a parade lap.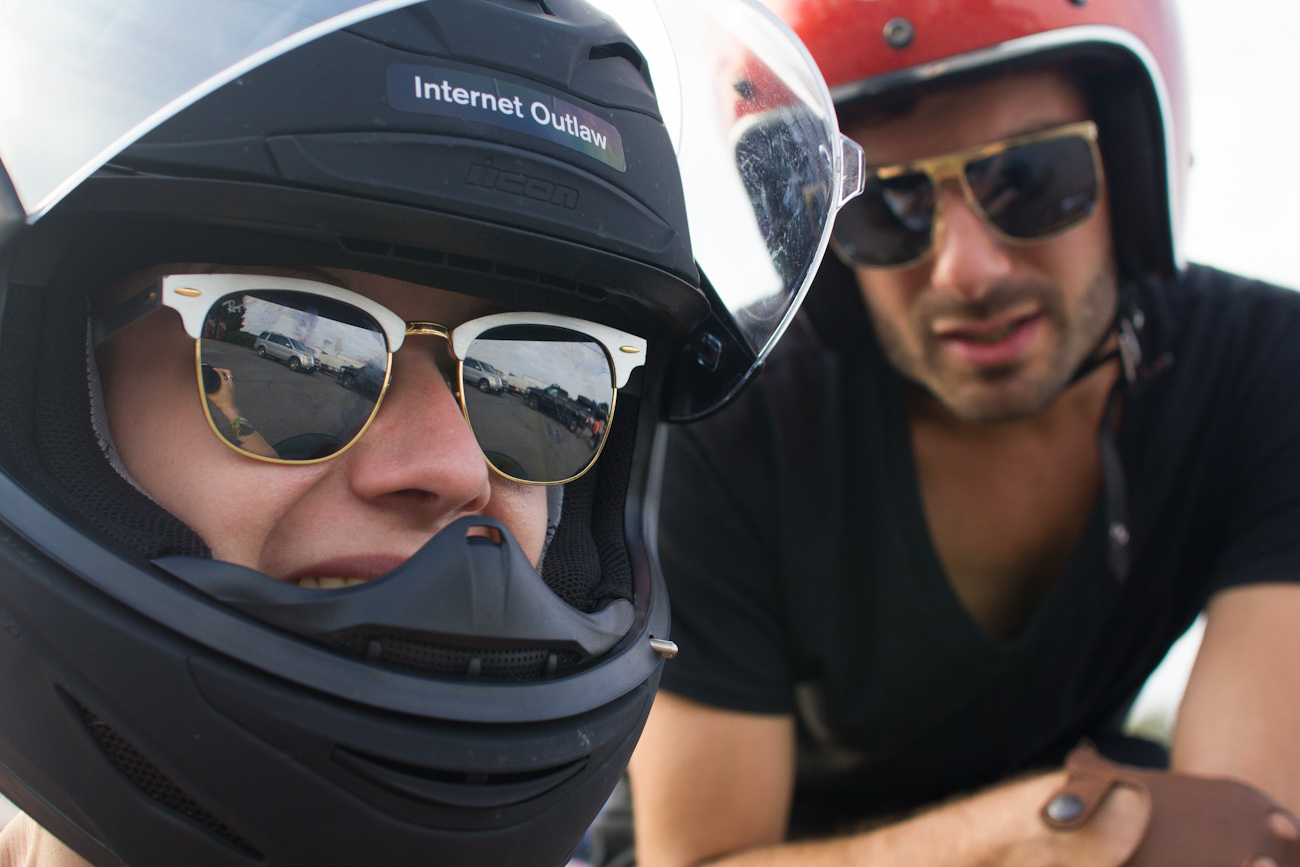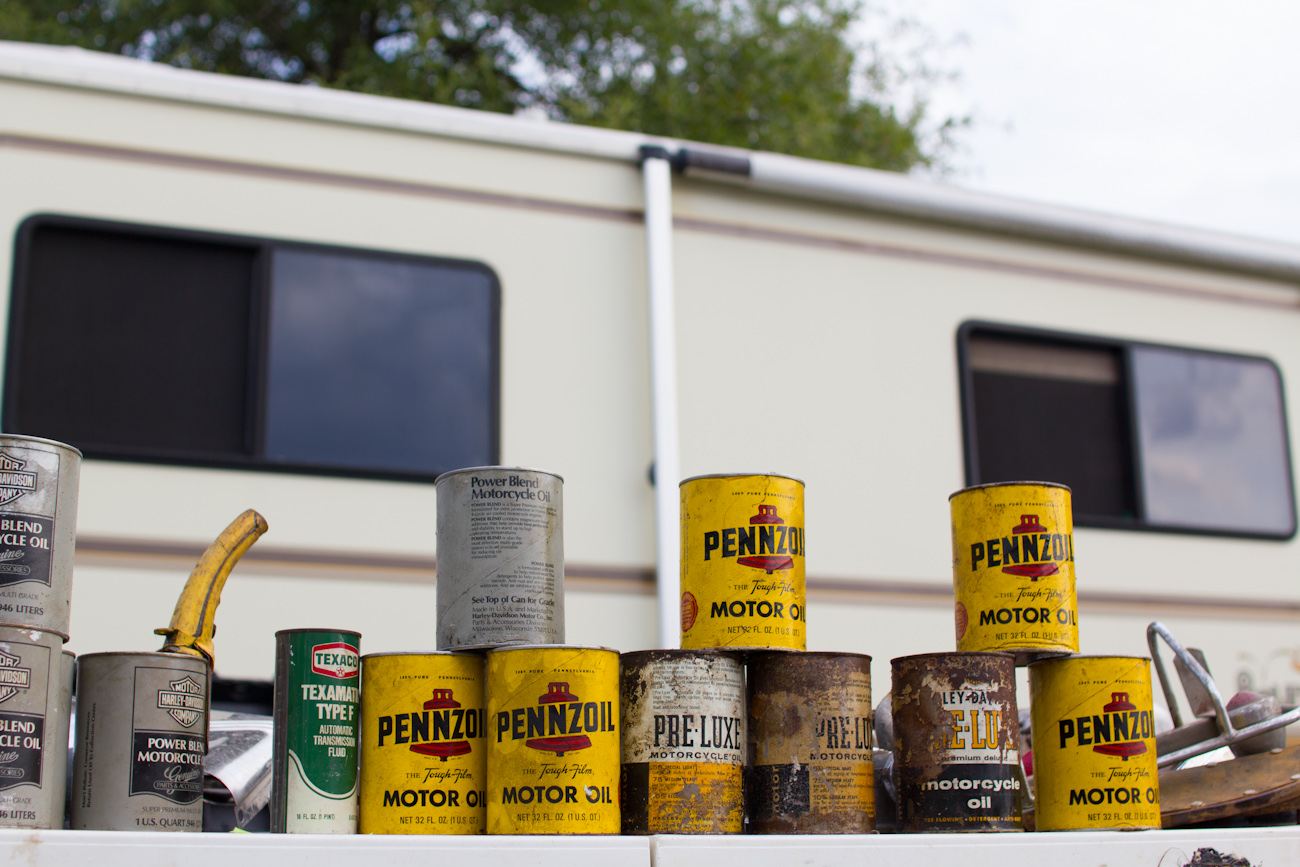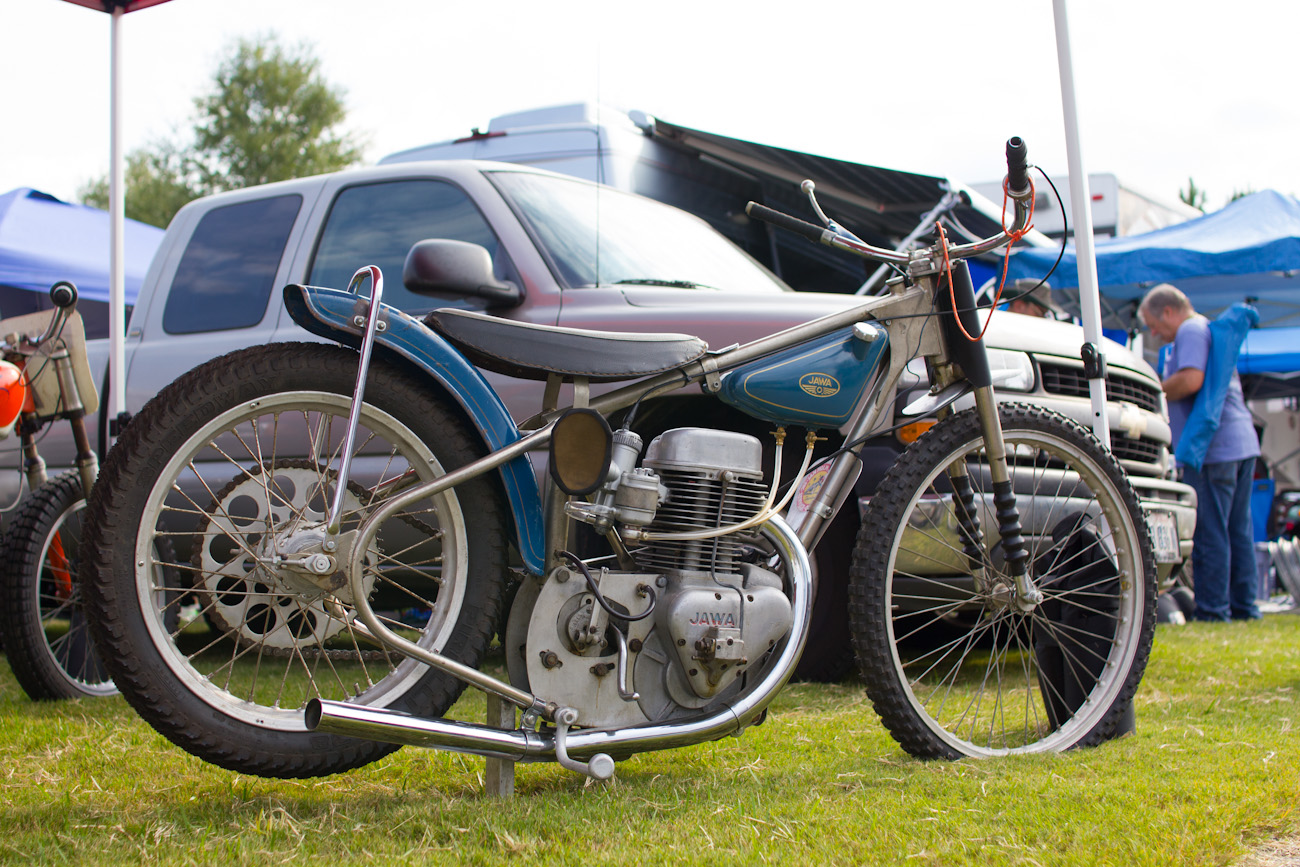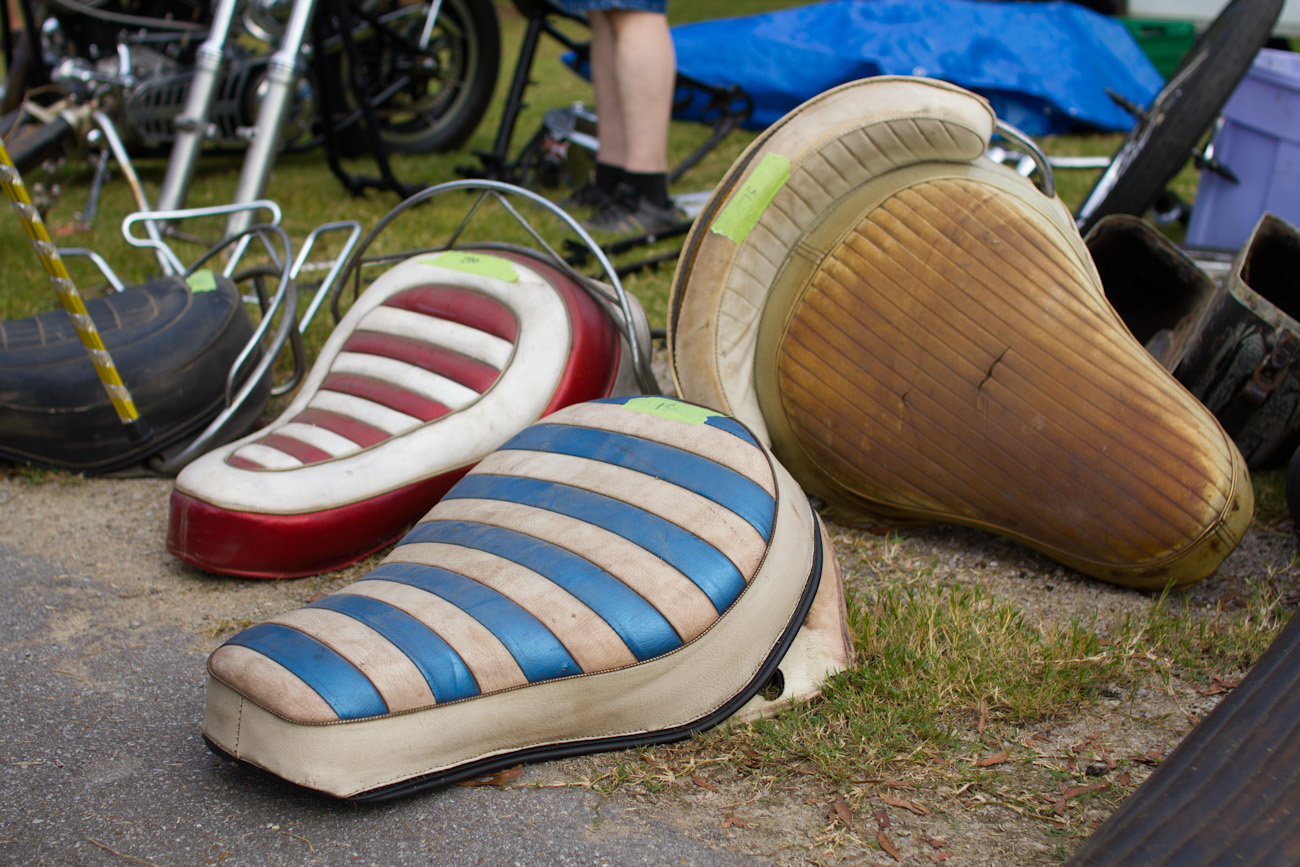 The parade lap was nice, slow, and fun. People waiting for us to get on track were of all types. So much character!
It was a lot of fun to get some new perspectives for photos from the side car.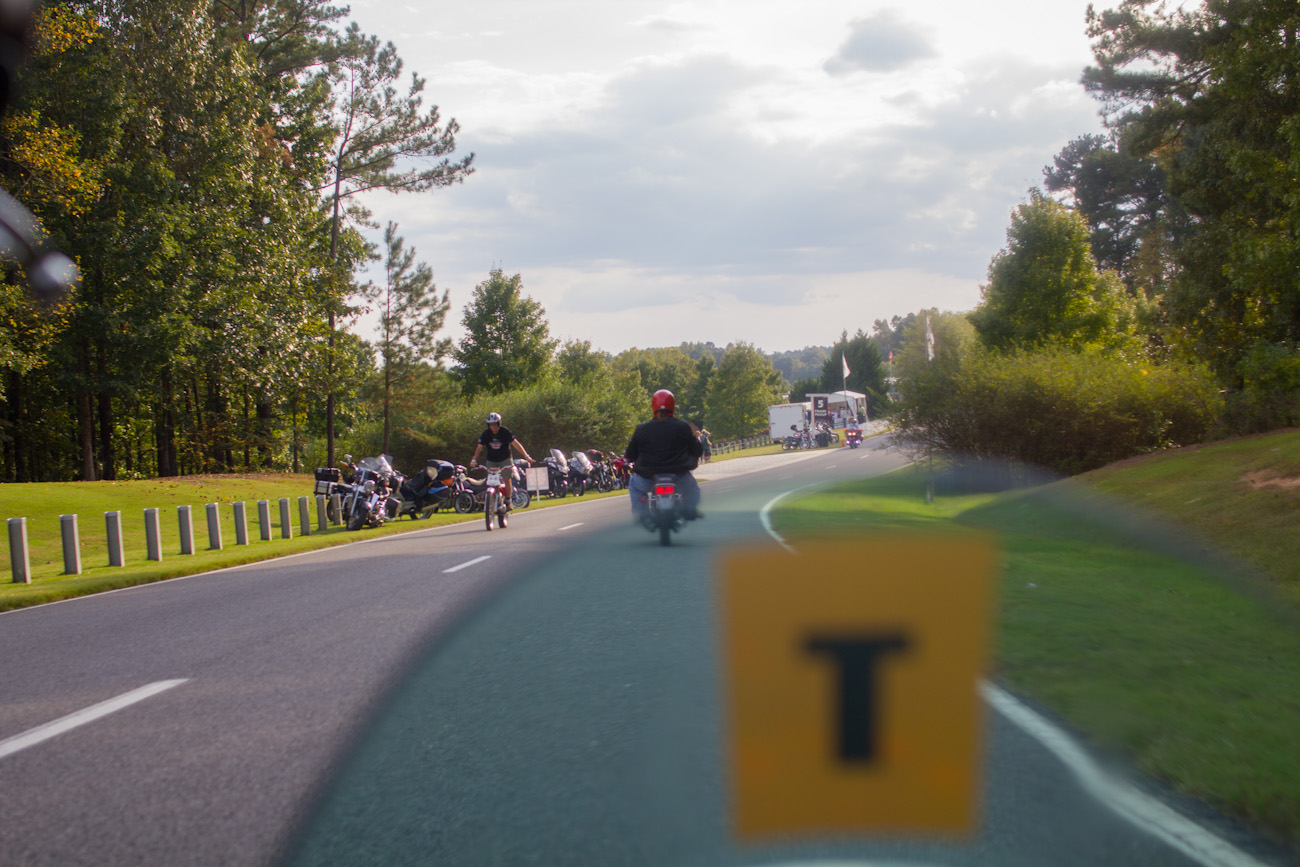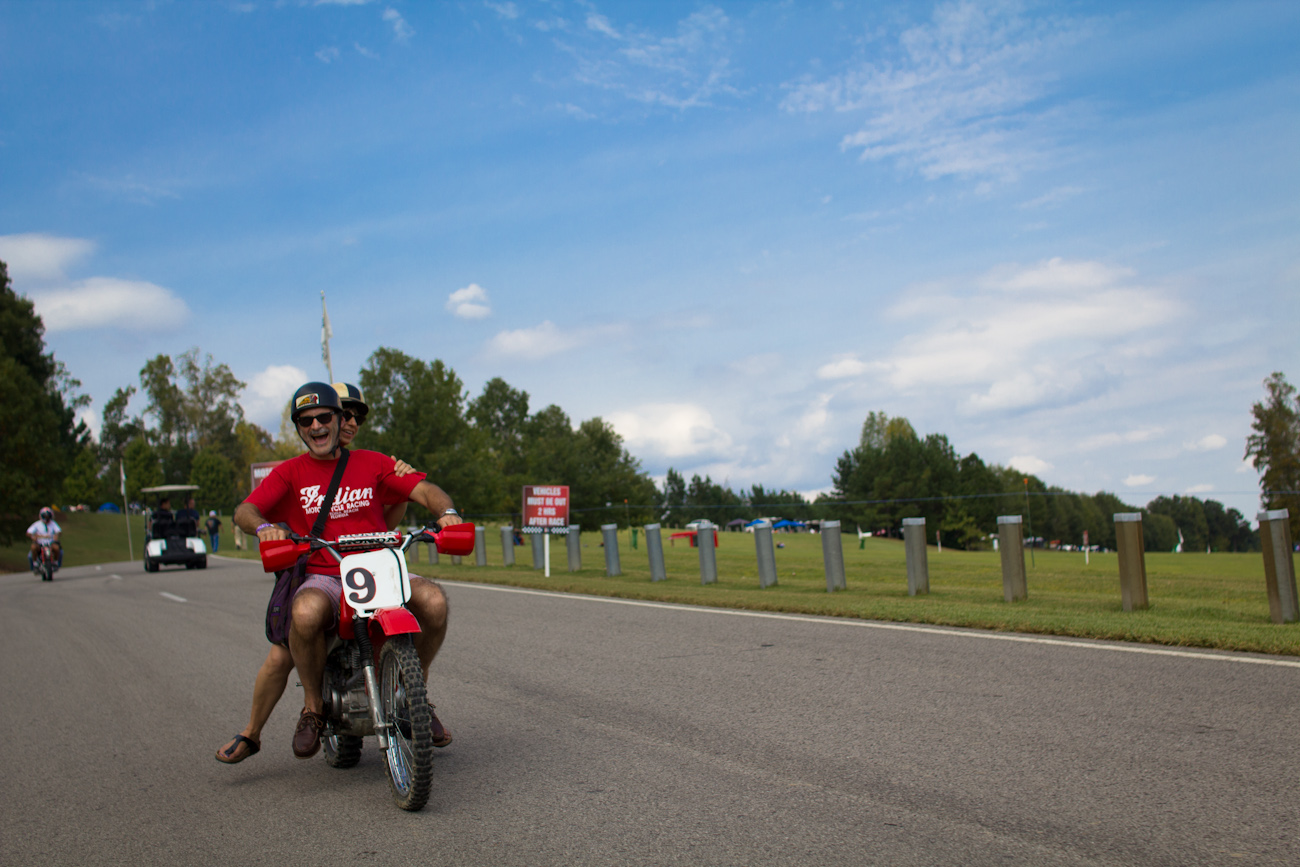 After some quick swap meet action we headed off to the BurnUP base camp for some booze to take back to Ace Corner. Because… party.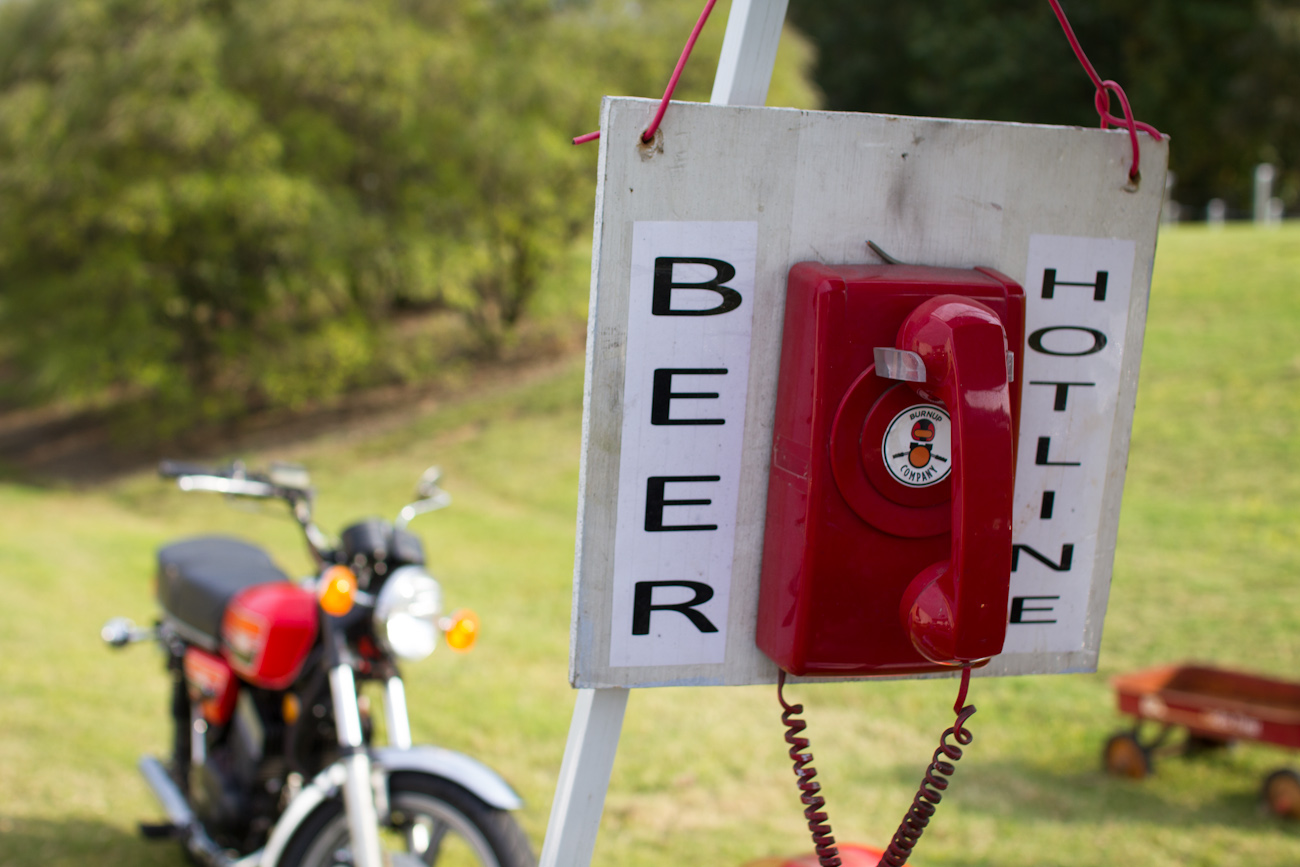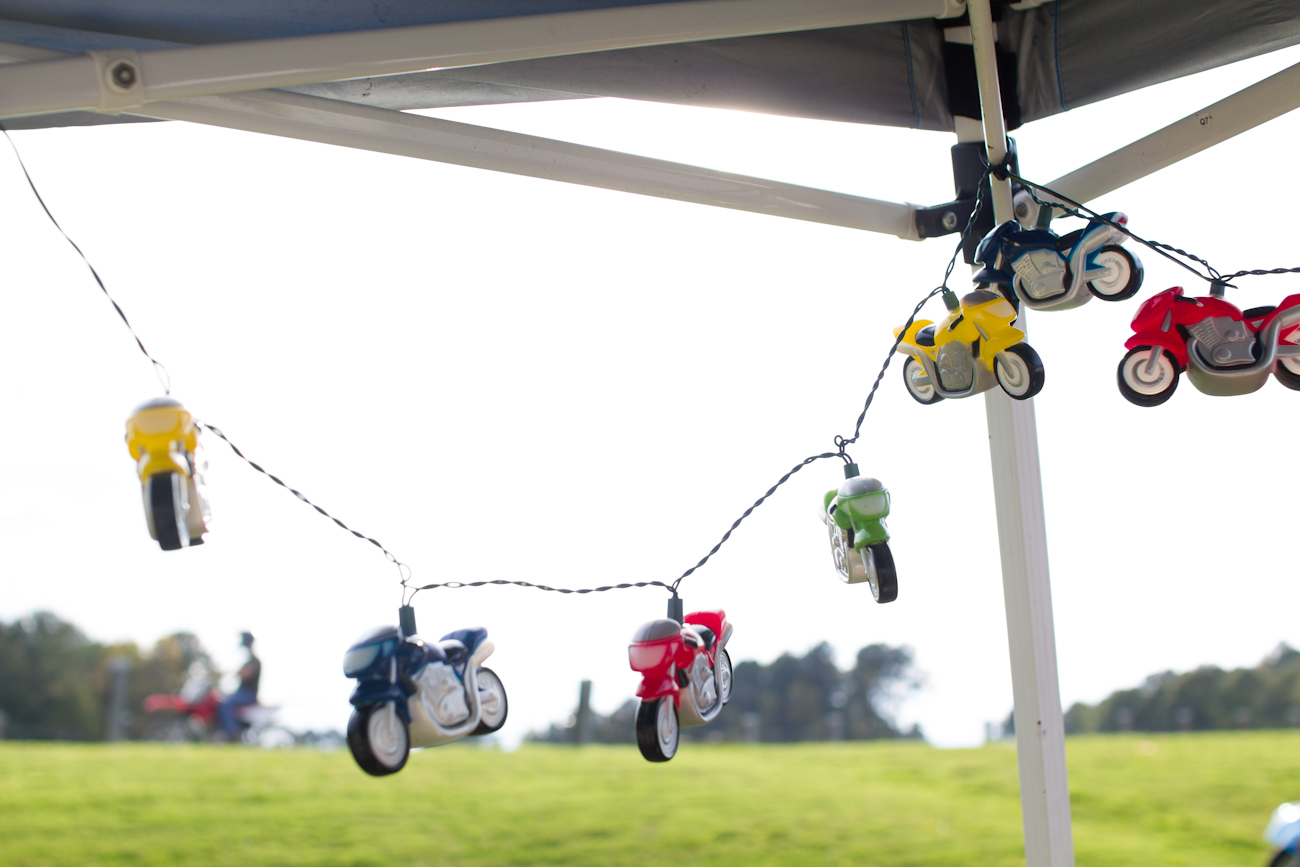 I headed back to the booth so I wouldn't be gone forever, and happened to meet up with this awesome lady who wanted to buy two of the necklaces I had made. I buy and/or find the stones and crystals and turn them into jewelry.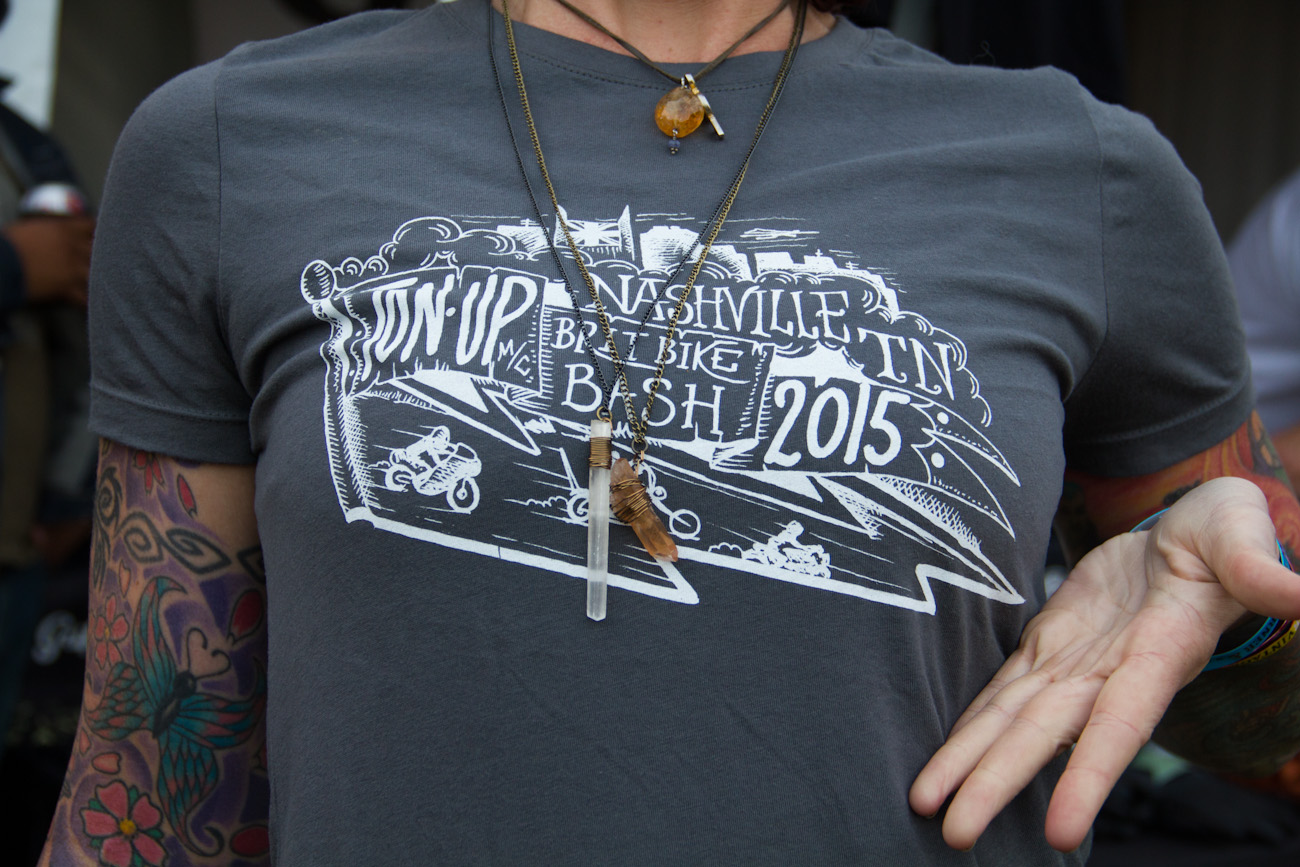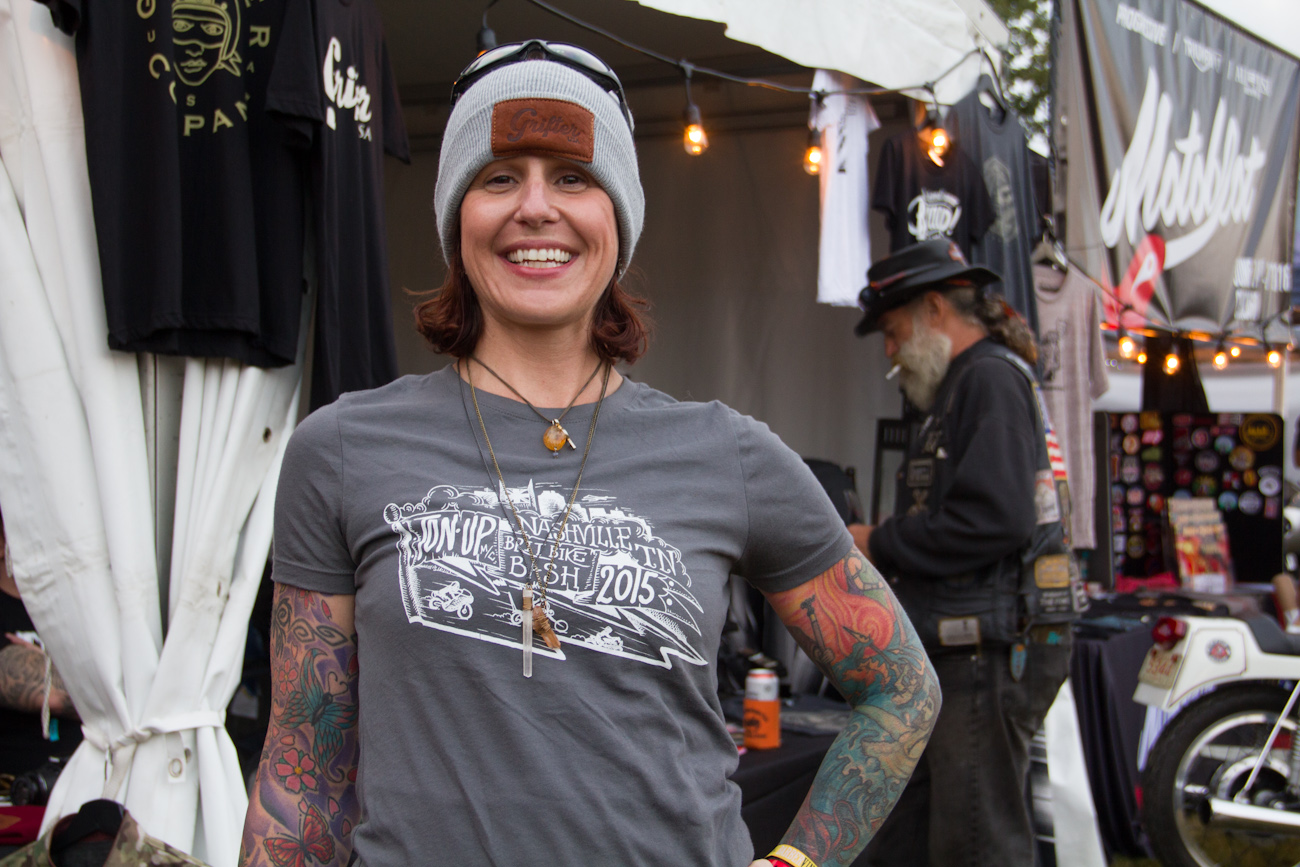 That day was full of meeting tons of cool people, getting to know new friends, and seeing some of my favorite folks again after a long separation.
Met up with Jacqui Van Ham again. Her smile always makes me happy.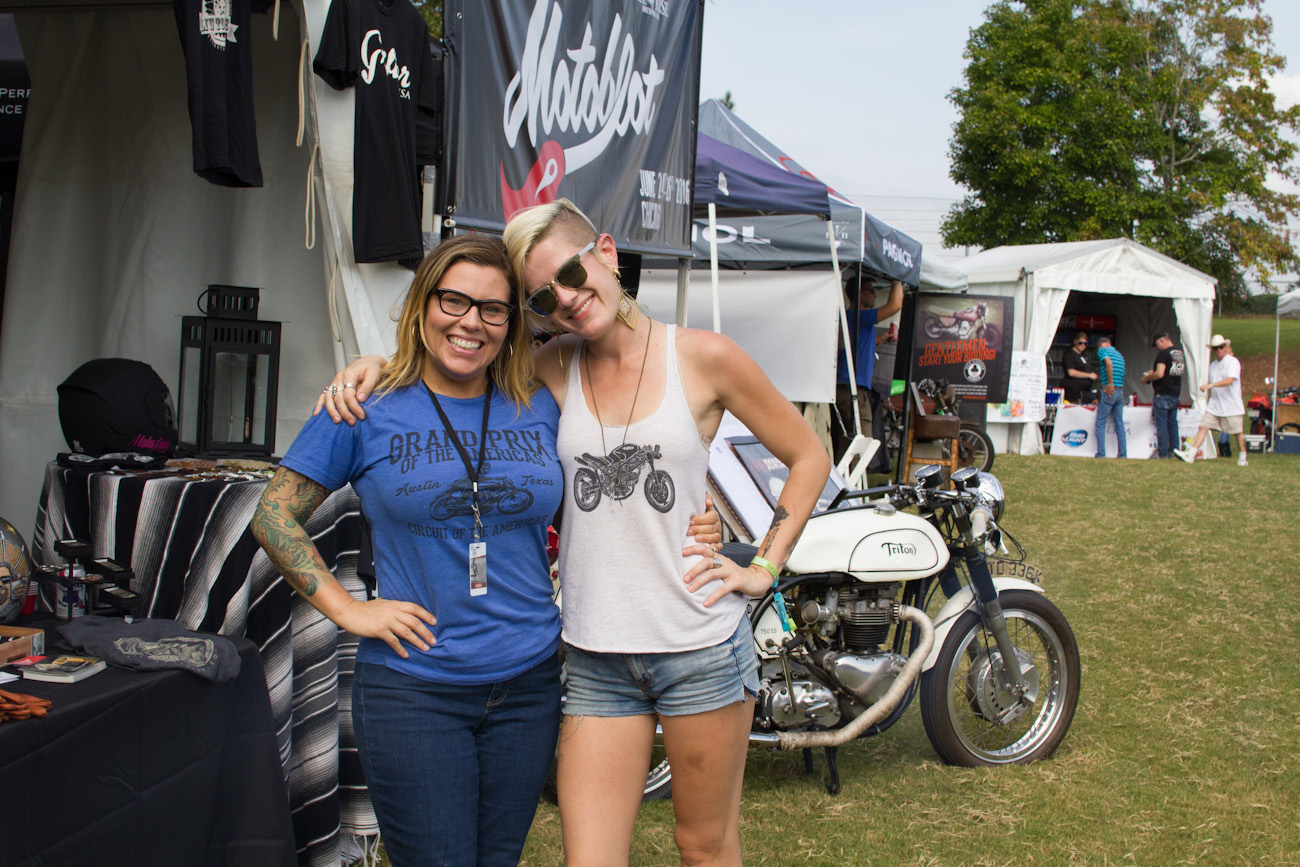 The photo below was taken the moment I popped onto the back of the bike and Jacqui thought she was going to drop the bike. It was pretty hilarious- especially since she didn't. Ha!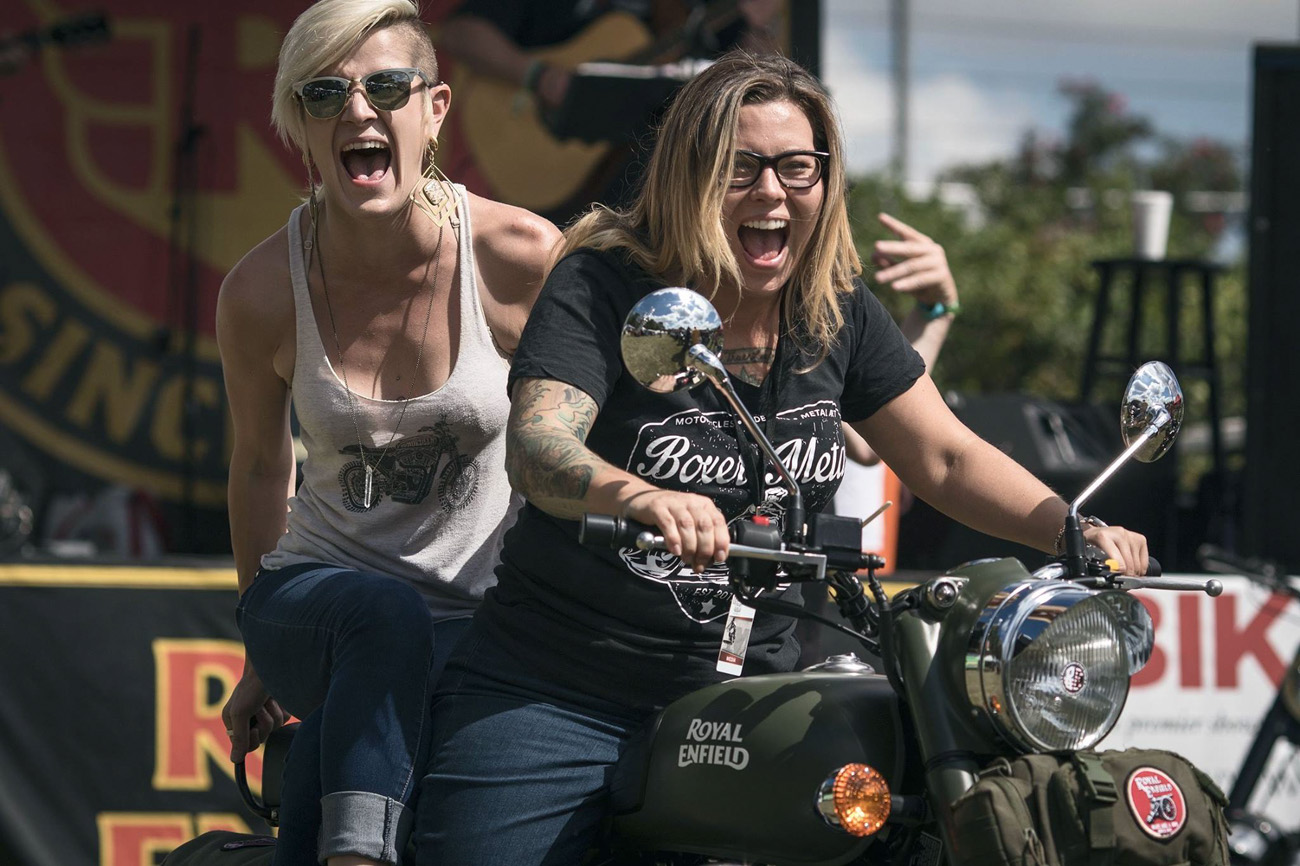 Got to meet one of my biggest build inspirations (fan girl moment) Walt Siegl, too. The best part for me was when he knew my Monster! He even said he liked it. Maybe he was just being nice- but either way it made the whole trip that much better.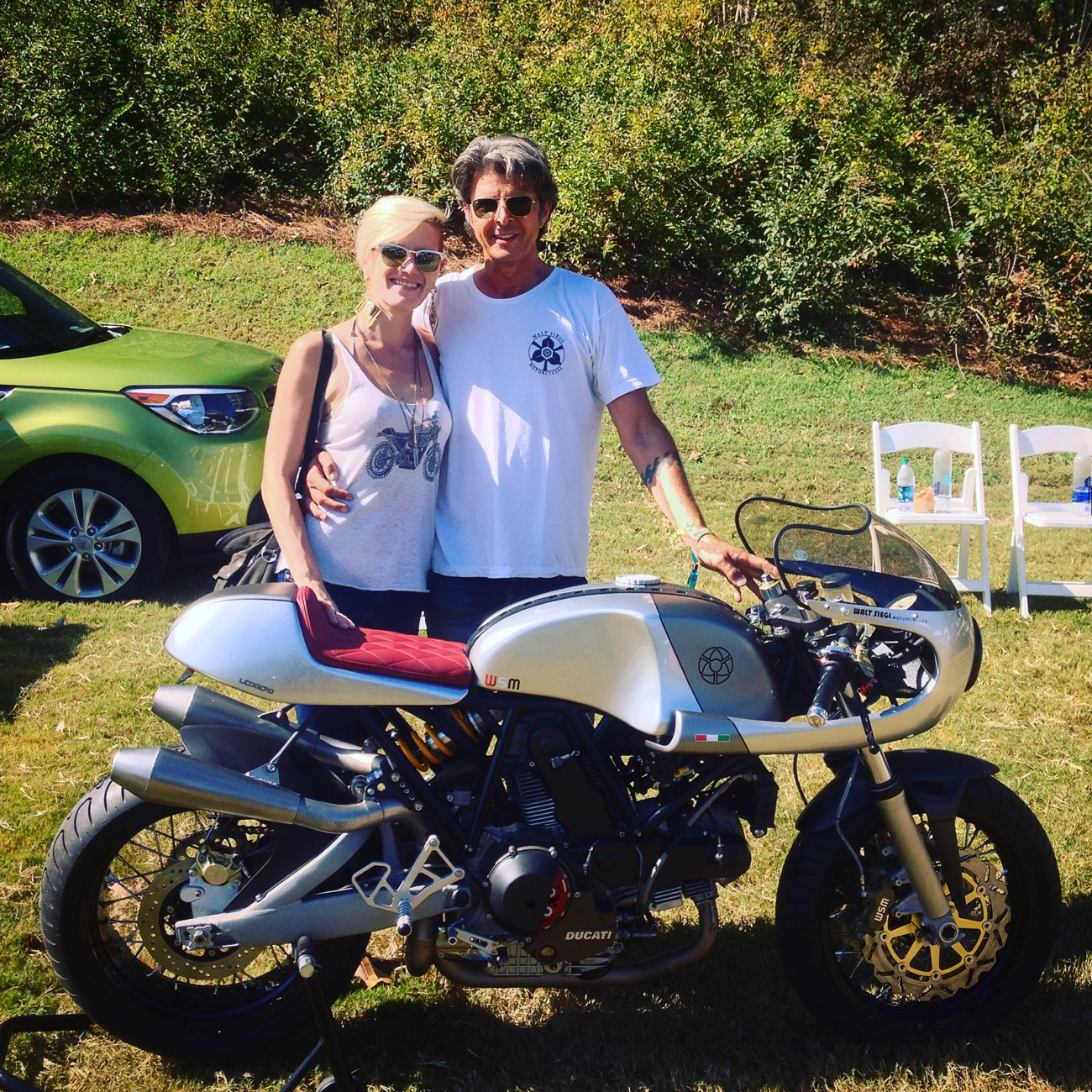 Steve introduced me to the cool cats from Ace Cafe London and Orlando!
Much to everyone's surprise, Bree Tashski managed to get George Barber to come over to Ace Corner and let us all chat his ears off. He's the creator of the Barber Vintage Festival, Barber Motorsports Park, and the museum including all the bikes in it.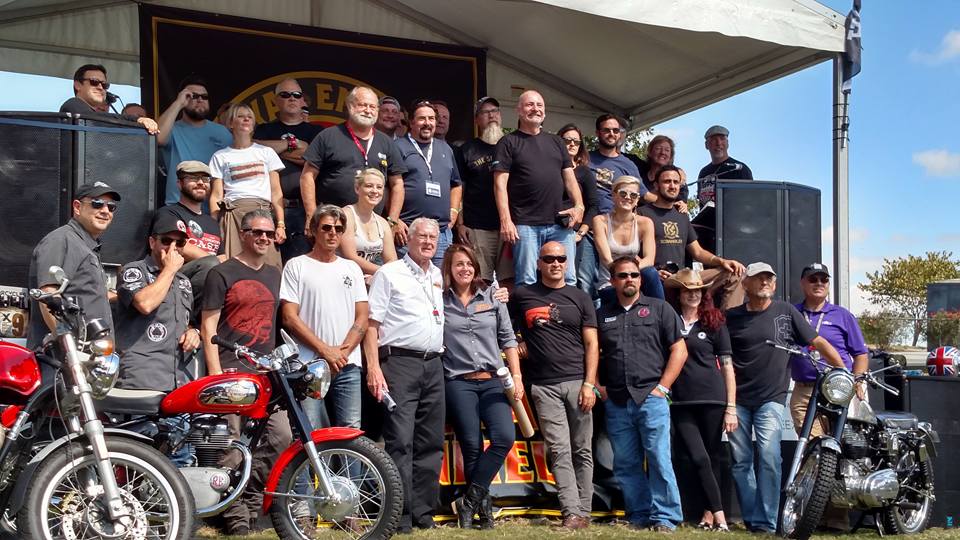 It was so lovely getting to meet him, he is a genuinely nice guy who's interested in what each of us do.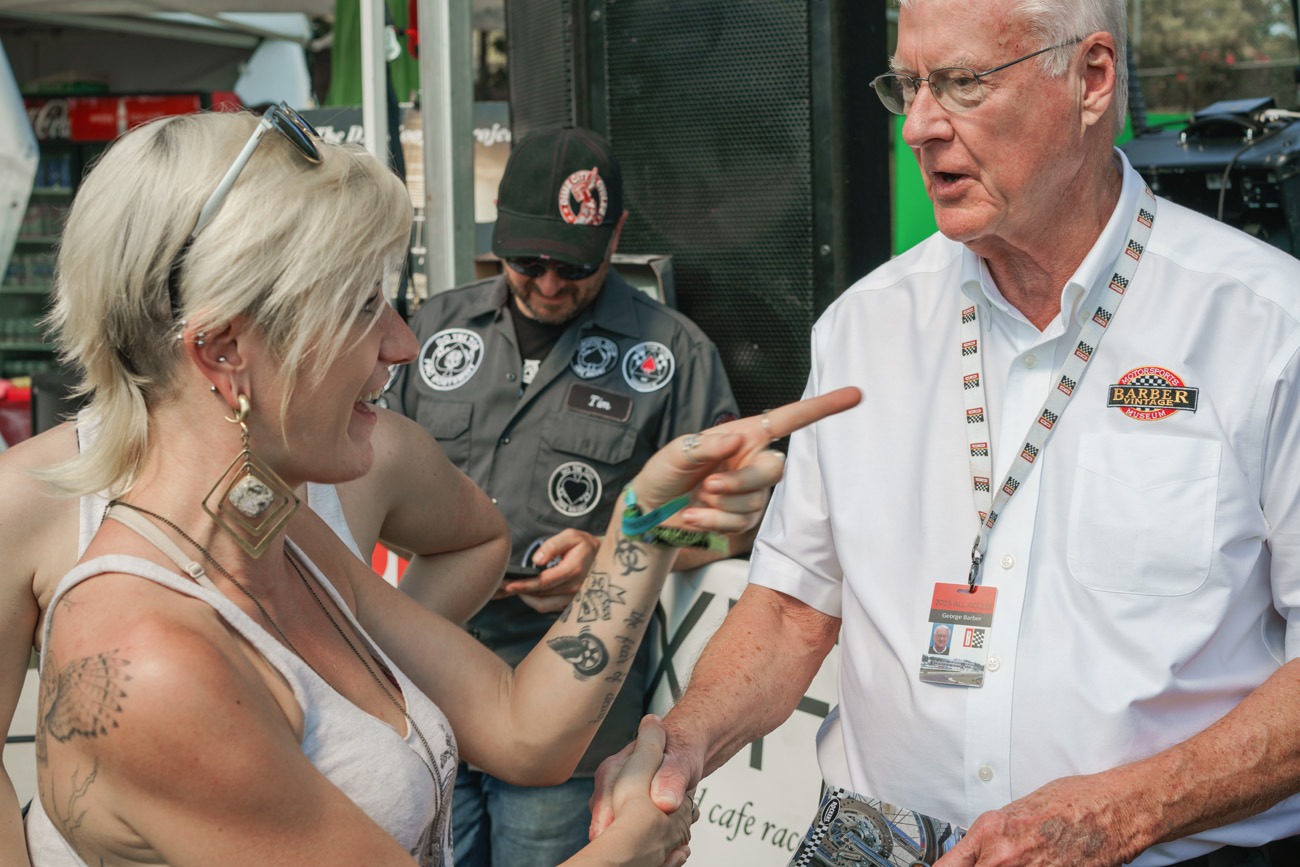 I had one of my men's Sudden Realization MuchoMoto tshirts left, and something told me he needed it.
Maybe he'll never wear it, but he seemed really stoked and the guy doesn't seem to be a big faker. So lovable.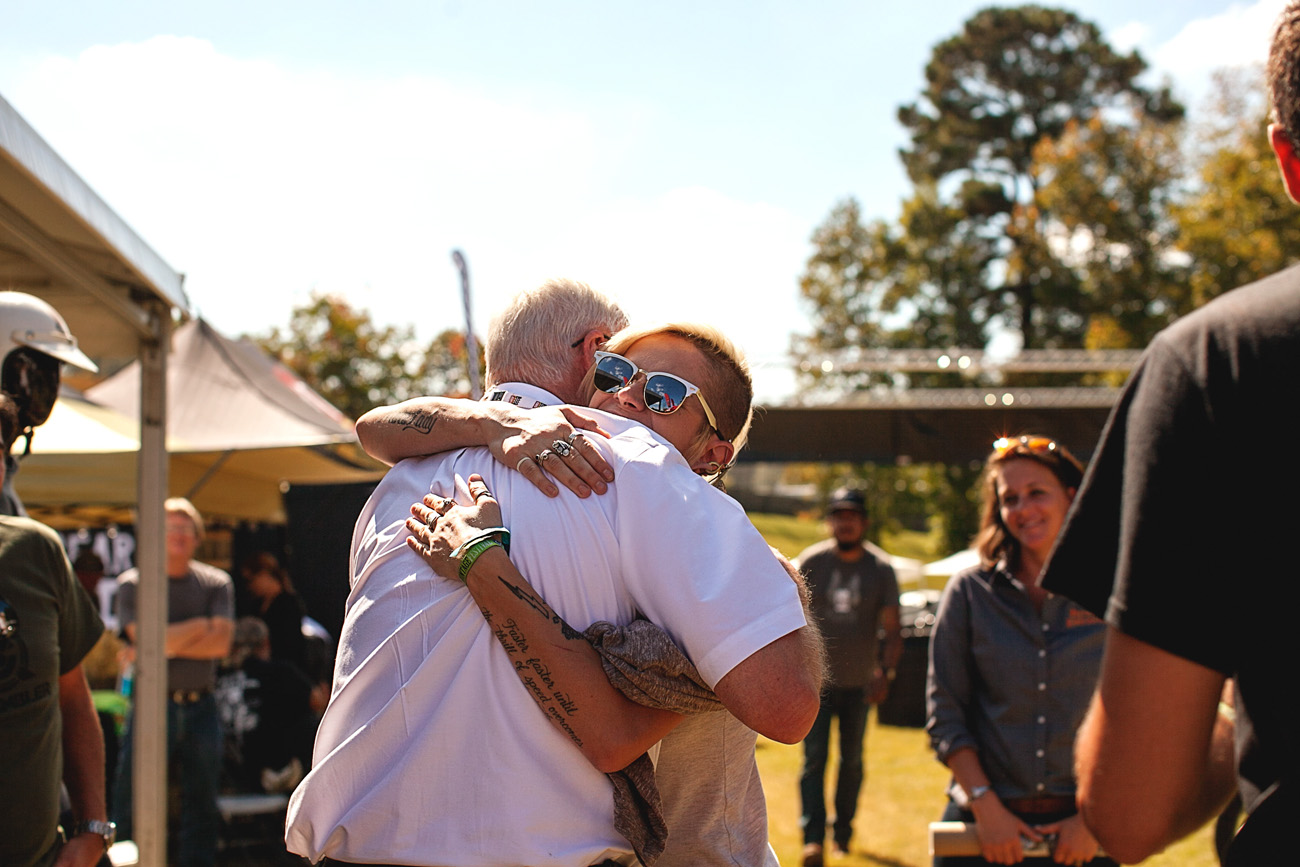 Later one of the Dime City Cycles golf carts was available to truck us around for a while so we took a little tour through the pits. Jennifer Proseus rode in the back truck area with me, while Travis Holland sat up front taking photos of us lounging, ha.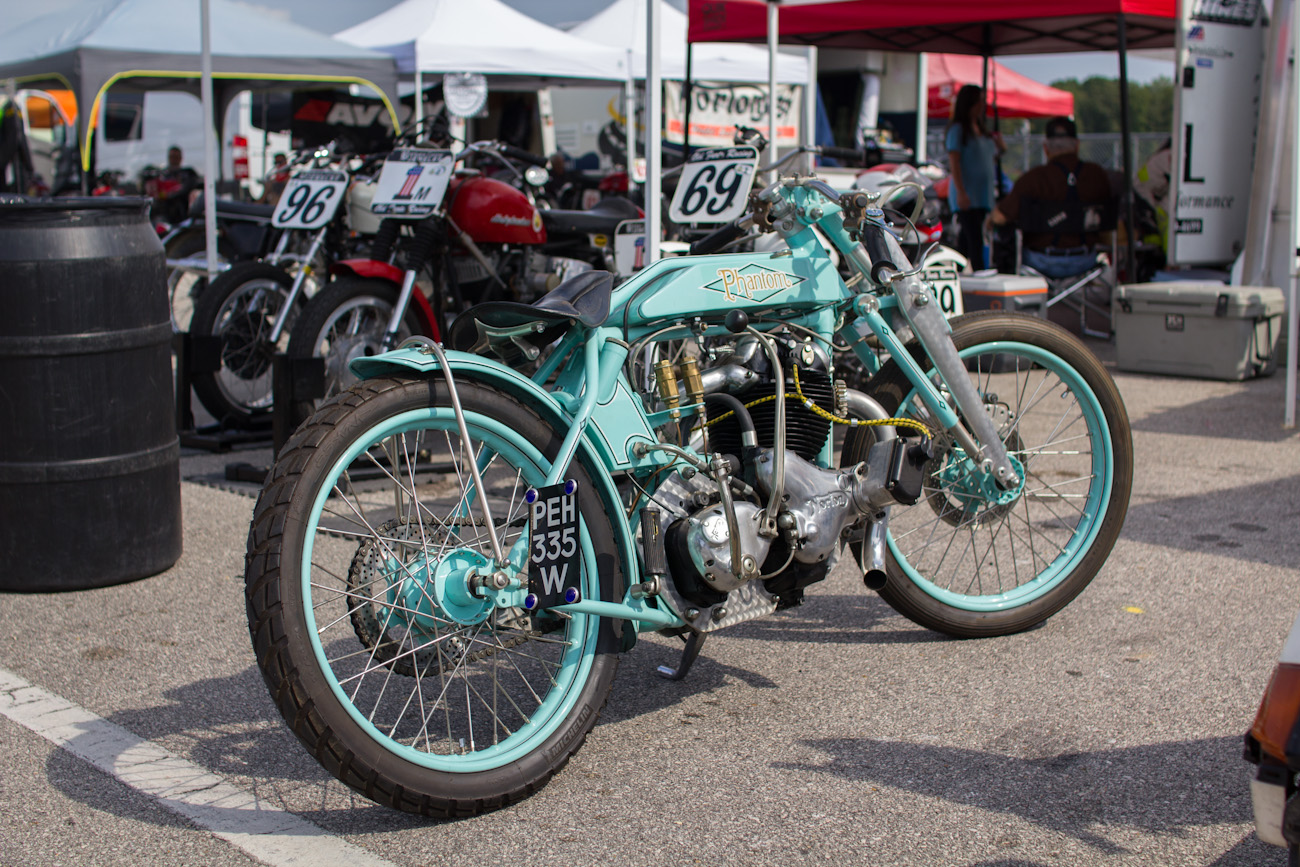 When we stopped for me to take photos of this amazing Phantom, they invited me to sit on it.
That's when I spotted Stacie!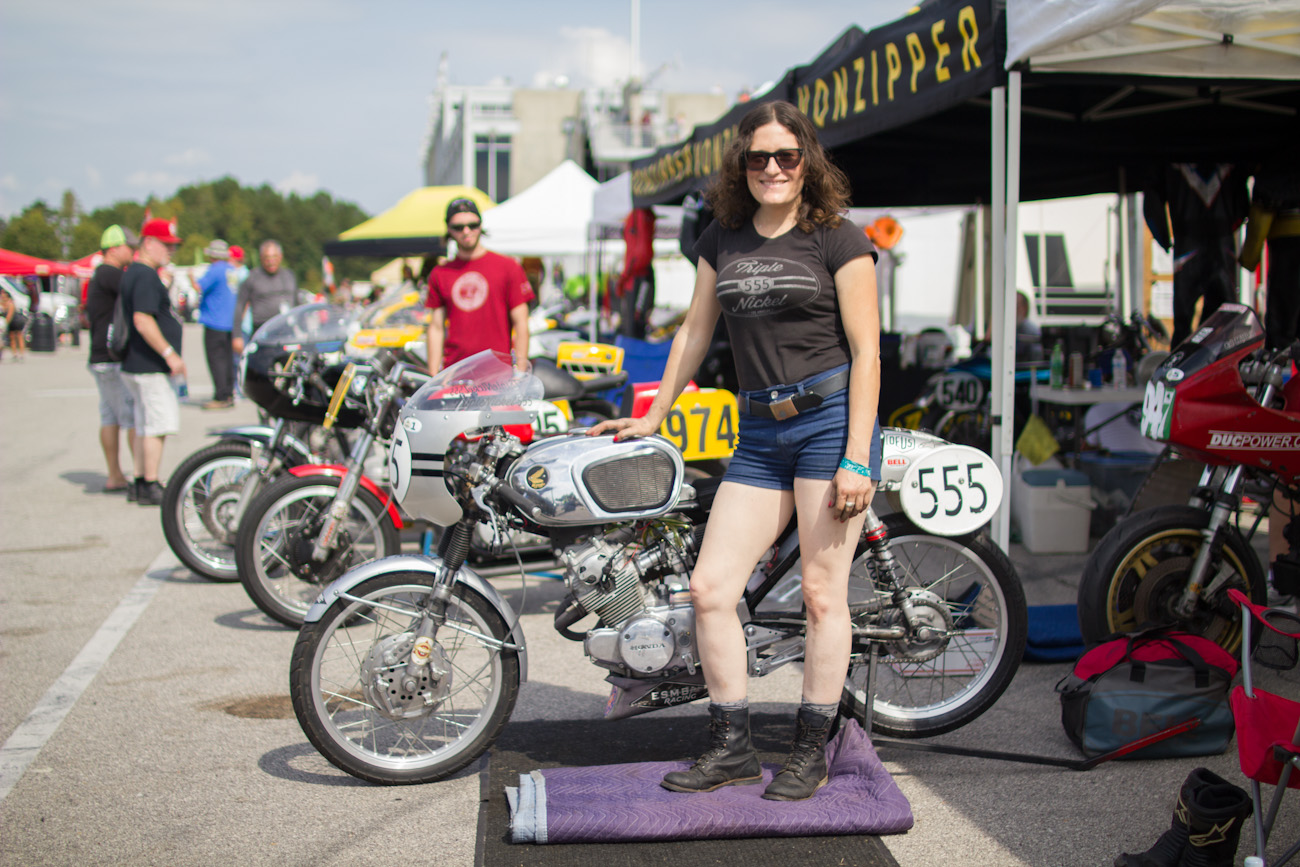 Photos from the back of the golf cart on the return to Ace Corner proved really awesome, too.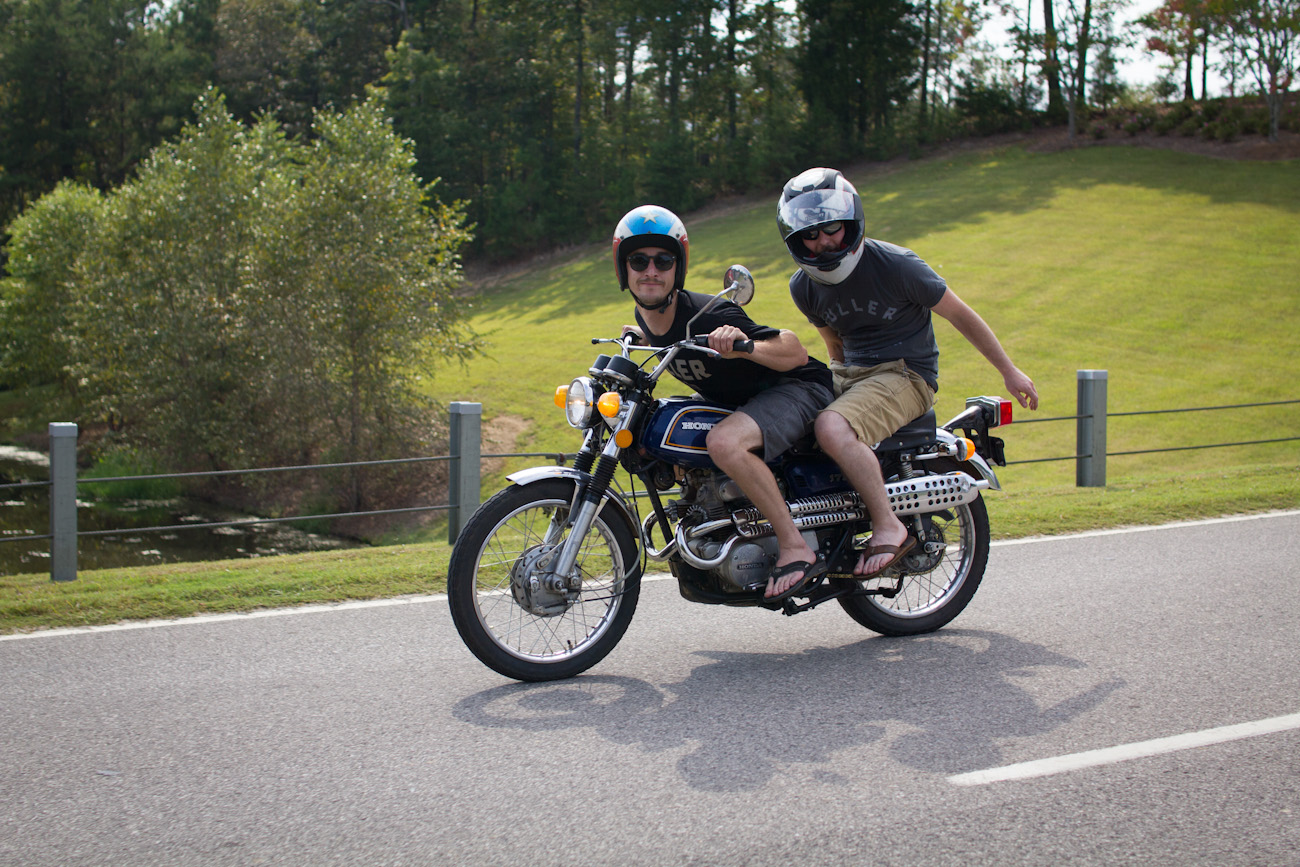 Japanese artist Makoto Endo showed up toward the end of the day in the Ace Corner and drew quite a crowd (pun intended), doing one of his famous live paintings of a BMW sidecar rig. He uses black ink and chopsticks to create his masterpieces.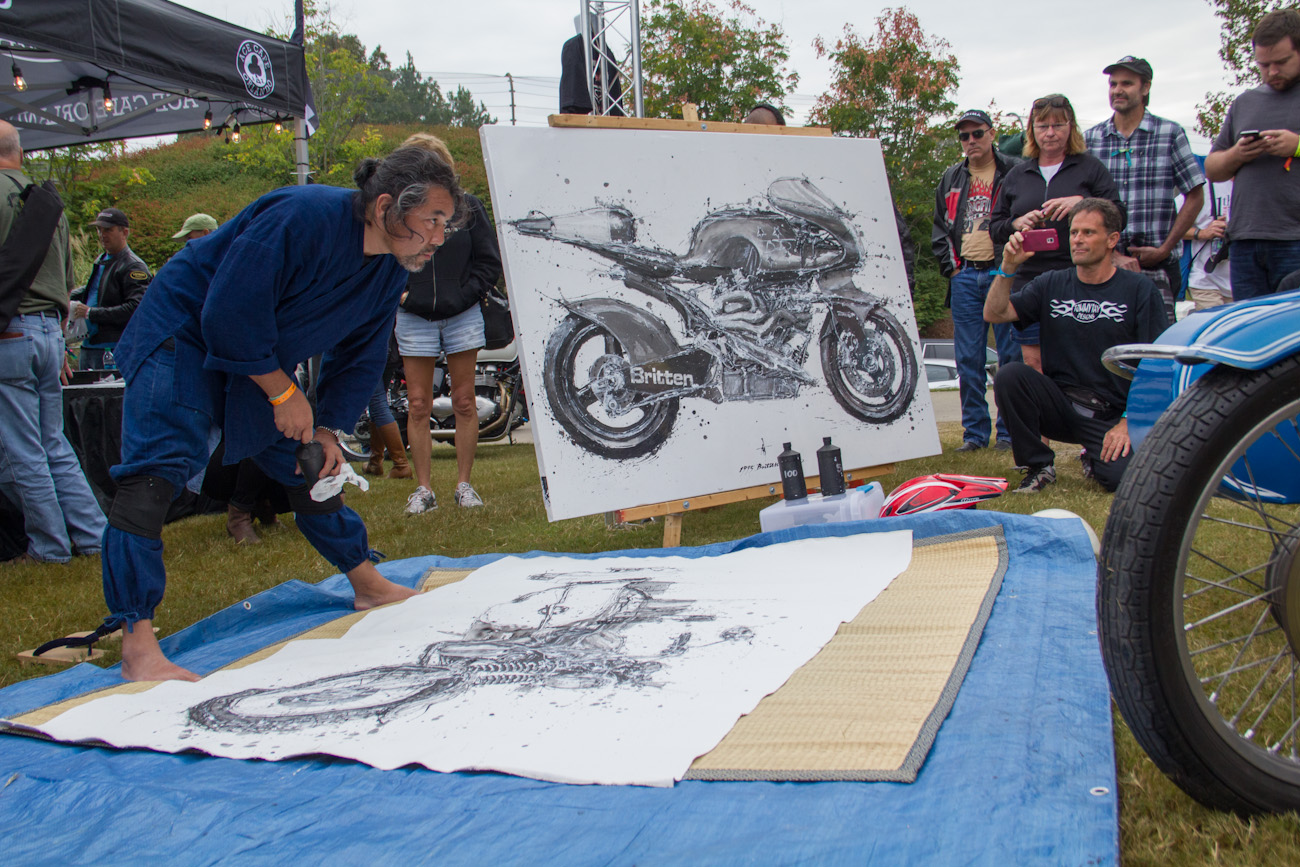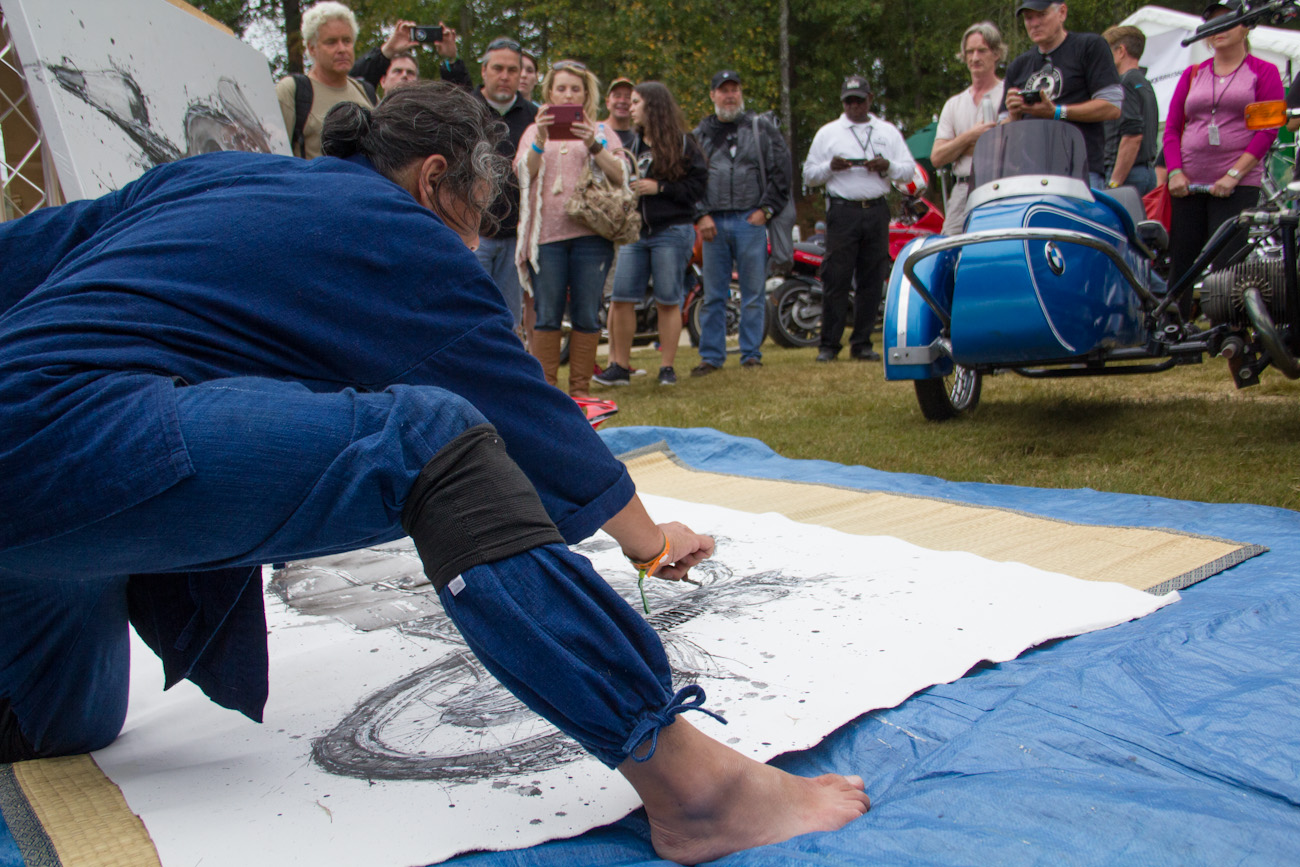 We packed up the booths as the weekend long Barber Vintage Festival was coming to an end, and the last motorcycle echoed through the tunnel back to the rest of the park.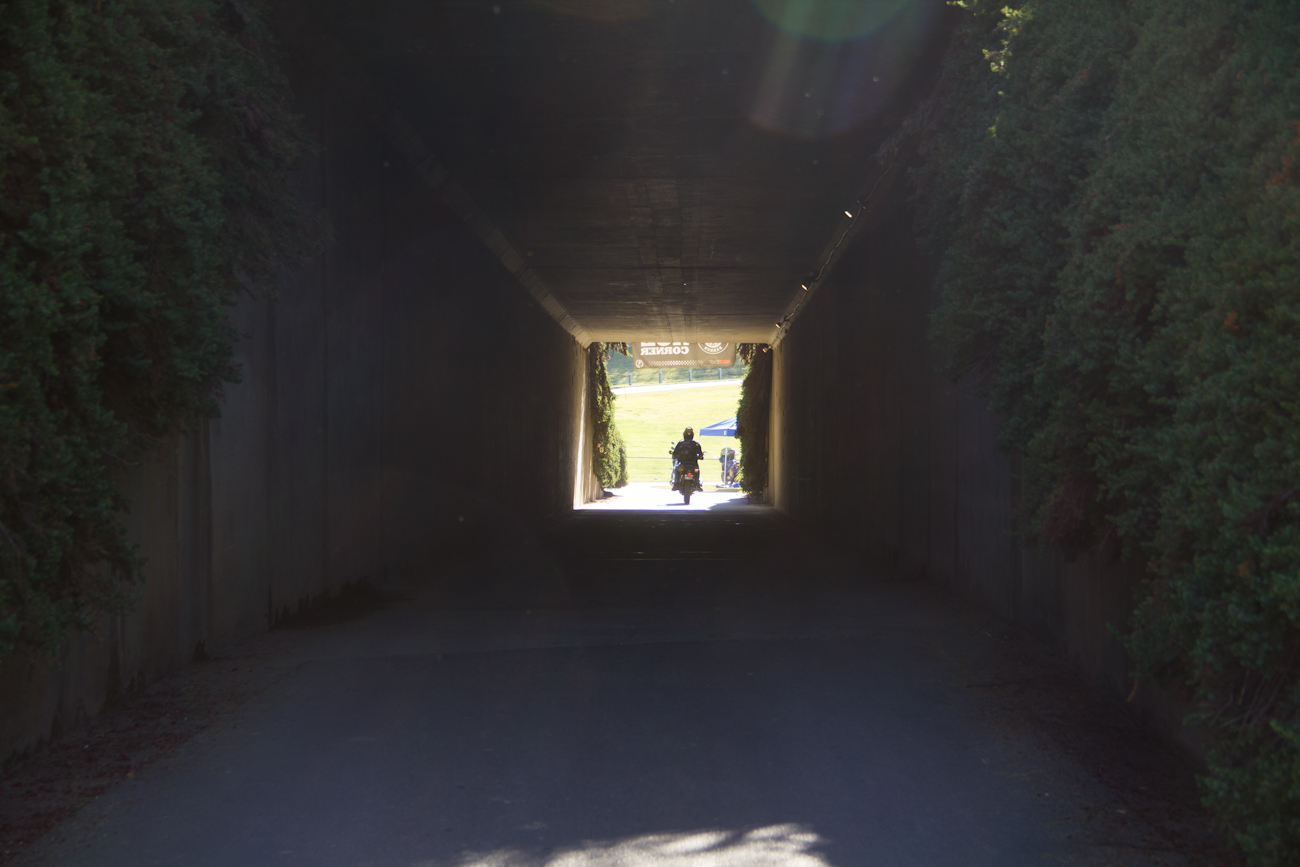 I took this opportunity to wander around more and get a lay of the land, having been mostly in Ace Corner all weekend long [trying] to stay with my booth. Sadly, I missed seeing the museum, Wall of Death, Silodrome, and more… but I still got some cool photos. And there's always next year.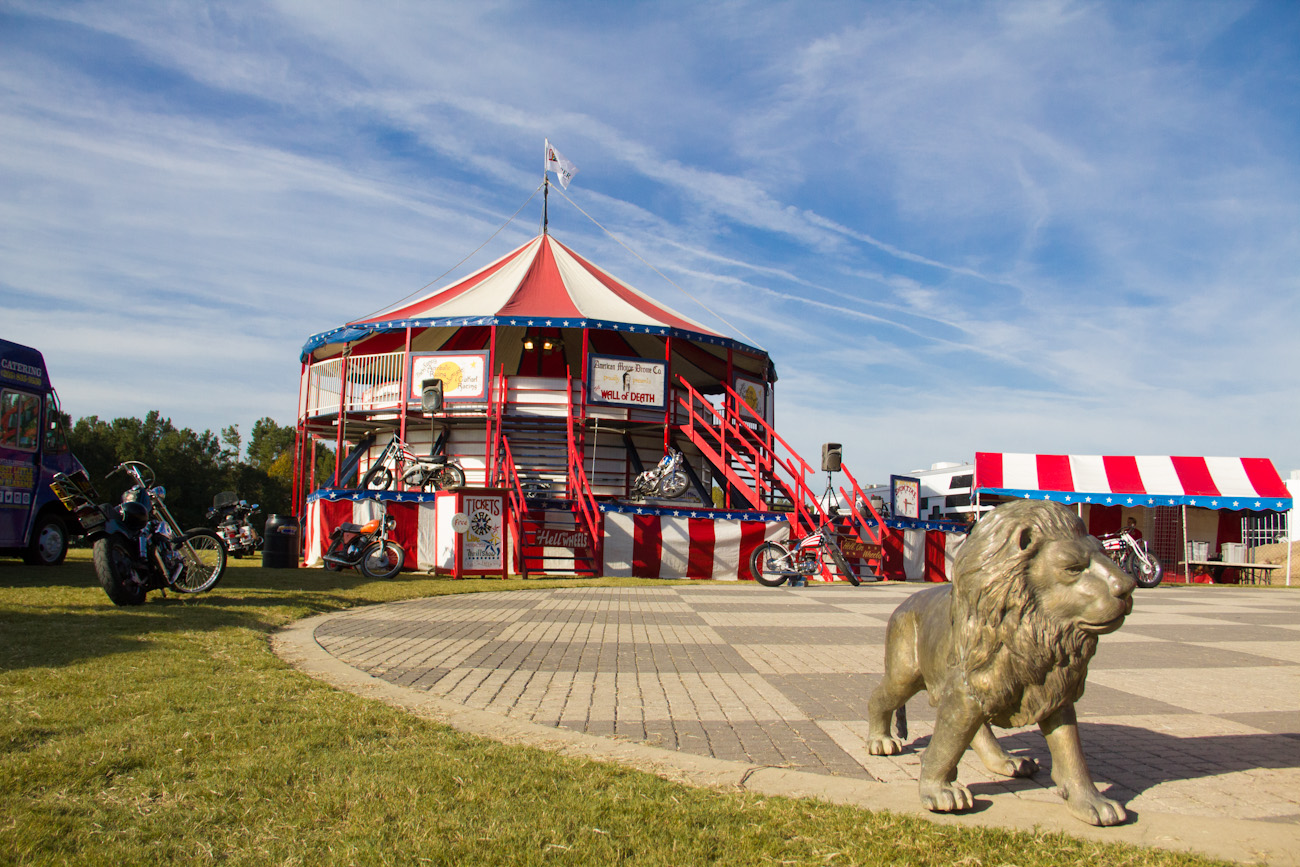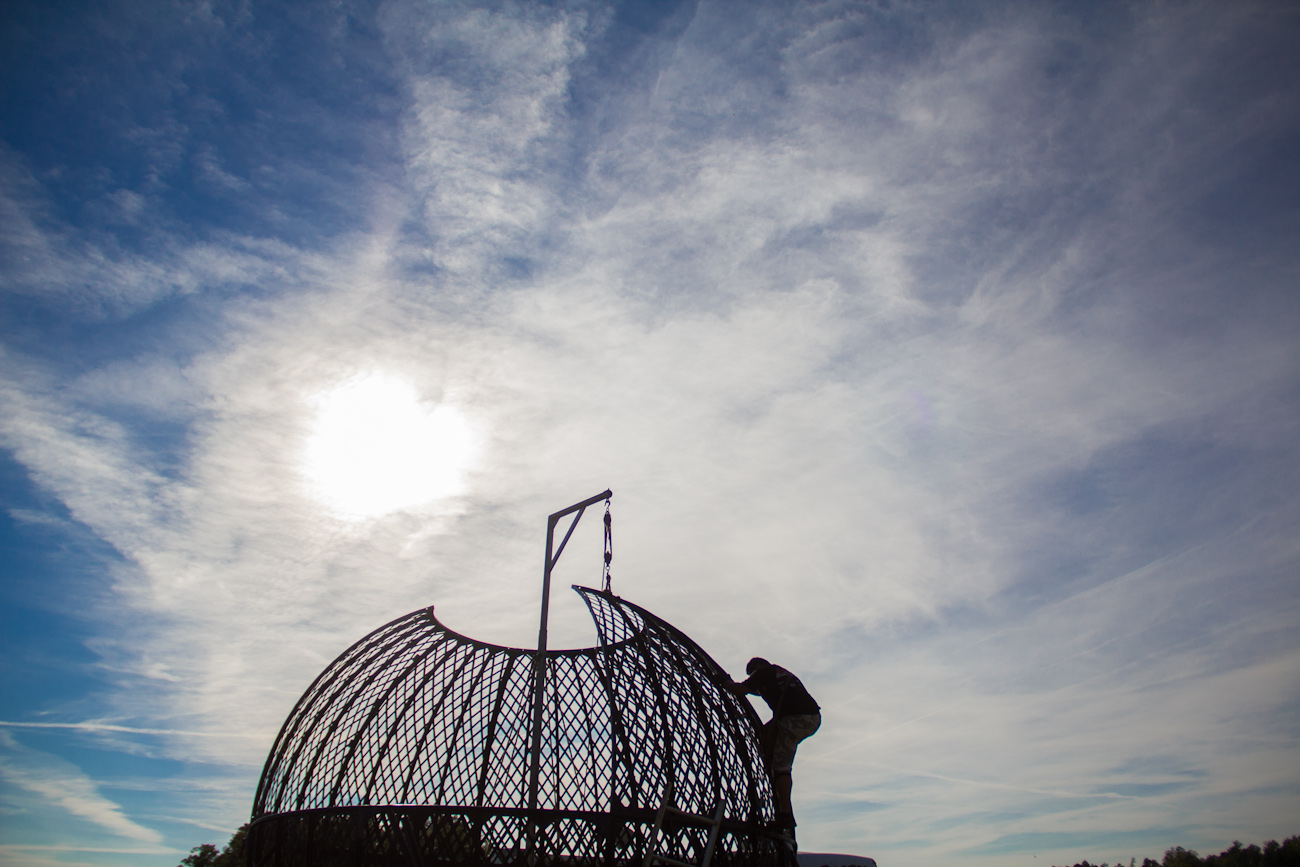 This cool lady Chris who I'd met at the Black Lightning Moto Cafe in NorCal had found me when I was packing up my booth, and we ended up wandering around together. We found this Cuban food truck that had [basically] carne asada fries, which I hadn't been able to find since San Diego. Could I possibly get delicious spicy steak fries in Alabama? I had to know.
They were the best carne asada fries I've ever had. I asked the guy to make them spicy for me (they always look doubtful since I'm super white) and he threw on some jalapenos and habaneros that hit the spot to say the least. I love love love spicy food, and hadn't really had anything but super southern BBQ (which is delicious) for a few days. As my mouth happily burned away, we wandered toward the swap meet to see if there were any stragglers.
That's when I saw the old Indian Scout with perfect petina and a ton of character beaming at me in the sunset light. The owner, in period appropriate garb, was doing the start up routine to get her fired up and on the road.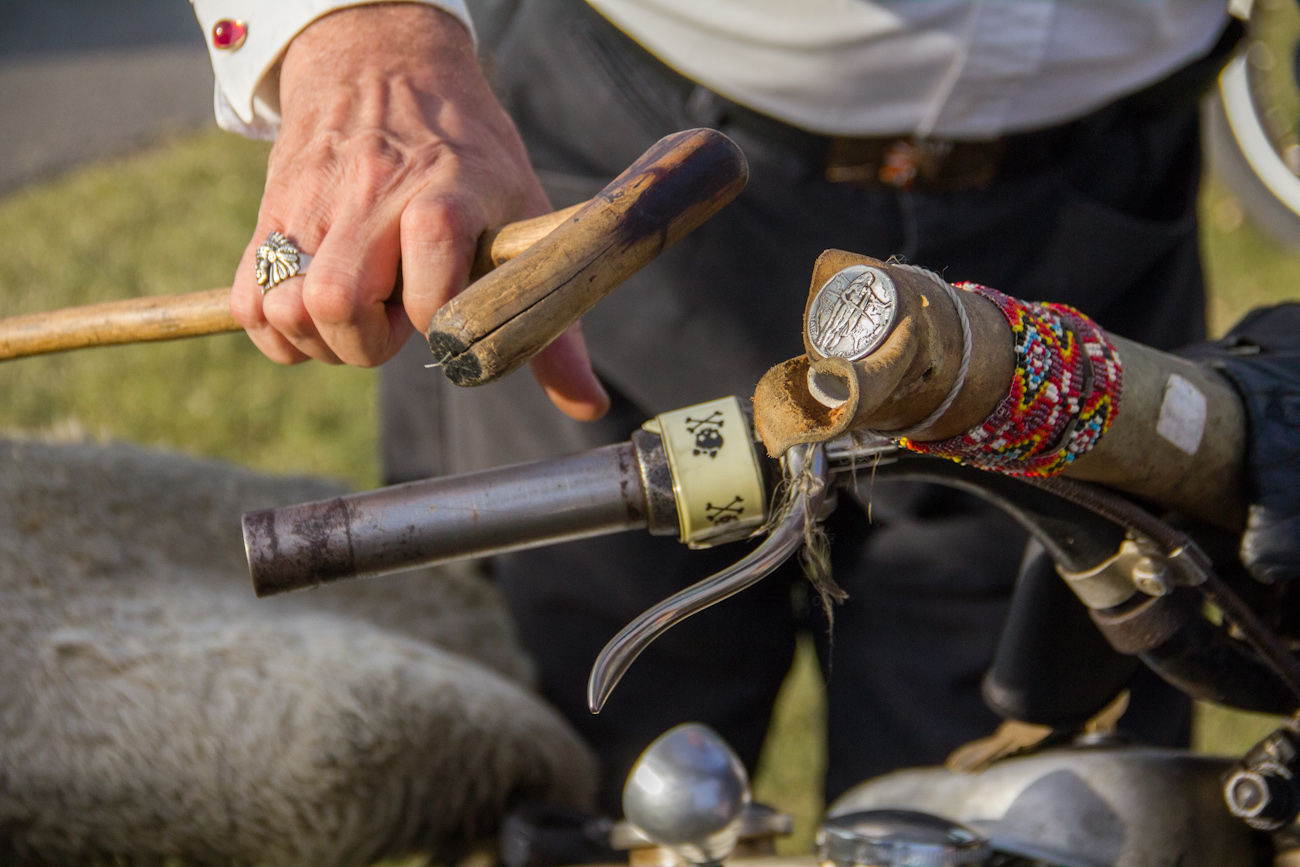 The bike roared to life, and as he looked up and saw me taking photos, he pointed at me and rather staunchly asked/demanded I come sit on the "Springfield Vibrator". Not going to pass up the invite. When I handed off my camera to Chris and popped onto the old girl, he started to talk to me about the workings of the machine. The way he was talking to me wasn't like I was some bubble-gum-chewing hair-twirling little girl, but like a fellow motor head who understood what he was talking about when he said "fly wheel" and "engine timing retard". I was engrossed in learning all about his 1940 Indian Sport Scout (1939 sheet metal on a 1940 bike), and we talked for quite a while.
Later, we bonded over moonshine, a peace pipe, and riding his 1965 White Lightning scooter. But I'm going to write a whole post all about that because, well, it was without a doubt the best part of the entire weekend. I love when an adventure finds me.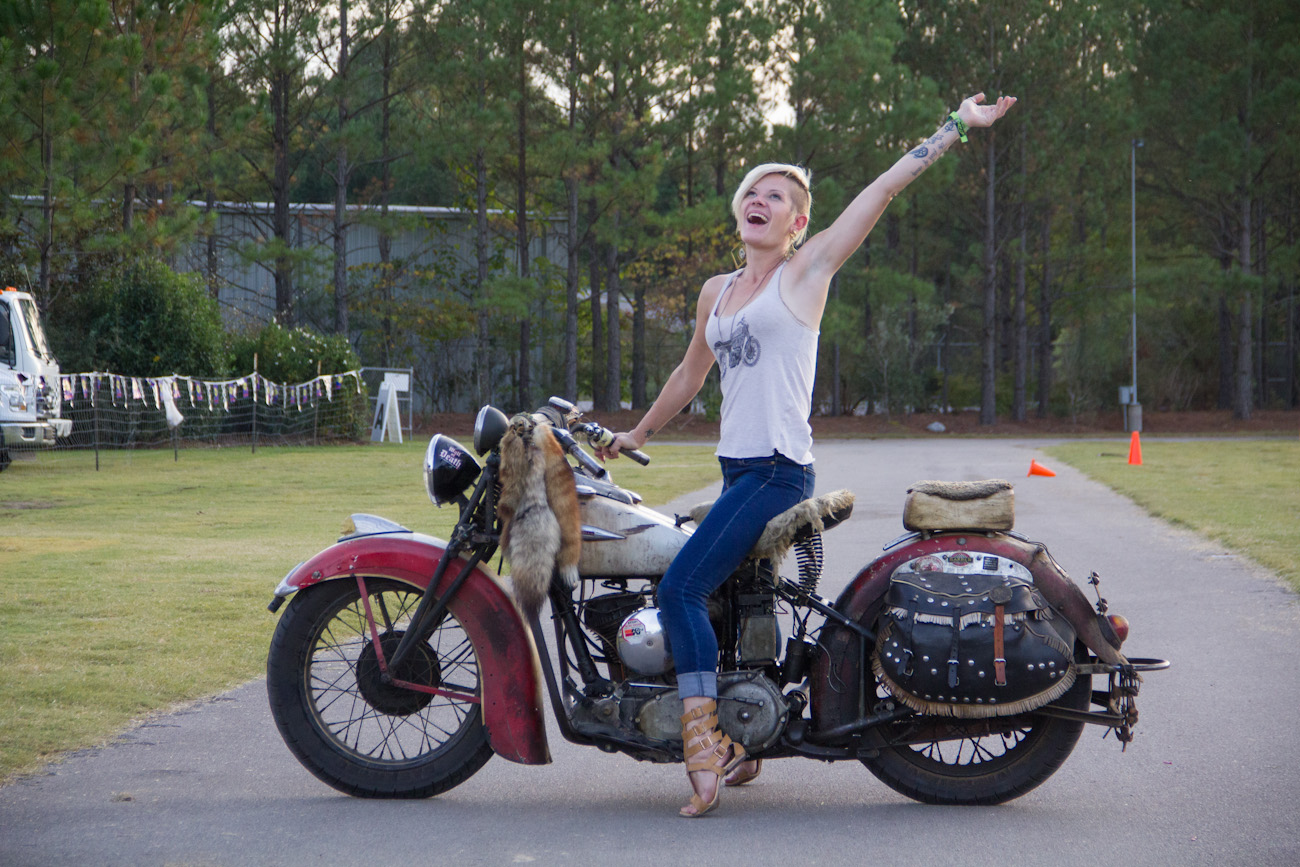 Huge thanks to Steve West, Bree Tashski, Enrique Parilla, Travis Holland, Brandon LaJoie, Jenn Proseus, Asher Driggers, Lee Conn, and of course, Sofi and George Tsingos. I had a legendary time, and will definitely be coming back again and again.
Photos by Alicia Mariah Elfving, copyright themotolady.com 2015 (unless otherwise captioned).
related:
Posted on January 8, 2016 in Blog, Events, News & Features by Alicia Mariah Elfving
6 Comments

for "Barber Vintage Festival 2015"