The Ladies of Bonneville Motorcycle Speed Trials 2014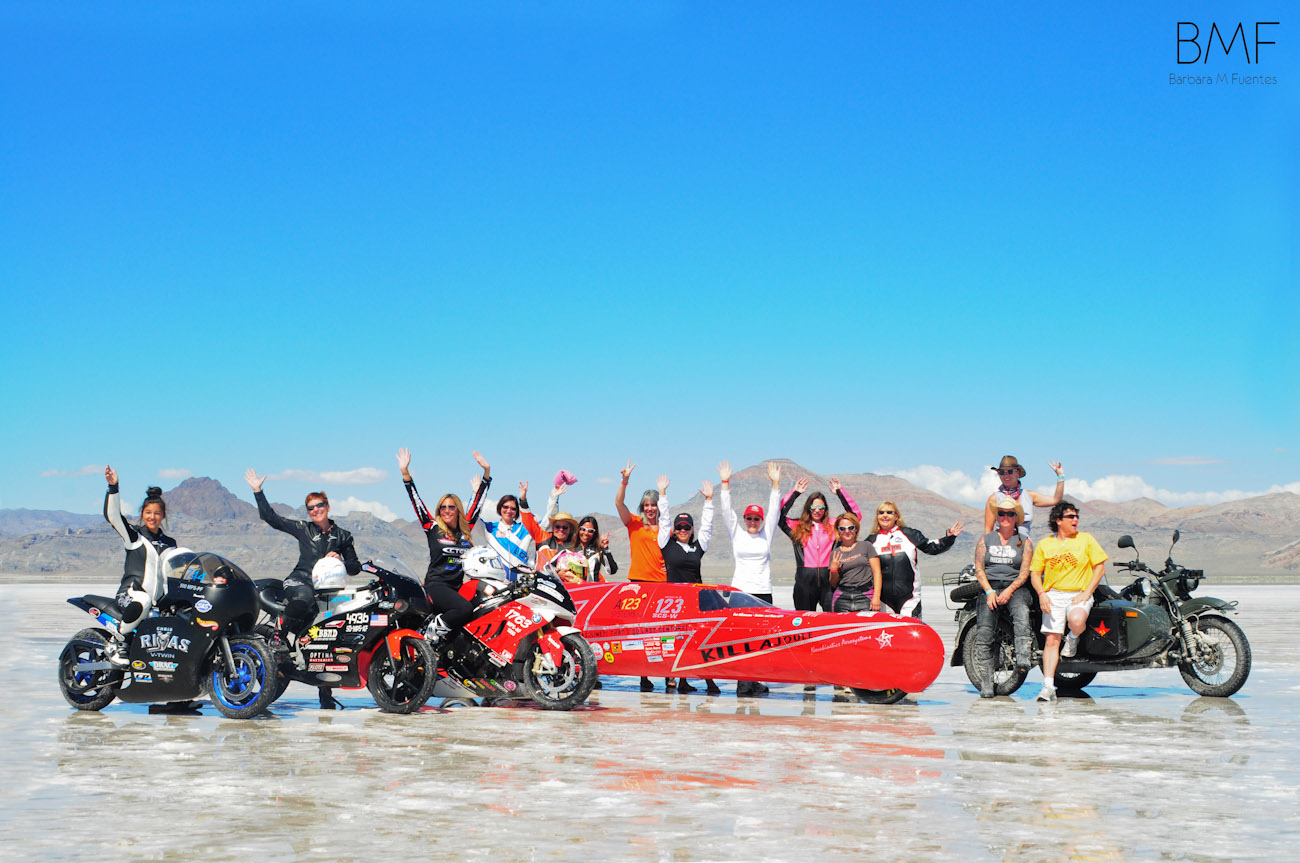 Photographer and motorcyclist Barbara Fuentes guest posts about her trip from Seattle, Washington to Wendover, Utah for the Bonneville Motorcycle Speed Trials in September.
"It started 100 years ago. Folks started trekking to Bonneville, Utah with their cars and motorcycles to go fast; record-breaking fast. Formally known as BUB, the Bonneville Motorcycle Speed Trials

is the premier motorcycle land speed racing event.

 Sanctioned by the AMA and FIM, this event gives you the opportunity to make National and World records. Several classes are available for entry- from 

small vintage bikes on up to streamliners.
On Friday Aug. 22nd, I packed up my SUV and made my way down to Utah. The ride was pretty uneventful, save my car karaoke. I decided to go out to the Flats on Saturday morning. When I arrived, I came to the 'boat launch,' the tiny bit of land between the road and what looks like an expansive lake. Not deep, about 6 inches or so- but seemed to go on forever.
There were campers and trailers of all sizes hauling gear and people towards the registration. It was dry once you got to the designated area, which was a relief for anyone running. I was greeted with dozens, and dozens of bikes, volunteers, and riders getting their bikes and pit areas ready for the week ahead. Registration seemed to go pretty smoothly. Goodie bags for riders included a t-shirt, some Stripper Juice, and miscellaneous stickers. I met Loretta Flores while in line, gave her my card and got a little background from her—little did I know that this 22 year old would be setting a record later that week.
Fez Monkey's Racing was kind enough to be my 'home pit'— we started our area set up on Sunday morning. It was unlike anything I would have imagined. There was Big Red, a baby Semi hauling a treasure trove of bikes in the trailer, and a number of other truck/trailer combos. Gina Morill Olson had clearly done this a few times before—we had 7 pop up canopies set up in no time. Areas were designated as food/cooking, lounging, and bike/gear storage and workshop. Cooking stoves, coolers, changing area to get into your leathers—it was all accounted for. And coffee, did I mention coffee? French Press, Cuban, Vietnamese, and Turkish were available. Believe me, it was needed with the 4:30am wake-up calls to be on the Salt by sunrise.
Setting up the area was just one small thing that had to be done- any bike that plans on running needs to undergo 'tech', that includes the gear you're wearing too. My particular group had 7 bikes to pass this inspection. They look for: intact chain guards, exhaust direction, foot pegs, kill switches, frame integrity, controls, etc. Attire regulations look at your boots, gloves, helmet, and riding leathers. Apart from all the safety items the scrutineers look at, you have to have a riding number and if you're sharing a bike—make sure the right one is on it!
Everyone has different reasons why they go to the Flats. It's always been a dream, they wanted to prove to themselves they could do it—whatever it might be– it really is a magical place; the salt sparkles in the light- the reflection of the mountains on the still water, the mystery of this lake that is no longer- and the sheer vastness of it. It seemed too surreal for me not to go and photograph. Those who had been there, told me I HAD to go, I wasn't about to pass on the opportunity.
Let's go back to the gal I met on day 1, Loretta Flores; a graduate from the Motorcycle Mechanic Institute, who had been working in the pit for Kerry Atler for the past three years. Atler offered her an Aprillia bike to ride this year and she agreed. Flores had her first run and missed breaking the record by a few MPHs—but in her second run—she did it, at 163.046MPH. This was her first visit to the Flats with the intention of riding. She made history by breaking the record for the 1000cc V-twin motorcycle class. Her family was there, at every stop, cheering. Her face was glowing every time I saw her—she was so very proud and happy.
Depending on your method of propulsion; Gas, Electric, and alternate fuels; will put you in a different class. Julianna Wallingford has a Nitro Methane Aprillia RS 50CC bike. She had set AMA (81.5mph) and FIM (82.0mph) records by 2013, and like many other riders—she wants to try and break those records. The first time she rode the Salt back in 2010, she described it by saying, "The bike felt just like it was gliding over velvet." Riding on the Flats is very different then riding on paved roads.
You hear a lot of people say they can go faster than some of these records- but the consistency of the ground, the elements of wind, rain, sun (so much sun) and the disorienting landscape is not an easy thing to overcome. When you're out in the middle of the flats- it is endless—There aren't land marks, you can't see far enough… It can be a little daunting. This year, Julianna only had one opportunity to run her Aprillia RS, no records were broken, but the plans for next year have already started. This year there were rains and heavy winds that caused a two day hold on the course. This was unfortunate, but riding the wet salt would have torn up the course and been a safety hazard. Despite this set back, the event was still able to get a thousand successful runs in.
Bikes of all sizes can be found participating out in Bonneville. Jaylin Billing has a 150cc 2009 Genuine Buddy Blackjack and a 1969 Honda CL175 Scrambler. This is the Scooter's third time out on the Flats. She set the 175 P-AG record with 42.125mph in 2012, broke it in 2013 and broke it again this year by a speed of 64.79mph. Jaylin keeps improving her time by wrenching on her bike. This year, a new larger, ceramic cylinder with a custom ported 4v head was used. She measured displacement and it went to 154, up from 143. Conditions at the Flats, transport of bikes, etc can impact the integrity of your ride. You will see people taking bikes apart at their pits to get them working, as well as in the 'impound' to secure a record.
Eva Håkansson, took the title of fastest time at the meet. Her motorcycle, "Killajoule" is a home built electric streamliner sidecar motorcycle. This is the brainchild of Eva, and her husband, Bill Dubé—both engineers. Much of the motorcycle was made out of their garage, and after 5 years, 2014's Bonneville has awarded her with the following titles:
Fastest electric motorcycle in the world

Fastest sidecar motorcycle in the world (including internal combustion)

Fastest speed of the event

Fastest woman on a motorcycle in the world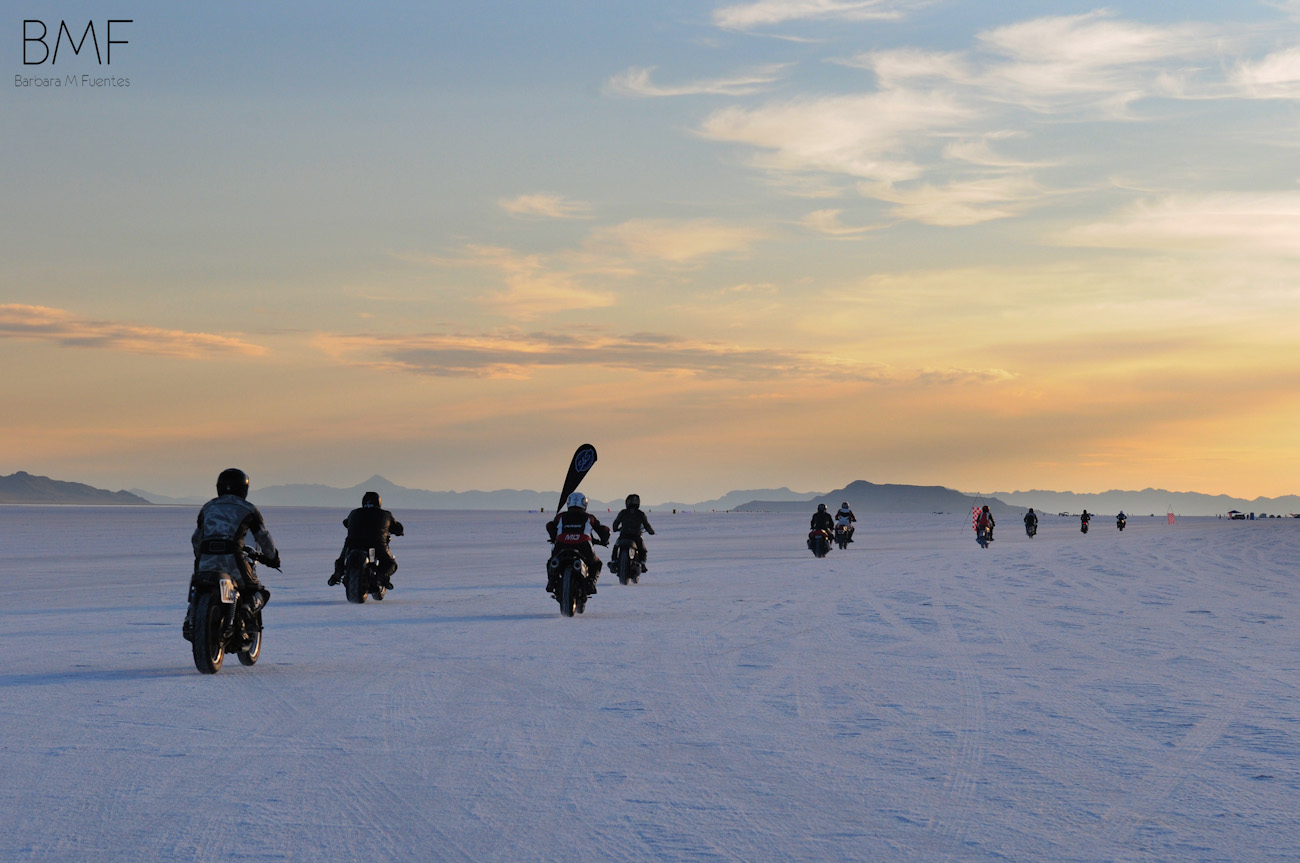 There were so many amazing people I met- I could literally go on and on…
Sandy Vetter, a 76 year old 3x Salt Flat rider. She didn't hit her goal of 104mph on her vintage Yamaha 350, but she'll be back next year once she perfects her speed shifting.
Joice White, first timer at the flat with her Aprillia RSV 1000 and was just shy of her goal with a speed of 147mph.
6x Land Speed Record Holder Valerie Thomson rode her BMW 1000 RR and hit a speed of 203.85MPH.
The event couldn't have happened without the help of Linnea Johnston and Delvene Manning. Fellow riders, and Landspeed Racing enthusiasts since the times of BUB—these two ladies have been involved for many years. Delvene took over the event from her father-in-law and this was the first year the event was known as the Bonneville Motorcycle Speed Trials. I think the event was very successful- despite some of the weather conditions. The week of riding ended with an awards ceremony, including the 'SheEmoto" award; given out by Erin Hunter, a multi-record setter herself. The award recognizes a participating woman who embodies camaraderie, sportsmanship, fortitude, perseverance, patience, leadership and the desire to win. The recipient receives $1,000 for herself and another $1,000 to give to an individual or organization that's served as a source of encouragement in her racing. This year, the award went to Evelyne Scholz. A record holder, including the 200mph "naked" motorcycle event, Evelyne had some difficulties getting her bike over and it didn't arrive until the last day. That didn't stop her. She had words of encouragement for riders of all classes. She nominated Loretta Flores as her inspiration for this year's event.
I heard someone say, about motorcycle riding, "In five minutes you love it or you hate it." And there is something remarkable happening right now. Women are loving it— their attendance keeps going up every year. The Salt Flats is about passion, sisterhood/brotherhood, obstacles, and the urge to prove to yourself that you can accomplish a run. People are supportive; I kept hearing loved ones saying 'have fun' as the riders took off. It isn't just about going fast and making records—but learning that you are capable of more than you realize.
Thanks again to Barbara Fuentes of BMF Photo (website) for covering the event on behalf of MotoLady.
Photographs are copyright Barbara Fuentes 2014.
BONUS ROUND: This is Dan Parker, the first blind man to ever complete the motorcycle speed trials. DAMN!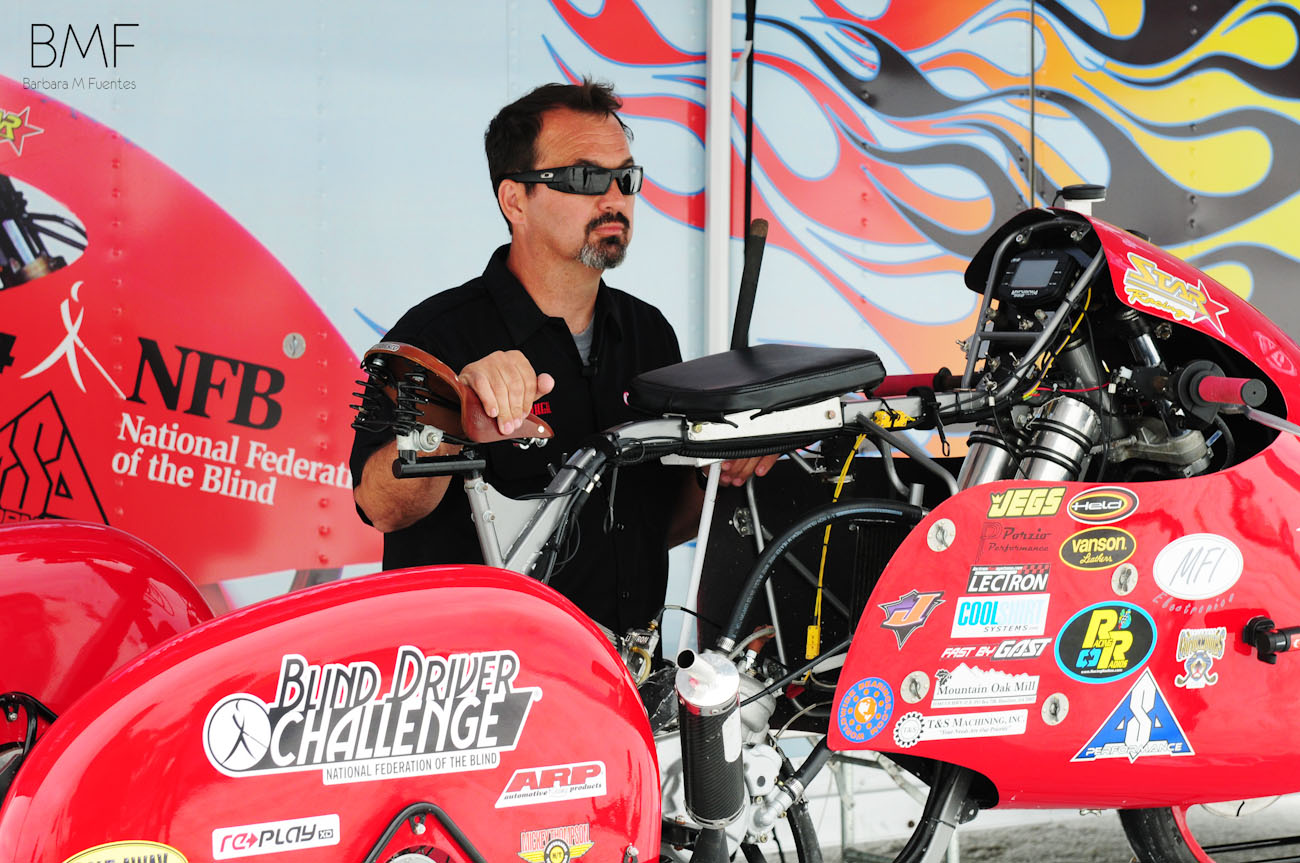 Posted on September 6, 2014 in Events, MotoLadies, News & Features by Barbara Fuentes