Drivemotion LED Sign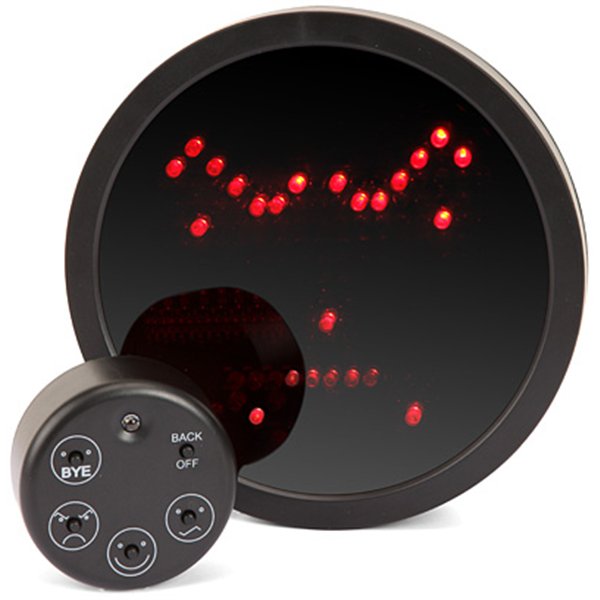 The DriveMotion LED car sign is a programmable device allowing you to tell drivers around you how you really feel.
Not necessarily motorcycle related, but that's no matter. Ever since I got my license at 16 I yearned for a way to tell motorists how I really felt. I wished I could pop in front of them, an display a scrolling message on a small LED screen in my rear window that said, "YOUR BLINKER IS ON", "YOUR TIRE IS ABOUT TO FALL OFF", the list goes on. Of course, expletives can usuablly be displayed in a universal middle finger, however I usually opt for the thumbs up or thumbs down.
But wouldn't it be amazing if we could make this thing a little smaller, brighter, and use it as a brake light? Just think, yours could say whatever you'd like. You could program it to switch from a resting "HAVE A NICE DAY" to a "F**K YOU" display at the switch of a toggle on your controls. Or perhaps you'd just like to use a cool LED design as your tail light… think LiteBrite. The possibilities are endless. Obviously you don't want people fixating on your tail light and trying to read tiny messages while moving, but for when you're sitting in traffic (for every state besides California where you can't lane split) and that guy behind you has no concept of personal space- it could be a sweet little helper.
Drivemotion actually has an extra Animator pack for $100 that allows you to draw, write, and create animations of whatever you'd like. Examples are shown in the video below.
ThinkGeek has a basic version available (if in fact you'd like this funky device, I sort of do) for $39.99, and you can also get other versions through the Drivemotion website, including the "Constructor" which allows you to create over 500 different messages and faces for $67.
What would yours say or display? Leave it in the comments.
Posted on March 24, 2015 in Gear & Gizmos by Alicia Mariah Elfving