Early Women Motorcycle Stunters
Back in the day, as they say, a woman riding a motorcycle was a pretty extraordinary thing.
"Nice" girls weren't known to ride motorcycles, which meant those women who chose to do so were branded as sort-of outlaws. It was most popular to find ladies on bikes at the Circus, making a spectacle of their amazing abilities of balance and grace atop incredibly heavy machines. Later on many women ended up riding as messengers and dispatch riders for the Postal Service and Military. Some ladies made quite the name for themselves, too.
Women like Cookie Crum took to living their own lives, showing the guys they've got the skills to ride too. At just 18 years old in 1949 she was became "Miss Cookie: Queen of the Daredevils" and was hired by Motor Drome. Cookie was recently inducted into the Sturgis Motorcycle Hall of Fame.
Lillian La France, born Lillian Ossage, also made a living off being a motorcycle stunt rider. Born in 1894, she became one of the most famous stunt riders, known as "The Girl Who Flirts With Death". She often sported a a skull and crossbones on her riding jersey, which was a popular symbol among daredevil motorbike riders of the day.
Oftentimes there would be a belt-driven stand in front of the silodromes and motor dromes which would allow (mostly) ladies to ride in place, previewing their skills for potential show-goers.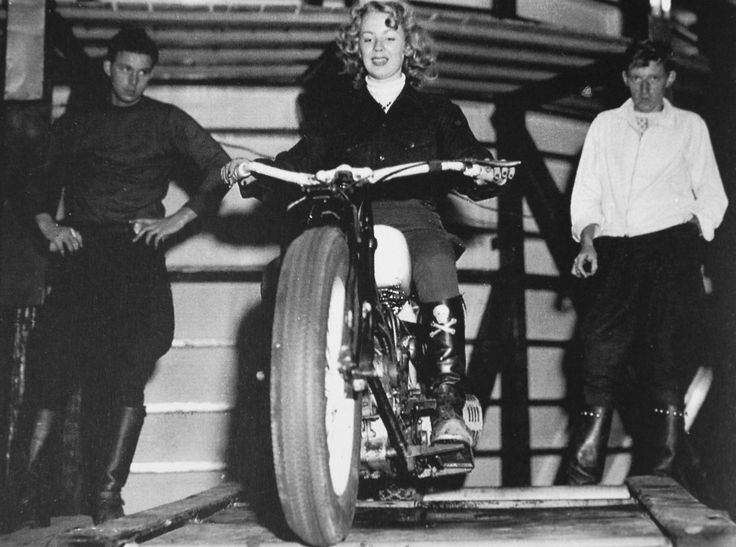 Ah, riding motorcycles. A thing of rebellion and freedom… and wonder.

Posted on November 11, 2014 in History, MotoLadies by Alicia Mariah Elfving