Femmewalla 2016 Women's Track Day (video)
Femmewalla, a women's motorcycle track day at Chuckwalla Valley Raceway, beckons a host of ladies to the Southern California desert every December.
Trucks, trailers, and RVs filled with track bikes, easy-ups, race gas, coolers, and more carry motorcycling women into Desert Center, California for a whole day of estrogen fueled track takeover. Over eighty women attended this year's Femmewalla, myself included!
This event features three separate riding levels for sessions, trackside food, on-track photography from CaliPhoto, 2-up rides from STAR Motorcycle School, Yamaha Champions Sportbike demos, Racer's Edge one-on-one video instruction, an impressive raffle, and so much more. Last year Femmewalla raised over $10,000, as all proceeds from the day go to the Unforgettables Foundation, a program that helps with burial costs for families who've lost a child.
The raffle included parts, gear, and a ticket to Jason Pridmore's STAR Motorcycle Racing School, among other awesome prizes. As someone who's attended the STAR school, I can tell you first-hand that it's an amazing program that has an incredibly positive effect on your riding skills and comfort.
Jen Dunstan and Melissa Paris (MotoAmerica racer) of Fable Riders invited me to attend this year's ladies track day, and I managed to rope photographer Errol Colandro of EL3 Productions into coming along to capture photos and video! Thanks to Errol's trusty DSLR and my Sena Prism camera, we put together a pretty cool little video of the day. Check it out below!
Sadly, it being the first time I used my Sena camera, I forgot to turn it off between sessions and it died just after the last session while I was Jen Dunstan and feeling most comfortable and at ease on the Ducati 748. A loaner from my roommate, it's body work has seen better days, but mechanically it's dialed in quite well and loves getting cracked open on the smooth track pavement.
The 748 shares the same front suspension with my Monster (I outfitted Pandora with a 748/916 front end) and has similar riding position, but is otherwise a totally different bike. It even has substantially more horsepower with just under 91 HP at the rear wheel, as opposed to my 1998 Monster 750 which has a whopping 62 HP. It also weighs quite a bit more at 441 lbs versus the stock weight of the 750 Monster at 392 lbs (which is heavier than my custom).
Long story short, it took some time to get used to the taller, heavier, and more powerful 748. See how I'm on my tippy toes in the photo below?
Alright, let's back up and start from the beginning. Jen Bauer of TrackXperience was nice enough to haul the Ducati in her truck to Chuckwalla for me, as the Purple Prius Eater (my lifted 4×4 Tacoma) needed a shock replacement at the time and I didn't trust it carrying a bike. I stayed in Palm Springs the night before, woke up at 5am and fell asleep off and on in the car while Errol drove the rest of the way to the racetrack. We arrived just before 7a, checked in at the front gate, and headed to the registration area where I found Melissa Paris! She asked what group I wanted to start in, and when I told her Novice she handed me a sticker for the Intermediate group.
While I've been on track a handful of times like with STAR school, Yamaha Champions at the MotoAmerica experience and others, this was my first solo track day and the experience is very different. At the press events and schools, you show up to a motorcycle prepped and ready for you. All you need to do is make sure you're geared up, hydrated, and ready to hop on a motorcycle. At a track day, you've got a lot more things to keep track of (pun intended), and timing is of the essence.
The A group sessions, also known as advanced, start at the top of every hour, and the other groups continue at 20 minute intervals afterward. Getting off track, my bike up on the stands and on warmers, gear off for a rest, and back on again, becomes a carefully choreographed dance fighting quickly passing minutes. Errol, my photographer buddy, ended up also being my pit crew to his dismay. The Ducati has been turned into a streamlined race bike and lacks a kick stand, so even getting off the bike after a session takes an extra set of hands.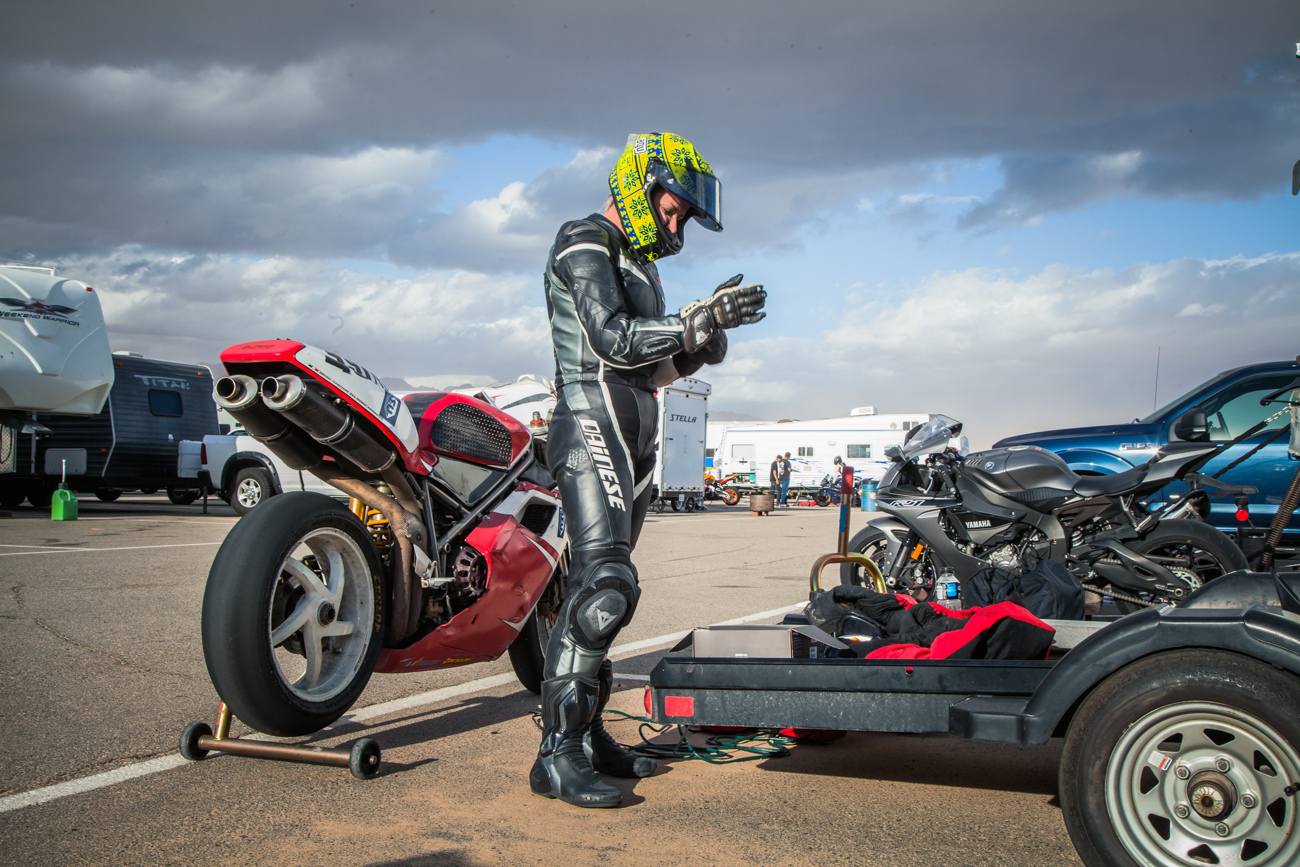 After placing the chartreuse Intermediate sticker on the front of the Duc, I geared up and set out for the first session with a burst of anxiety first crashing over me and fading away like a wave on the beach. This same track was where I had lowsided the Kawasaki Ninja 636 almost exactly a year before during the first day of the STAR motorcycle school… and it was definitely on my mind.

Despite having checked the gas tank, a glimmering reflection of fuel was not what I expected, and in turn three the bike lost power quickly and turned off. Being mid-apex, I threw my hand in the air, moved to the inside of the track, and got ready to go over the kerb (the red and white bumpy part of corners) and into the soft earth designed to cushion a go-off. When I hit the super mushy sand area the front end wobbled and almost ejected me, and when I kept it upright I thought I my track exit was successful… and then my foot slipped and the bike fell over. HA!
I totally blew my first session, having run out of gas like the greenhorn I am. I stood holding the bike up for the rest of the group, waited for the gas truck, started her up and then completed my lap and headed to the pits.
Next session went much more smoothly. By the time I had completed my first four laps, I had started to relax and get back into the groove of things. The 748 and I were getting to know each other now, and naturally, the more laps I did the more fun I had.

Chuckwalla Raceway battles heavy mid-afternoon winds, which sometimes bring in massive dust storms, so we ended up having a long lunch waiting for better visibility.
Other than a liiiittle bit of a sand storm, the day went off without a hitch, I kept the rubber side down (woot! haha), and finished on a high note…
Jen Dunstan joined me in the intermediate group for the last session of the day so we could ride together a bit. Having a buddy to play "chase me chase me" with was exactly what I needed to get myself in the Goldilocks zone. We hauled ass around the track, passing on the inside and outside of corners, blasting into "the bowl" (a wicked awesome heavily banked big sweeping turn) side by side, taking turns flying by each other throughout. It was the most fun I'd had in months!
As the sun set on a long and fulfilling day, Errol and I had a lil photoshoot in front of the beautiful desert sky.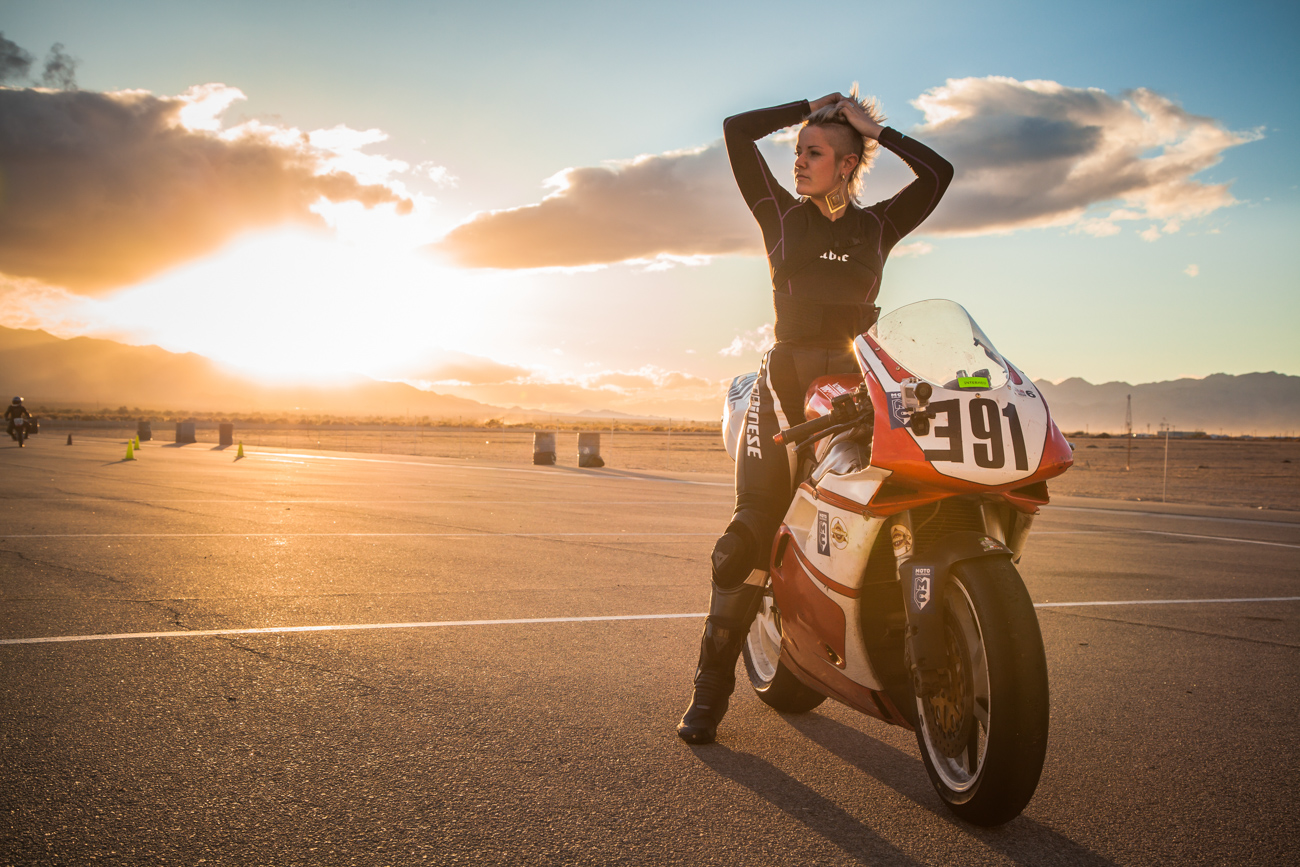 The evening finished with the Femmewalla staff drawing winners for all the raffle prizes, and a delicious catered dinner that riders and their people enjoyed while reflecting on the awesome day around big round tables. Things got pretty rowdy while they were calling ticket numbers; the long dry day had obviously baked our brains. Hootin', hollerin', and ribbing new forever-friends.
If you're a lady rider and have an interest in track riding, or it's already one of your favorite things, the Femmewalla track day is a must-do! A "testoterone free track day" (as it's so poignantly coined on their website) is the perfect way to get your feet wet on the race track without feeling as pressured as one might be in a sea of dudes. When I asked ladies how the day compares to an open track day- they said riders tended to be more respectful of each others space during passing, and that there seemed to be an overall lack of egos fighting for attention.
Considering testosterone is literally in charge of a deluge of things including aggression in men, it makes sense that the competitive nature is less extreme amongst the lady riders.
This was a life changing experience for me. I love to go camping with a bunch of motorcycle chicks and party in the woods or desert, but my favorite thing about motorcycles is improving my riding skills and endlessly searching for those perfect moments leaned over in a corner. Because of that, I've developed a new love and addiction for track riding, and truly can't wait to go back. While my wallet probably isn't happy about that, my heart very much is.
Check out the Femmewalla website and stay tuned for next year's date, make sure you register and come ride with the other women for a great cause.
Special thanks to Fable Riders for their excellent under-suit-wear, Dainese & AGV for the race-ready gear, and the Femmewalla crew for making such an incredible day happen.
Photographs by EL3 Productions and CaliPhoto.
Gear Breakdown: 
Related Posts:

MotoLadies unite! Hannah Johnson, me, and Janell Mattson outside MotoCorsa. We're holding the book "Chicks on Bikes" by Christina Shook.
Posted on January 19, 2017 in Blog, Events, MotoLadies by Alicia Mariah Elfving