Get to Know Your MotoLadies: Stacie B. London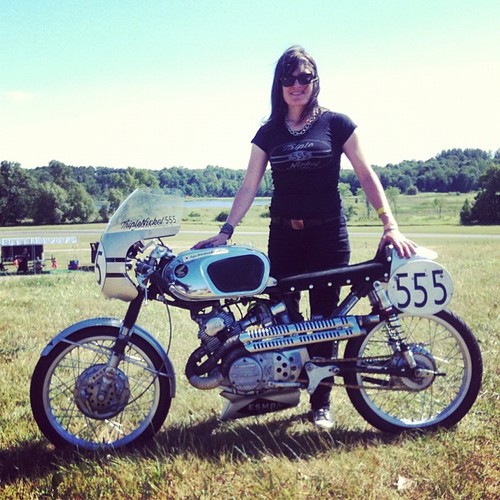 I first saw Stacie B. London pop up on my tumblr dashboard one day back in May of '11 when checking up on my favorite blogs. I immediately had to repost the beautiful image by Scott Pommier photographing her riding her BMW through a van door. I had to know more. Since then Stacie and I have talked through the interwebs, I've posted lots of her photos… and now we get a little look into who Ms. London is… besides a bad ass motolady. Read on for a brief interview.
Why did you start riding?
I always wanted to ride.
At what age?
3 years ago.
What was your first bike?
1969 BMW R60US
Important advice for ladies who want to ride?
DO IT!
Take the Motorcycle Safety Class. Once you have your license purchase a motorbike you feel comfortable with and won't feel bad about damaging. Then, go out and ride as much as you can, alone if need be, to get comfortable and familiar with the weight of the bike. Practice parking and getting on and off your bike and entering traffic safely. Get to know your bike. Put it on the ground and pick it up. Everyone drops their bike, so its totally cool, just figure out how to pick it up again.
Advice for new motorcyclists?
Ride as much as you can. Get good gear. Protect your face and jawbone. Don't worry about looking cool. Its the journey not the destination. ♦
Stacie B. London is a Los Angeles-based industrial designer, who has a Master's of Science in Industrial Design from Art Center College of Design in Pasadena, California who's fascination with motorcycles and all things fast and free runs in her blood. Her father set a land speed record in Bonneville in 1965.
As a 3rd generation Angelina being around muscle cars and power boats was the norm. Growing up with American made V8s and spending summers in the Pacific Ocean, she quickly grew accustomed to the wind in her face. As a child she decided that she needed a motorbike but it took until recently to fulfill that dream. In May 2009 she finally purchased her first motorcycle, a 1969 BMW R60US.
Long involved in the arts, personally and professionally, she works at the Museum of Contemporary Art, Los Angeles (MOCA) as the Exhibition Designer where she had the privilege of managing the mechanical restoration and operation of one of Chris Burden's seminal artworks. "The Big Wheel" is a kinetic sculpture where Burden brilliantly brings together a 1968 Wards Riverside (Benelli) 250cc motorcycle and an 1800's, eight-foot diameter cast iron flywheel. "The Big Wheel" brought together Ms. London's proclivity for technology, performance, art, and adventure.
The founder and president of the East Side Moto Babes, a women's motorcycle club in Los Angeles which not only is interested in developing a sisterhood among women, they are also really into riding and expanding their motorcycling skills on and off the road. London is in here second season of road racing her 1968 Honda CB160 (Triple Nickel 555). She has a challenging season where she participates in two circuits: Chuckwalla Valley Motorcycle Association (CVMA) and AHRMA. This season she plans to race in 12 events with an additional 24-hr endurance race with M1GP.
Check back frequently for more short interviews with notable motoladies!

Women's Motorcycle Show photo booth gallery from Julio Bustamante is here!
Posted on June 22, 2012 in Interviews, MotoLadies by Alicia Mariah Elfving