Gina Morill Olson: Fez Monkey's Racing
Gina Morill Olson will be racing at the Bonneville Motorcycle Speed Trials (formerly BUB Motorcycle Speed Trials) this year on the Fez Monkey's Racing team at the Bonneville Salt Flats in Utah.
My name is Gina and the last week of August 2014 I will be racing with my team, Fez Monkey's Racing, at the Bonneville Motorcycle Speed Trials on the amazing Bonneville Salt Flats. Fez Monkey's Racing has been heading down to the salt for 3 years and headed up by our fearless leader and my husband, Neil. Our goal is land speed racing of vintage and modern motorcycles mostly in the Run What You Brung class. 

We like to encourage our friends and other riders to come to the salt flats and give land speed racing a try or just support and cheer everyone on. For those racing, we push for a personal best with the possibility of making a land speed record. This year we have 10 friends running under the Fez Monkey's team. Our youngest rider, Tanner, is 14 years old. He ran our Famous James last year and gets to skip the first week of High School for this! We also have 3 women riding this year, 2 of them for the first time. A couple of team members evern have a chance at records. Very exciting!
I designed an image I call "Ton Up Rosie" based on "Rosie the Riveter". I had patches and stickers made to raise money for myself and the Fez Monkey's team. All monies raised go directly toward our efforts; travel, participation, mechanical and other expenses. Although we have a large team, we can always use help with financing. If you are interested in purchasing some patches ($8) and stickers (2 for $5) to help our efforts, please contact me at gspritely@gmail.com. We all very much appreciate the support!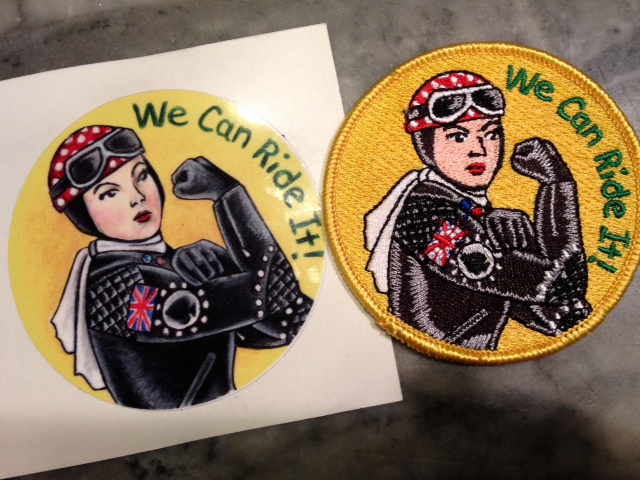 Um, so the Honda RC-51 is a fun bike… no surprise there eh?
Posted on August 6, 2014 in MotoLadies, News & Features by Alicia Mariah Elfving