Happy Birthday to Jessi Combs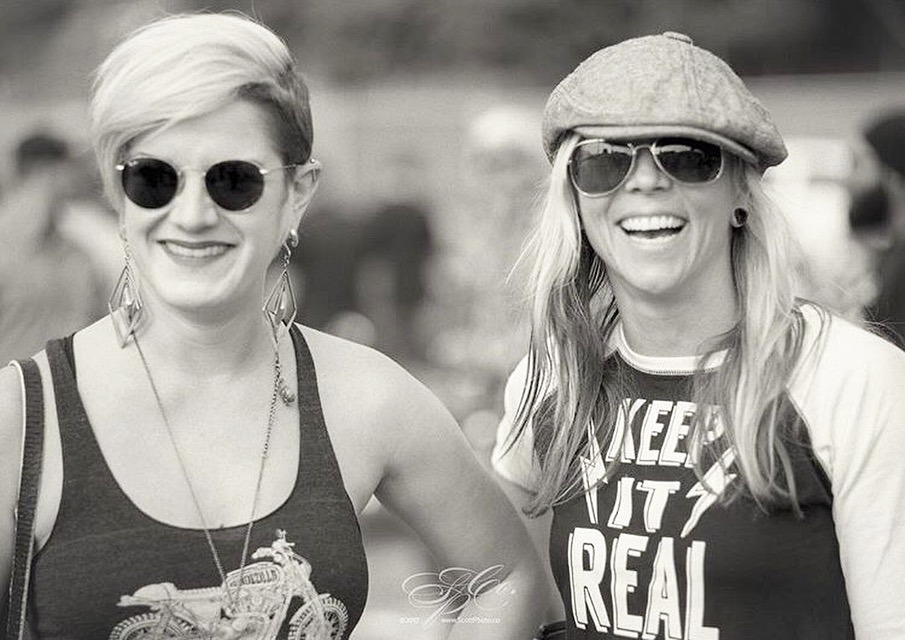 Happy Birthday to Jessi Combs– the fastest woman on earth. You are missed.
I've had Jessi's birthday in my calendar for quite some time now– as I do with the majority of my most treasured friends. A week ago the little notification bubble popped up reminding me– "Jessi Combs' birthday in one week!" It hit me like a ton of bricks. She would have been 41 years old today.
Sometimes in my line of work, with my lifestyle, a sense of time isn't so set-in-stone. One month will go by so slowly you might as well be watching paint dry, and then the next two are gone in what seems like a blink. The same thing happens with years– some seem to drag on and on (like 2020 for most of us) and other times I can't believe it was five years ago that I was sharing shop space with THE Jessi Combs.
That's why the little phone reminder hit me so hard this time. It's been over two years since she passed away and somehow it feels like just yesterday that she was helping me fix the broken exhaust mounts on my Ducati because I remember our good times so clearly. On the other hand, her absence in the automotive world has been so obvious for so long. It's a strange mix of surreality.
So I took a walk down memory lane and went digging through my archives, pulling out photos never before seen by the likes of the interwebs. Moments in the shop when we were just goofing off, palling around with friends, being who we really were. Ladies who like to build stuff, laugh a lot, and take no shit.
If you've already picked up The MotoLady's Book of Women Who Ride, you know that Jessi Combs is the first feature in the "Making History" section at the very beginning. A few pages in and you're staring at her face, taking up a full-page, next to the longest piece in the entire publication. I think it came out to like 3,000 words or something when the next-longest piece is about 900 words. ….And that's after my editors got to it. Trying to boil down what Jessi meant to me, and many others, into a short piece of prose is nearly impossible. At least that's how I felt about it.
Nonetheless, I wanted to share a few of my favorite photos from our shoots, some of these previously unpublished behind-the-scenes shots that capture her spirit so well, and an excerpt from the piece in my book. Hope you enjoy.
Jessi Combs. Where to start? You were (past tense will forever feel surreal and wrong) a beautiful soul, a badass, and an incredible person. The impact you made with your work will live on. The passions you inflamed, the excitement you fueled, the smiles you created. They will echo in our hearts, in our memories, on art gallery walls, in pieces you created, on the grounds you raced. They will roar down the street in the vehicles you built.

You opened your shop to me when I needed a little love in life, reaching out your hand when most were closed fists. Sharing your most precious space and inviting me behind the curtain into a world most people never got to glimpse. A woman of strength and compassion, tenacity, and faith. You were always honest even when it was difficult . . . a rare and important quality.

I met Jessi sometime in mid-2015 at Born Free when my friend Sofi Tsingos of GT-Moto had flown in from Texas to work with her and Real Deal business partner Theresa Contreras. Jessi was fluttering about, talking to fans and friends, smiling, and doing her thing. A few months later we got together for a good old-fashioned girls' night, getting sushi, watching movies, and going to the store at midnight to buy a full roasted chicken. We devoured it. The giggles were endless.

With so many similarities in our personalities and preferences, I always felt like we were kindred spirits. Sort of take-no-shit types with expansive, soft hearts. A friend for life. A partner in crime. One that was far busier and cooler than I would ever be, but that didn't matter.

Jessi and Theresa invited me to be a part of the Real Deal demos at Chopperfest and Babes Ride Out, where they offered short class-like intros into trades such as welding, pinstriping, and, in my case, leathercraft. The number of women in line for demos at the Real Deal booth during Babes Ride Out surpassed every other in the area by far. Women eagerly waited for their chance to get their hands dirty and try something new. I just felt lucky to get to work beside Jessi and soak up her wisdom and can-do attitude.

One of my all-time favorite memories is taking the long route with Jessi, Theresa, and Sofi back home from Babes Ride Out in Joshua Tree that summer. Jessi on her Triumph Scrambler, Theresa on her bobbed-out Harley, Sofi on the KTM Duke 390, and me on a little Yamaha SR400. We had a blast. All of us had similar "spirited" riding styles.
More info and where the buy the book here. (Or if you're super lazy, click here and it'll take you to Amazon.)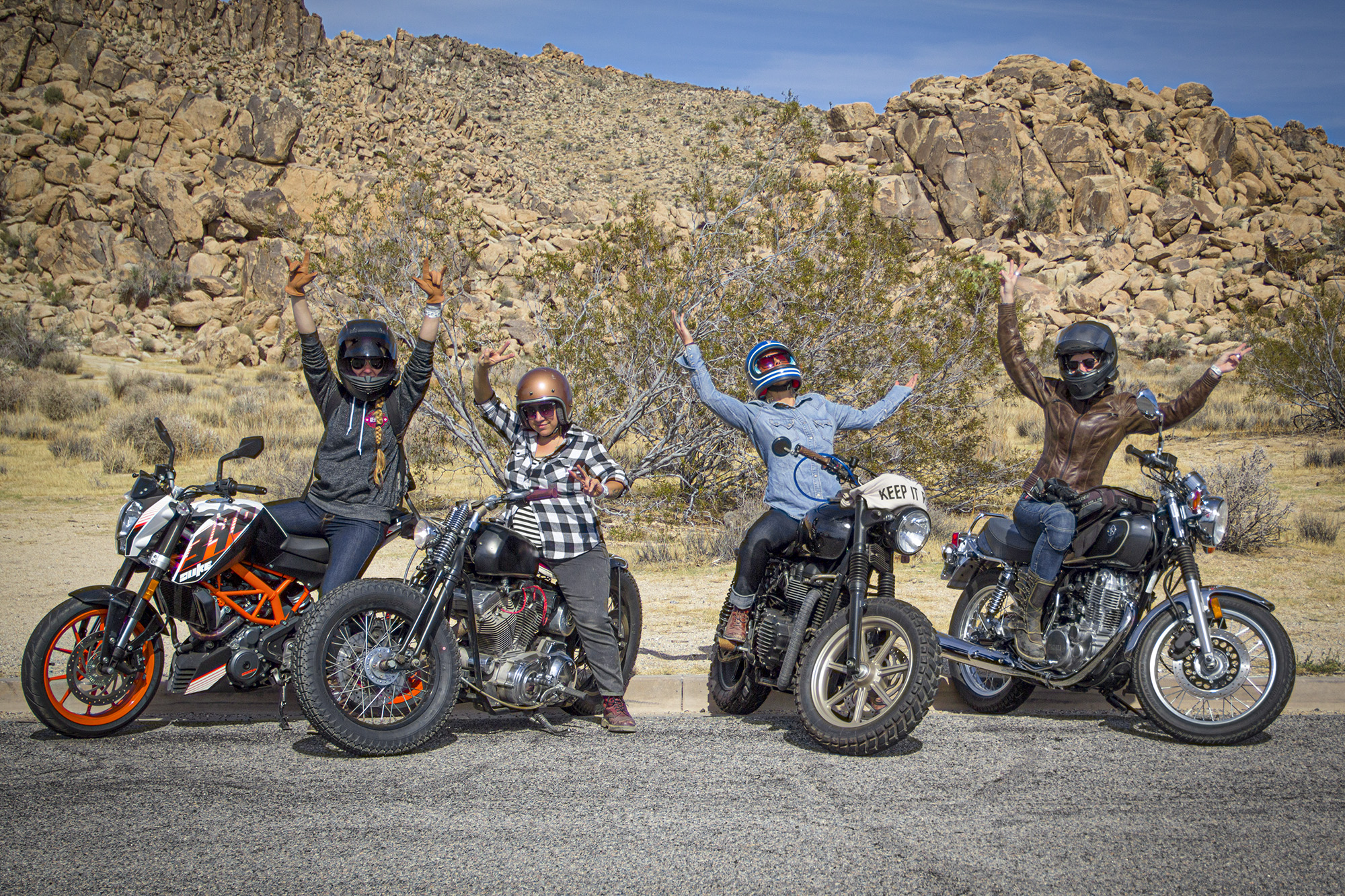 And now for the random collection of photos!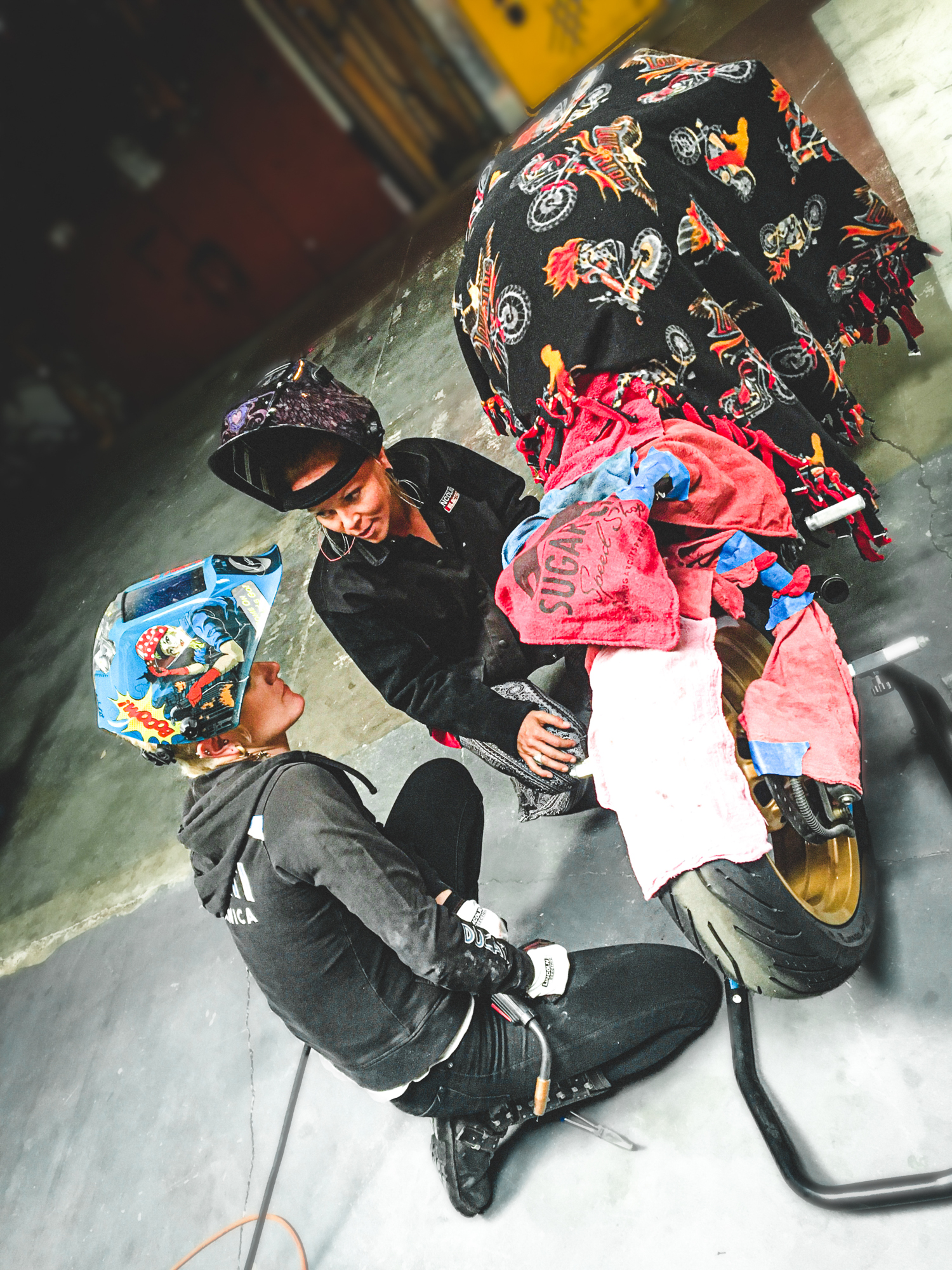 After I got the Ducati back together from our big crash (where I thought I was gonna die) one of my mufflers almost fell off in the middle of a ride. Turns out, my exhaust bracket had broken. Coincidentally, the one on the other side was cracked too. Jessi helped me with the delicate procedure– one that honestly terrified me to do. After spending three years building Pandora, the last thing I wanted was to weld onto a powdercoated frame. I'm not a terrible welder, but I'm no professional. And if you don't know what you're doing on something like this… things can go real sideways, real fast. Jessi knew I was freaked out– I kept hesitating when I went to put the bead down. She told me, "Hey, if you fuck it up. I'll fix it for you." That's all I needed– I gave it my best go. Welp, I fucked it up. The temp was way too hot and I basically melted the spot I was trying to fix.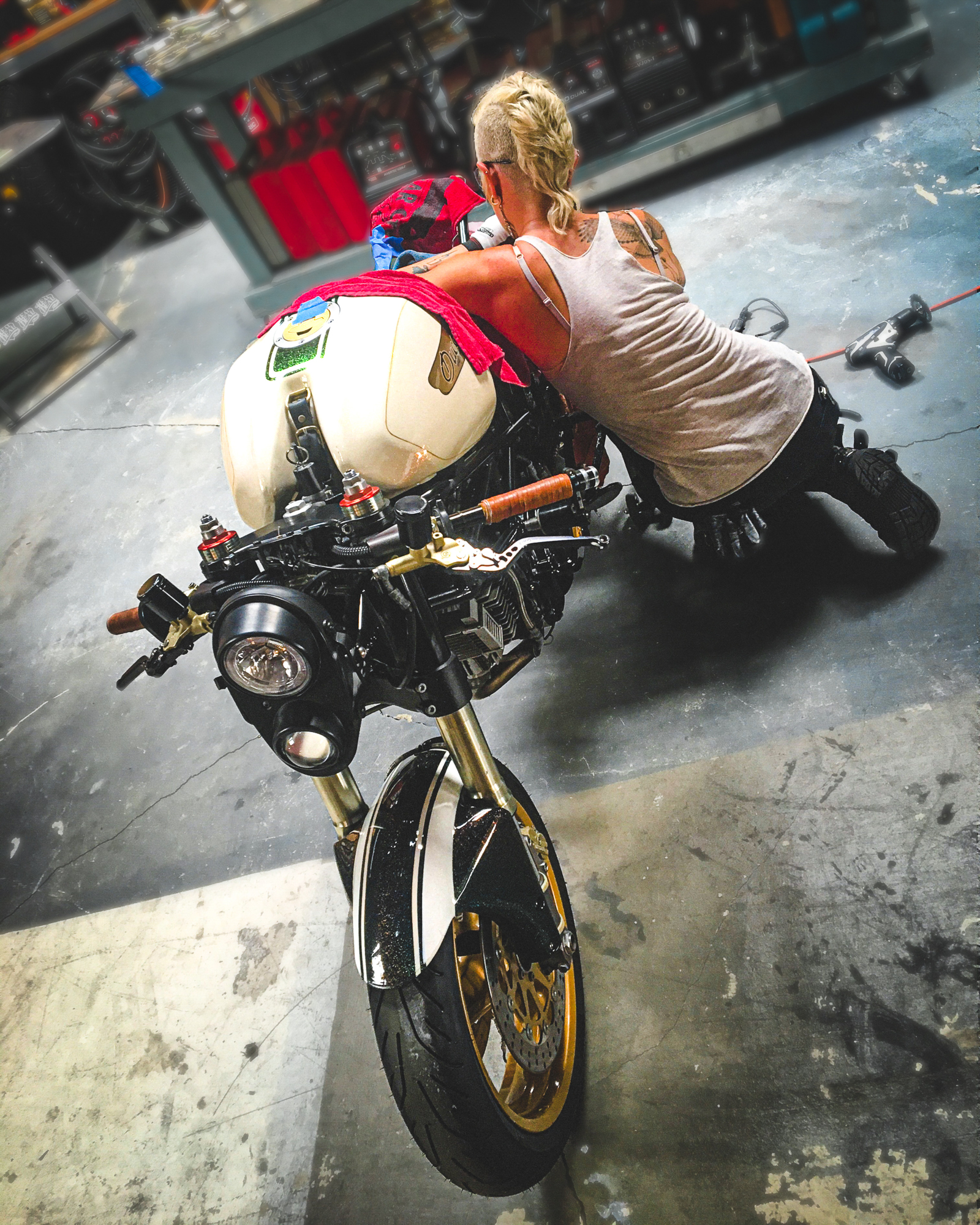 So I ground it all down and got it prepped to fix… again. Jessi stepped in and showed me the proper way to do it. So not only does Pandora have my blood sweat and tears, but it's got a little bit of Jessi too.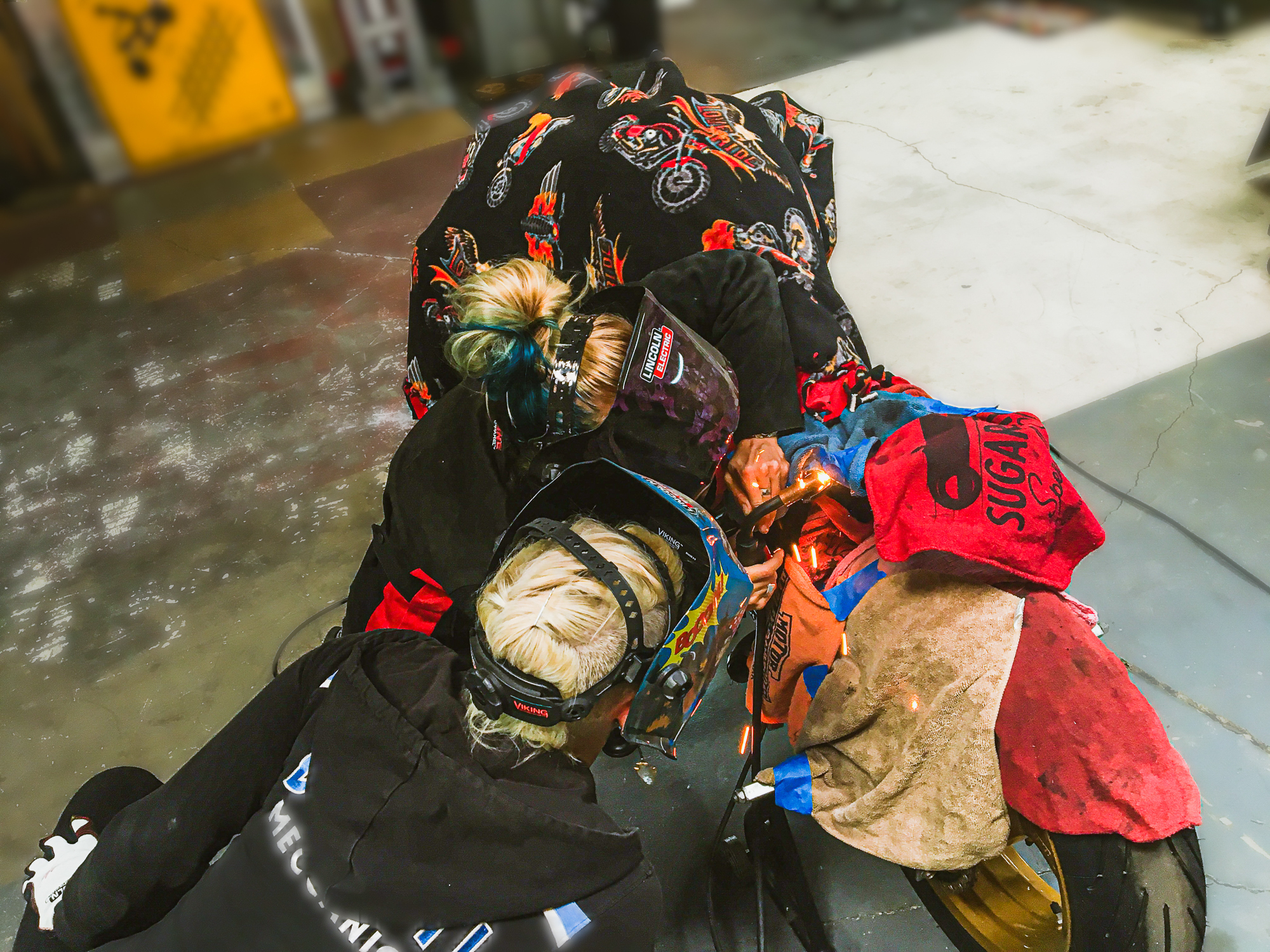 Next up from the archive is the "Meet Jessi Combs" design I did for her work with SEMA in 2016. A larger than life lady… literally larger than life! This was the same year she was invited to co-host the SEMA Awards.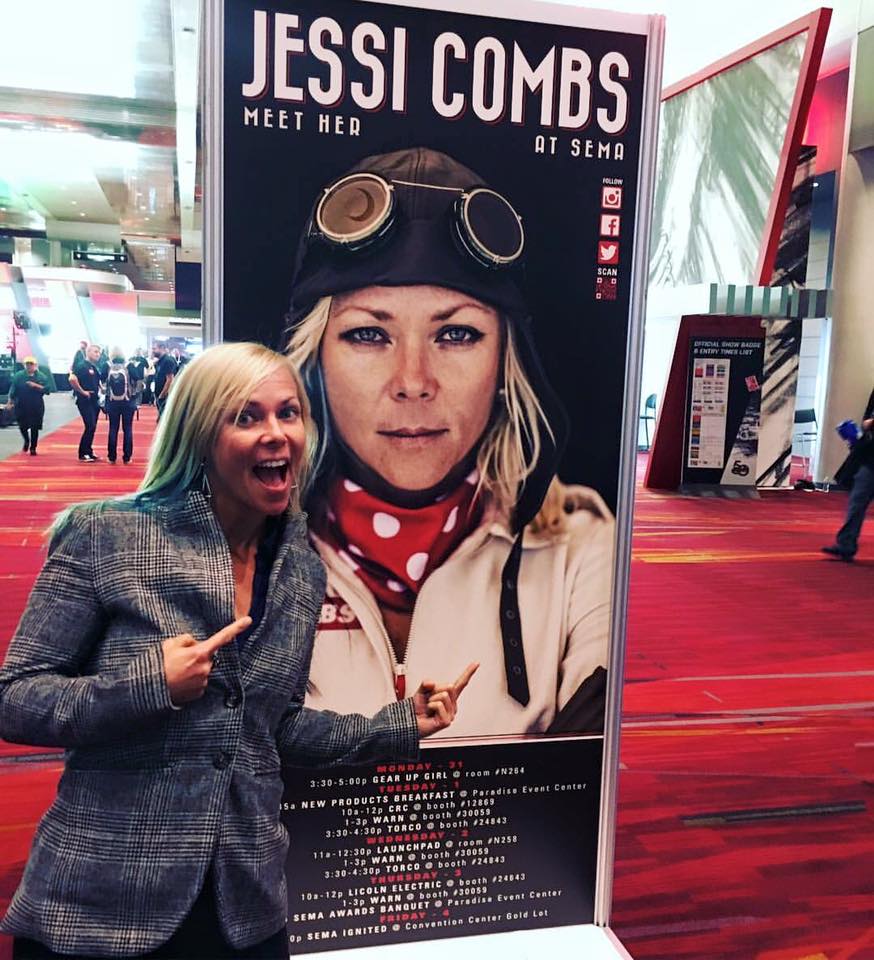 This woman had a walk-in closet half the size of my bedroom– and of course it was mostly filled with work clothes and stylish boots and accessories. But getting dressed up wasn't something Jessi did super often (although she did it with ease), so when we got talking about her outfit for the awards banquet we realized she didn't have matching jewelry. So I made her some! Here she is rocking the necklace I crafted to match her earrings for the event. It was designed to hang down much further, but they had to adjust it because of the microphone. Her face is the "I hope you're not mad but we had to mess with your design" expression. I wasn't mad at all, she looked great.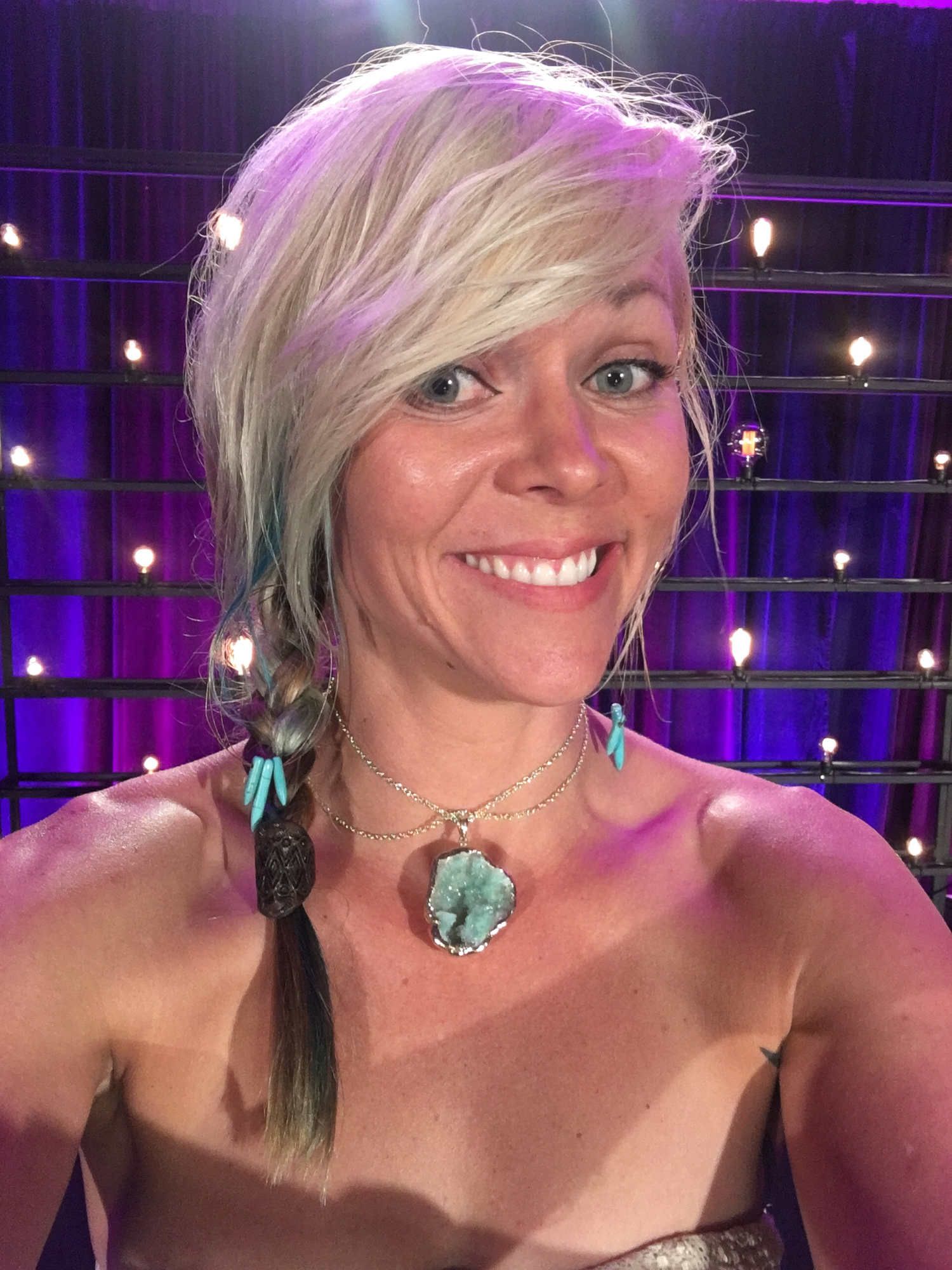 The next photos are from a photoshoot we did in Joshua Tree National Park during Babes Ride Out 2015 for my Motorcyclist Magazine article. We found a pretty spot on a dirt road inside the park and let 'er rip.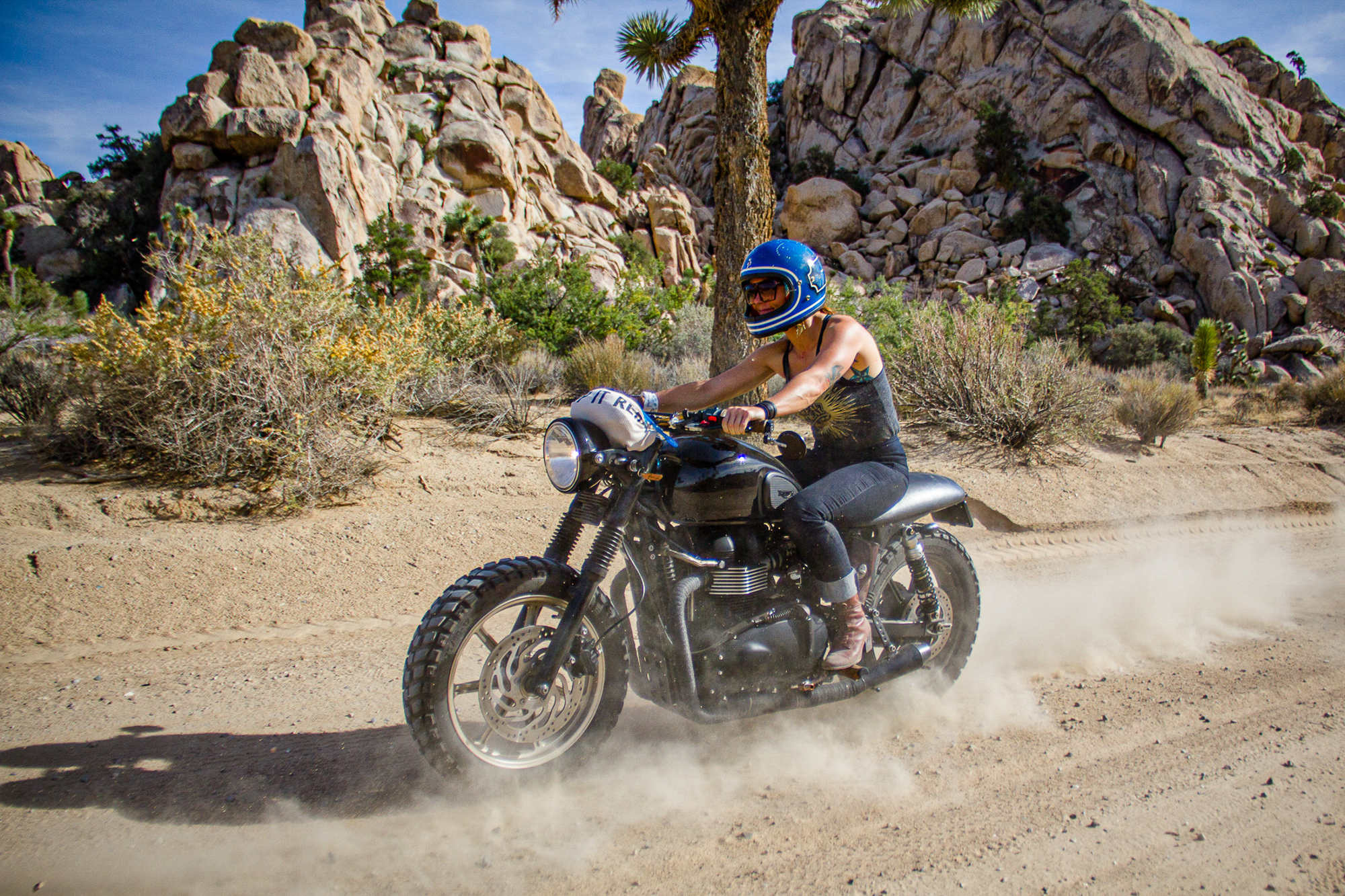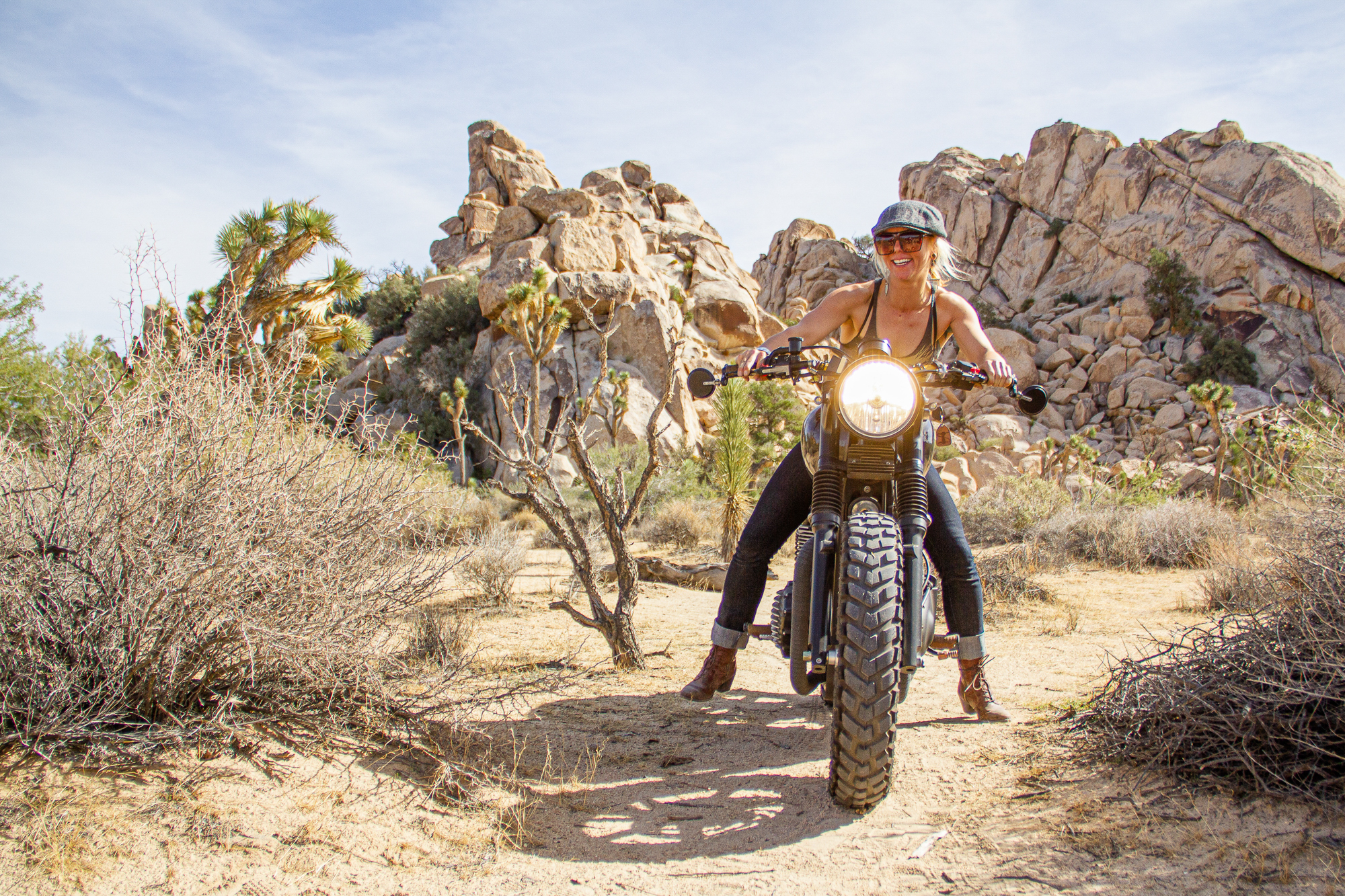 Here's two from one of our random nights hanging out in her shop when she was working on the Real Deal Revolution BMW r9t cafe racer. Showing off the sexy new wheels she got… being all adorable.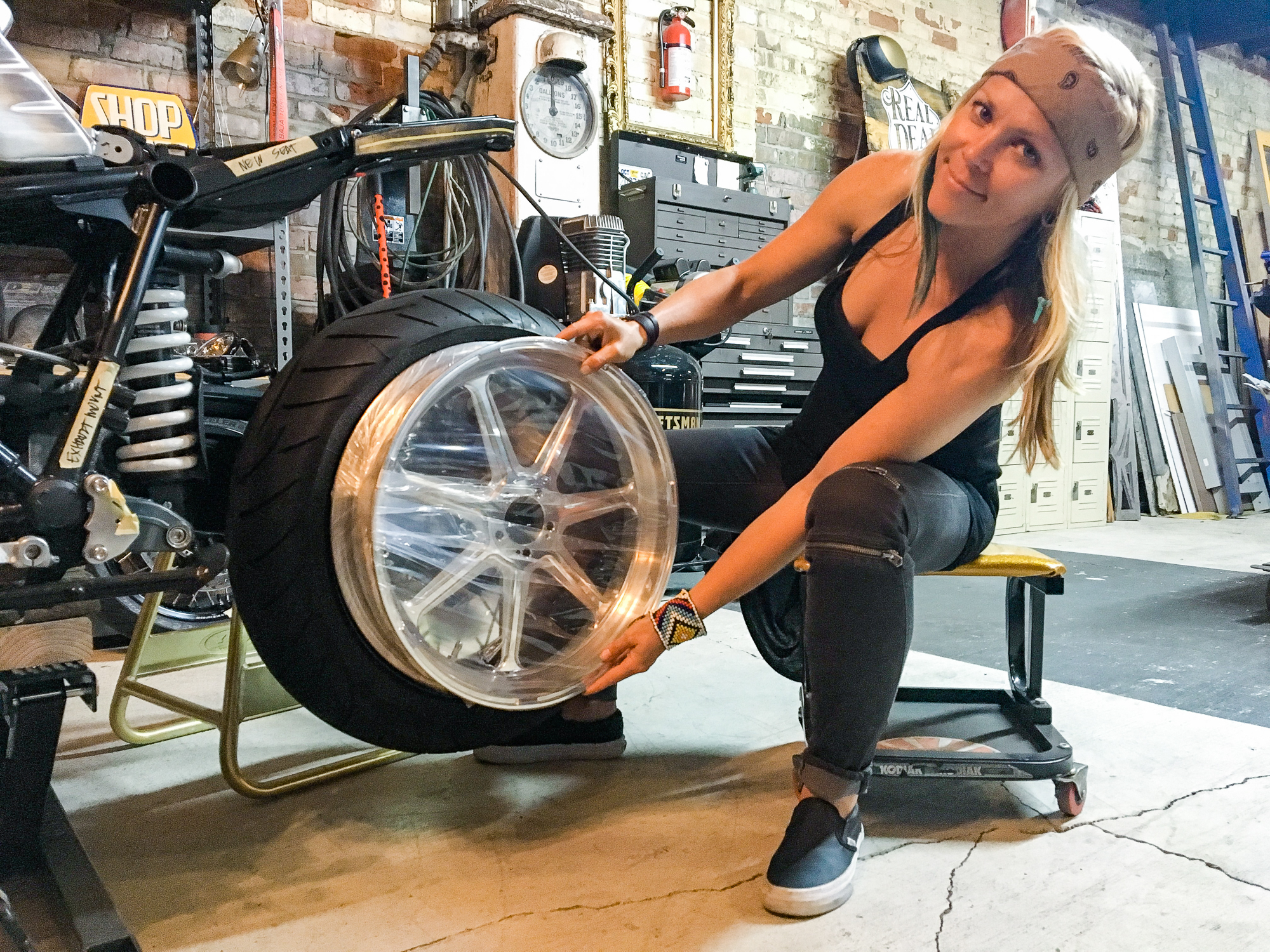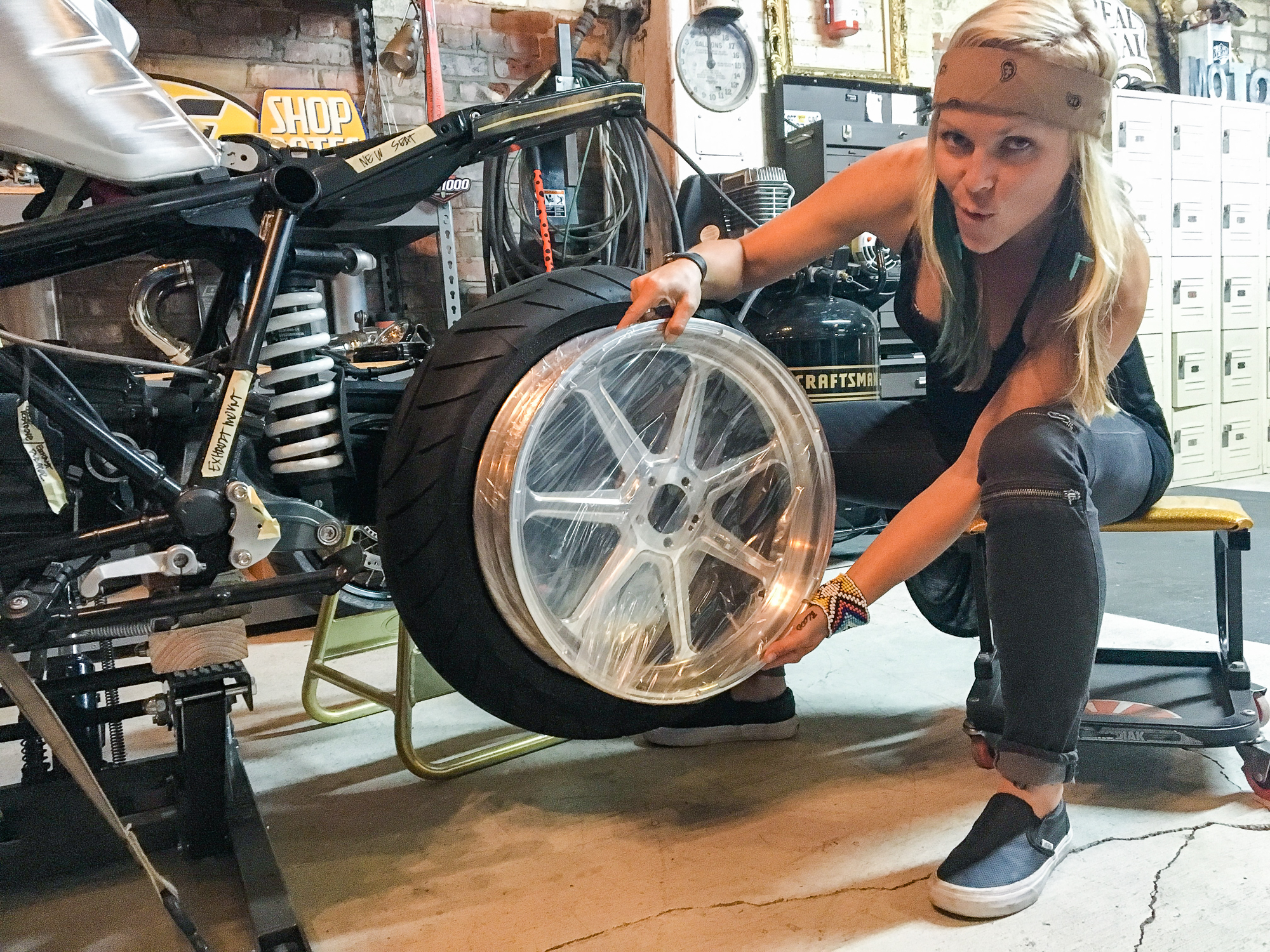 More random shop night fun with a couple of pics Jessi snapped of Theresa Contreras (her business partner) and I proposing with hose-clamp rings.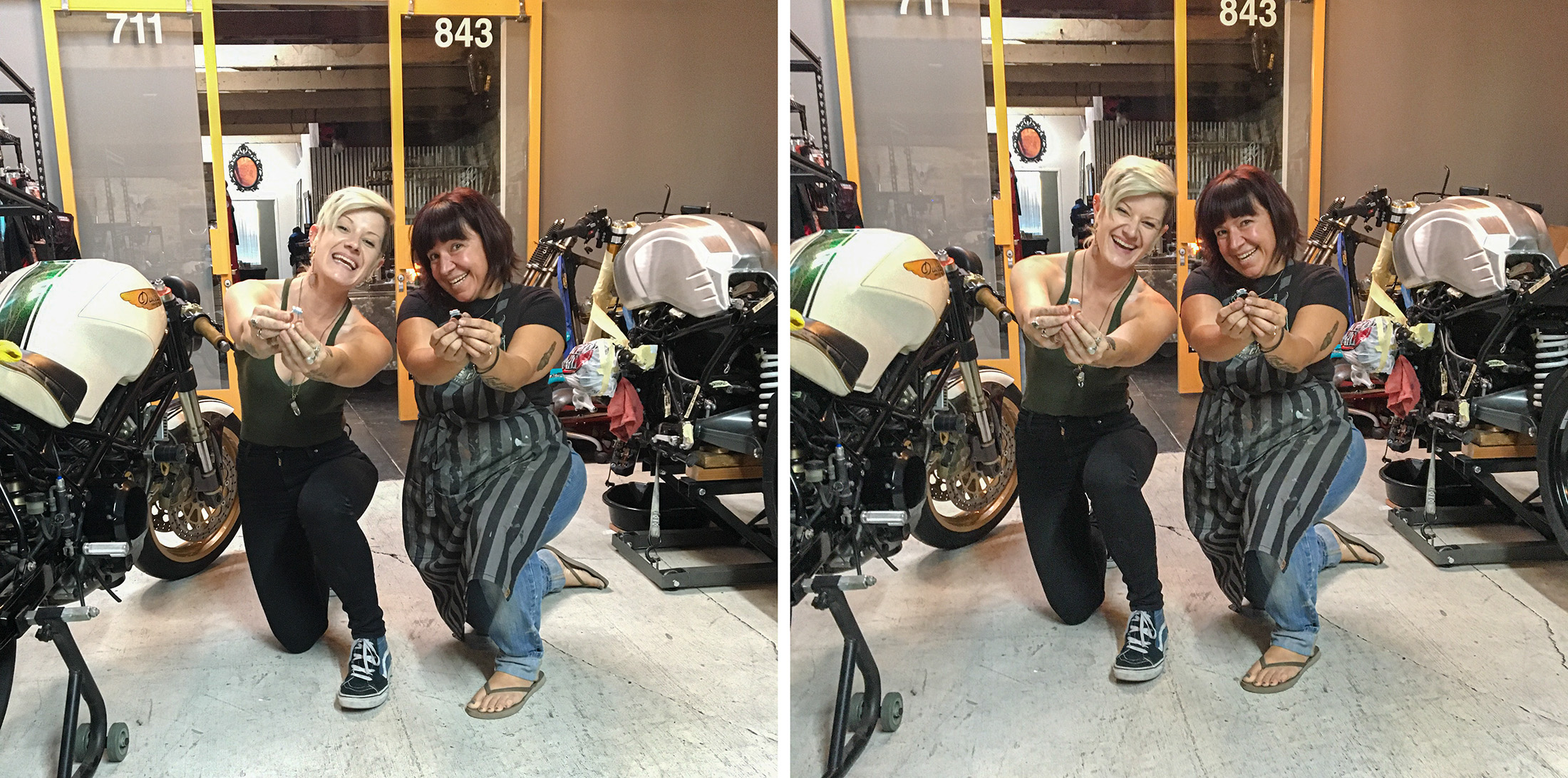 And one with her biggol grin that we all miss so much.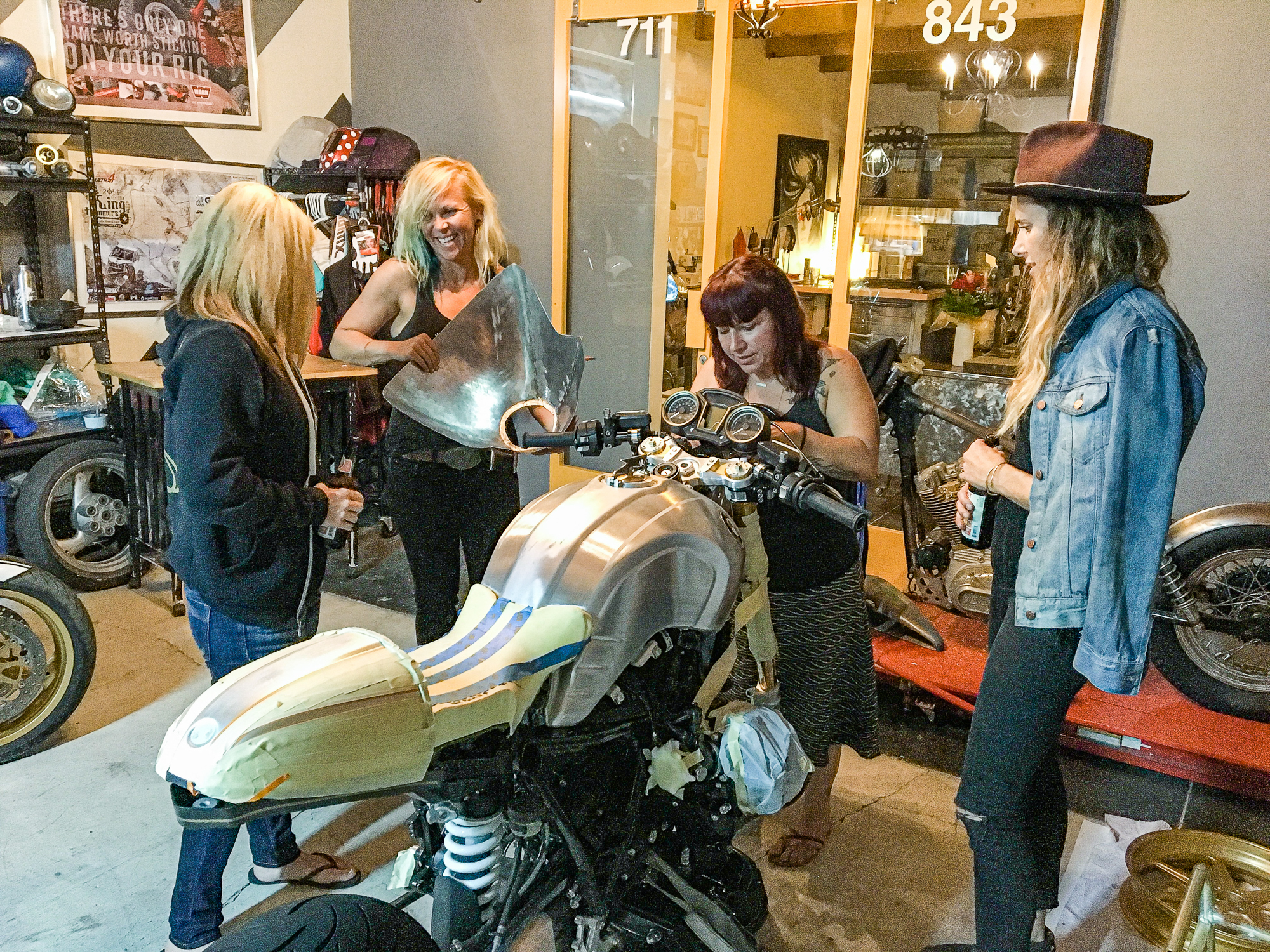 I'm not sure she even know I was taking this photo of her moving her Triumph Scrambler.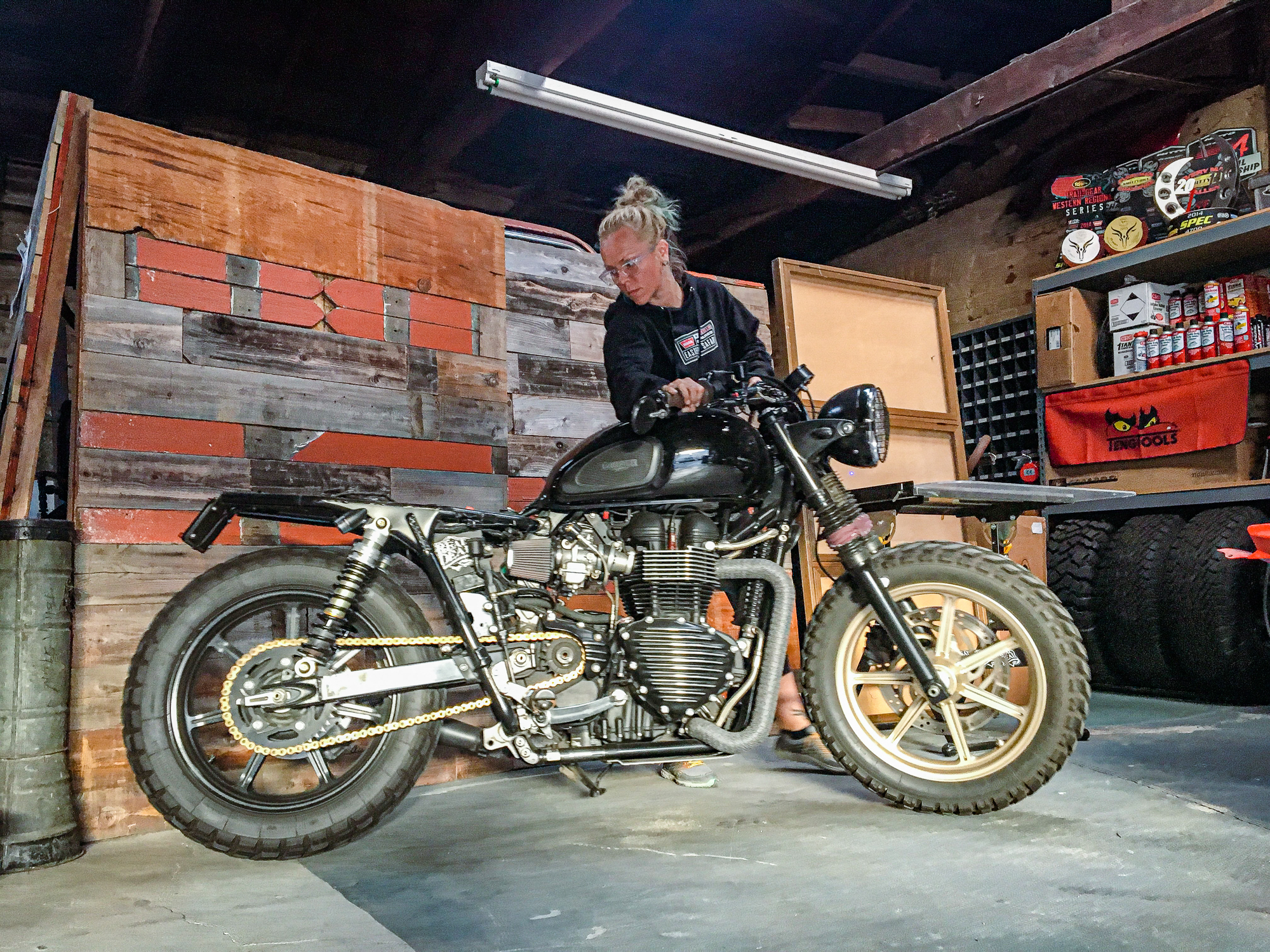 Her super-serious focus-face working on Real Deal trophies at Babes Ride Out.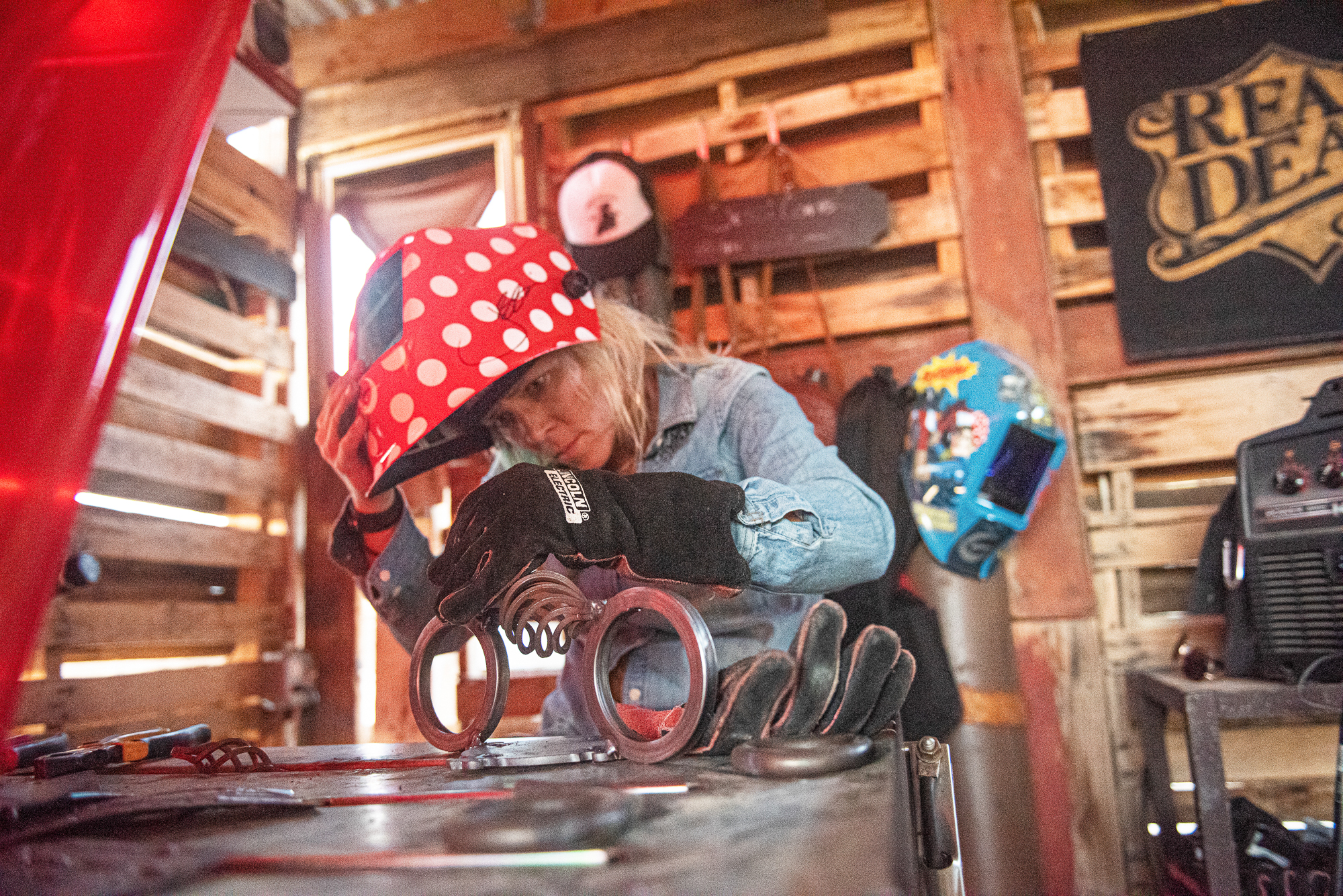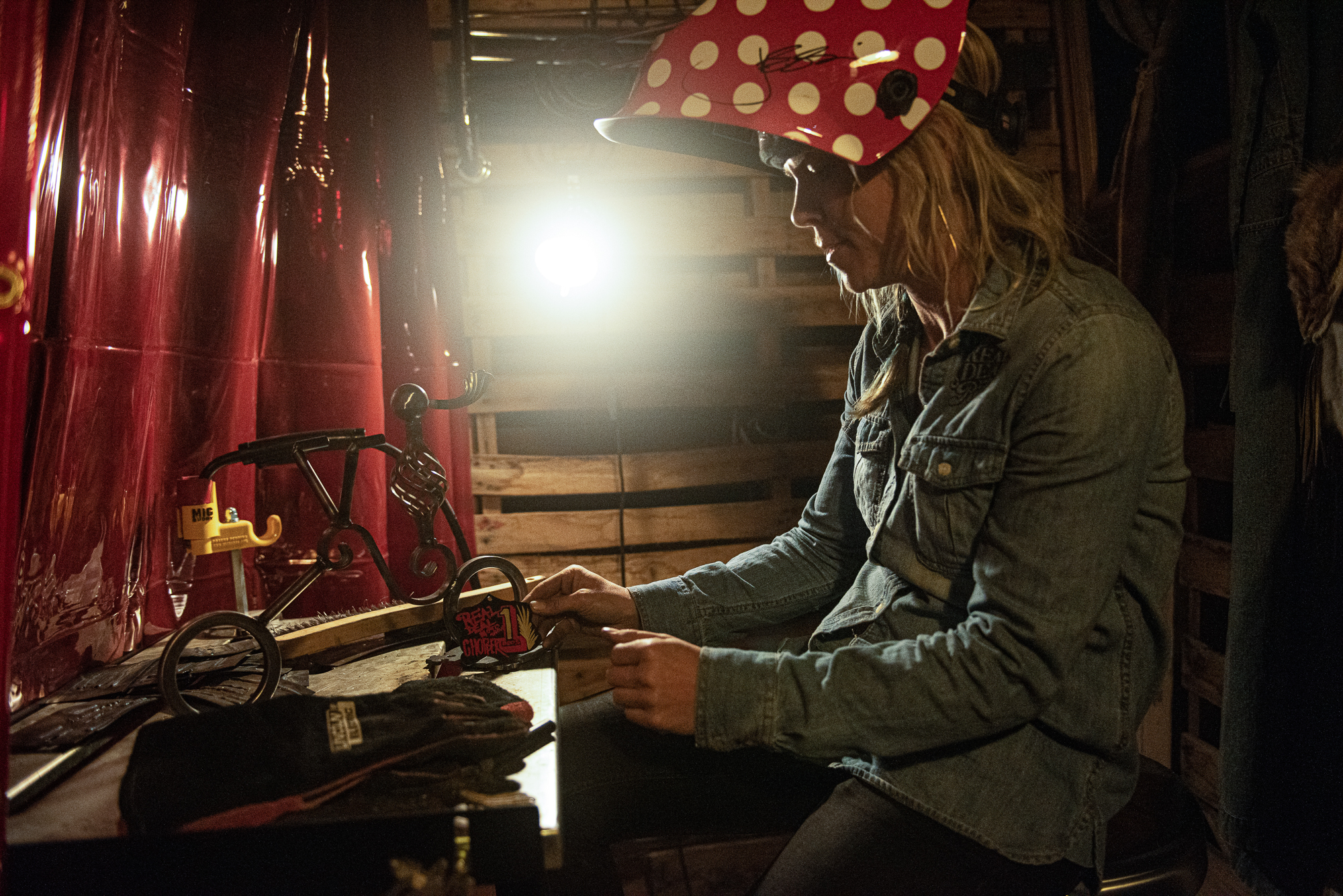 Yet another from Babes Ride Out, with some of my favorite-ever people, the core Real Deal crew. Left-to-right– Jessi Combs, me, Sofi Tsingos, and Theresa Contreras. I think this shot captures all our personalities pretty well and it's one of my all-time favorites.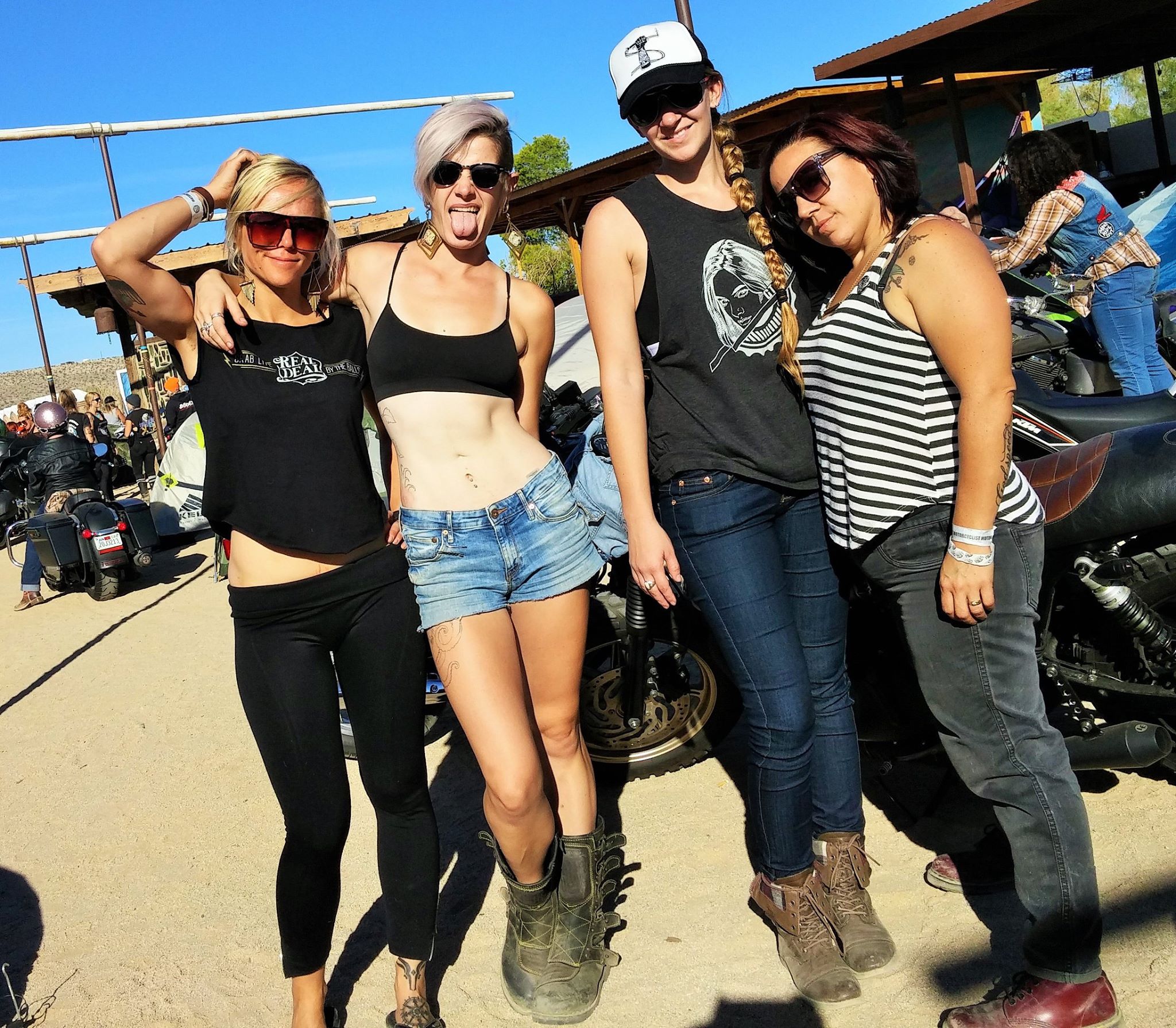 And last but not least, the last photo of us together, the last time I saw her. At Camp Zero in the Sturgis Buffalo Chip in 2018, right after I got done completing my very first race ever (on minibikes).
Thanks for much for looking and for reading, I hope you enjoyed the walk down memory lane.
If you want more behind-the-scenes goodness and to read more about how I met the fastest woman on earth, check out the "Goodbye Jessi Combs: Legend, Leader, Lady" article I wrote a couple years back.
Posted on July 27, 2021 in Blog, MotoLadies by Alicia Mariah Elfving