Helmet Protester Dies of Head Trauma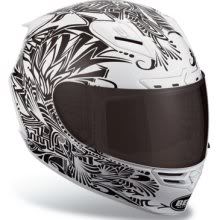 A 55 year old motorcyclist from Parish, New York, went on a ride Sunday organized by the Onondaga chapter of American Bikers Aimed Toward Education (ABATE) during which he sustained head trauma and died.
The ironic part of this tragedy is that he was protesting wearing a state-required helmet. A helmet that would have saved his life. 
I am a proponent of proper gear. I believe we should get to choose whether to wear proper safety gear, but I also believe we should all be intelligent and choose wisely to protect ourselves. Darwin's theory of evolution works again- survival of the fittest. In this case, those fitted with a helmet.
Contos hit his brakes, began fishtailing and lost control of his 1983 Harley Davidson. He shot over the handlebars, hit his head on the pavement and was taken to Upstate University Hospital in Syracuse, New York, where he was pronounced dead.
State police say evidence at the scene plus information from the attending medical expert indicated Contos would have survived had he been wearing a helmet as required by state law.
Asked about the apparent irony of Contos' death, the statewide president of ABATE, Thomas Alton, said, "We are riding at an increased risk and accept that. … This individual was a seasoned rider, not a newbie. He made an adult decision. A full decision to ride in the manner he rode in." (CNN)

Hello from Honda HQ in Torrance, CA! The Rebel gets it's 500 mile service, and I get a tour.
Posted on July 5, 2011 in Motorcycles by Alicia Mariah Elfving