Ineke's Honda CB400 Custom 'Blue Note Jazz'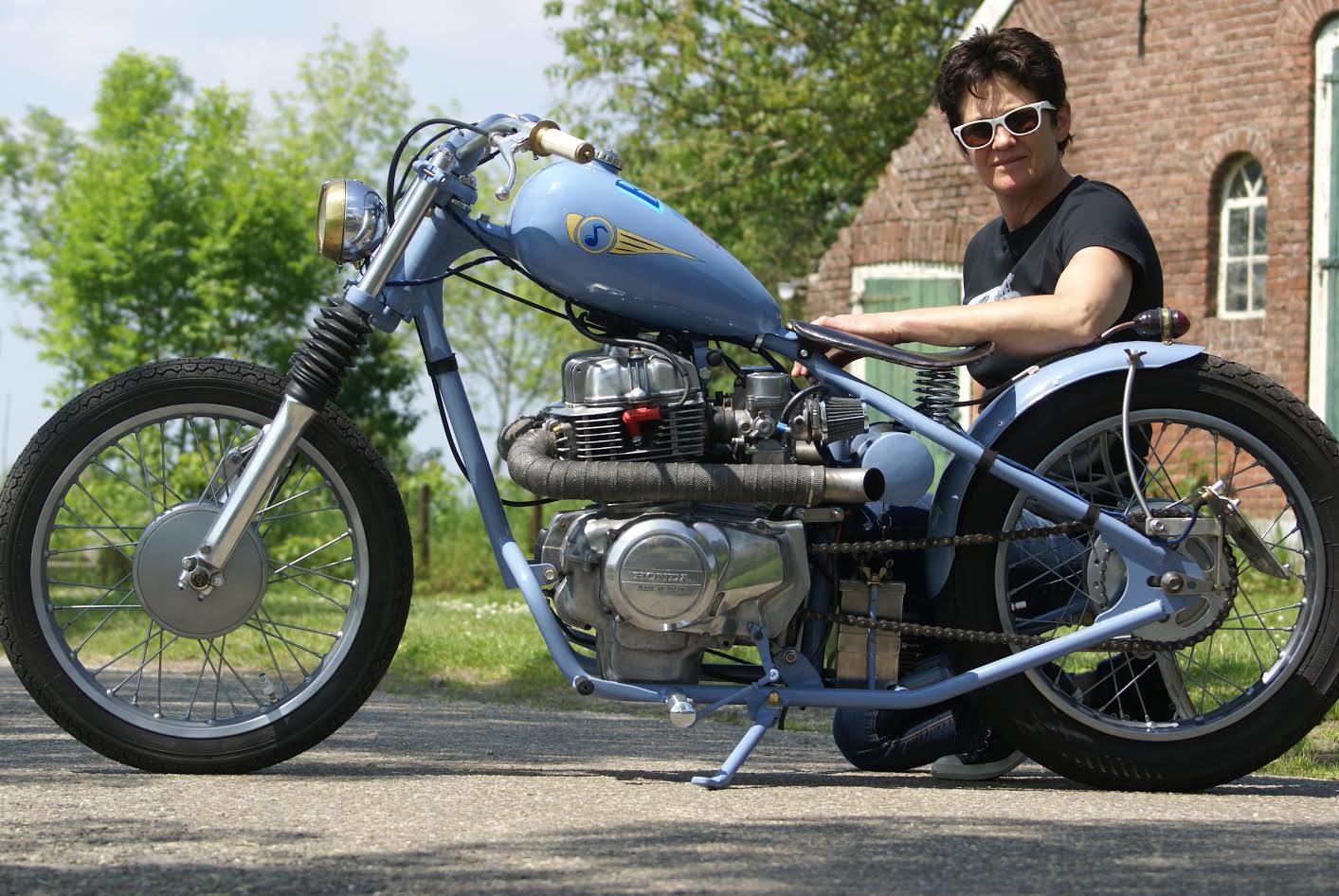 Ineke Hekman's Honda CB400 custom is called the 'Blue Note Jazz' and hails from the Netherlands. Instead of summarizing her build adventure, I'll let her tell you the story.
"It all began when I visited Chopperstyle, an internet forum where motorbike lovers share everything about rebuilding and remodeling their old en mostly cheap bikes. At that time I had a Honda VLX600 that I wanted to change into something special. Up un till then I didn't know much more than how to refresh my oil. But pretty soon the virus had me and I decided to sell my somewhat  rebuild vlx 600. With the money I got out of that project, I went to Den Haag, where I bought everything for a new hard-tail project from a famous 'motorbike builder'. All I had to do was … put it together. I came home with "a stack of iron" with which I could start building my hard-tail. It didn't take long till the problems started to pile up. I discovered that I was missing quite some essential parts, that I had to start to build different exhaust pipes, that the headset didn't fit and worst of all that the 400cc engine was stuck and immovable! The bike builder from Den Haag said he would solve it… and I brought everything back. So there I was… waiting… not my strongest quality. I still had some money left over from the VLX and I bought a Suzuki GN400 for a small price. This bike got totally stripped and remodeled into a scrambler / dirt-tracker. This time I did it all by myself. There was not a day that I didn't work on it. (If it wasn't with my hands, it was with my mind) I wanted to ride it as soon as possible. And in the mean time I got a message through the forum asking if I would like a GN250. I could pick it up right around the corner from me, for a bunch of flowers. The bike had not a license plate which meant I had to go and look for a frame with a plate . And in this search I got to know Toon, who has many parts and a lot of knowledge of the GN 'family'. This GN 250, in the end, became a bobber, low seat and a very broad engine control. And now I had 2 bikes to ride and to work on!
It took about a year before I could go and pick up the Honda in Den Haag. He had done about 'nothing' to it! He had given the CB400 kick-start engine to someone else for revision and had not received it back yet. There was no choice left over for me other than to take it back home with me and hope the rest would follow. I'm still hoping, haha. So I bought a Honda CB400 with a good engine for €125 ($155)… removed the engine and sold the rest of the parts for more than the price I paid for it. In the meantime I had posted my project on a special hard-tail forum (hardtailmaniac.com). And when I had let them know about my problems I had with my hard-tail project, Milo, a custom builder (milocustoms.nl) invited me to bring the whole project to him and said he'd take a look. With the great news, I loaded everything on to the trailer and went to Winsterswijk. That same evening I brought my stuff over, Milo let me know that the frame was twisted and he was unable to make anything out of that! Bummer… lost my engine… and now the frame was unusable. Milo offered to make a completely new frame for the material costs. What an offer! I put my GN400 up for sale and pretty soon, two guys came to take a look. They were interested in both the GN400 and the GN250. Because they offered a good price, both my bikes went on to a new owner. Did I have no bike to ride on now? I did! A Suzuki Katana with starting problems that I bought for less than 100 euro from a colleague. What a horrible bike. Way too big and clunky for me. I solved the starting problem and exchanged the bike for a Kawasaki 305 Ltd.
In the mean time Milo had welded a new frame for me, made a battery box and a couple of 'super' exhausts! I couldn't wait till I could go and pick it up. Now I was able to really finish the rest off. Front light, back light, break light, wiring, electricity, kickstand, rear break, and engine polish. This last chore I did when the motor was totally stripped down. The frame, ball-head, mudguard and some other small stuff, were brought to Mario (kruyswater.nl) to be blasted and powder coated. After lots of thought and ideas the choice became Ral. color: 5014. A sigh of relief when I saw that the color was perfect!
Then I could finally start with the best part of all, the constructing of the Blue Note. That took more than a month, in which time the gas-tank was taken to Dordrecht for a special coating. Together with Sander (Gecko Kustoms) I decided what had to be put on the tank. The wings on the side are made of gold leaf, which I had lying in the cupboard left over from a furniture restoration- project, and turned out to be very handy now.
In the meantime a deadline had been set. I had been invited to come to the Rogues Easter show in Opmeer with the Honda. The adjustment was not that great yet, but everything worked and I was able to ride the bike inside. And at the same time an appointment was made to make a report for the Big Twin. A big honor and a beautiful moment to thank all the helping hands with all their support. Finally I have my "dream machine" and in the meantime it drives so much better than first. And where ever I come I get great reactions on it. In the long run, after all of this, I am grateful for the guy in Den Haag. I would have never learnt all of this and gotten so much experience if he had sold me a perfect motorbike. And now I have become infected with a "Motor-reconstructing-virus" The Kawa 305 has been swapped for a GN400 project… but the Blue Note is staying!"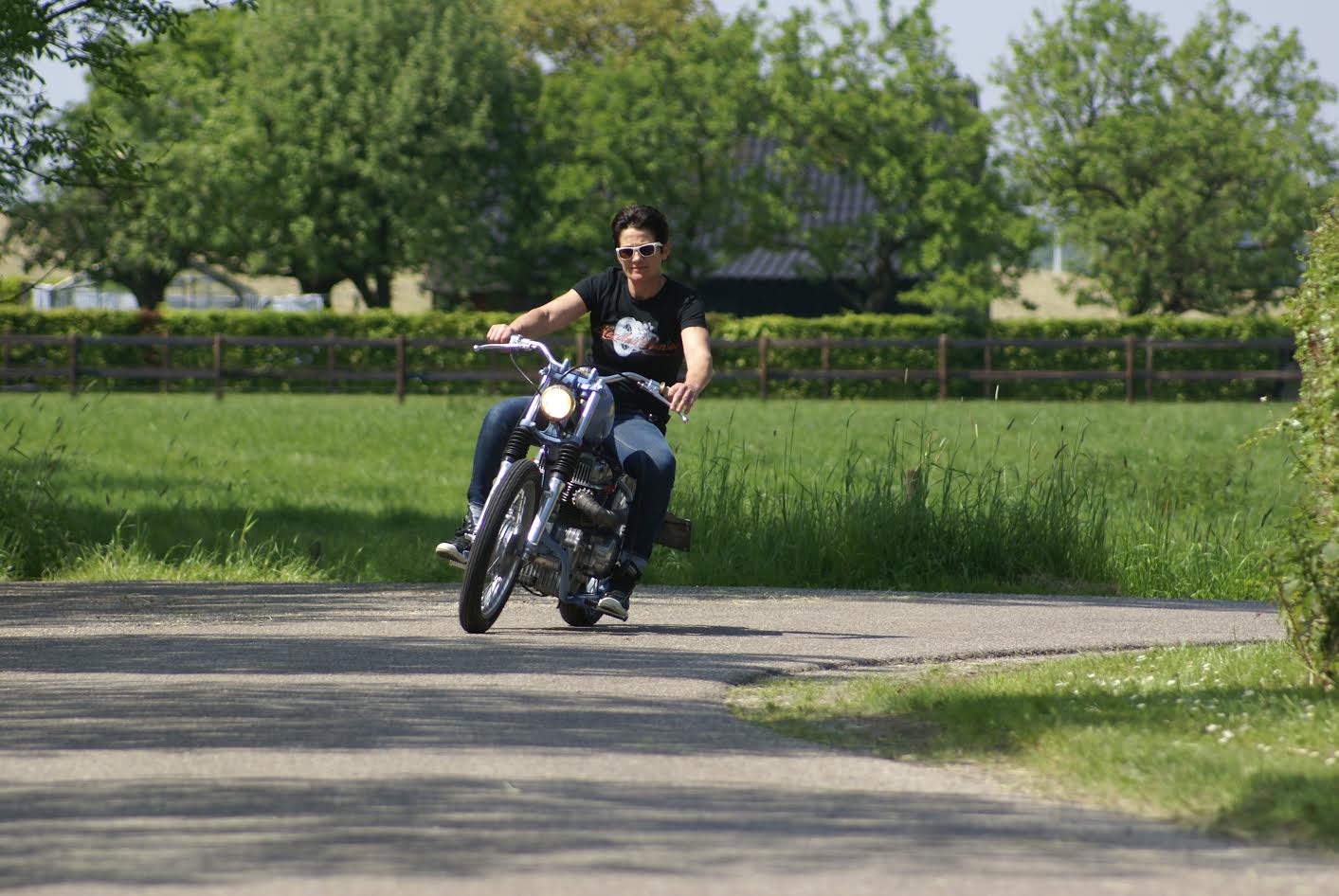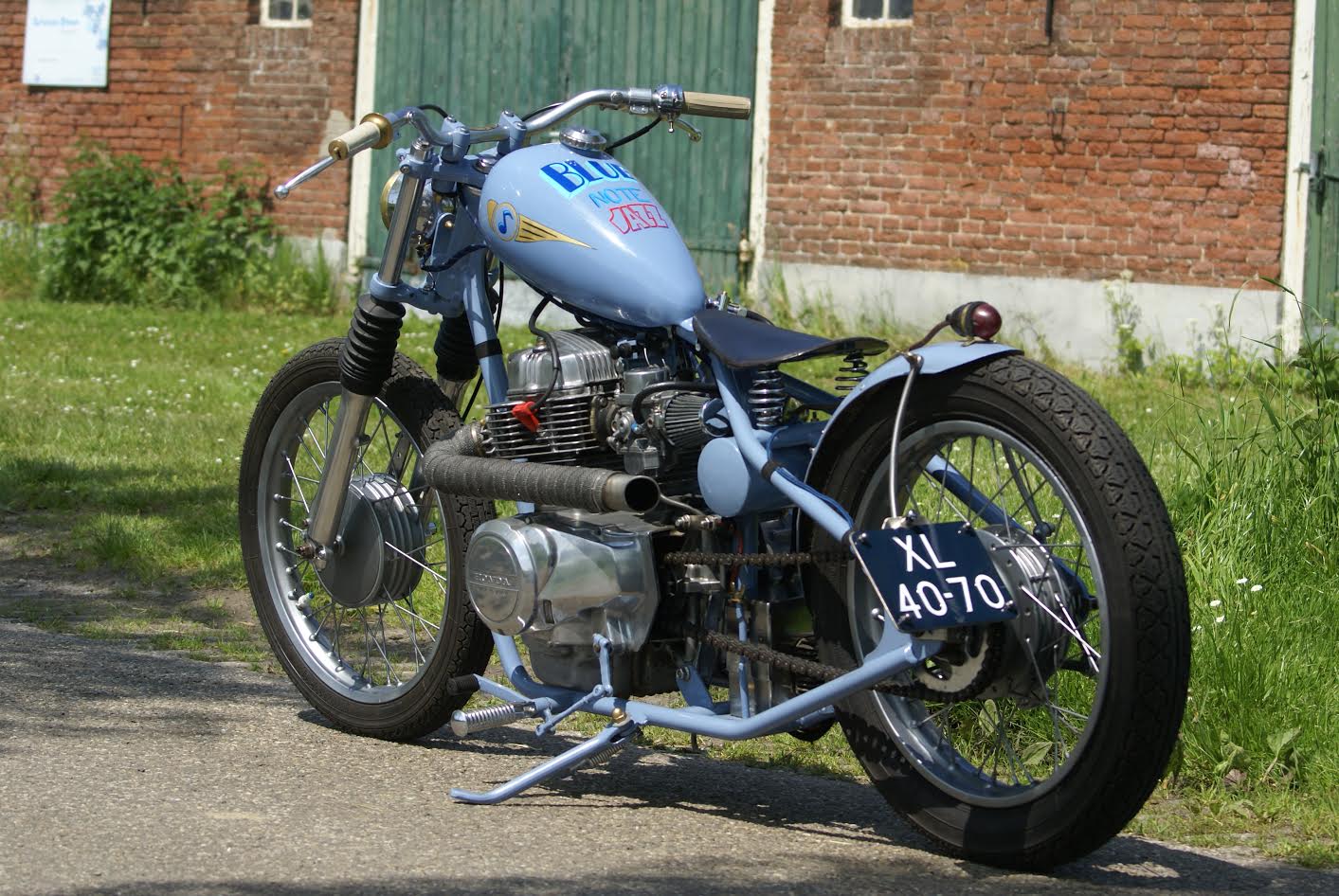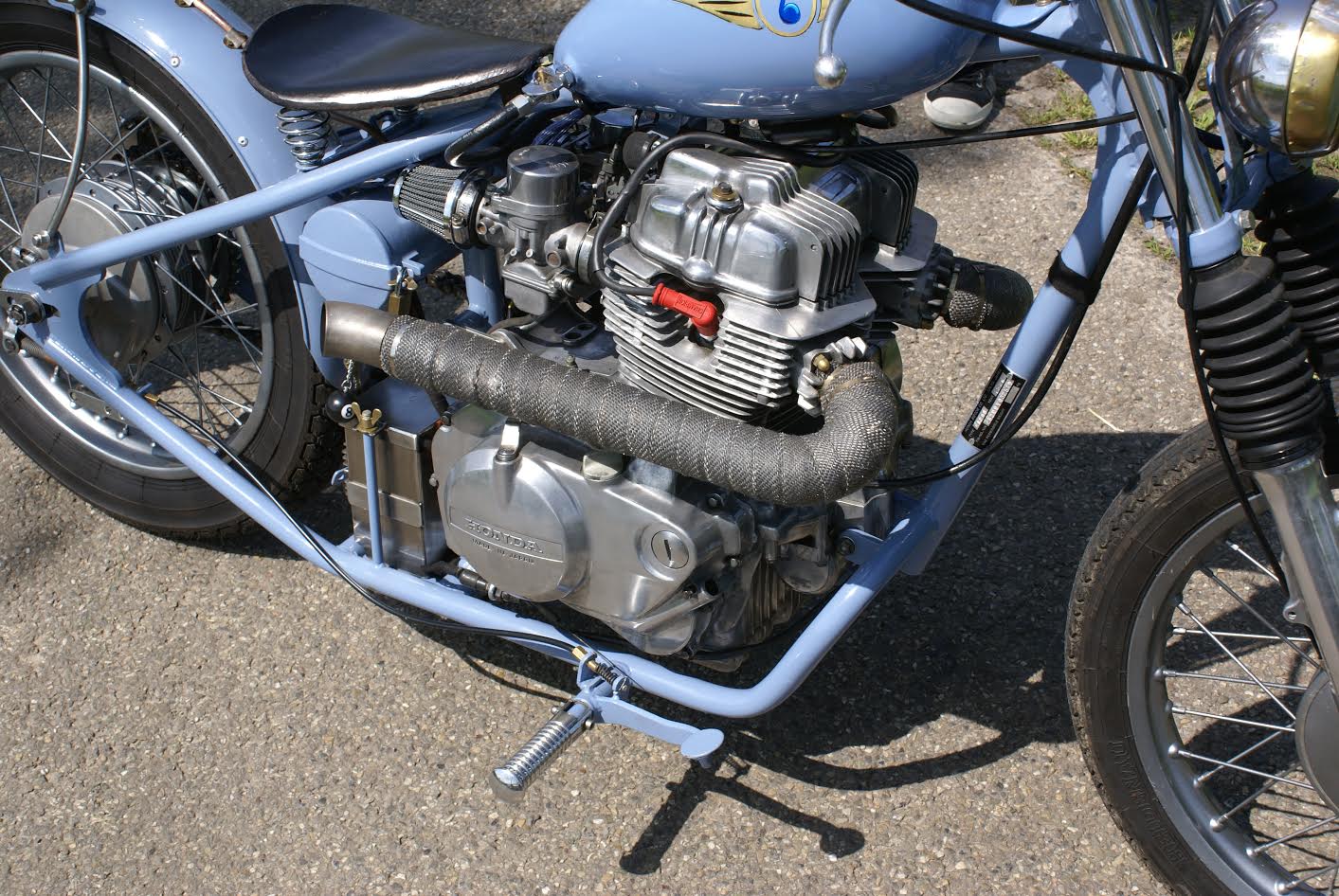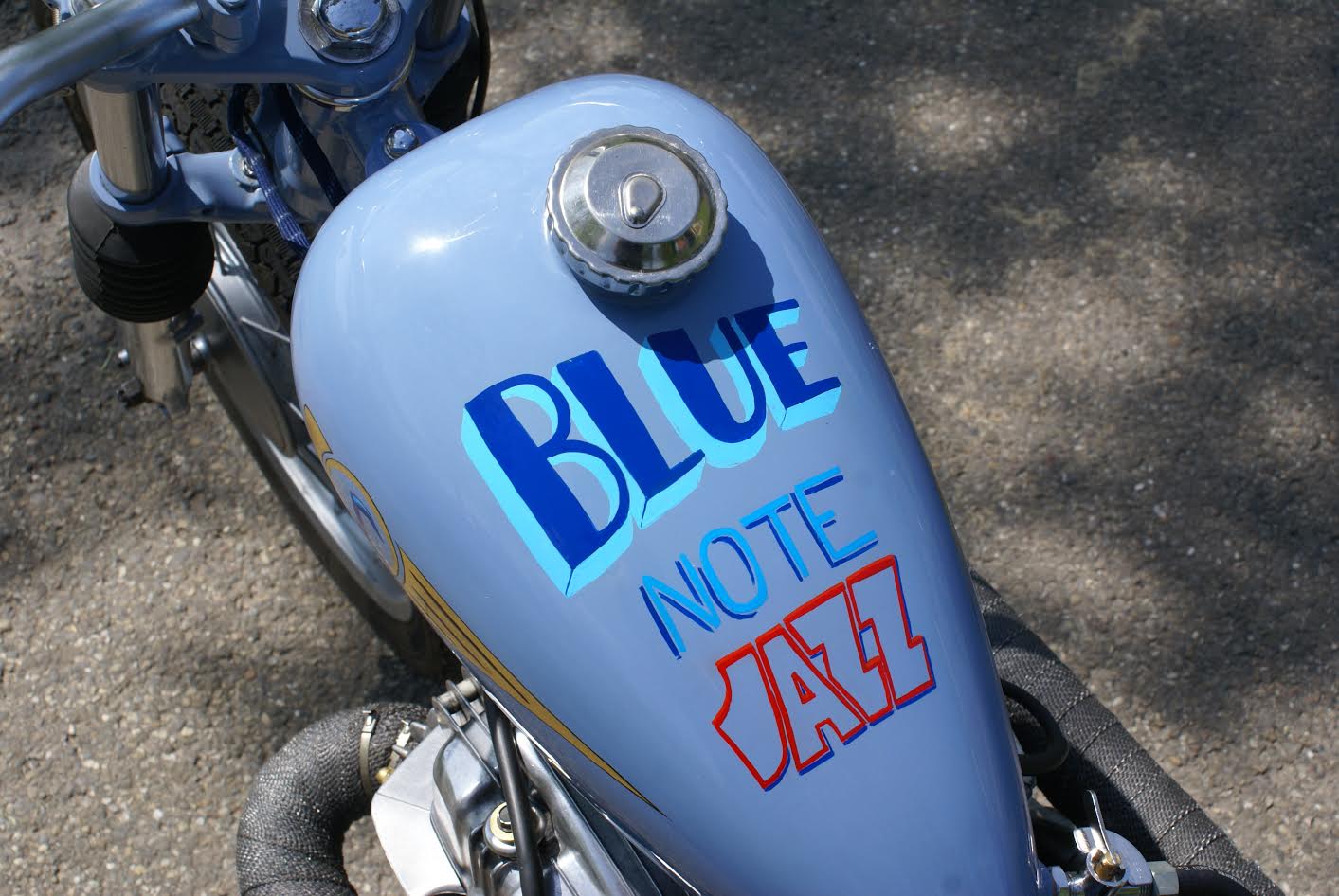 Follow Ine's blog at Bereal'z Toy'z.

A childhood photo of the world's only female Ducati Master Tech, Hannah Johnson, hanging out with biggol' bikers.
Posted on December 15, 2014 in MotoLadies, Motorcycles by Alicia Mariah Elfving
One Comment

for "Ineke's Honda CB400 Custom 'Blue Note Jazz'"