Icon 1000 Federal Jacket Review
Ladies and gentlemen, I present to you… the best motorcycle jacket that was ever created. I'm really not trying to exaggerate here- I believe whole heartedly that this is the best jacket ever. Read on through the Icon 1000 Federal Jacket review to discovered why it's worth every penny, and then some.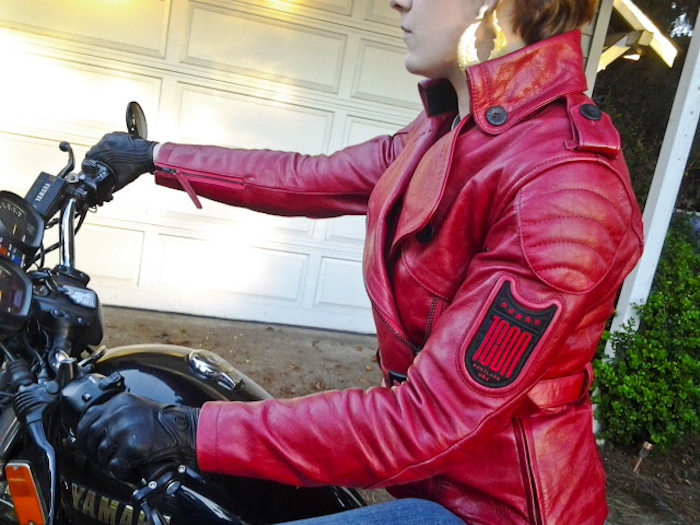 You can wear it for riding, for a night out… it's classy and bad ass and has all the right features. It's a freaking transforming jacket!
I was lucky enough to get my hands on this jacket right away- and I've literally worn it every day since. For the first 3 days, I took out all the armor and wore it everywhere (even watching TV on my couch) so I could break it in the right way. CE protective armor in the elbows, shoulders, AND back… all removable.
Both vintage and modern, form and function… the Federal jacket is lined with luxurious brass-knuckle-printed red silky quilt. The liner is easily removed, with pockets on both layers for easy access and stashing. One of the pockets on the inside is actually accessible through a the slit in the liner. Ingenious!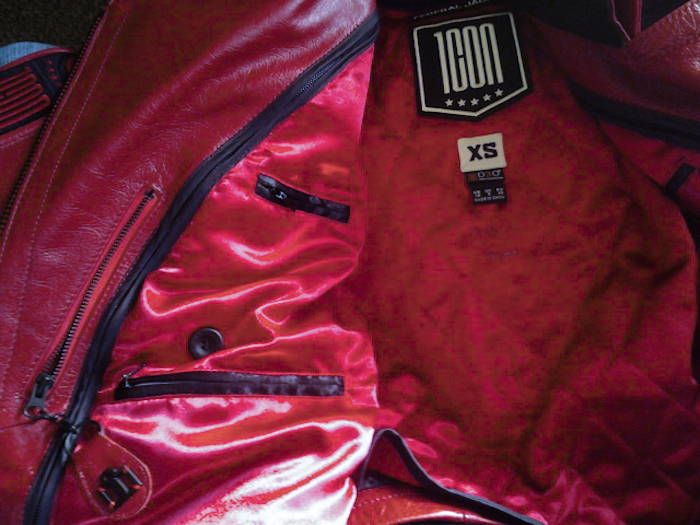 You thought I was joking about the stashing- but I wasn't. This mini-stash-zone is on the inside of the right side vertical interior pocket. Along with the little charm for safe riding. Why it says "stay frosty" is beyond me. I'll ask the Icon boys and try to get back to you. It's obvious Icon has taken note of the importance of details. Mini pockets on the inner left are perfect for storing your pocket knife, lighter, lipstick, pen, tire gauge… plus eyelets in the arm pits for ventilation. And it's no wonder this jacket feels so sturdy- like it could last a lifetime. Because it was hand tailored. This version is Limited Edition, with a number plate and all. (Read: Buy yours immediately 'cause once they're gone- that's it for the red leather.) It's no surprise that with this much thought and planning, it fits like a dream. You can see in the stitching and cuts that they wanted it to actually fit a ladies body.
Another thing I really like about this jacket is the lack of overpowering branding. I'm not a big fan of being a walking billboard- I've always gone for fashions sans-brandname because I'm not going to pay for an item and then advertise for them too. That is a little harder to avoid with moto gear, and I feel that the level of logos present here is warranted. I want to represent for Icon, for representing us motoladies so well.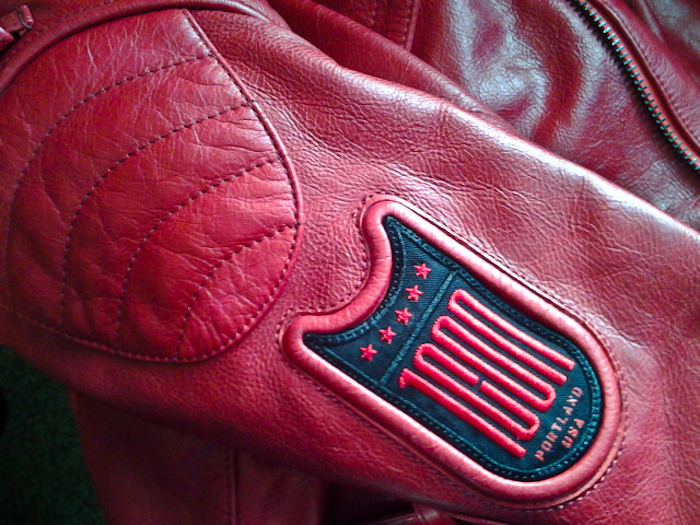 Between the epaulets, big collar, double breasted side zipping action, and the waist belt… I really can't pick a favorite feature. Alright- I can… I love the open-to-closed transformation it can go through. Perfect for letting some air in on warmer days, or just keeping it casual… you can leave it un-done for quick removal.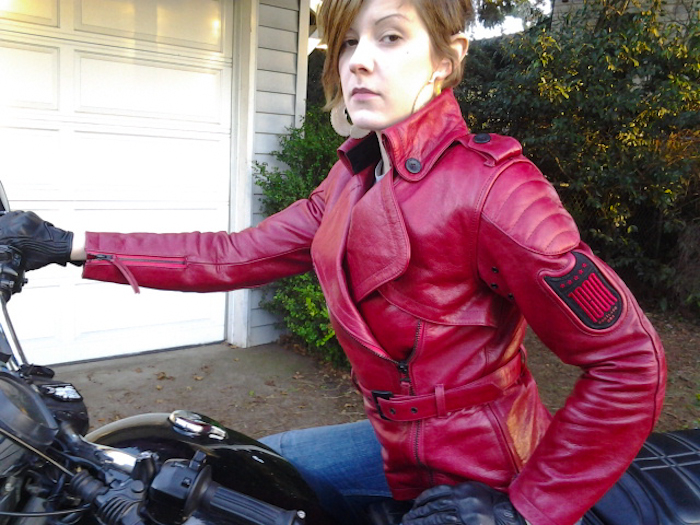 Fold in the left lapel, unbutton the shoulder flap, zip it up all the way, and then re-button for a more secure and air-tight wear.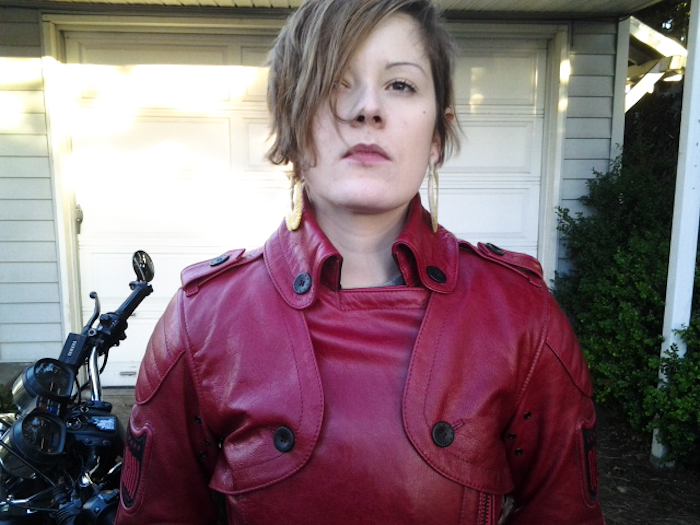 When leaning forward on your bike, you might notice that the area of your jacket below your belly button often gets scrunched. Leather jackets can then get a weird wrinkle from being worn in that way. This problem is solved by being able to unzip the jacket from the bottom up (observe in photo below).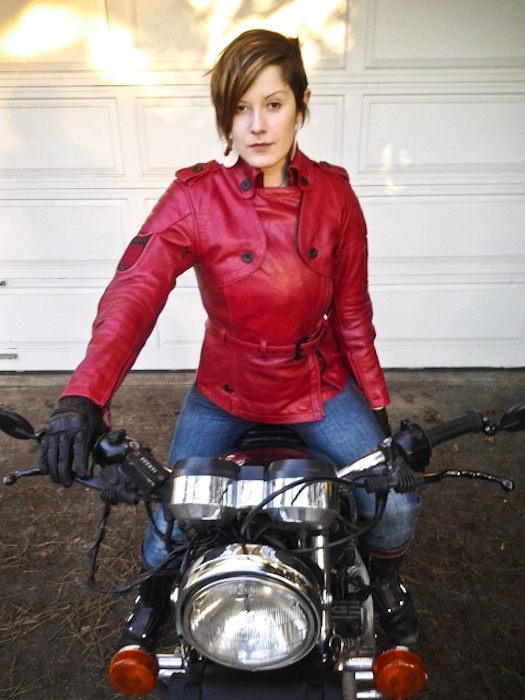 Furthermore, you can unzip the hips for some more freedom of movement (or to enhance the feminine cut). It's even long enough to cover your back.
The moment I saw this jacket at Icon I squealed- I have witnesses to prove it. I don't think I could have dreamt up a more perfect jacket myself. I put on a good thermal layer beneath it, and take off for rides during the current chilly winter season with no problem. I expect that during summer, it will be very comfortable without the liner and the front unzipped.
This lovely piece of gear rings in at $600. More than fair for a hand tailored, well fitting, transforming, fully armored ladies jacket. And the black version is… well, it's the sex.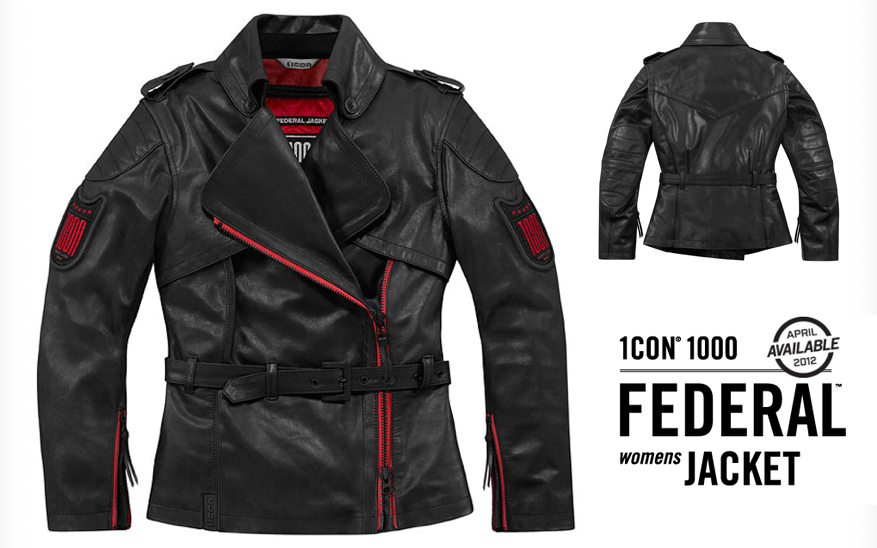 Learn more about the Federal jacket, and check out the rest of the amazing Icon 1000 line on their site- icon1000.com
You can buy the Icon 1000 Federal Jacket on Revzilla.com »

Twenty previously unreleased photos with the MotoLady built custom Ducati Monster by the incredibly talented photographer Jimmy Ban!
Tags: 1000, federal, gear review, geear, gpoy, icon, icon 1000, icon 1000 federal, icon motosports, lady rider, leather, leather jacket, motolady, review, the moto lady, the motolady
Posted on February 7, 2012 in Blog, Gear & Gizmos by Alicia Mariah Elfving
One Comment

for "Icon 1000 Federal Jacket Review"