Jen Dunstan with a Honda Elsinore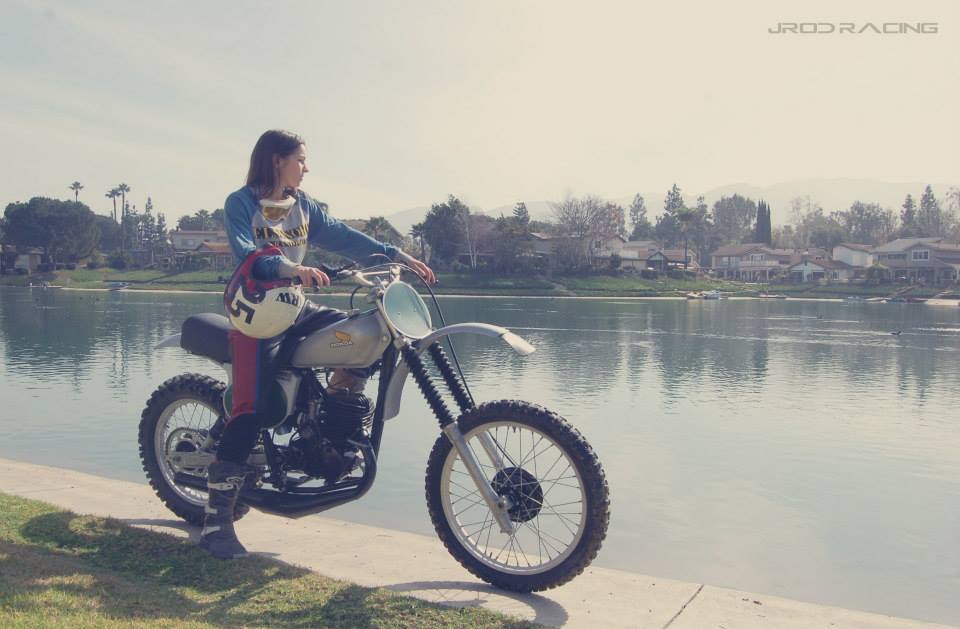 The beautiful Jen Dunstan of JRod Racing photographed on a vintage Honda Elsinore CR250m motorcycle.
When Jen sent me these photos, I asked her for some background info. It turned into a little interview.
Q. Where are you from, who are you?
A. I'm 30 years old, born and raised in Norwalk CT, and I now live in San Diego, CA.
Q. What's the story, when did you start riding?
A. I started riding in 2001 when I was 16 years old, so I'm going on to about 14 years riding this year.  I had my motorcycle license before my drivers license, and yes I'm still bragging about that fact hah!
Q. What are the highlights and lowlights of motorcycling in your world?
A. The highs are the adventure, the adrenaline, and the community.  From street riding to dirt bikes to road racing clubs, motorcyclists are truly genuine people and I call them my family.  The lows are broken bikes, broken bones, or worse … I've been pretty lucky in this regard though, knock on wood.
Q. What was your first bike? What have you had since?
A. I started out on a 1985 Honda Rebel 250, still probably the perfect beginners bike in my book.  I've since moved on to a 2002 Suzuki SV650S street commuter, a 1974 Honda CB360 (racebike only, racing with the USCRA in Loudon NH), a 2004 Honda CBR600RR (race bike only, racing with the CVMA in Desert Center CA), and a Honda CR125 for the dirt.  I'm definitely a track junkie and I've ridden NHMS at Loudon NH, Homestead Miami Speedway in Miami FL, Miller Motorsports in SLC Utah, Buttonwillow Raceway in CA, Adams Motorsports Park in Riverside CA, Grange Motor Circuit in Apple Valley CA, and my absolute favorite track Chuckwalla Valley Raceway in Desert Center CA.  I still love street riding too, and memorable rides include the Kancamagus highway route 112 in NH, Blue Ridge Parkway in VA, Ortega Highway in CA, Glendora Mtn Ridge in CA, and several trips up and down the PCH 101 for the MotoGP Laguna Seca races.
Q. What do you do for a living, and for fun?
A. I am a graphic designer at ThorMX (thormx.com) in their Ad/Media Department.  I am really fortunate to say what I do for a living is also what I do for fun!  I've also joined forces with pro rider Melissa Paris to design performance base layers and casual wear for women motorcyclists under a brand called Fable.  Our site FableRider.com will be up soon and you can check us out now on Instagram @fableriders and Facebook page is running.
Q. So what's the deal with the Honda Elsinore in the photos?
A. Specifically about the Elsinore photos you have, it's a funny story in that it is probably the only bike, ever, that I sat on for some photos but never got the chance to ride. 😡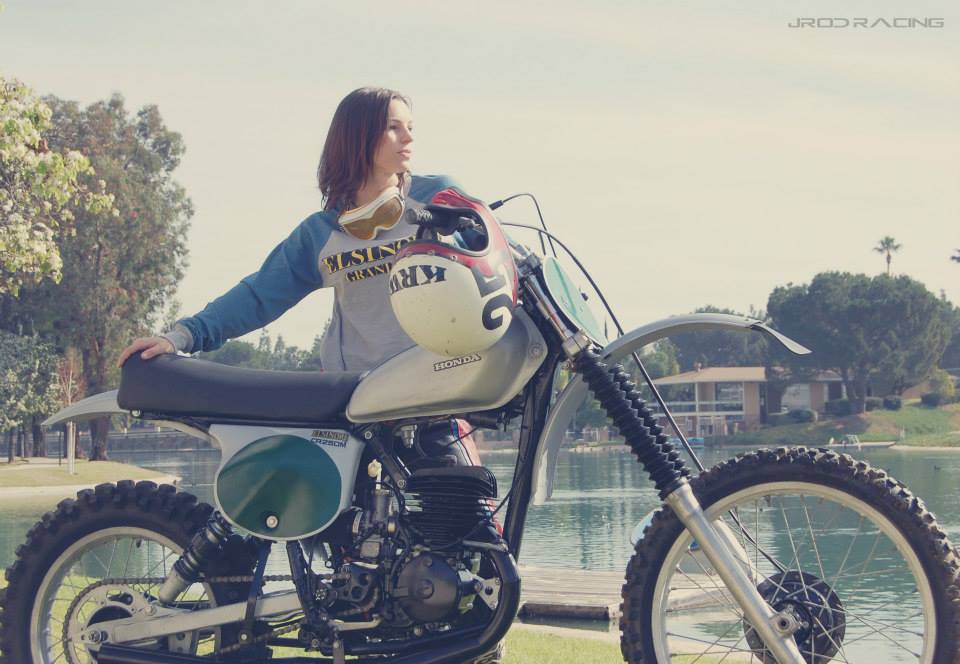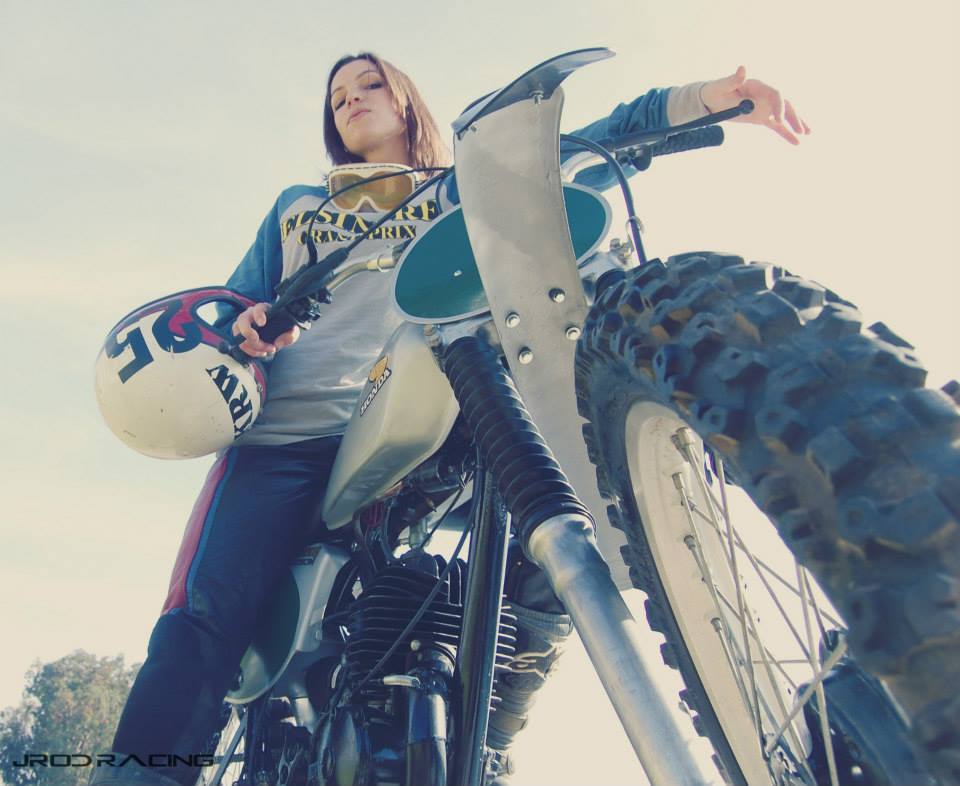 A childhood photo of the world's only female Ducati Master Tech, Hannah Johnson, hanging out with biggol' bikers.
Posted on February 17, 2015 in Interviews, MotoLadies by Alicia Mariah Elfving