Jessica & Her Bike "The Beaver"
Jessica Anderson is another motolady living in Los Angeles County.
Despite lots of health issues, her connection with her father and his love for motorcycles lives on through her passion for riding. This is her amazing story, and her bike named, "The Beaver".
"I have always been my father's daughter, always living life to the fullest and looking for adventure. His mini-me you could say, always doing things with him. His spirit and enthusiasm has always motivated me and made me want to reach for more.  I remember building models of classic cars with him and loving the thrill of speed when I was with him. We used to go camping in the desert and ride quads and ATVs. This is where my love for motos started and after his passing, I felt almost inspired to carry on his legacy and love of life. So that is where my story begins.

In the past 10 years I have had 8 surgeries. During high school I had spinal fusion surgery where about half of my spine is fused (boobs to belly button). It took two surgeries to get it right. They discovered after the fact that I develop keloid scarring. I had 3 surgeries to remove them which included subsequent steroid injections every 3 weeks for a year. Still I didnt let that hold me back and after I graduated high school, I decided I wanted to ride a motorcycle, the ultimate thrill in my opinion. I began the riders course at 19 just after the scar surgeries but never finished it because I decided to buy a house instead.

My life has taken many turns since then. Due to the steriods, I gained a lot of weight. I decided that I didnt want to live that way so I made the decision to get the lapband. I have lost 150 pounds since and got arm surgery to remove the excess skin. Just after that eighth surgery,  I finally made the decision this year that I wanted a vintage bike and settled on my 1974 CB750. I couldn't even ride her with my arms still healing but I fell in love and bought her. With all the work I have put into her, I feel like we are even more of a team. She came with a sticker on the chain guard that says "Save a tree, eat a beaver" and what looks like beaver like claw indentions in the tank but I wouldnt change that for the world. She had been dubbed "The Beaver" by her previous owner and the name just stuck. The tank has an '85 Sturgis sticker on it as well and I feel like it might be a calling to take her back one day.

I have never felt more freedom, not even with skydiving, than I do when I am on my bike and it makes me feel as close as I can to living my life the way my dad would want me to. I am still new to this whole moto thing but it is the first time in my life that something just fit. The amazing people I have met along my journey have been incredible and so accepting. I look forward to meeting many more wonderful moto people to swap stories and share experiences with."
These awesome photos were taken by Lanakila MacNaughton at the Babes in Borrego ladies campount last year (hosted by

Babes Ride Out

). Breathtaking medium format photography from moving vehicles… so good. If you haven't already, you need to visit the Women's Moto Exhibit website.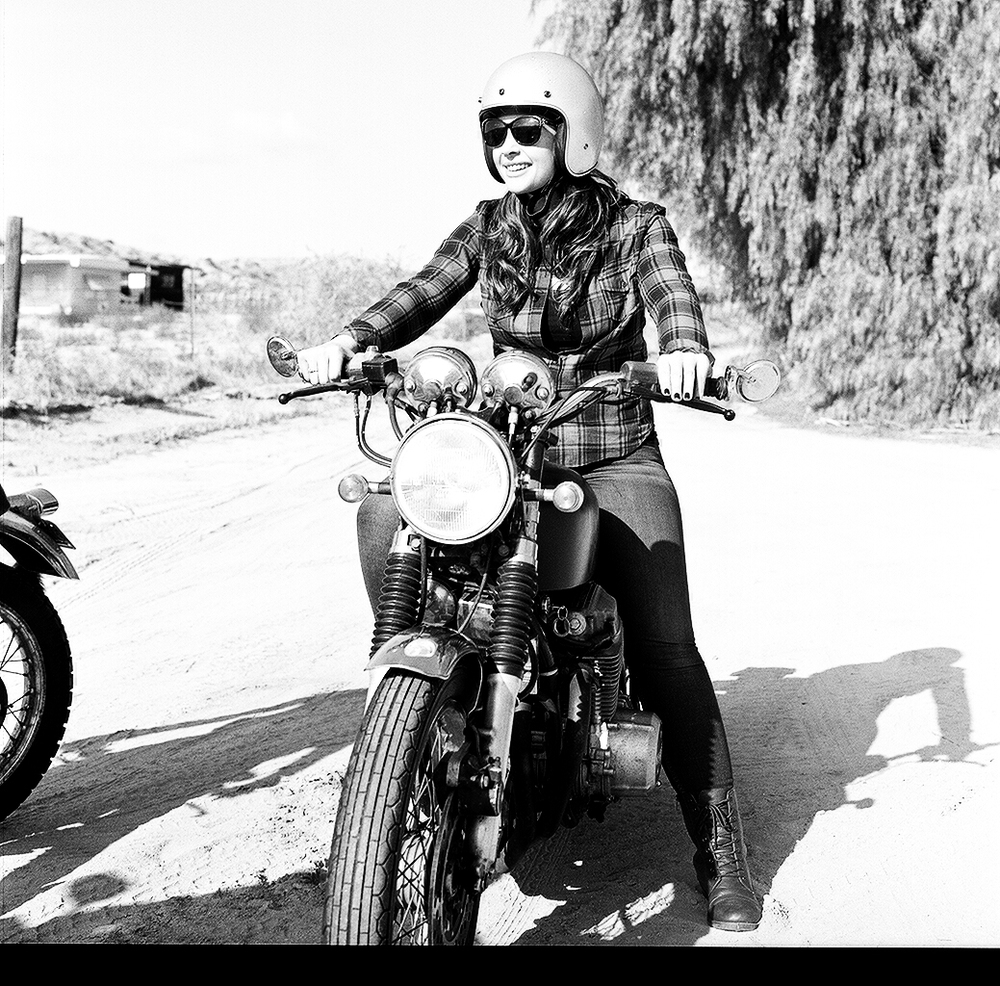 Posted on September 4, 2014 in MotoLadies, News & Features by Alicia Mariah Elfving