Laura Antoine And The Triton
Who's that beautiful girl on the pristine Triton?
If you follow various motorcycle pages on facebook, tumblr, instagram, and even on certain random blogs, you'll repreatedly see certain women riders over and over again. Most the time you'll have no idea who they are, because from reblog to repost, the credits and original source have been lost. I've made it a point to try to figure out who these ladies are and give them names. One lady that's made her rounds on the interwebs time and time again is Laura Antoine- usually you've seen her riding a Triton Café Racer. Well, Laura filled me in on the history of the bike, and her history with riding.
How old are you?
24
Where are you from?
I'm from and live in Toulouse, South of France.
What bikes you own or ride?
A Honda CB 350 from 1973 that I bought before having my license-it's still under construction. For everyday riding I have a BMW F800 GS. And of course I ride my dad's triton 1961 and it's by far my favorite bike.
What's the story with your Dad's Triton?
My father's Triton belonged to the Ace Cafe's owner in London. He ran London's streets during races from bar to bar in the 60's.
Then when my father bought it, he decided to change the back in his way. Friends casually call this aluminium piece the "zeppelin " in connection with aviation… my father is very skilled with his hand. When I got my license, my honda 350 was not ready, so I learned to drive with this lovely Triton. It has become my favorite bike, my first love. My Father says it's mine, he cannot see anyone but me ride it!
How long have you been riding?
Since I was four years old behind my daddy! I got my license in October of 2013.
What do you do for a living?
I'm a buyer/seller for different retail companies.
What are your dreams and goals?
My dream would be to have a wooden house on the edge of a forest, a garage full of toys, and to continue to ride with people I love. Road trips and live simply.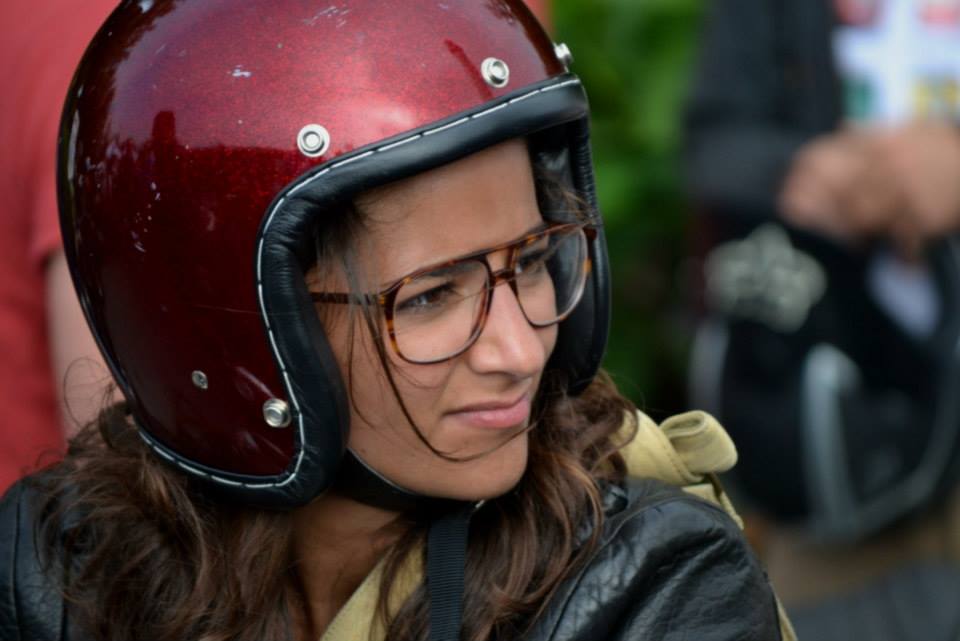 Thank you Laura for taking the time to chat with me!

Video, photo gallery, and party breakdown from the third annual Women's Motorcycle Show is here!
Posted on September 18, 2014 in Interviews, MotoLadies by Alicia Mariah Elfving
7 Comments

for "Laura Antoine And The Triton"