Mardelle Peck Races At 68!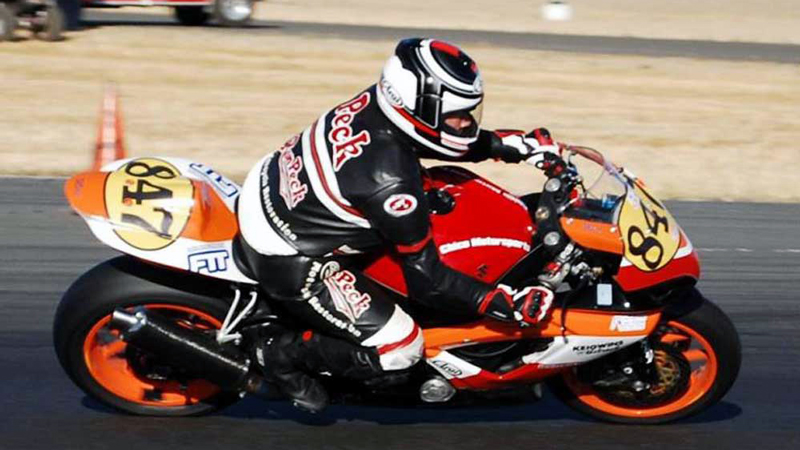 Many of us dream of racing but are held back by a variety of things- for some it's money, or skill level, and others it's age. Well, Mardelle Peck didn't let it stop her.
At 65 years old she started racing after fifty years of marriage to her husband Ron Peck. "Ron was a crazed 21-year-old who rode motorcycles and when I jumped on the back, he scared the heck out of me. So I decided I'm probably going to have to learn how to ride my own bike," said Mardelle. She is now 68 years old and racing with the American Federation of Motorcyclists (AFM)– a Northern California amateur road racing club. Through her life, Mardelle worked as a fleet manager for a Chevrolet dealership in Chico, riding Hondas on and off. In 1998 she purchased a Harley Sportster which is when she really got into riding frequently. This quickly turned into a series of motorcycles going through her garage.
Her 2001 Honda CBR 929 really got her into track riding, and she attended all three parts of Keith Code's California Superbike schools. Racing was on Mardelle's bucket list, so after 11 years of track riding, she decided to go for it. Her debut race was in the all-women's class in AFM called Afemme at Thunderhill in Willows, CA. She said age was never a factor in her decision to race or not. Fortunate enough to have never gone down during a race, she did have a mishap with her GSXR the first time she took it out at a trackday. "I just bruised up my body and made a yard sale out of the bike. I bought new skins and a tank and rode it the rest of the season. I did try racing in the over 50 class, but the first race about five of the expert racers went down and that scared the heck out of me."
Eventually Mardelle moved from the novice to expert class in 2014 and picked up a new '14 Yamaha R6 for racing. She landed third place overall in the Expert class of the Afemme championship… but she says one of the best parts is seeing it inspire other women. "A female racer came up to me one time and asked, 'My Mom hates me being on a motorcycle, do you mind taking a picture with me?' That just kind of justified what I was doing."
While 2014 was her last year racing, she and her husband Ron continue to take road trips around the North American continent on their BMW GS 1200 motorcycles.

Women's Motorcycle Show photo booth gallery from Julio Bustamante is here!
Posted on February 11, 2015 in MotoLadies, News & Features by Alicia Mariah Elfving
2 Comments

for "Mardelle Peck Races At 68!"