MotoEnvy Motorcycle Show in Eureka, CA
About a month ago I had the pleasure of being a judge at the MotoEnvy motorcycle show in Eureka, California.
The MotoEnvy show takes place at the Black Lightning Motorcycle Cafe in Northern California on the edge of the Redwood Forest in Eureka. Black Lightning offers good food, great coffee, motorcycle parking, gear, parts, and more. When they asked me to come judge the motorcycle show I couldn't resist- not only because I felt honored but because of the beautiful area. Road trip time!
Show bikes ranged from vintage Indians turned everyday commuters to trailer queen vintage BMWs. Categories for judgement included "Most Envied" Custom, Vintage Racer, Sport Racer, Daily Rider, Rat Bike, Custom, Cafe Racer, Vintage, and of course People's Choice and Most Envied Overall. The Phoenix Project Humboldt raffled off their custom Ducati 748 streetfighter for charity, as well as a bunch of custom painted helmets and other gear items. One of the best parts about this show, however, was the fact that a LOT of the bikes were actually ridden in.
Being able to argue with a group of knowledgeable gear heads about which bikes we all wanted to win was absolutely awesome. In most cases, one of our top three lined up. In a couple, we had to argue it out. My favorite bike for Most Envied Vintage Racer won out- a 1960s drag and desert racer Triumph with a split tank and really complex and cool linkage and details. The idea behind our choices here wasn't necessarily what was best show quality or even technically correct- just what we envy the most, what we would want to roll up to a show on if the show were only for a certain type of bike.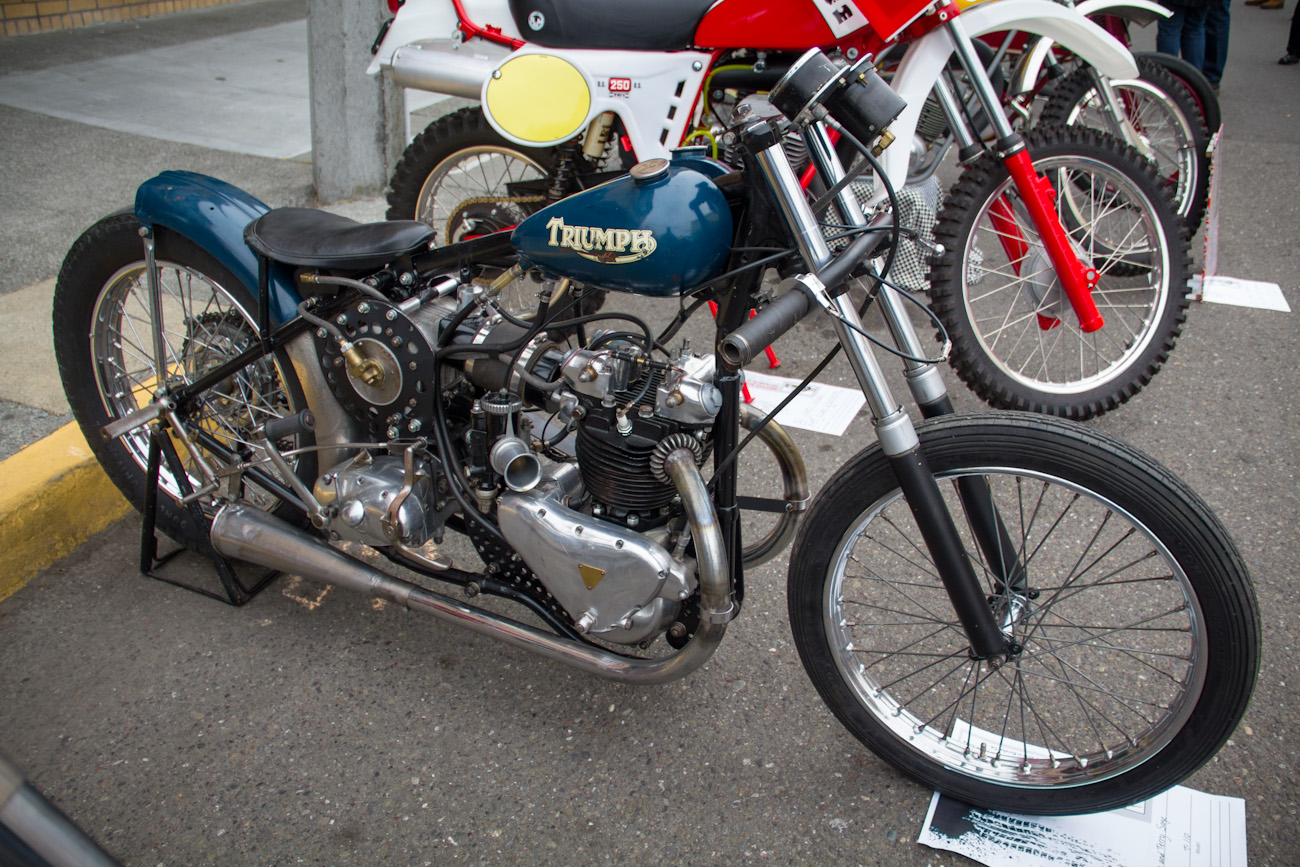 There were a ton of other amazing bikes too, of course.
Roland Sands had a couple bikes there, too.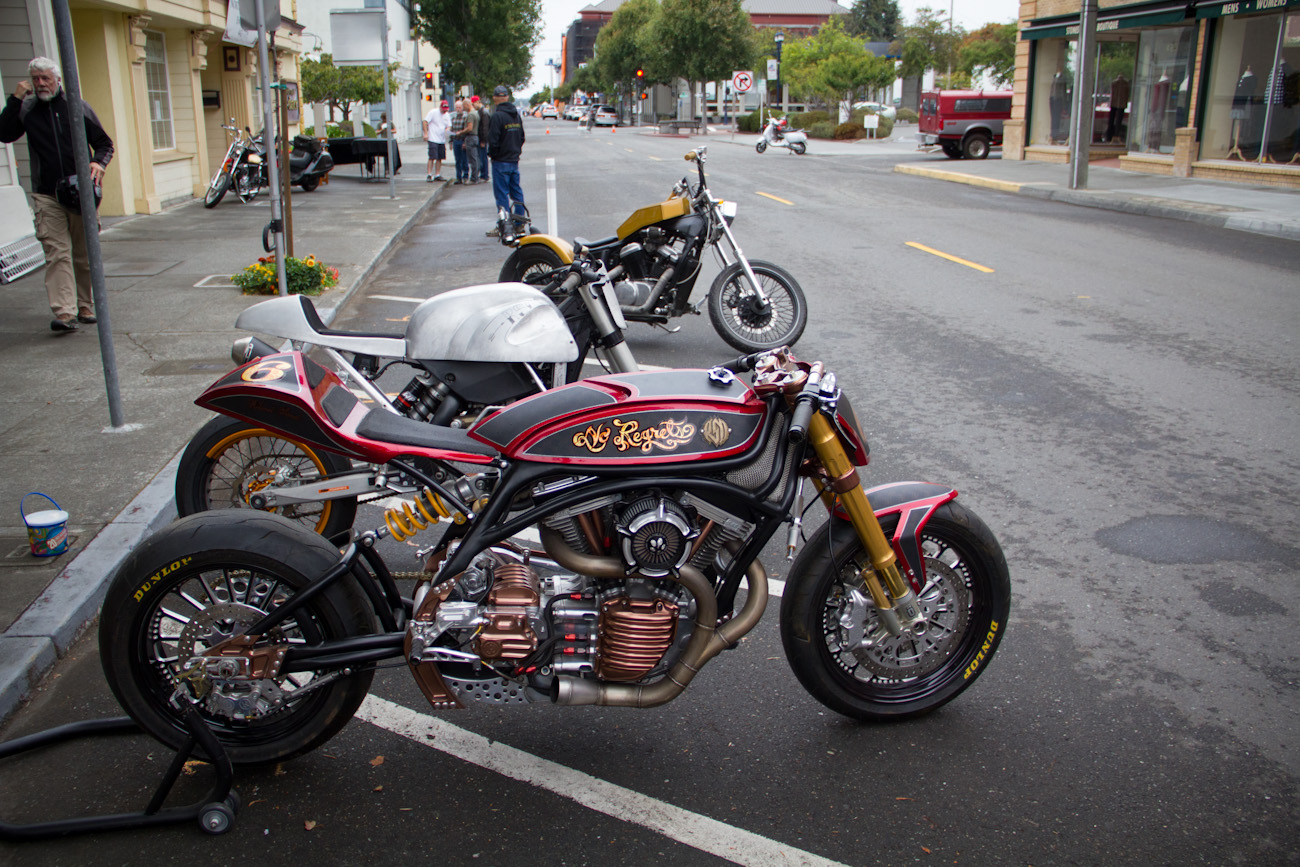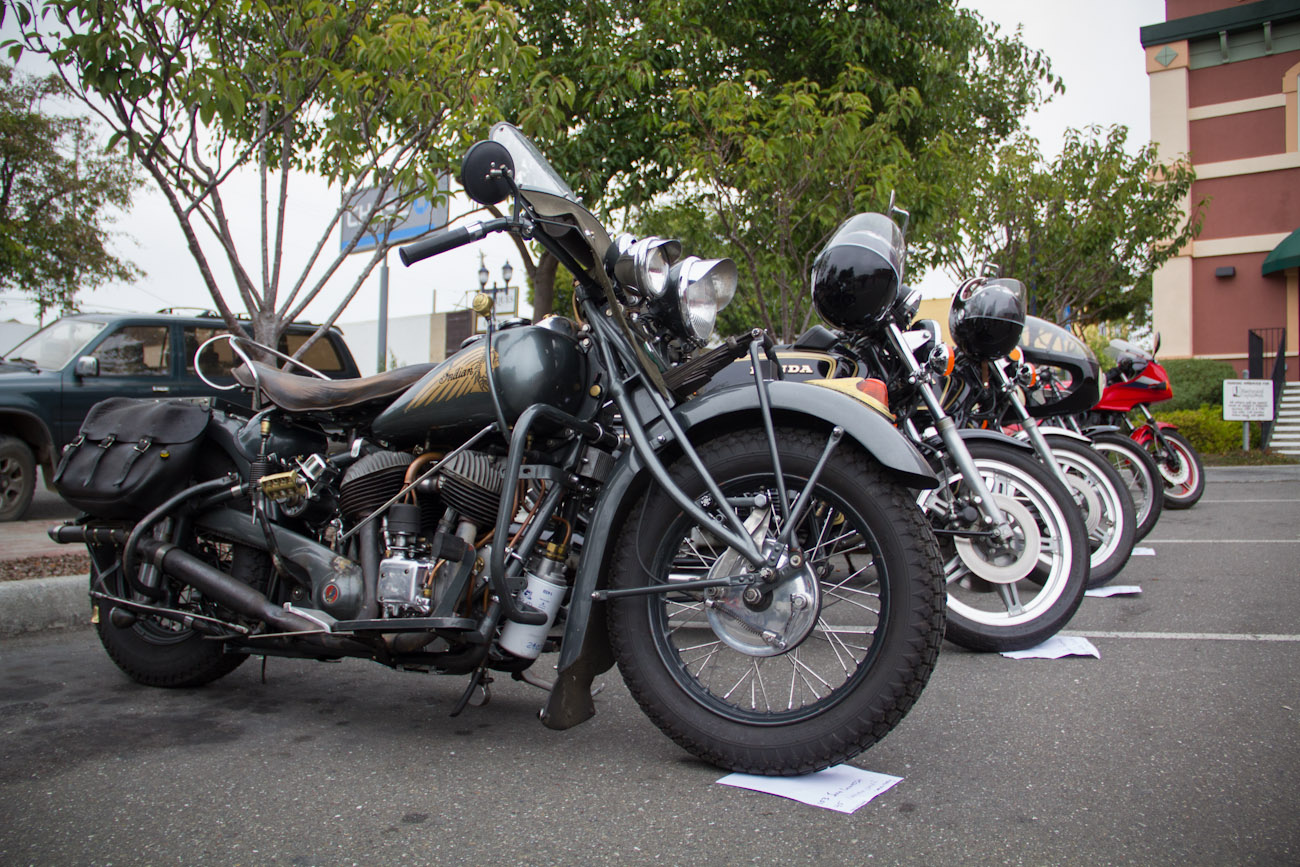 The guy who owned this  Military Indian bought it when he was a teenager and has put over 100,000 miles on it since. He's lived off of it, too.
The Famous James with the Villers engine.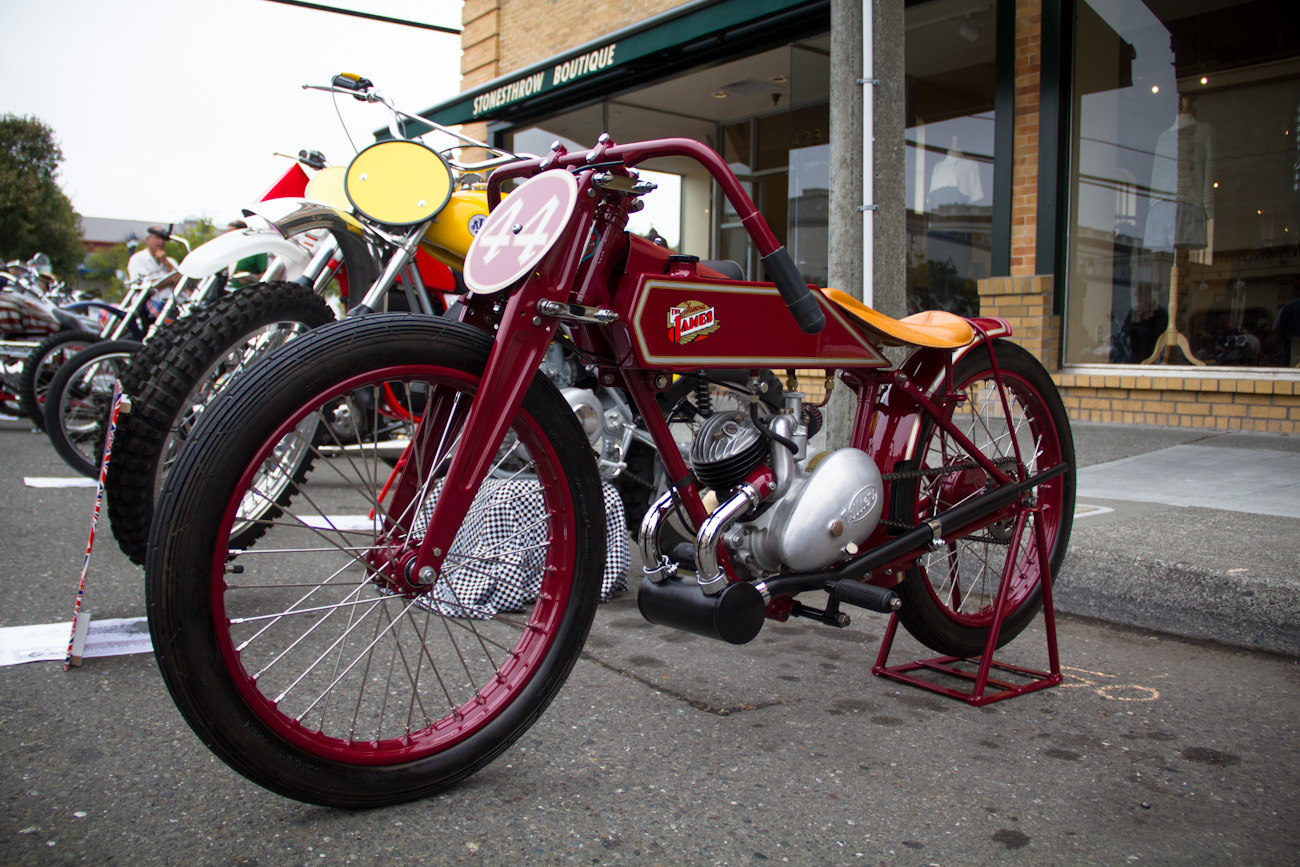 This Ducati Monster 620 had the TerraMostro treatment that turned it into a dirtbike- or at the very least a really angry, cool looking Ducati.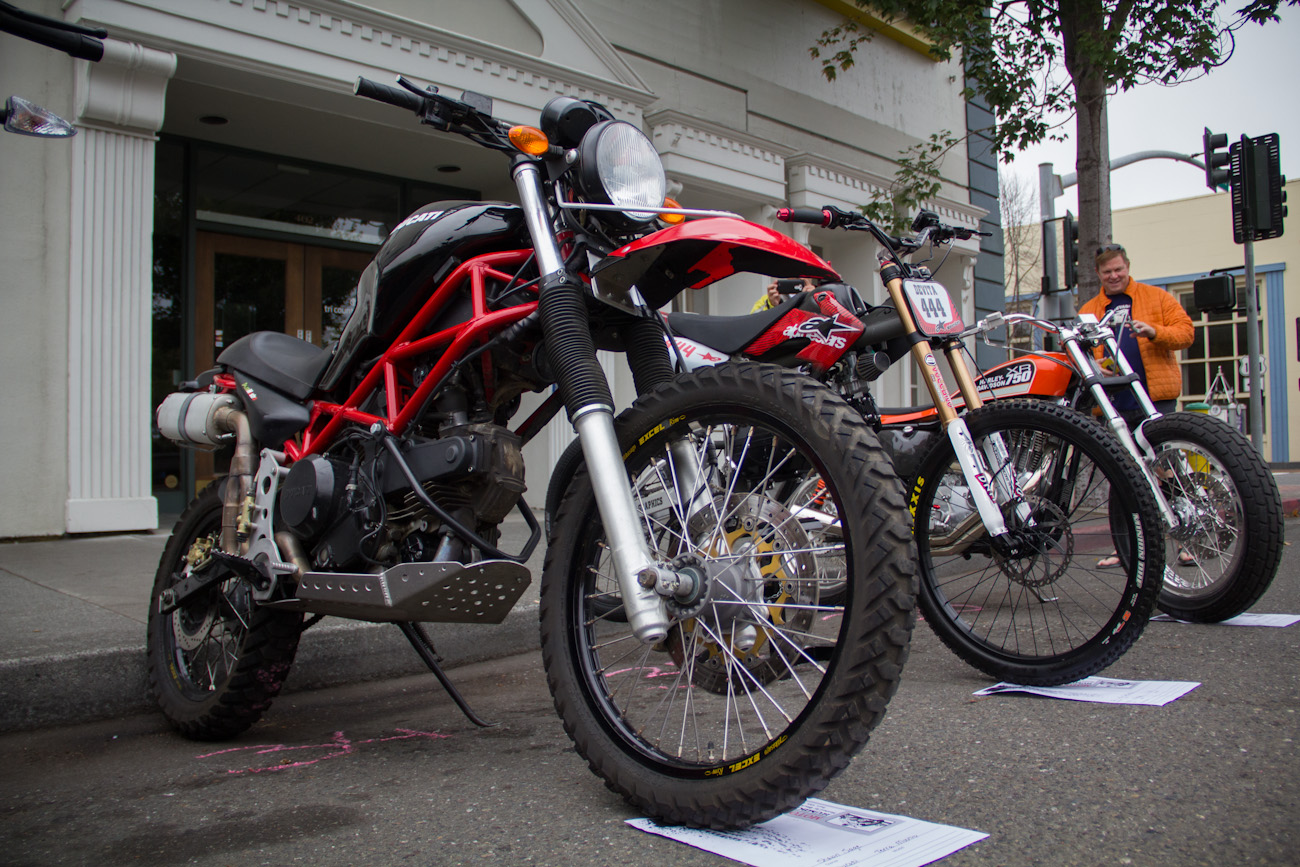 The awesome bikes seemed almost endless, filling up a city block and a whole overflow parking lot.
Julian Farnam brought his rat bike Ducati Monster and SR400 that he built for the Dirtbag Challenge– 30 days, $1,000. I loved them!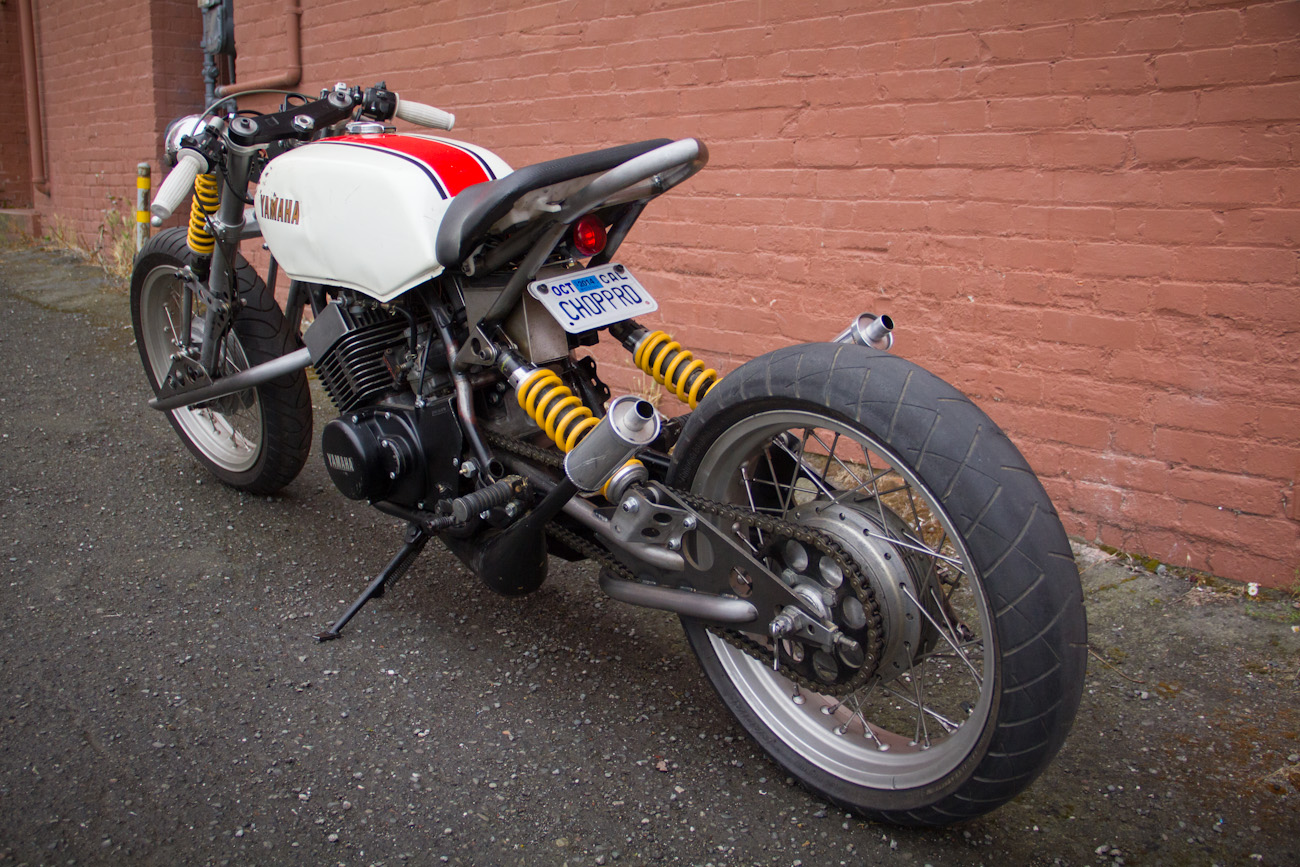 I even spotted a guy wearing the tshirt called "The Ducati Difference" I designed for MotoCorsa when Ducati was releasing the Panigale! Later I learned he is a cop in town, which somehow to me makes it even cooler.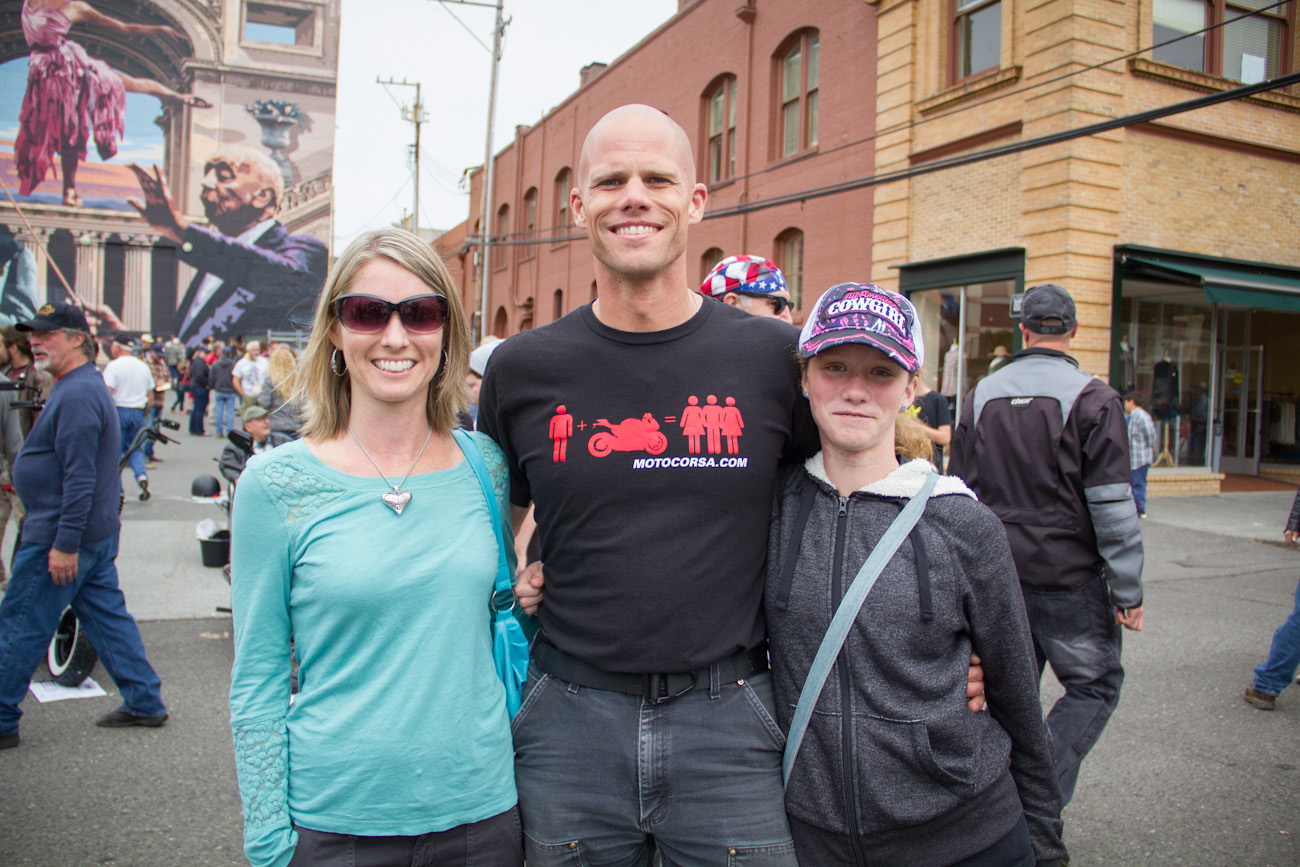 I also got to spend a little time with Adrienne from Pistons and Poppies. She has an amazing tattoo and makes really cool jewelry. I also got to meet Matt from Inked Iron, and got a couple prints off of him for the garage!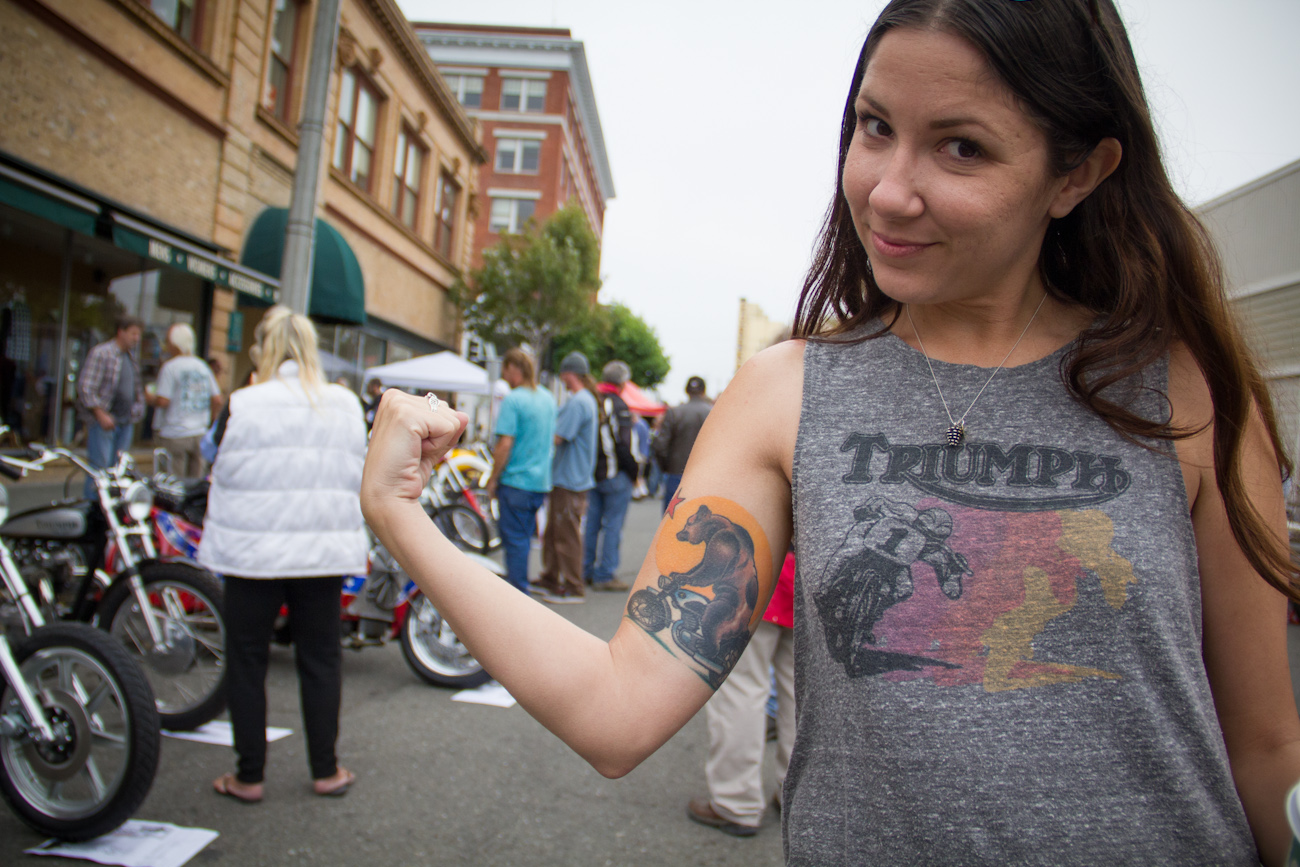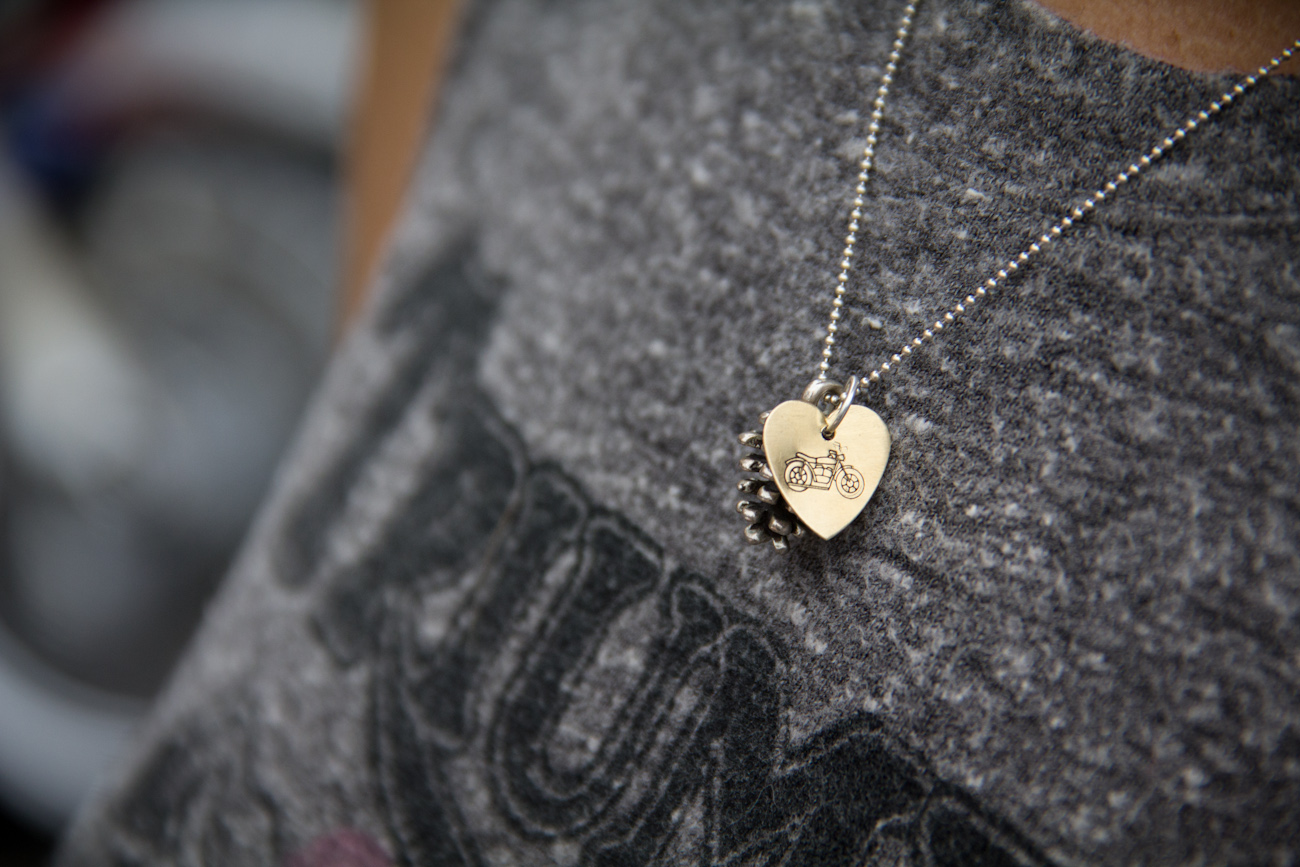 After I looped around taking photos of all my favorite bikes and details, judging and taking notes of everything, the raffle begun!
The Phoenix Project didn't start off raffling the 748, of course- first came the bike awards! I had the pleasure of giving the Most Envied Overall award to Jed, who had an amazing custom scooter with Hurst shifter level and glitter flake paint job. We all unanimously decided someone like him, with a bike like that, should win the overall trophy.
After tons of prizes, this beautiful Phoenix Project Ducati 748 was about to be given away.
Trinia had a lovely assistant draw the winning ticket.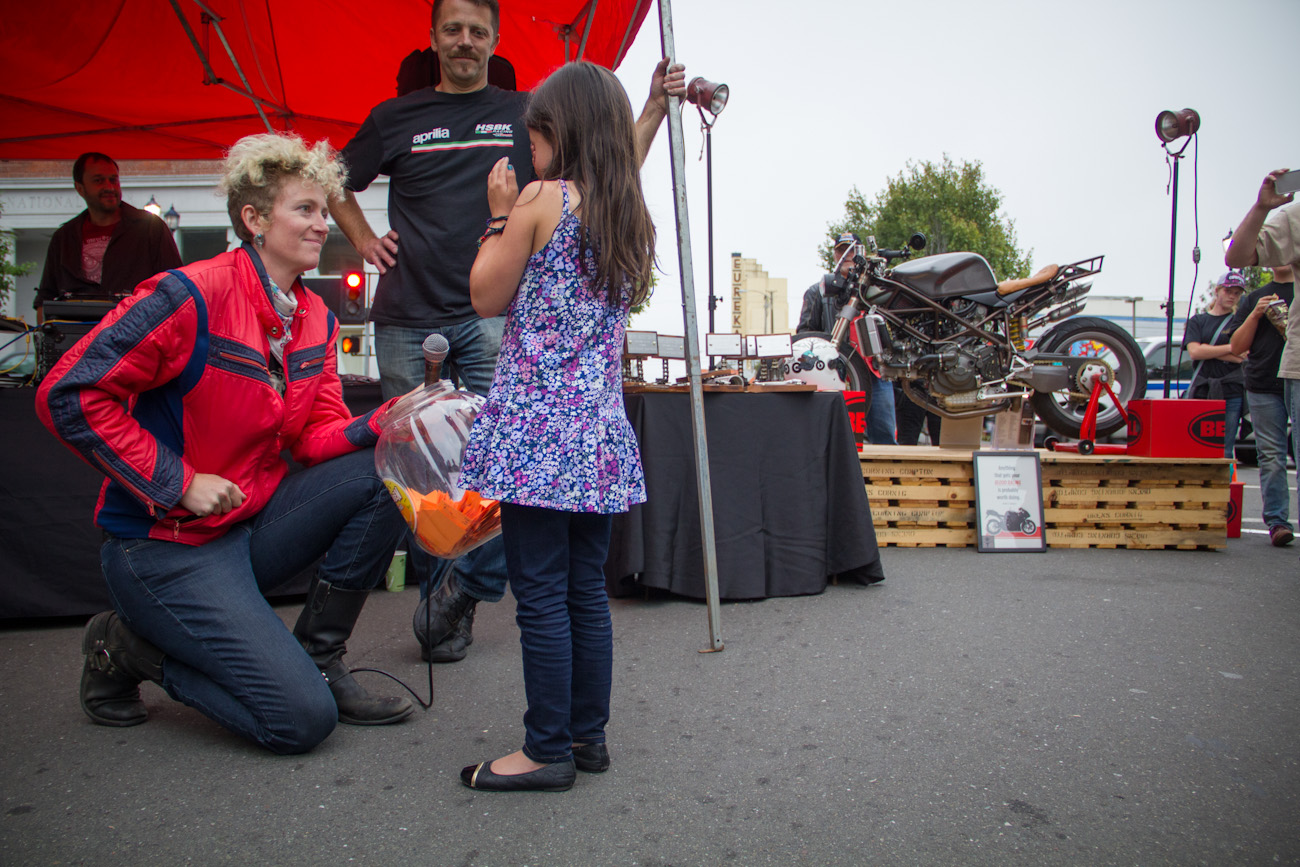 The winner, who was pretty smashed, was over the moon and maybe in shock.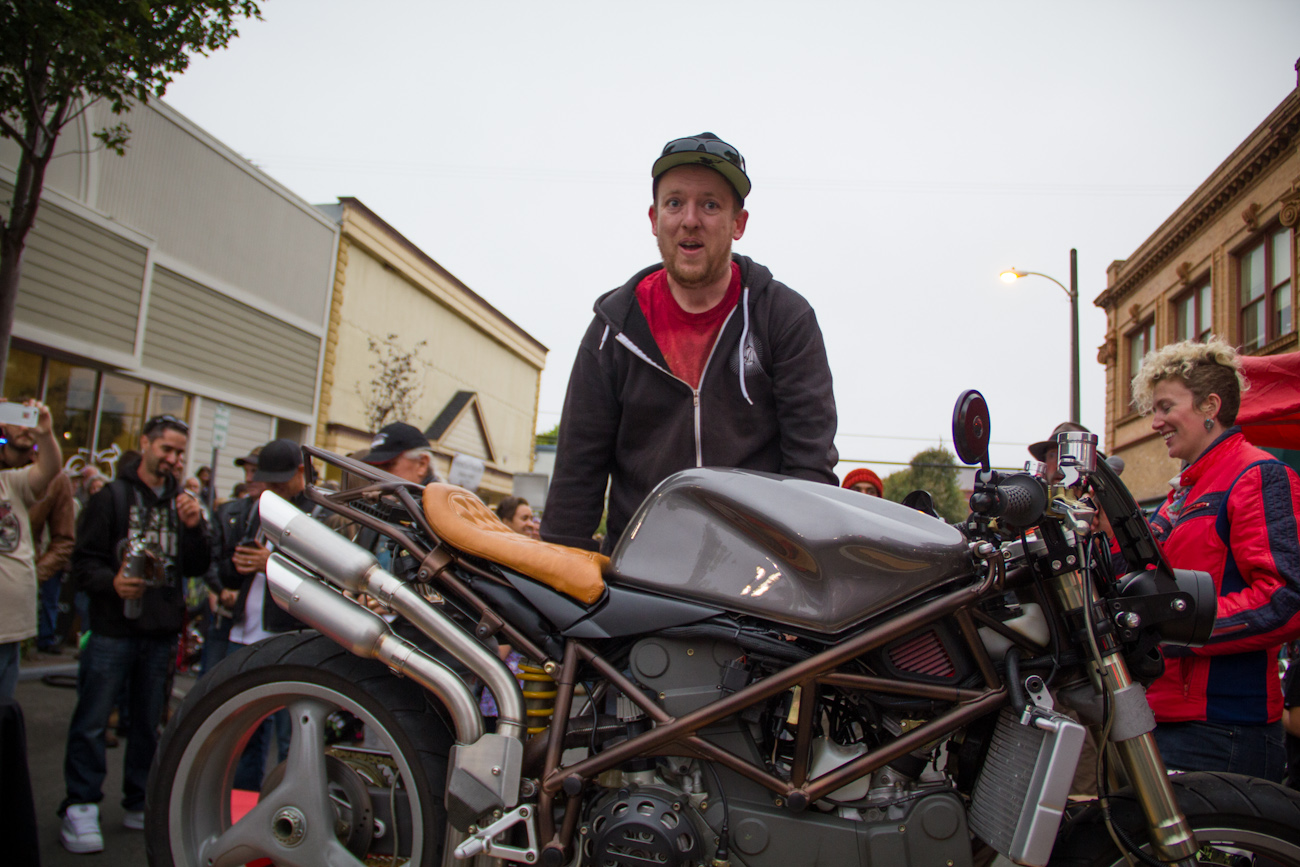 After the raffle, most people packed up and headed out. We ate some delicious burgers and then headed to Trinia and Jolene's place out in the country.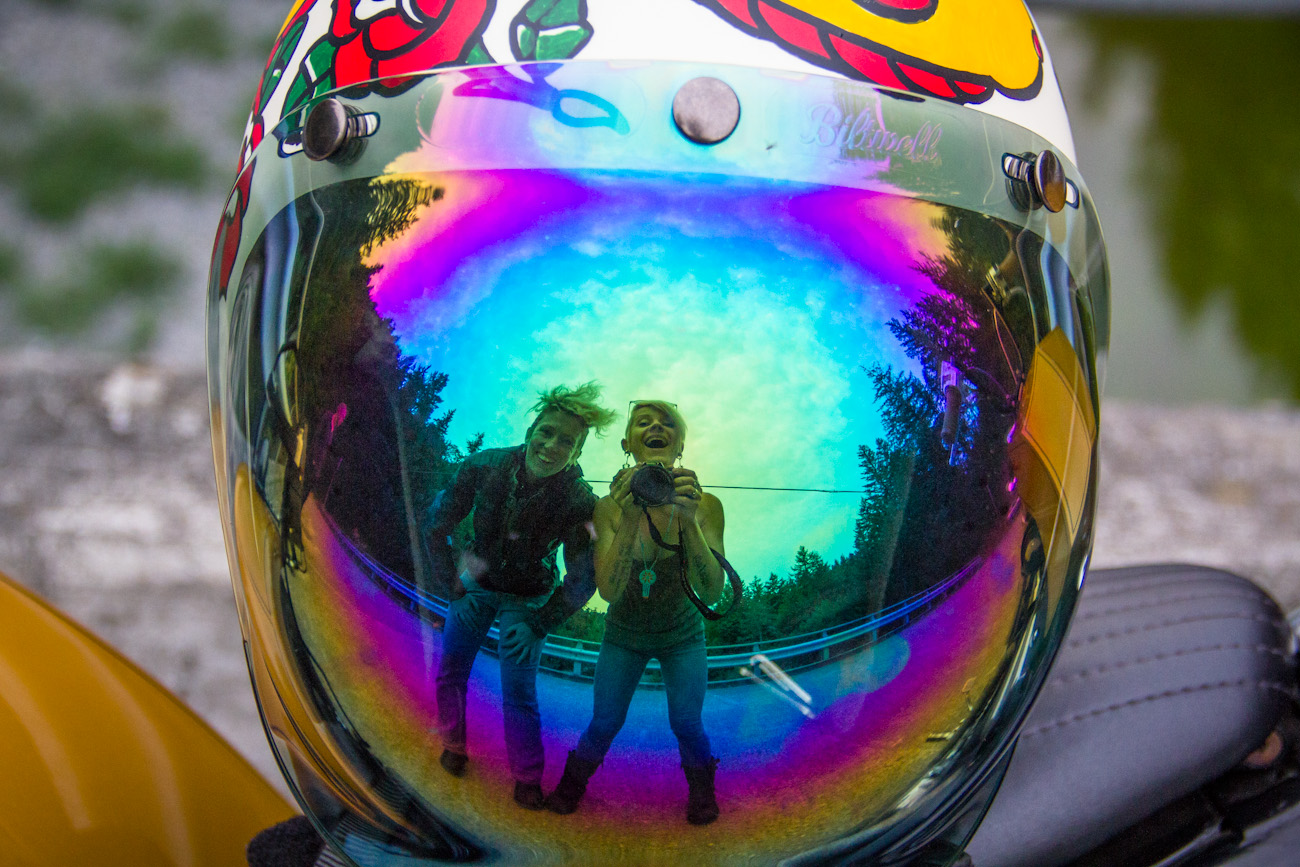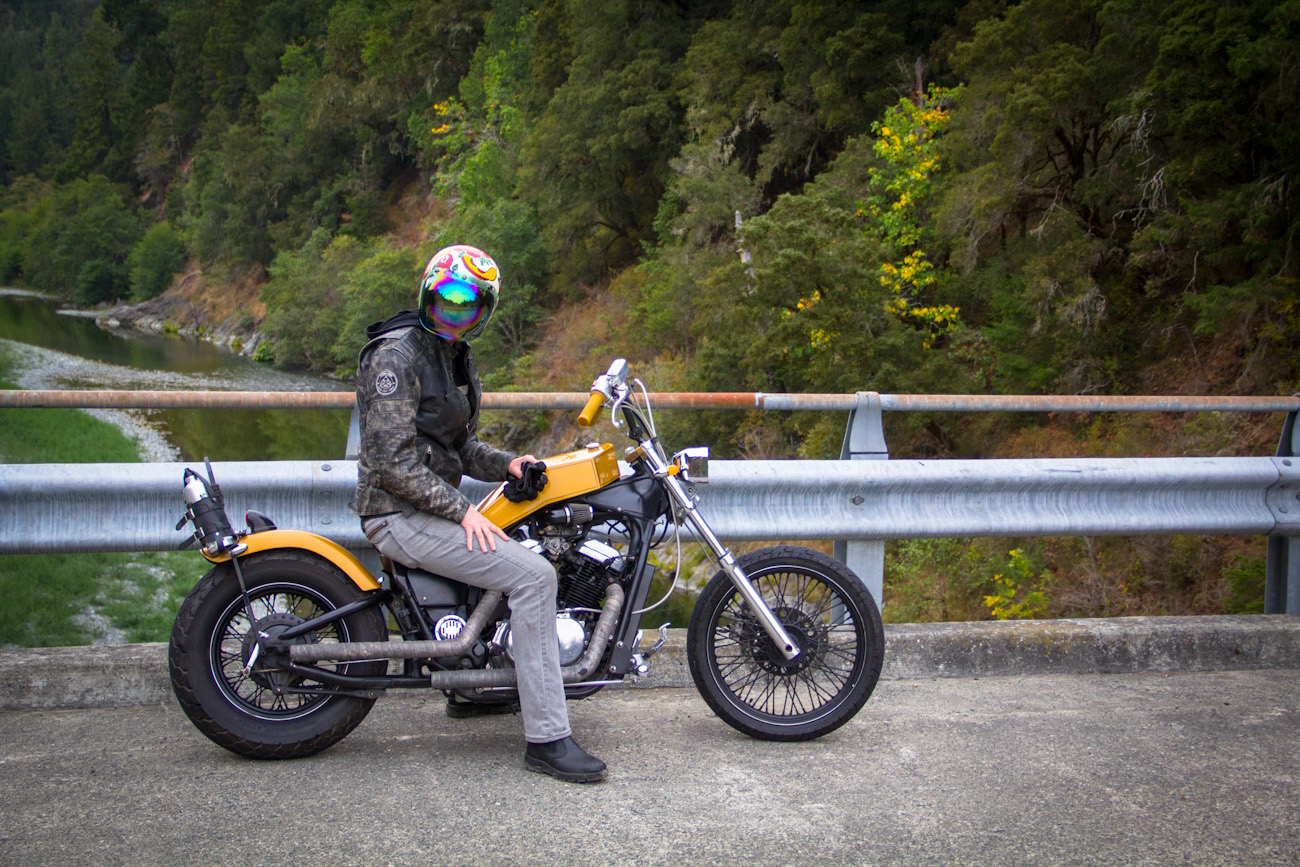 The whole trip was pretty magical, the Redwood Forest is totally breathtaking. And animal life is awesome off the beaten path- Trinia and I saw this owl on the way back to her place. It sat there and let me take photos… with flash.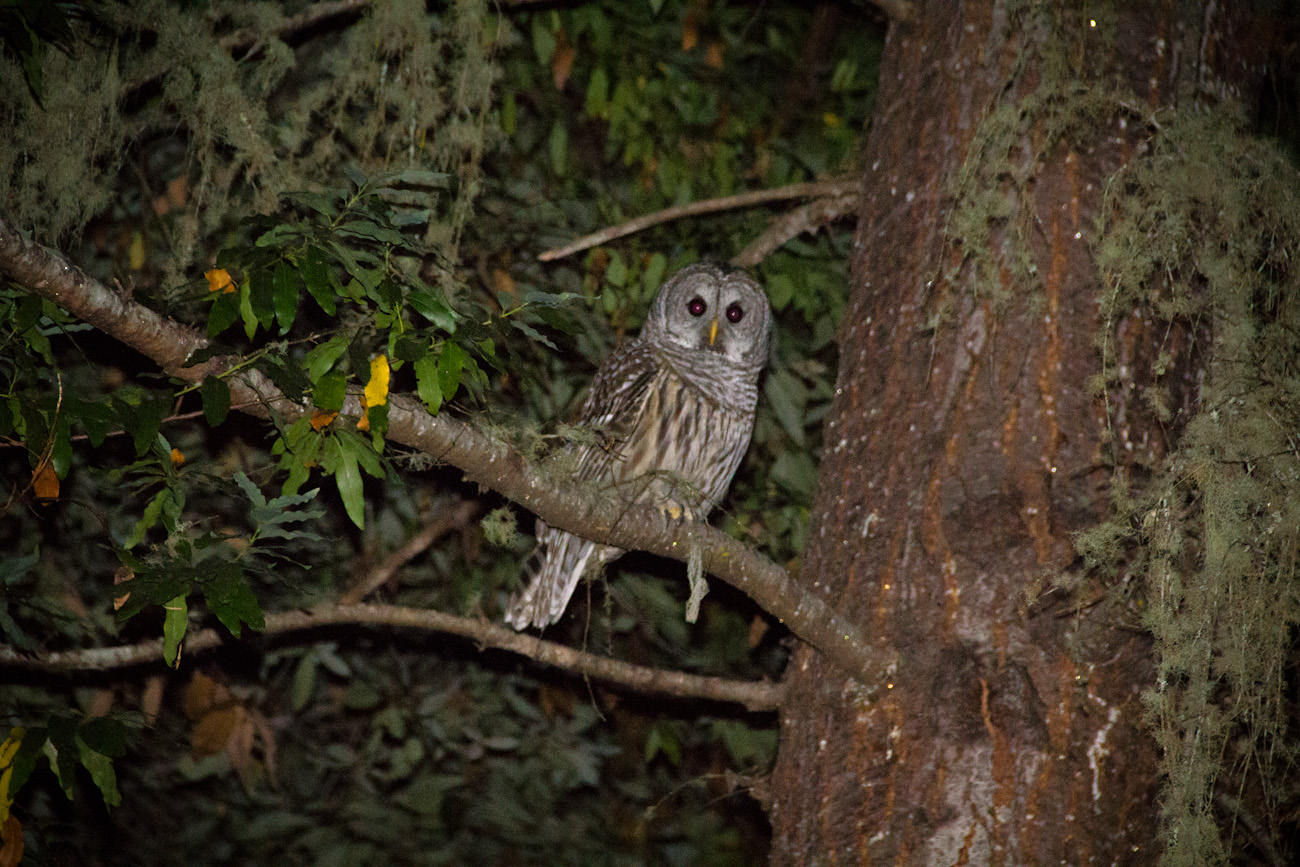 The roads around there are incredible, and the views even moreso. I'd greatly suggest you swing West through Eureka if you are tripping up or down the West Coast- and make a special trip for the MotoEnvy show if you get a chance.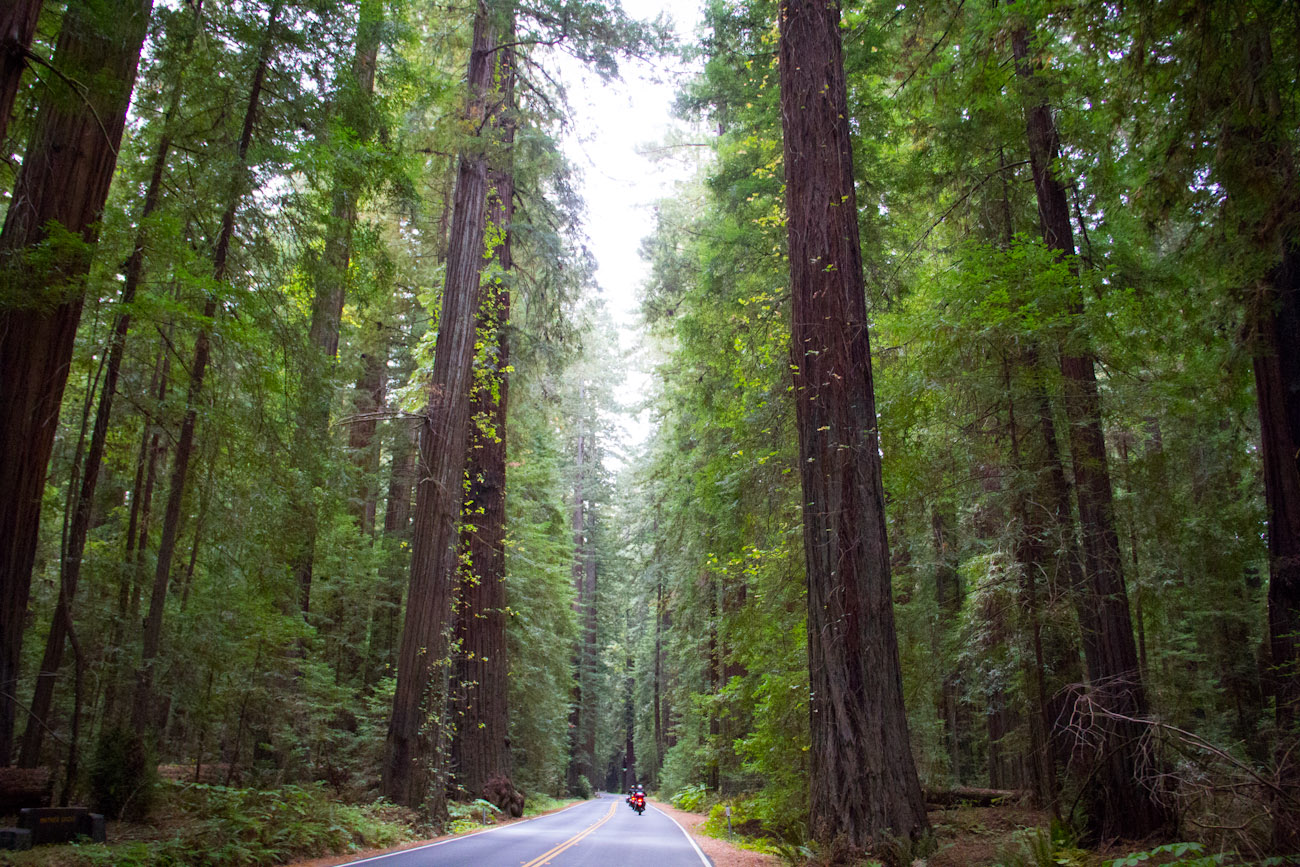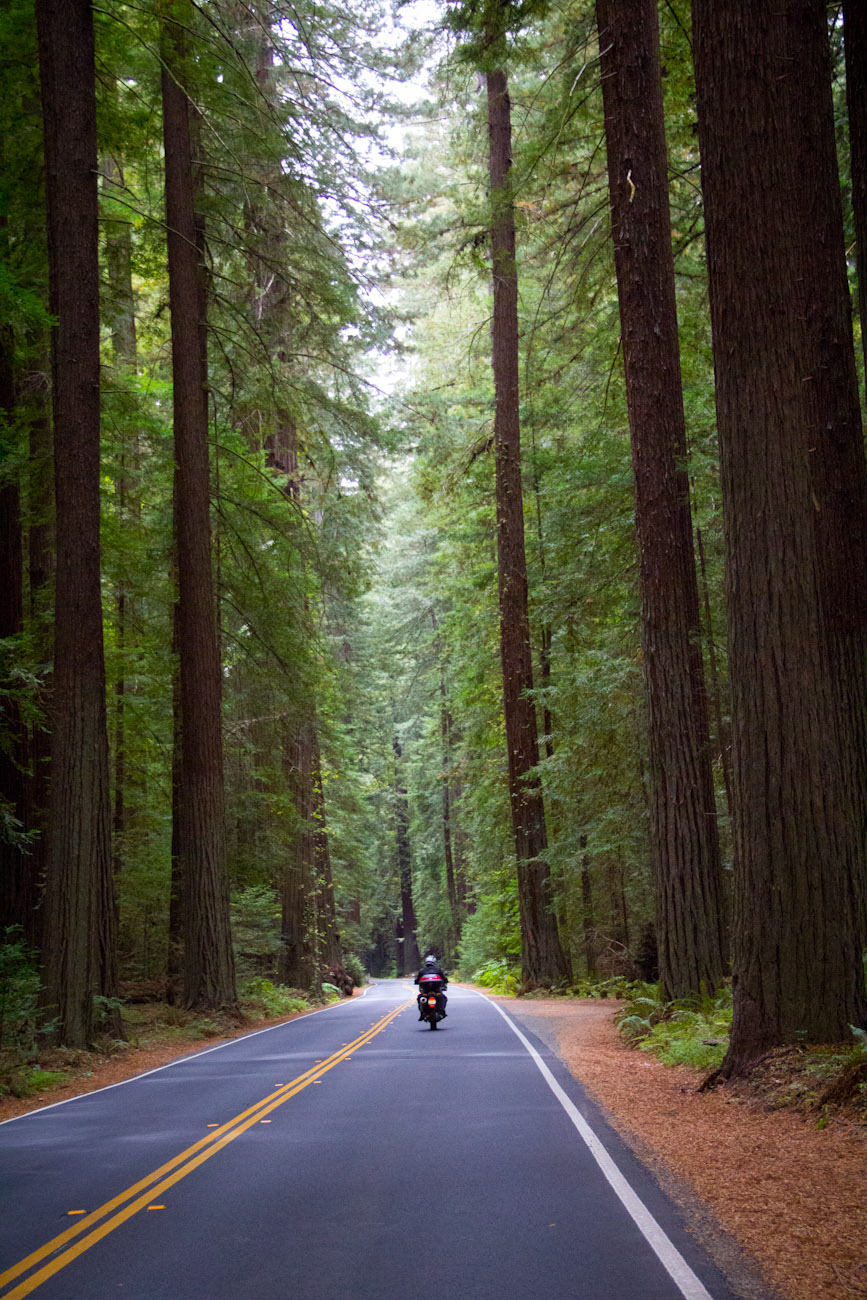 Photographs by Alicia Mariah Elfving, copyright themotolady.com 2015 unless otherwise captioned. Mark McKenna photos copyright MMPhotographic.com 2015.
related:
Posted on November 3, 2015 in Blog, Events by Alicia Mariah Elfving