MotoLady + Stories of Bike FASTER (video)
The Stories of Bike Season 3 premiere featuring MotoLady founder Alicia Elfving, and Ducati Monster Project "Pandora"!
A few years ago Silodrome editor Ben Branch introduced me to Stories of Bike; a collection of short films by Australian Cam Elkins. I featured episode 10, Dream (A '12 Suzuki TU250x Story) in August of 2014, starring Jodie, a woman who followed her heart into building a classy little cafe racer. Then in October, I shared another episode called Sister featuring best friends Maria and Nina (founders of the Throttle Dolls), who are originally from Sweden.
Cam Elkins has an incredible eye for detail and composition, and his story-telling skills are beyond extraordinary. At the time of Dream and Sister, he had been doing videos for maybe a year! So when Cam told me he would be coming to California (this was back when I was living in Ventura) I jumped at the chance to work with him.
Sometime in May of 2015, Cam cruised up to the Ventura shop from Los Angeles and we got to work. Our initial shoot included an interview, and cruising my favorite road in the area– Highway 33 and 150 through Los Padres National Forest. Caroline even rode over from Hollywood on the DualSporty I built so we could get both bikes on screen! You may remember the old post featuring behind the scenes photos where she and I got aggressively pulled over by a Trooper in an SUV.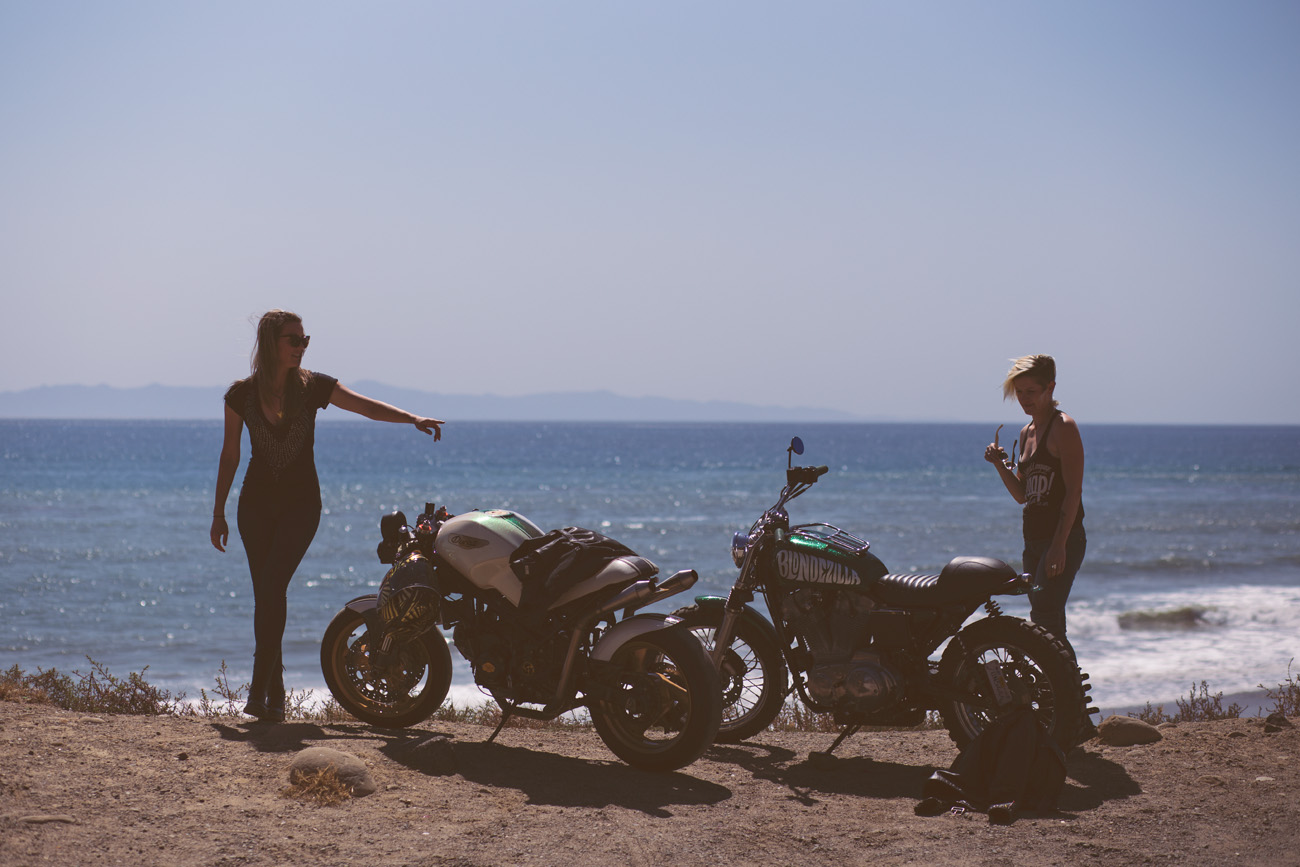 The second shoot where we did a whole new interview section (and more riding footage) was actually in August of 2016, and there's a pretty interesting story leading up to that as well.
When I crashed Pandora (read about it here… warning, graphic) I was already pretty broke and heartbroken. Having recently gotten out of a long relationship, moved 110 miles across Southern California, I was trying to keep myself on track. It took some ten months for me to actually gather the money and motivation to fix my beloved Ducati… then I crashed it again a week after. I didn't write a big article about it, because in all reality it wasn't that dramatic. I got over excited to have my bike back. Riding with this handsome young fella I'd been seeing for a few months, I rode through some gravel spilled across the apex of a tight turn in the hills of Malibu and low-sided.
That second "whoopsie" actually damaged all the same crap I had just replaced! In the case of my rear and front brake levers, actually wreaked more havoc than the first round. This was my fault in more ways than one. I had replaced only the slider puck in my SpeedyMoto frame-slider set up, and it actually mounts through the Monster's engine. That puck popped off completely in the impact, so I must not have noticed damaged threads on the stud from the original wreck. So this time I did it right, called up my old work MotoCorsa and ordered the full slider kit.
Having just one week before Mr. Elkins would be showing up to finish shooting, all the way from Australia, I couldn't mess this up! Luckily for me, my roommate at the time took apart older Ducatis and sold off the parts. He handed me a box of Brembo master cylinders and told me if I could find something that would work I could have it, but that it may need to be rebuilt. Lo! A perfectly matching piece was at the bottom of the box, and with some thorough cleaning, worked like a charm. I contacted MonsterParts.com to check if they by chance sold my DucaBike rear-sets separately, and hot damn, they happened to have the right side set-up sitting on the shelf waiting for that moment. The stars aligned, I got Pandora all buttoned back up the day before Cam landed in LA.
We spent two more days filming. One was spent in Long Beach at Jessi Combs' shop where I had space for a year or so. (Thanks girl, you saved my life!) The following day my boyfriend at the time, Dom, and I hauled ass to Ventura while Cam fought traffic in his rental car.
Almost immediately after getting off the freeway a motorcycle cop appeared behind us. As I was parking in front of the Tavern bar, he lit me up. "You were going a little fast there…" he said. Swiveling my head around like an owl to look at Dom (whose bike was equipped with a speedo), he gave me no help. The cop blurted, "You don't have a speedo, do you?" Inside my helmet, my guilty expression was somewhat shielded… but he caught me good. From some 20 feet away, he already knew… had he seen my bike before, like the other officer?
So I replied, "No, I don't… and I could tell you a whole story as to why, but I don't think you care." He shook his head, "You're right, I don't! Why don't you keep it under the speed limit, ok?" and he rode away.
Dom let out a deep sigh, as he was terrified of cops, despite being a clean-cut white dude with no warrants or major record (besides the same offenses most motorcyclists are used to). I snapped, "How fast were we going?!" He replied, "33…." In a tizzy I launched back, "Then why didn't you tell him so?!" and was left hanging with no good answer. No harm, no foul… we didn't get a ticket.
Maybe 20 or so minutes later, Cam rolled up in the rental, we made a game plan, and headed out to get our final footage.
It might seem anticlimatic, but that's sort of where the story ends. We had a really productive day of shooting; Cam got a bunch of great photos, b-roll, riding footage, the whole nine. It was quite a while before I got to see any footage, as is the way with any creative process (I'm guilty of the same thing myself, I know). But it was absolutely worth the wait.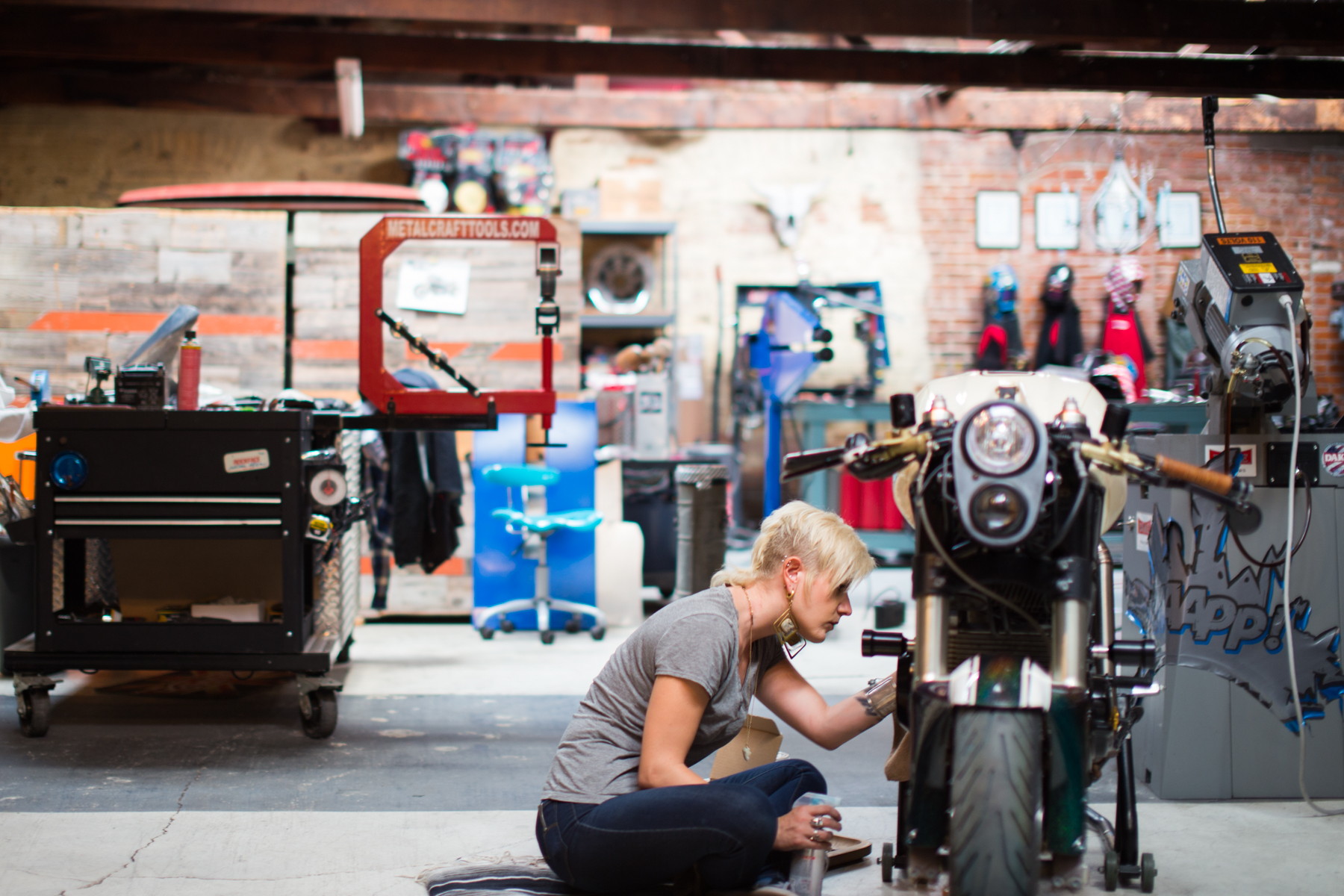 related: 

Hello from Honda HQ in Torrance, CA! The Rebel gets it's 500 mile service, and I get a tour.
Posted on October 26, 2018 in Blog, News & Features by Alicia Mariah Elfving
4 Comments

for "MotoLady + Stories of Bike FASTER (video)"