Let's Talk A Minute About Motorcycle Safety Gear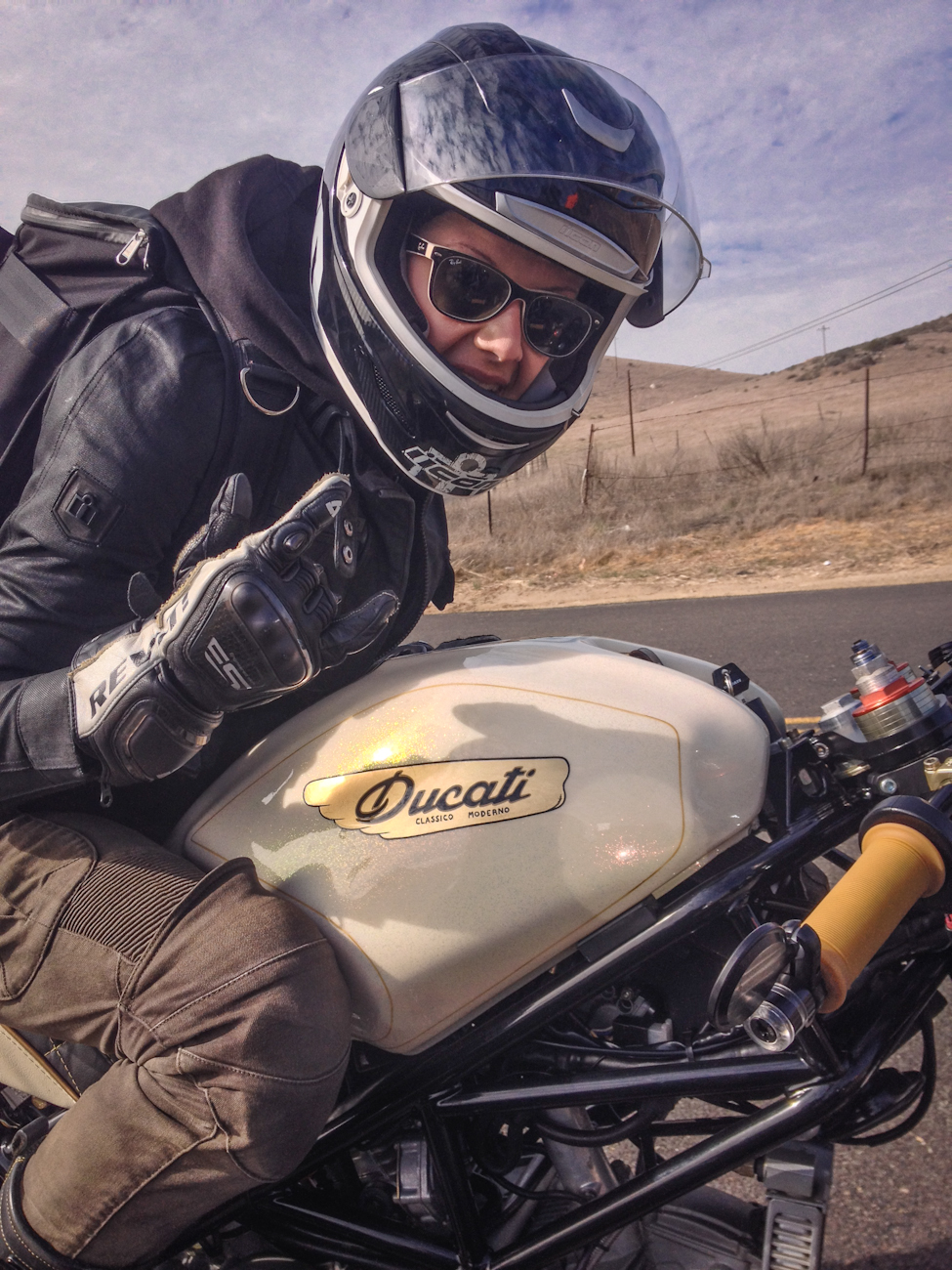 Disclaimer: This article is meant to be informative, amusing, and is made up of sassy commentary as well as personal opinion and subjective viewpoints… balanced by objective understanding and a Devil's Advocate perspective.
A lot of opinions about gear float around in the world- it seems some people, like Evangelical Christians, choose to scream it at the top of their lungs at anyone who may listen. What people seem to fail to understand is the intimate relationship a rider develops between themselves, their motorcycle, and their gear choice. Sometimes it's not just a state of ignorance and squidlyness- and people need to realize that. When you huff and puff on various motorcycle news outlets- facebook, instagram, whatever… there's a nicer way to do it than vomiting out a comment about their body splattering on pavement. We all know we can die on a motorcycle- we hear it constantly from people who don't ride. Do we really need to hear it from people who do? And if yes, then perhaps choose the right direction to take your comments so that they're absorbed and have a purpose at all. No one is going to listen to the guy spewing garbage, however the thoughtful gentleman or lady who's genuinely concerned you don't know how awesome gear can really be may be taken differently.
This is coming from someone who wears full gear… all the time. Now, I've been schooled by a minibike a time or two, and there may or may not be photo evidence of me riding a little Honda minibike in booty shorts, a bikini top, and Icon 1000 Elsinore boots at the Dirt N Dip. But when I go out on the road, I pile on the safety equipment. I've been fortunate to have learned that one can obtain good looking and functional motorcycle safety gear that is not uncomfortable- this was a huge benefit of working at MotoCorsa in Portland, where they sold high-end Dainese, Rev'It and Alpinestars. Before that I had been riding in a regular ol' leather jacket, New Rock boots (which happen to look exactly like modern Harley Davidson motorcycle boots, weird), my mom's old fashion leather gloves, and sometimes… leather chaps. Oh yes. You know why? Because I didn't know any better, and I sure as hell didn't have a budget for gear. Before I even bought a bike I bought a full face helmet- I knew I really liked my jaw, and I had crashed enough times on my bicycle as a kid (flying downhill at 20 miles an hour no less) to know I should wear something generally abrasion resistant. But past that- I had no idea the gamut of amazing riding gear available, and no way of obtaining it even if I did.
The first "real" jacket I bought was a Frank Thomas ladies mesh riding jacket (above) from the MotoCorsa used area for a whopping $60. It was summer, I could layer, it had armor. When I put it on and went for a ride, I felt so much more safe and protected… and I didn't feel like I looked any less cool. Which let's face it, we like to look good while we ride. If you don't, that's cool, but most people don't want to look like they're wearing a burlap sack, especially when we're paying dearly for it. After that I scored a Dainese three season jacket for $200 from the MotoCorsa facebook special. It was a small size, there were two on sale, at the end of the day… there was still one left for me. Score! It is still one of my favorite jackets to this day. My point is- bargain shop. You don't have to have the best of the best right off the bat, and if you want it, you can usually find it on sale sometime, somewhere. Oh and if not, the price tag is usually worth it… good gear is priceless. But hey- I know all too well the struggles of an empty wallet. Blogging is not the most lucrative business to be in, believe it or not!
Types of Gear
There are a wide variety of gear types- from items for street riding and adventure riding to dirt and off road riding and more. Then there's the basic categories of gear: jackets, pants, boots, gloves, helmets. But there's sub-categories too- like gear that includes soft armor, hard armor, some which may or may not actually be CE rated for motorcycling. A CE rating with the correct coding means it's good for high speed impacts and can save you from having an exploded knee, elbow, or whatever.
Identify what you want your gear to do. Do you want a summer jacket? How long will that last you in your area with the weather there? Living in the Pacific Northwest, it was absolutely necessary to have a multi-use jacket to be comfortable on most rides (unless you wanted to carry extra stuff and layer). Jackets and pants made for riding through multiple seasons are amazingly useful- they often have mesh paneling with removable textile covers, zip out thermal and waterproof liners… the list goes on. There are also very straight forward one-purpose items like leather jackets and gloves- perforated will give you a little bit more airflow but will still get hot on really warm days. Leather is also the most abrasion resistant and best protection for your skin… since it is skin. Some companies treat their materials to make it even stronger like Dainese D-Skin leather, or Dynax textile which is especially resistant to melting, burning, and tearing.
The world is your oyster when it comes to safety gear. And yes, there are companies that make awesome fitting gear for women. One of my favorite examples of this is the Icon 1000 Federal jacket (below) .
Levels of Gear
You can go casual and comfortable or fully protective and enveloped in high quality well tailored leather. There are awesome options for the person who wants to wear jeans and a stylish jacket, all the way to the folks who want to wear a race suit on the street (there's a reason MotoGP riders can have horrible wrecks and many times sustain few injuries). For instance I wear UglyBROS riding jeans (website) pretty much every time I hop on my bike now, because they're comfortable, way less warm than leather, and way easier to peel off after a day of riding in the SoCal sunshine. These jeans have both removable knee armor and hip armor which is great if you do end up hitting the ground.
Then there's leather and the more "serious" gear items- full hard armor back protectors (the safest way to go), full knee and shin armor (which you can get in separate guards like I used to wear all the time), and racing style motorcycle boots with a hard outer support shell for your ankle and the works. Some folks think this gear is a little "too much" I think it can be incredibly awesome looking. Who doesn't want to feel and look like a superhero?
What ATGATT Means
The term ATGATT is often thrown around with little to back up what it actually means, leaving anyone who doesn't already know completely lost. ATGATT stands for "All The Gear All The Time"- meaning exactly what it sounds like. When you ride, you wear all of the gear, all of the time. This includes a proper motorcycle jacket with back, knee, and shoulder armor, pants with at least knee if not also hip armor, and boots with ankle armor (and usually more). Oh, and a full face helmet. Riders who stand by the ATGATT belief don't ride to the corner market without putting it all on- because that short jaunt could completely mess them up for life. Hey, whether it's rider error or not (which by the way is exactly what causes most motorcycle accidents) you can't control everything in the world all the time. Maybe a log will roll out in your path Final Destination style, or maybe someone texting their babysitter in a minivan won't see a stoplight… you never know! I've seen giant bags of trash, couches, tires, tennis balls, soda cans, and so much more in the middle of freeway lanes… it's a sketchy world out there ladies and gents. We must prepare for it.
Personal Choice
Ultimately the choice to layer on protective armor-riddled motorcycle apparel is up to the rider. "Let those who ride decide" is an old phrase that's lived on through the days. Whenever I see a rider kickin' back on his hog wearing a half helmet, smoking a cigarette, wearing old work boots and a denim jacket, I think, "At least he's enjoying himself." Whereas yes, it still pains me to see a sportbike rider flying around in flip flops- but again, to each their own. Being a dick about it doesn't do any good. Which brings me to…
Being A Dick About It
It won't have the effect you want. Your passive agressive facebook comment about how skin grafts are ugly and expensive may be a true statement, but isn't a positive or helpful way to approach the situation. I am logical, I like to have fun and go fast but also to be safe… and if someone had've approached me that way when I was wearing my leather chaps, fashion jacket and gloves, and had just gotten my bike… I would've wanted to spit in their face. Who are they to psha my happiness? Who are they to tell me how to live?
The best thing you can do for friends, colleagues, or strangers, is to be helpful and offer educational advice when the subject is broached. It's hard to keep your mouth shut, I know… I feel you. But it makes a bigger difference in the long run. And people will like you more, too.
So hey, cheers to riding what you want, how you want, in what you want!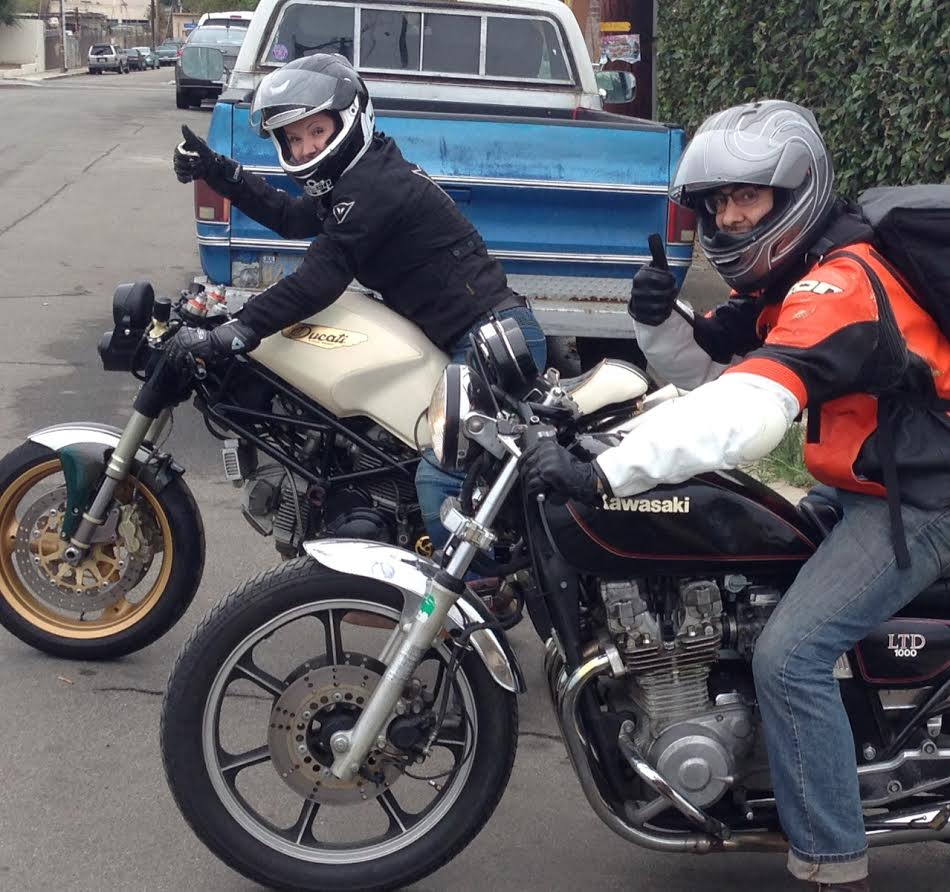 If you're interested in exploring the types of motorcycle gear available- I suggest RevZilla 'cause they're the best in the biz for online moto shopping.

A childhood photo of the world's only female Ducati Master Tech, Hannah Johnson, hanging out with biggol' bikers.
Posted on September 22, 2014 in Blog, Gear & Gizmos, News & Features by Alicia Mariah Elfving
16 Comments

for "Let's Talk A Minute About Motorcycle Safety Gear"