Motorcycling Pioneer Theresa Wallach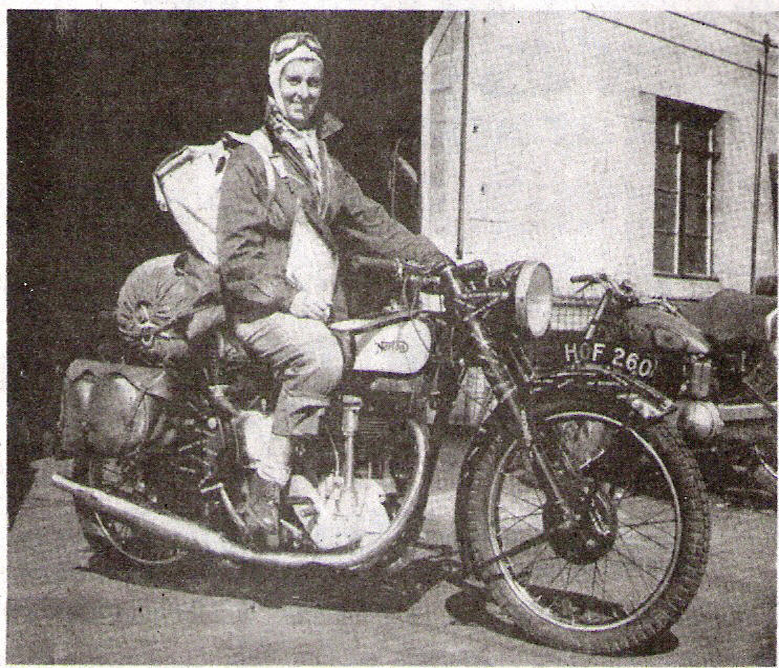 There are quite a few extraordinary women in the history of motorcycling, but only a handful who were involved in such a wide variety of riding for as long a time as motorcycling pioneer Theresa Wallach.
Born in 1909, she passed away on her 90th birthday, having lived a life full of extraordinary adventures on motorcycles. Theresa was an adventure motorcyclist, military dispatch rider, racer, as well as engineer, mechanic, author, riding school instructor and more. She was inducted into the AMA Motorcycle Hall of Fame in 2003 for her incredible achievements- impressive regardless of gender.
Though her abilities to maneuver motorbikes was advances beyond even some men riders at a rather early age, gender was an issue for Theresa within the world of motorcycling. As a young woman she was denied membership to a local motorcycle club because she was a woman, but went on to prove her skill winning numerous trophies in local competitions.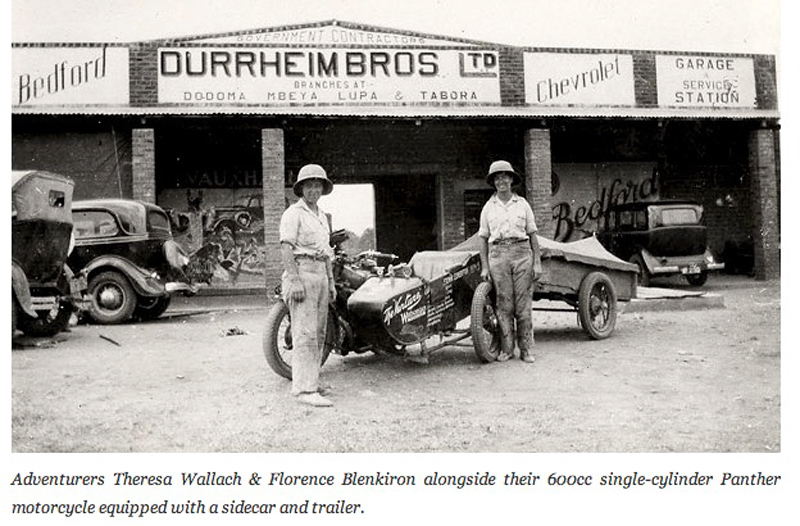 In 1935, she and a friend Florence Blenkiron took off on a mind blowingly daring trip for the time- one that is still a challenging ride with modern equipment. They rode a 600cc single-cylinder Panther (with sidecar) from London to Cape Town, South Africa. There were no roads through much of their trip- they rode straight through the Sahara desert, across the equator, without a compass. Their trip was frought with danger- running a gauntlet that included wild animals and political nonsense making each leg of their journey difficult. From a complete engine rebuild in Agadez, to creating a make-shift tow-hitch in the desert when theirs broke.
This accomplishment solidified her abilities as a rider in the main stream and she was accepted by the British racing establishment. She was the first woman to win the Gold Star for circling the Brooklands Circuit at over 100 mph in 1939- she hit 101.64 mph to be exact.
During WWII she was a mechanic as well as a motorcycle dispatch rider for the British Army. Later, she fulfilled her dream of touring America. This was followed by a move to the USA where she began to work as a motorcycle mechanic in her own shop, eventually getting hired elsewhere. In 1959, she started teaching people how to ride- it all started with three businessmen who wished to purchase BSA's through her shop… she wouldn't let them until she taught them how to ride proper. Later in life she published books including a top seller, "Easy Motorcycle Riding" and opened the Easy Riding Academy in Phoenix, Arizona.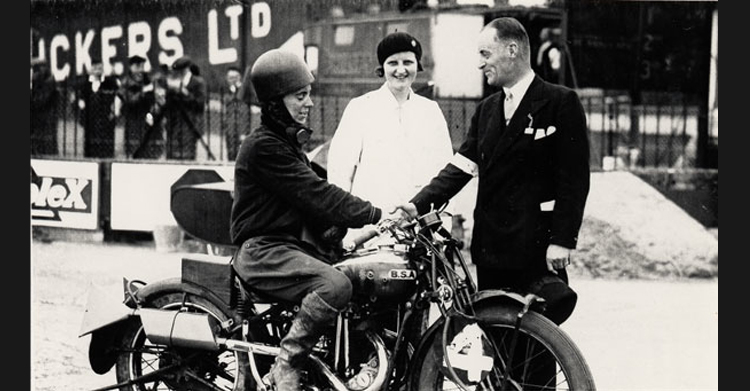 Theresa Wallach's passion for motorcycling is expressed neatly in this quote from an interview in Road Rider Magazine 37 years ago-
"When I first saw a motorcycle, I got a message from it. It was a feeling – the kind of thing that makes a person burst into tears hearing a piece of music or standing awestruck in front of a fine work of art. Motorcycling is a tool with which you can accomplish something meaningful in your life. It is an art."

Hello from Honda HQ in Torrance, CA! The Rebel gets it's 500 mile service, and I get a tour.
Posted on September 23, 2014 in History, MotoLadies by Alicia Mariah Elfving
2 Comments

for "Motorcycling Pioneer Theresa Wallach"