PNW Braap with Angel Dupree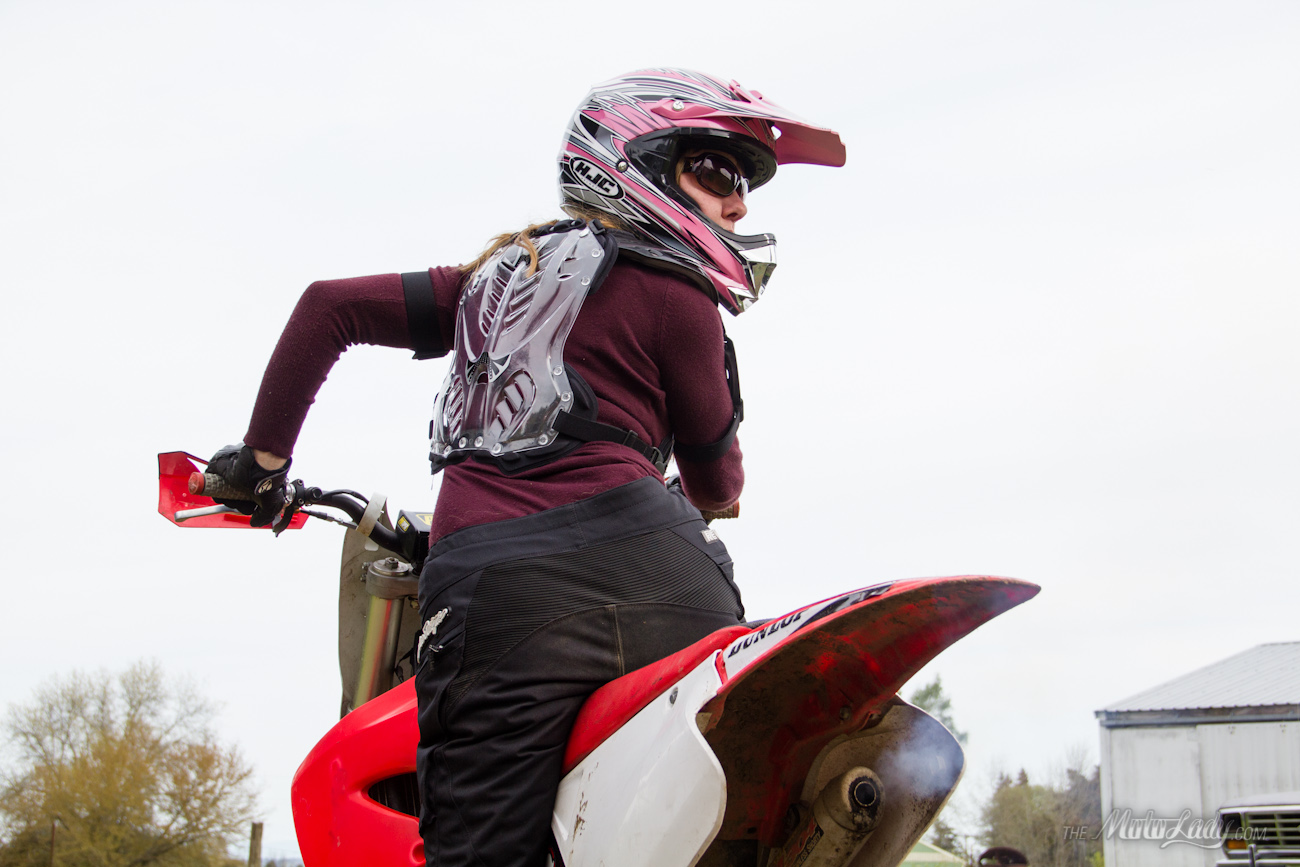 Angel Dupree recently kicked up some mud for photos while I was visiting her in Warren, OR.
An avid cook and lover of off road riding, Angel and I first met at the Touratech ADV moto rally in 2013 where she was keeping all the staff and team fed with really amazing food. No, really- we were all sitting under the giant easy up watching Moto GP at the center of camp when out of nowhere pops this angelic woman going, "Would anyone like bourbon cupcakes with cream cheese frosting?" Her name is fitting, indeed.
Most the time we've spent together has been hanging out on beaches in the Pacific Northwest, namely the NW Washington area where she used to live and would go surfing every weekend. Something like a year ago she packed up and moved to a little town about 40 minutes outside Portland, Oregon where she has a little dirt track in the field on her property. So when last I visited and had my DSLR camera, she geared up and did some laps in the damp, grassy field. BRAAP!
"I can't remember the first time I was put on a bike, my cousins and I (all girls) just grew up that way. Riding on the back of my grandfather's Harley pretty much every chance I got. My Grandmother had her own bike, they rode in the teddy bear fundraisers, parades, poker runs, and touring. We camped off the back of bikes frequently all over the country and up North through Canada as well.
I'm pretty sure I was about 12 when my Aunt and Uncle gave me a moped for Christmas one year. (No helmet was included) And then it was on. I rode the hell out of that thing, by myself and two up with my best friend Jody until there was not much left of that poor little moped. From there, I crashed an 80 over a jump- too much throttle in the air and landing… because I was going wayyyyy too fast (insert german accent here). Ha! Then this thing called life happened over like a million years… marriage/divorce/kids. Now, I have time to pursue myself again and I bought a dirt bike."
Now, Angel has her sights set on an enduro- and she's aiming for the new KTM 390.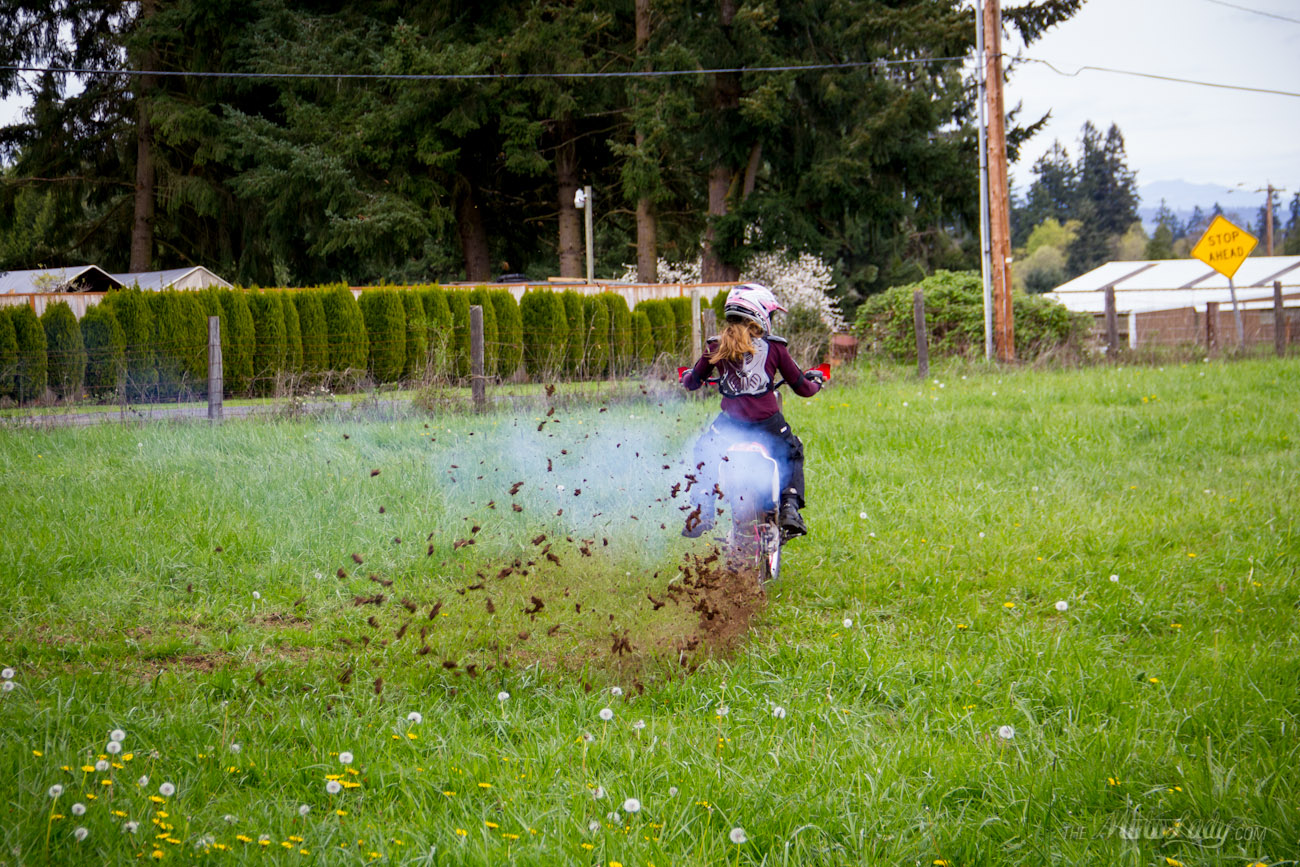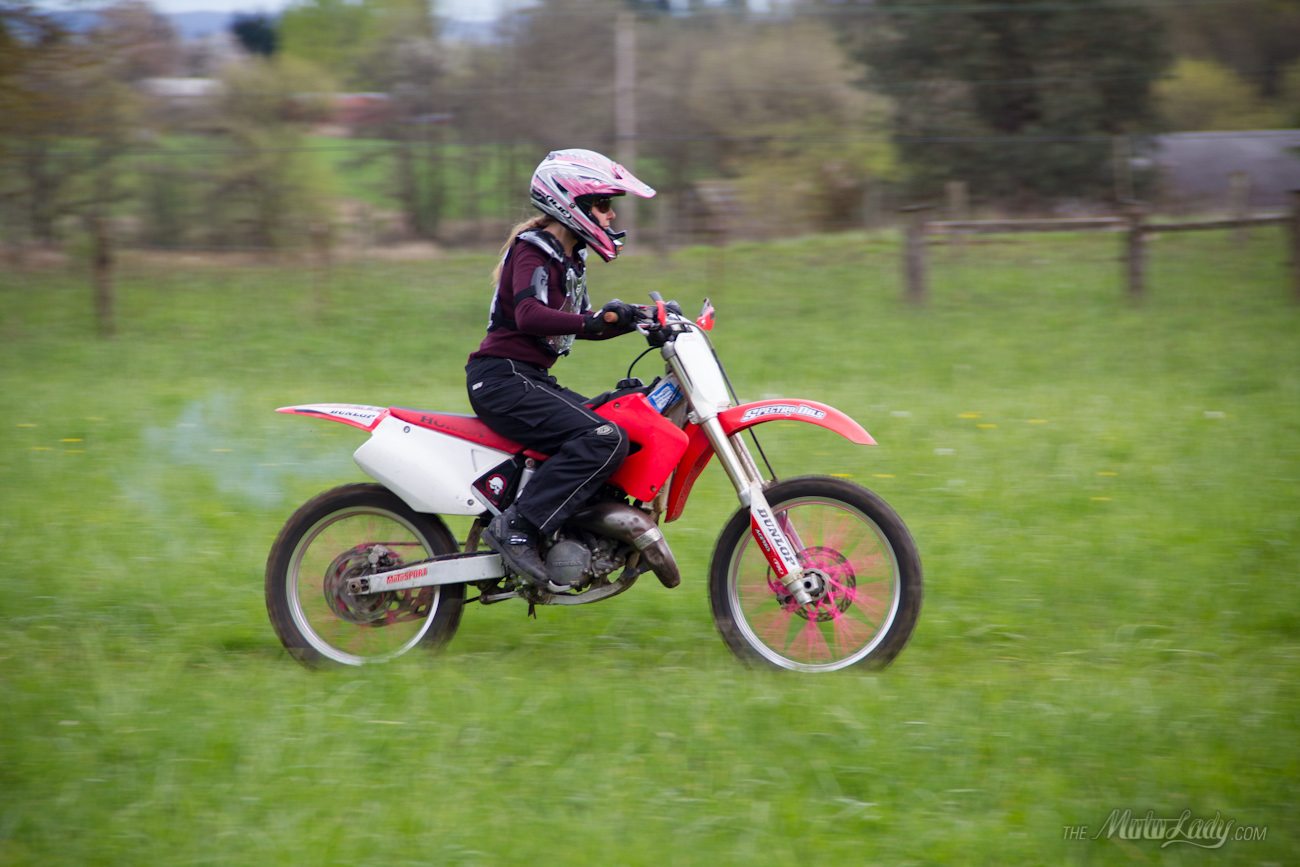 Her Honda CR125 dirt bike is set up with pink spokes, which matches her pink HJC helmet.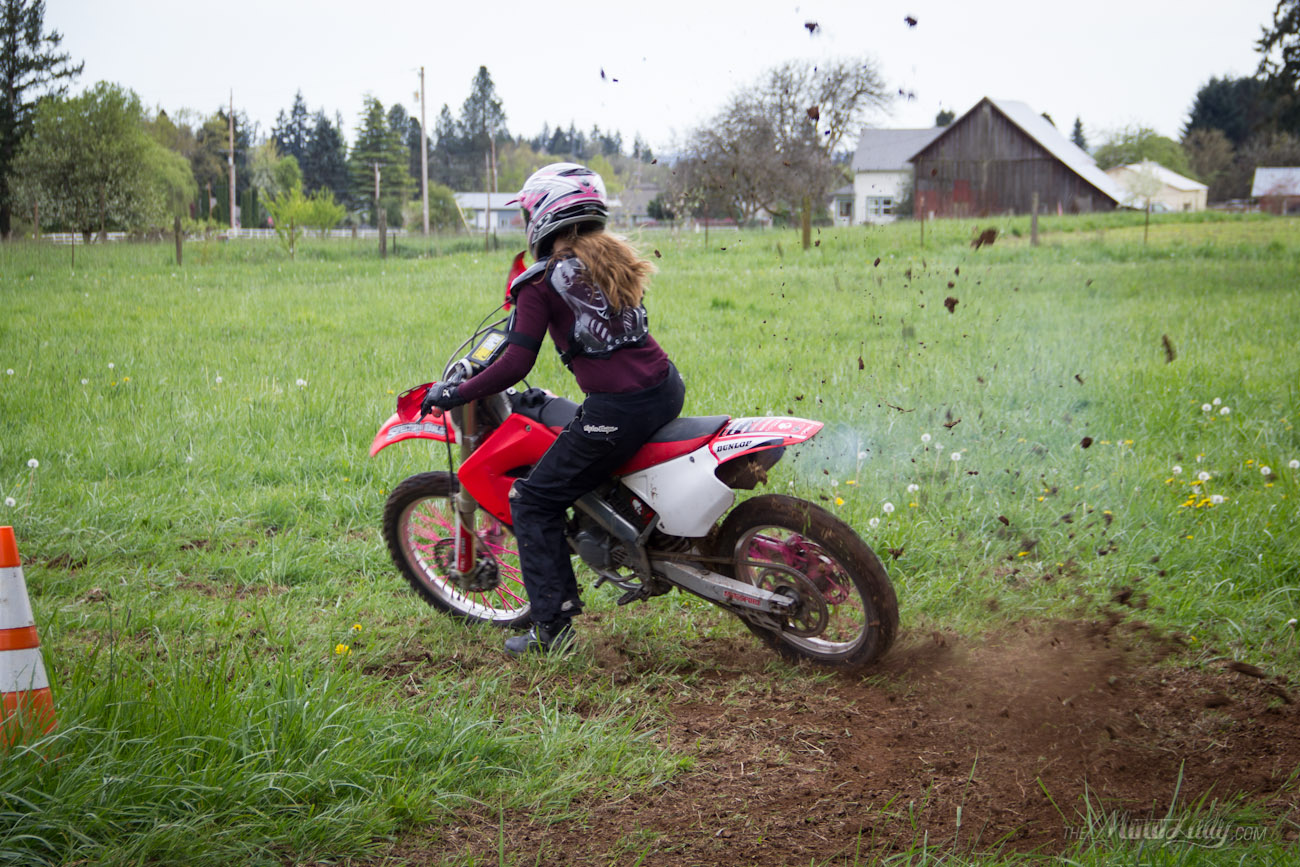 Gotta love when you can see that 2stroke smoke blasting out the exhaust. GAS IT!!!!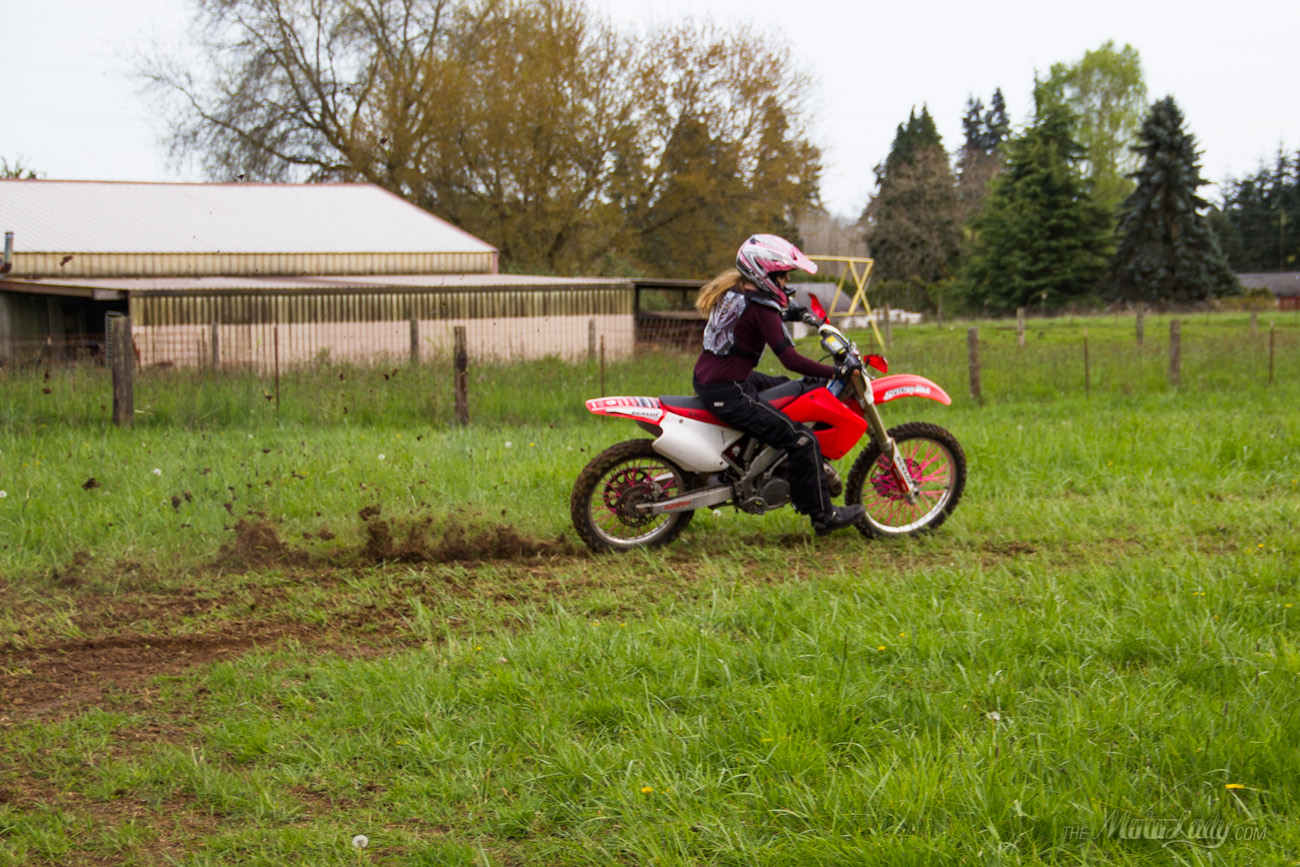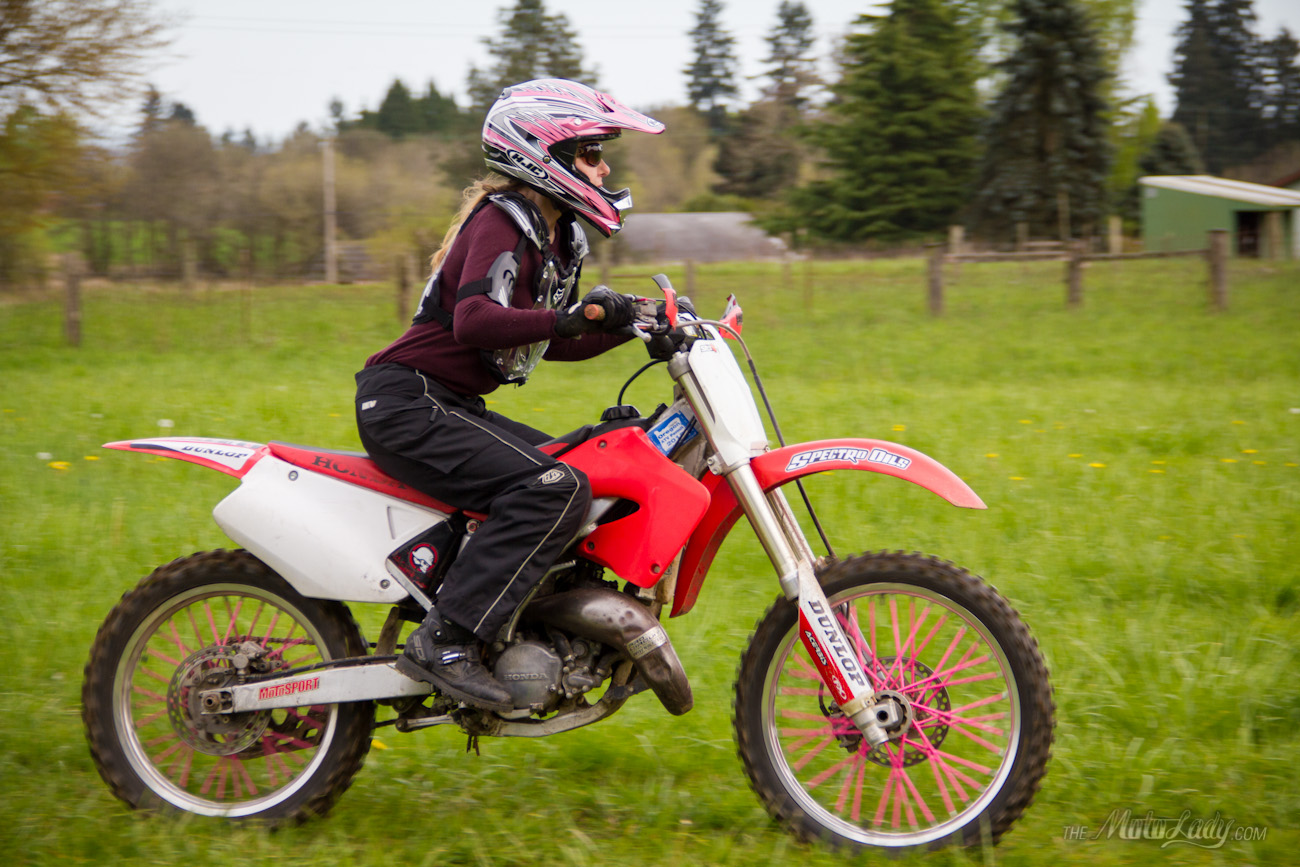 Read about the Touratech ADV moto rally where I met Angel here, and follow her on instagram @theselkieseas.
Photographs by Alicia Mariah Elfving, copyright themotolady.com 2015.

Twenty previously unreleased photos with the MotoLady built custom Ducati Monster by the incredibly talented photographer Jimmy Ban!
Posted on April 27, 2015 in Blog, MotoLadies by Alicia Mariah Elfving