Simone Winks: Postie Bikes to Road Racing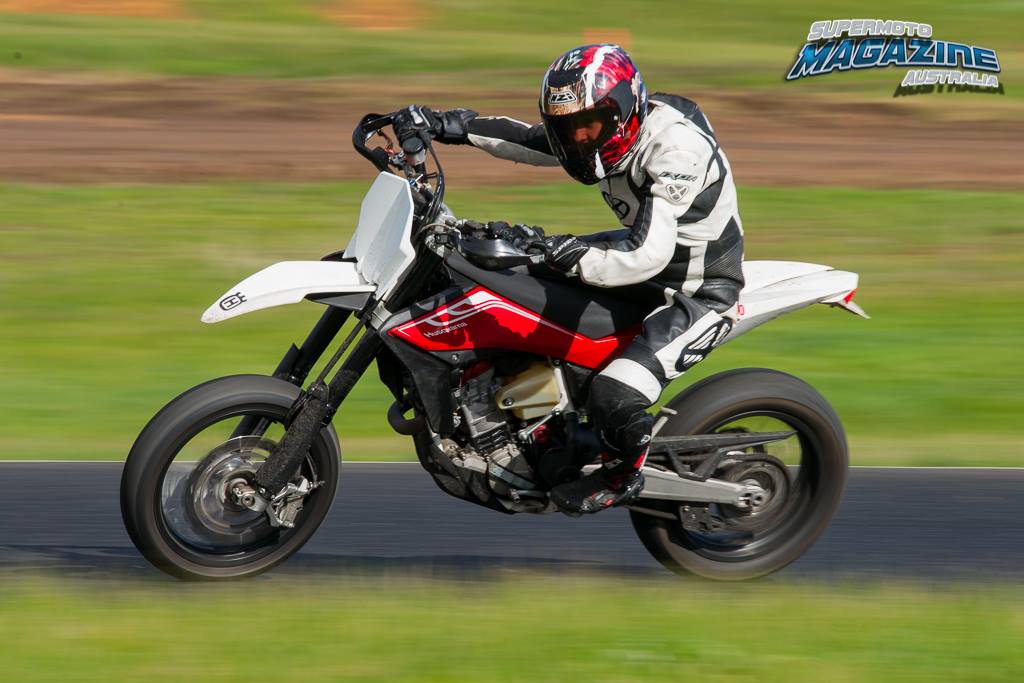 Simone Winks lives in Ballarat, Australia. She loves all types of riding- street riding, off roading, supermoto racing, superbike racing… and she's been doing it since she was 10 years young.
As years have gone by she's added more skills to her repetoir, but not without having to work for it. After a wicked crash on track at ~105 mph, she healed up and hopped back on. Seeing her pure love for all things motorcycle, positive attitude, and riding skills- I wanted to know more about what got her into riding.
Rider Profile
"I started riding at around 10 years of age when I would hang around the farm at my grandparents place on one of their their Honda CT 90 ag postie bikes with my brother. For whatever reason, one of these bikes ended up at my parents property in country Haven, Victoria (Australia). I would ride it around the paddocks and jump it over small jumps (which it wasn't exactly built for), until it blew up and ended up as scrap metal a few years later.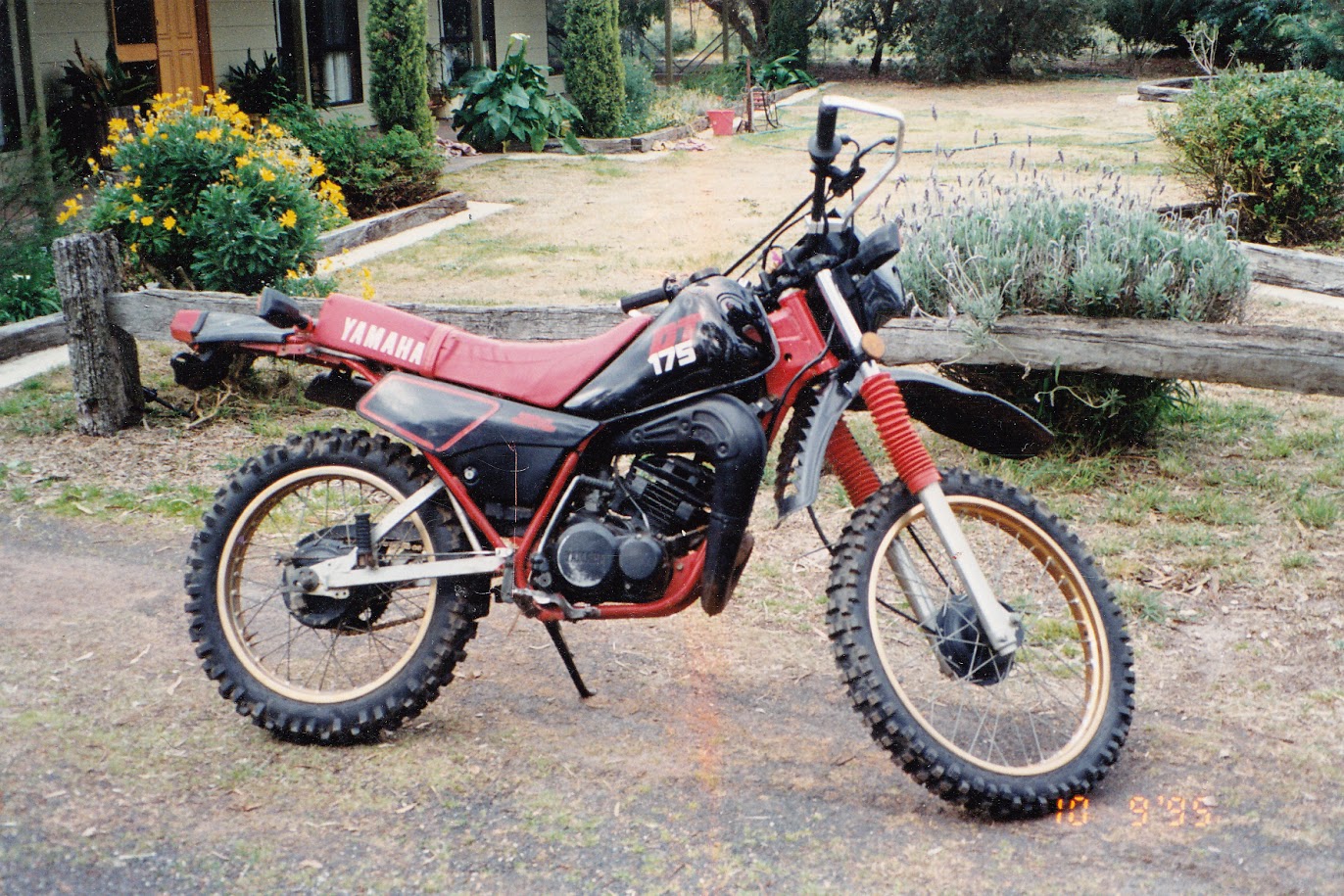 Not having a bike to occupy my free time left a big void which I was unable to fill with anything else quite so exciting. I scored an after school job as a checkout chic at a supermarket when I was about 15, saved all my meagre income and almost a year later I bought myself a 1989 Yamaha DT175. The paddock riding antics resumed again! I gradually ventured further and further from home exploring dirt trails tempting fate of the law and the wrath of my parents as I was too young to get my license. I was never caught thankfully, and as soon as I was able at age 16 I got my learners ticket and was finally legal!
My parents bought me a car when I was 18 with the condition that I pay them back which left me with the only option of selling my beloved Yamaha. I believe this was a ploy to keep me away from bikes. But the void returned and months later I had myself a Suzuki DR250 on which I spent a lot of free time blasting around the local fire tracks, quarry jumps and the back trails around the Grampians National Park.
When I was 19 I moved to Melbourne for the interesting city lifestyle and prospects. I kept the DR at my parents and would often make the three hour voyage home for a weekend of good dirt riding that I missed. One day I decided to ride back to Melbourne, but decided being on a trail bike in the city didn't quite cut it so I sold up and not long after in the year 2000 I bought a Kawasaki ZX6 which was obviously very different but more suited to city life.
Road riding grew on me and I particularly liked the element of speed. I liked practising race-starts at the traffic lights and weaving through cars on the freeway. Not long after getting this new toy I got caught speeding and lost my license for six months! With a bit of luck I have otherwise managed to avoid major wrath of the law, and this bike stayed with me until 2012 when I decided to upgrade to a Buell XB12 Lightning which has proved to be a fun little tourer.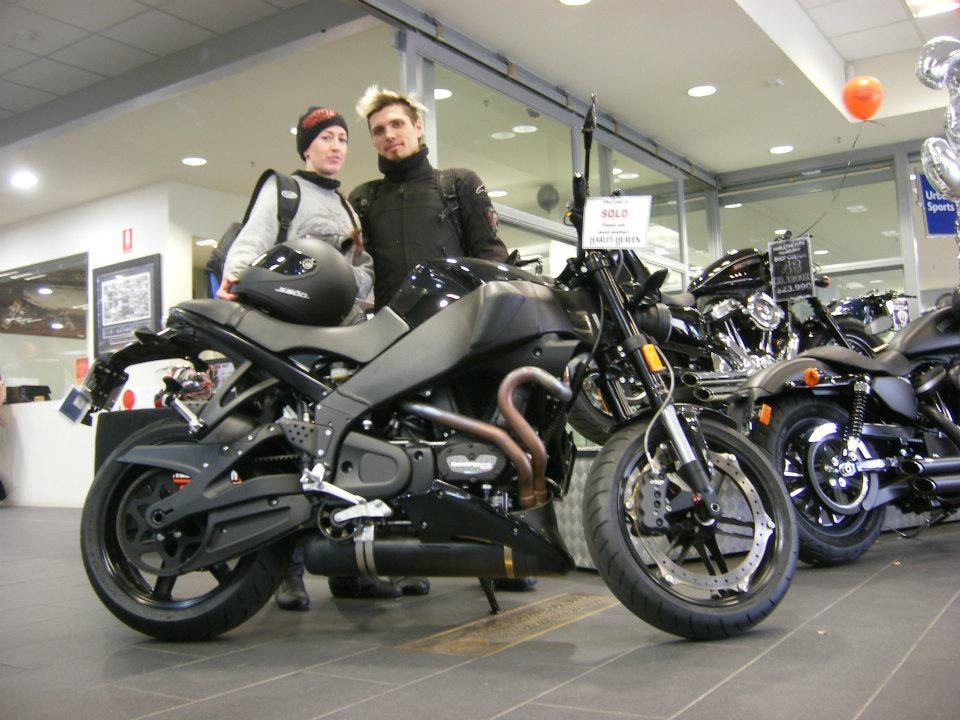 In 2008 I met my (now) husband Campbell who has always been interested in 2 wheels but somehow I managed to turn it into an addiction for him also. On dates I sometimes used to take him pillion on the ZX6 and not bother too much about accommodating my riding style, wondering why his helmet was bashing mine through gear changes. Poor boy had to cling like mad just to stay on, haha!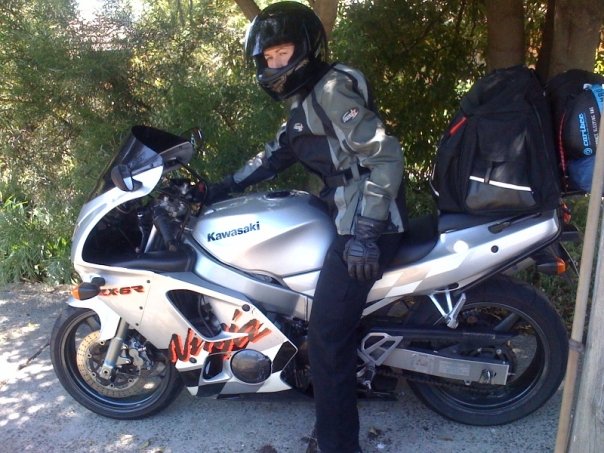 Cam was (and still is) mad keen on the Irish road racing scene, and I ended up following it too. He bought me Maria Costello's autobiography, until then I wasn't really aware of any women involved in road/circuit racing and I found her inspirational. Around the same time I found out about some girls only track days being run at a race track not far away. Cam had decided that he was going to ride the Isle of Man one day, and I decided I was going to ride at these girls track days so we found a track-ready 2004 Kawasaki ZX10 and spent a weekend road tripping to Sydney and back to pick it up.
I found out the following weekend at the girls track day that the ZX10 was indeed an angry beast, I had never ridden anything so fast & in hindsight the suspension was all wrong and it didn't brake very well but that didn't stop me from having a good crack at it. I initially put myself in the novice class but was quickly moved up as they said I was too fast and was lapping everyone in the group. It quickly became apparent there was more to track riding than just being able to crack the throttle though, abd my mind was like a little sponge soaking in all the information I could on how to be better & faster.
A few months later we were spectating at one of the local club racing events & were chatting to one of the racers we had met who was selling up due to having scored a ride in the Brittish Superbikes for the following year. He had 2 of the new 2012 Kawasaki ZX10r which were supposed to be the best things ever according to reviews & I knew I had to have one. The price was right & a few weeks later it was in my garage.
I had the intention of getting my own track bike to do a few girls days and track days on initially, which started off with a bang in the new year of 2013. Being so stubborn and driven with bikes, I made it work on my new ZX10r, always chasing faster & better. Again, the suspension was set up for a much heavier rider, but that was something I didn't really understand and it took lesser priority to track time. Unfortunately I believe this contributed to my demise when it spat me off at about 170km/hr (~105 mph) on an undulating fast section at Broadford racetrack after a serious tank slapper incident through the bumpy section on the back straight. Go-Pro footage saw me spat off the side, then I hit the tarmac & skimmed like a stone off water into the air again before tumbling violently down the embankment & onto the motard track below.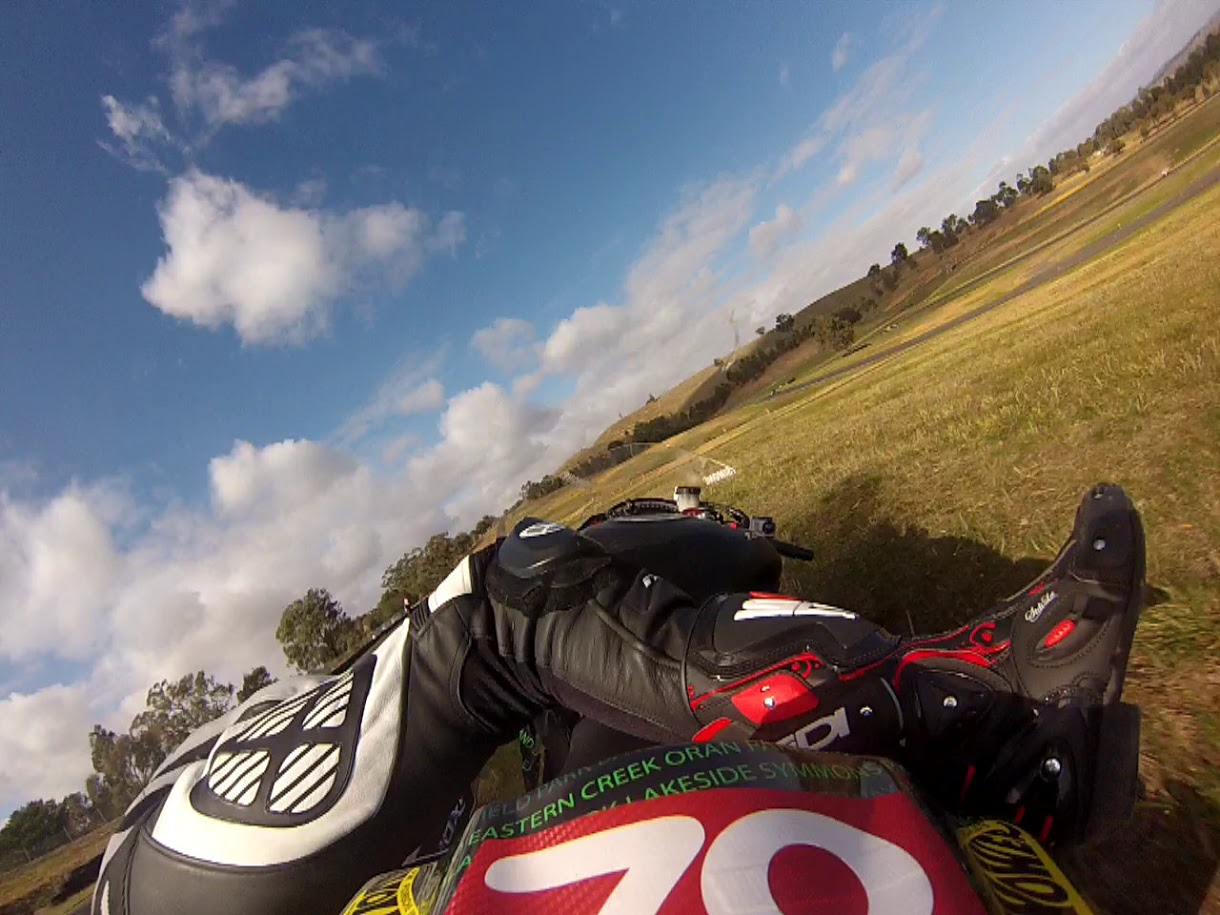 This accident left me with a bike which apparently belonged in the bin according to some racers. I ended up with a broken finger and hobbling around on crutches for over a week with soft tissue injury around my ankle. Within days, we took the bike into a fellow racers Race Performance Centre to assess the extent of the damage. After string-measuring of the frame and subframe confirmed it was straight, it was found to have cracked around the head stem bearing area. A parts list was compiled and I was given the good news that a rebuild would be feasible.
I picked it up and we began the long process of stripping the parts off and hoisting the engine out of the frame. The frame was then sent to an engineer and the crack welded professionally. I spent the next 7 months buying parts bit by bit, and slowly the ZX10r was starting to look like a bike again. Cam had already had an epiphany long ago about the new colour scheme which I thought was brilliant, and after the fairing repairs were done I spent a couple of weeks every night after work vinyl wrapping it in red andamo & black carbon wrap (which is NOT a good idea if patience is not your virtue!). I'm just glad the end result worked well as it certainly is eye catching.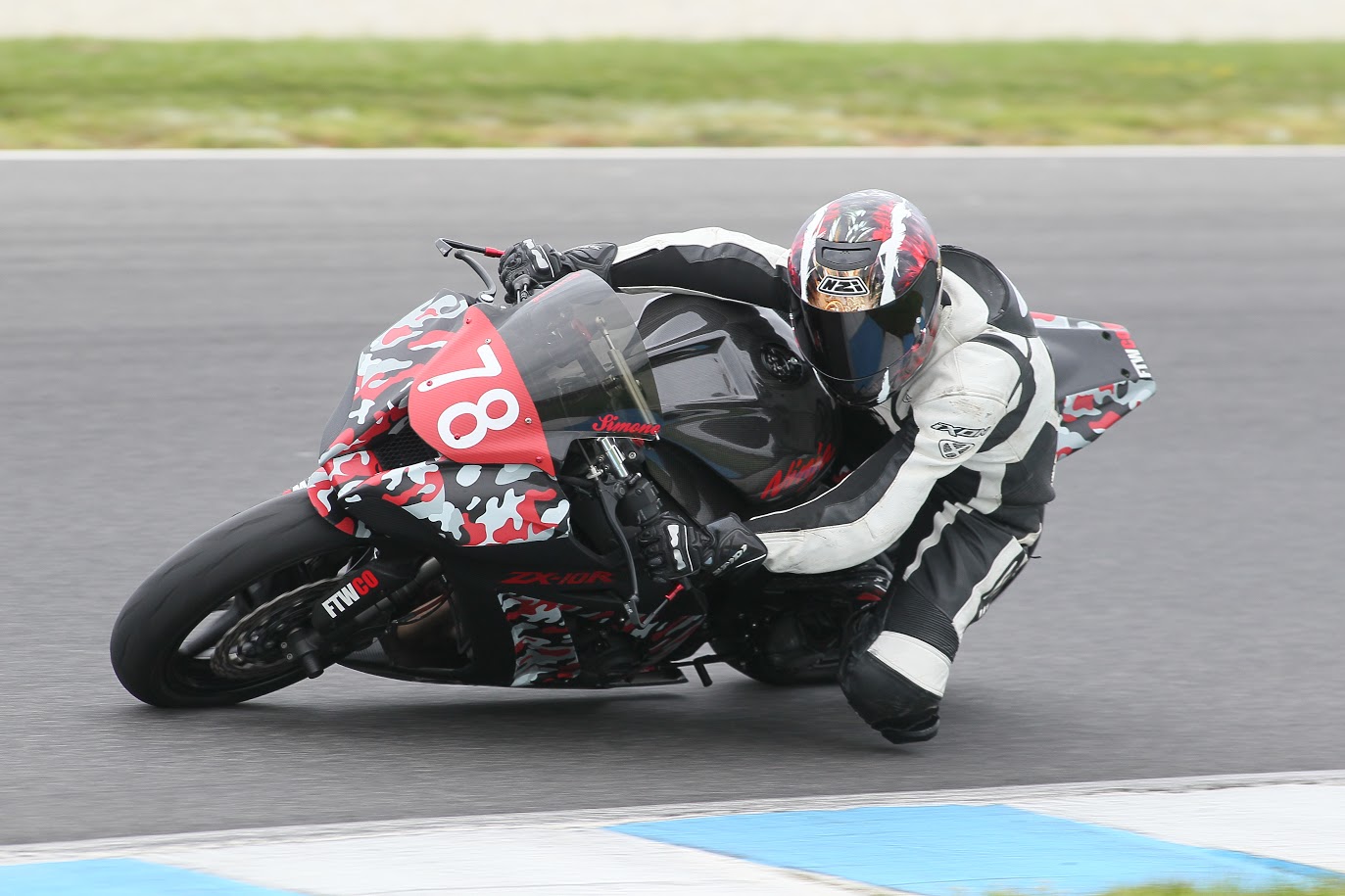 Just before Xmas last year it was finally complete, the flawless engine start up was captured on video with me laughing with relief like a fucking maniac! It was alive and it sounded better than ever, not that I should have been surprised having a race mechanic husband helping me and doing most of the work. It was finally ready to hit the track again, the maiden voyage post rebirth scheduled for the girls track day mid Jan 2014.
During this time I decided I missed dirt bike riding so I scored myself a 2011 Husqvarna SMR449 and resumed playing in the forest occasionally around my local area of Ballarat, Victoria. We also scored some endorsement from super cool Iowa based FTWCO who gave us the opportunity to be one of their racers for 2014.
This year has so far been spent learning race craft and working better with my machine which has seen me cut six seconds from my lap times around Broadford since the start of the year. If I can lose at least 3 more seconds I will think about starting off in novice club level racing with the intention of placing well straight up. Lately I've spent some time learning Phillip Island circuit which I love, shame it takes 4 hours to get there otherwise I'd practically live there. I'm just going where this whole thing takes me, but to be honest I think about bikes and racing a lot of the time, to the point where I'm sure my soul is coloured in black & red camo as it's taking over my identity, haha."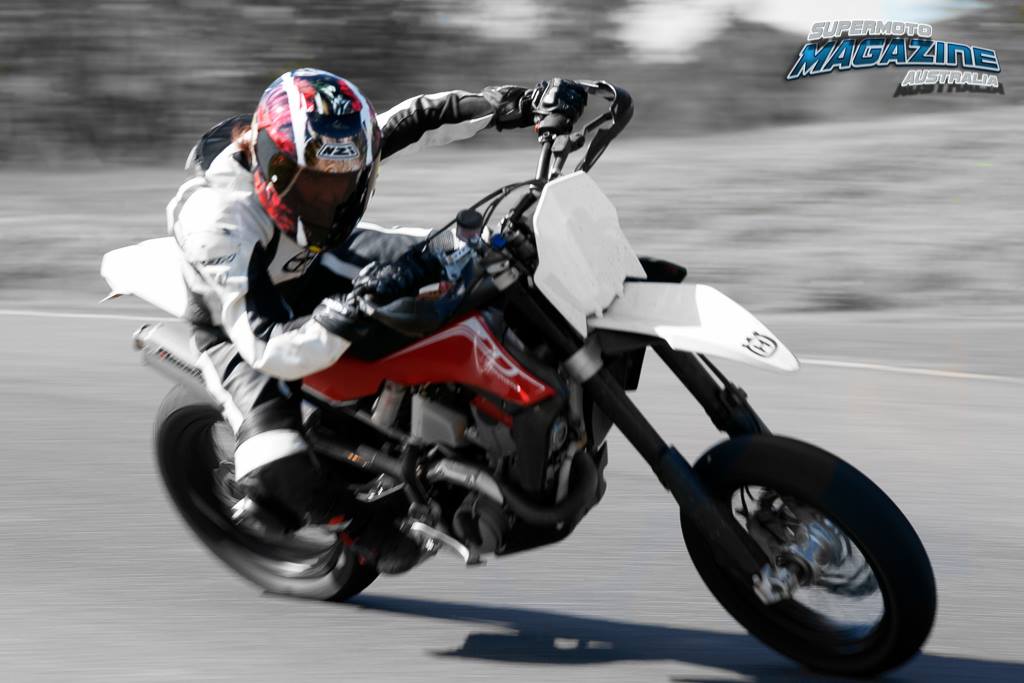 Simone and her husband Campbell spent their honeymoon riding their Buells around Australia together. How awesome is that?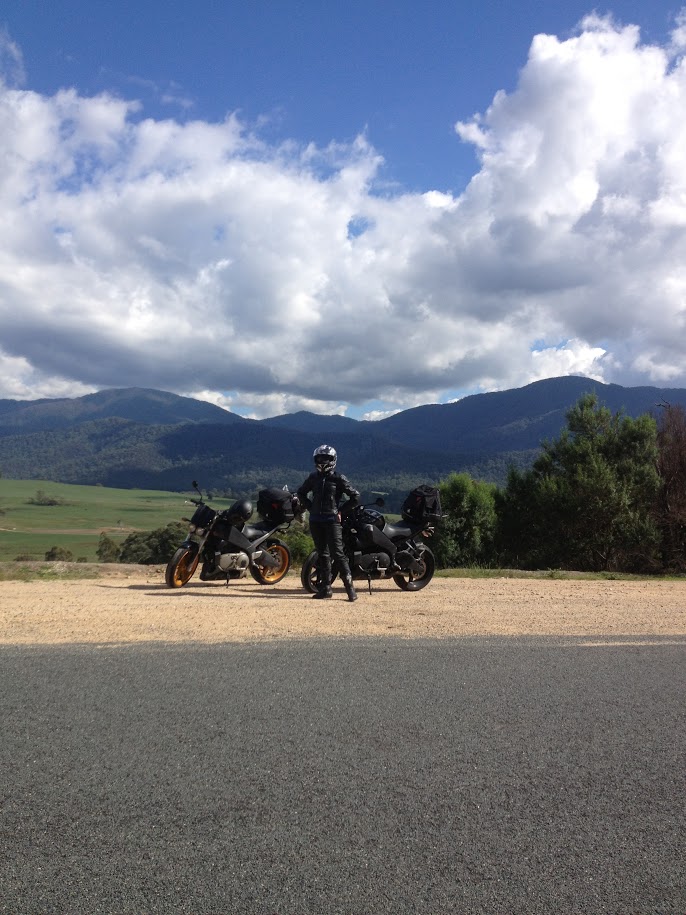 If you'd like to follow Simone's adventures, check out her instagram @simone_winks78.
Posted on October 17, 2014 in MotoLadies, News & Features by Alicia Mariah Elfving