Please stand by while we build a new, better shop!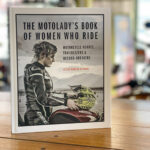 If you're looking for The MotoLady's Book of Women Who Ride: Motorcycle Heroes, Trailblazers, and Record-Breakers… head to this page for more info and links on where to buy!



Stories of Stories of Bike. The entire saga of FASTER, the MotoLady + Monster story, season 3 premiere of Stories of Bike from Cam Elkins.