Smartphone Tools for Smart Road Trippin'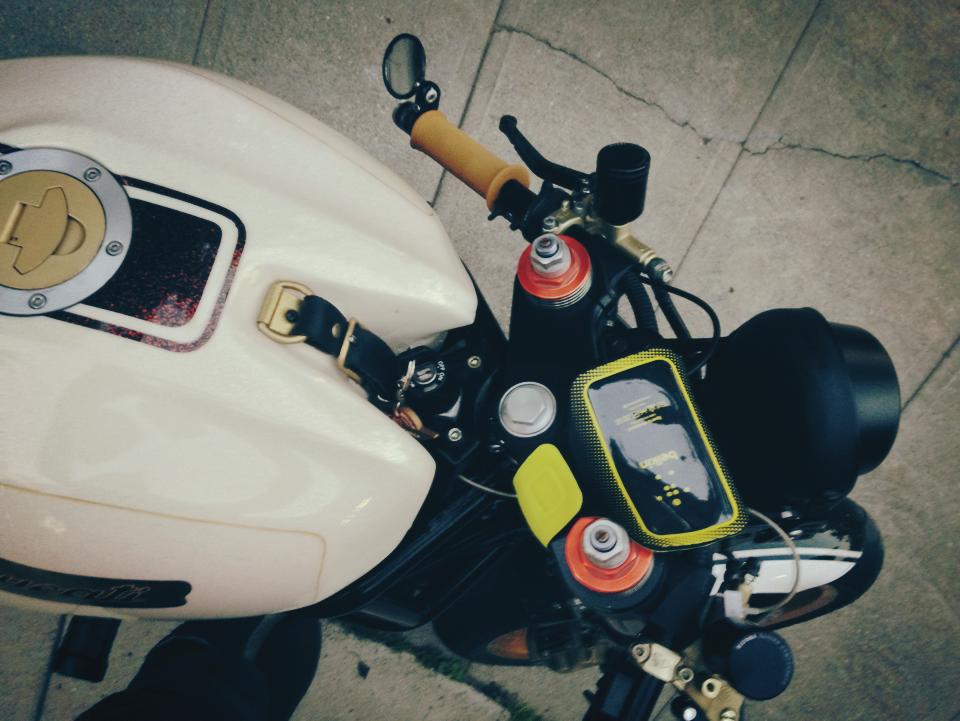 Since I don't run any gauges on my Monster, I've been asked quite a few times about my phone speedometer and GPS set up- and it's not as impressive as you'd assume.
Read on to find out more about my ghetto approach to phone GPS/speedo use, and other much nicer looking options for you to use in conjunction with Google/Apple Maps, speedometer apps, and more.
While my fancy iPhone mount is in the works (I'm going to make something so it'll blend in with the Monster's custom dash) I went to an electronics shop and found myself an iPhone case for an athlete. Why? You can still use the touch screen, and it's got a biggol' stretchy soft stap that won't mess up the finishes on my triples. It also cost me a whole $13.
Basically, I wrap it around one side of my top triple, making sure to keep it out of the way of my wiring, steering stop, and all other moving bits. I then cram my phone into the sleeve (with the opening toward the top nut which presses against it and keeps it from flying away) plug it into the iPhone charger I wired into my battery box, and away I go. It's a little ghetto, but I prefer to think of it as ghetto fabulous.
Yes, there are much nicer looking alternatives. For instance, RevZilla has over 100 GPS and phone mount products available.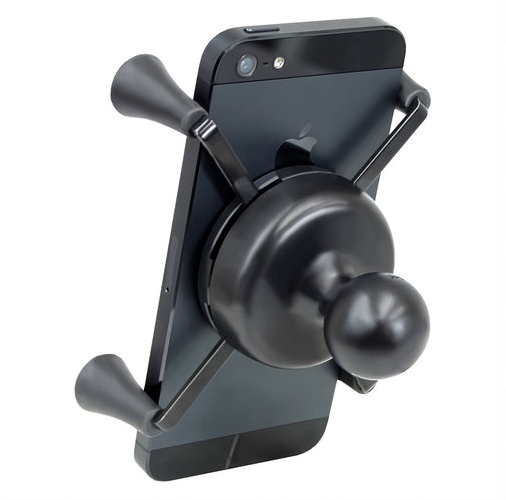 There are items like the RAM Mounts universal phone and GPS gripper for $24, but it doesn't come with the mounting bracket, and doesn't have any sort of weather protection. Not that mine is waterproof or anything, but I wouldn't be worried about a little Southern California sprinkle!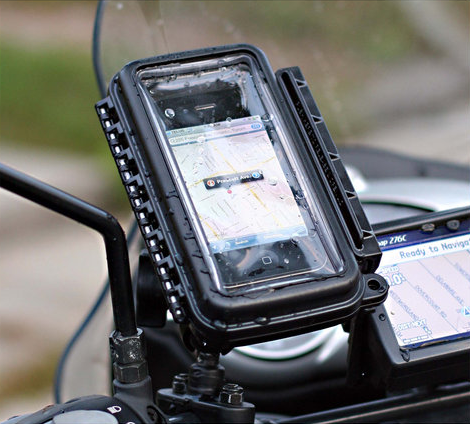 On the other hand, RAM also has this super awesome 'Aqua Box' ($33-52) which allows you to use your touchscreen and also keep your expensive devices safe from rain, rocks, road grime and more. It comes in three sizes for a variety of electronics, has kick ass waterproof wiring access, locks with any standard small padlock, and is guaranteed for life. Not a bad deal. Also lacking the actual mounting apparatus, you have to buy the correct style for your bike or set up. They have different style mounting options dependent upon your needs such as the Fork Stem Mount kit, and U-Bolt mount kit.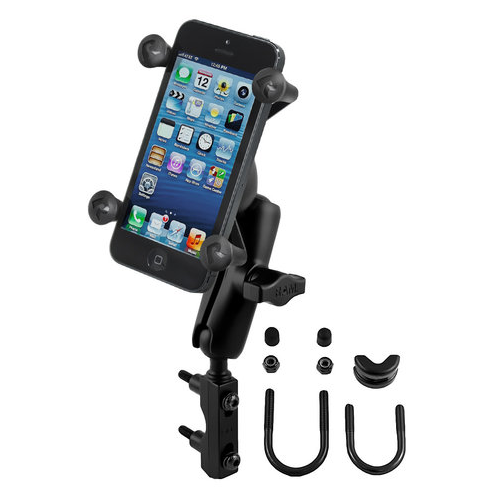 Or… get the whole RAM Universal Cell Phone Mounting Kit together for $52.99.
There are also simpler, less adjustable options available. Like the Interphone iPhone 5 tubular handlebar mount for $63– water resistant, low profile, 360° of rotation, and shock absorbtion.
As for charging options- since I'm sure you're curious how it is you're supposed to use your battery-inhaling phone on longer than a 30 minute journey without being left stranded with no GPS in the middle of nowhere… mine was relatively simple.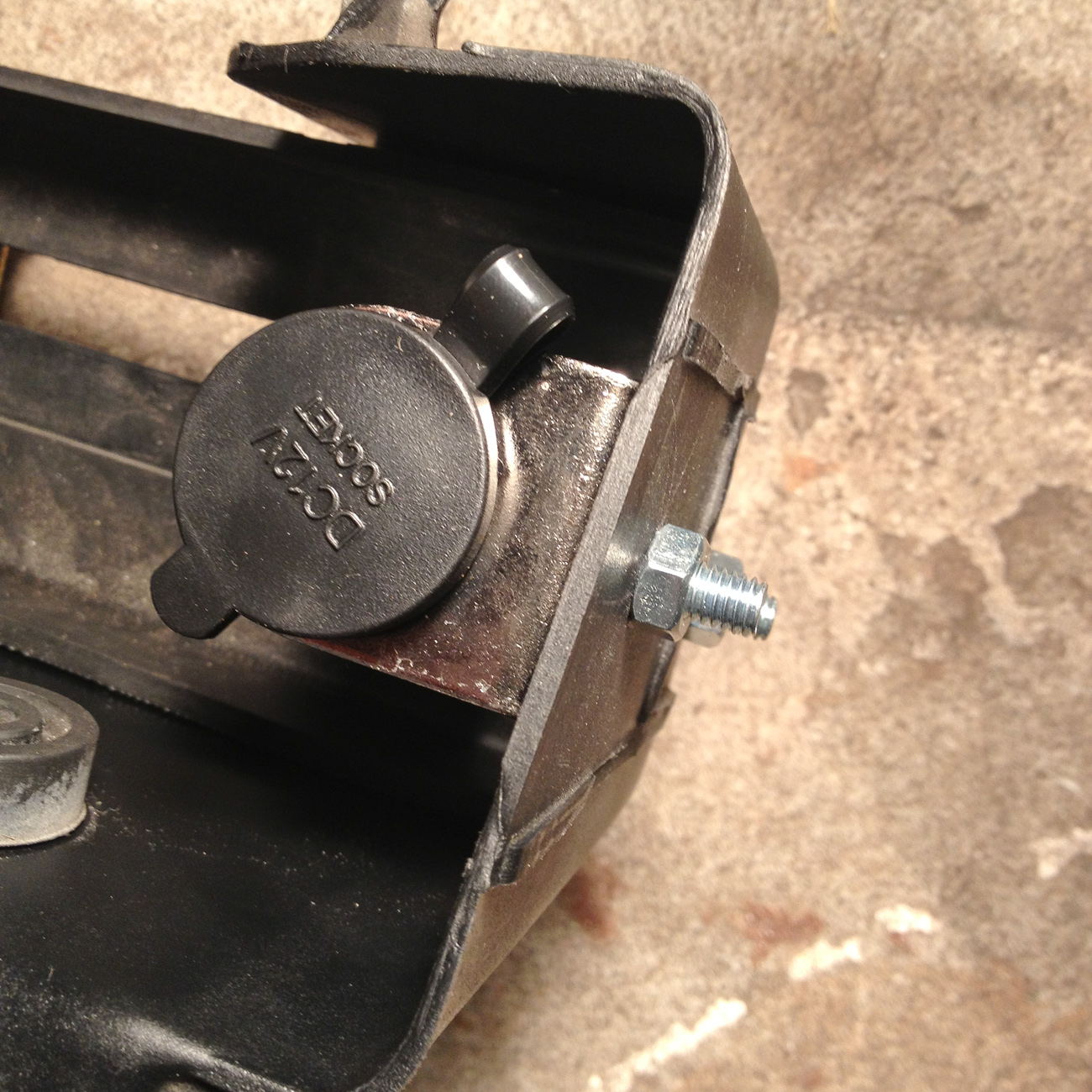 I went to an auto parts store and bought a cigarette lighter/charger port all on it's own. I snuck it into my battery box (room was made by using a super light weight and tiny Shorai battery) and then wired it into the bike.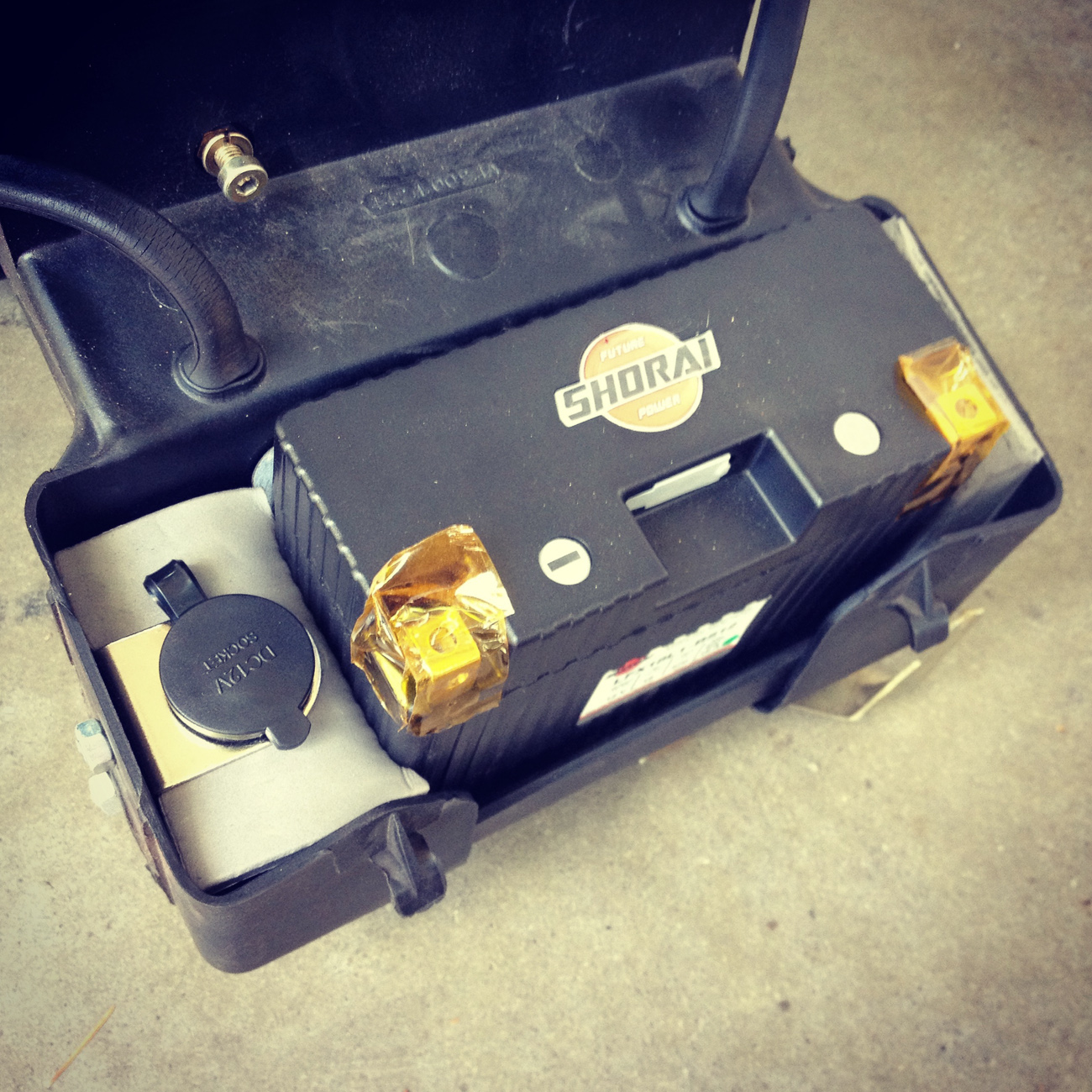 When I want to use it, I have to take off my seat, pop open the ciggy port cover, and plug my usb charging adapter into it with my iPhone cord run up over the airbox and out the front of the frame. When I park the bike, I have to repeat the process backwards, as leaving it plugged in would drain my battery.
This is a little bit of a pain, and now I have a better solution. I found this company called ZootFresh, and I was so stoked I did! They created a fancy little 2 pin SAE to USB adapter that plugs right in to your battery tender leads (if you have them… and you should). They're only $20. And hey, if you don't, they have a version that puts both of those products together.
Lastly, the issue of apps arises. What phone app acts as GPS, and a Speedo? Well, after searching, I did find a couple.
Ulysse Speedometer kicked some serious ass when I still had an Android- it even makes it possible for you to turn your phone into a HUD (heads-up display). The abilities of this App are not to be scoffed at, it's really pretty fantastic. Navigation and GPS, speed limit indicator, speedo overlay in other apps, time/date, KPH and MPH (even knots!), trip meters and saved routes, altitude and direction, average speed, top speed, multiple profiles and saved routes. Seriously… what else do you need? Okay fine, you can even change the UI color.
Here's a look at the basic vertical orientation layout. The red outline on the right shows the "speed edge" setting. This user had it programmed to display a warning over 50mph. The trip meter areas can show today, or lifetime stats.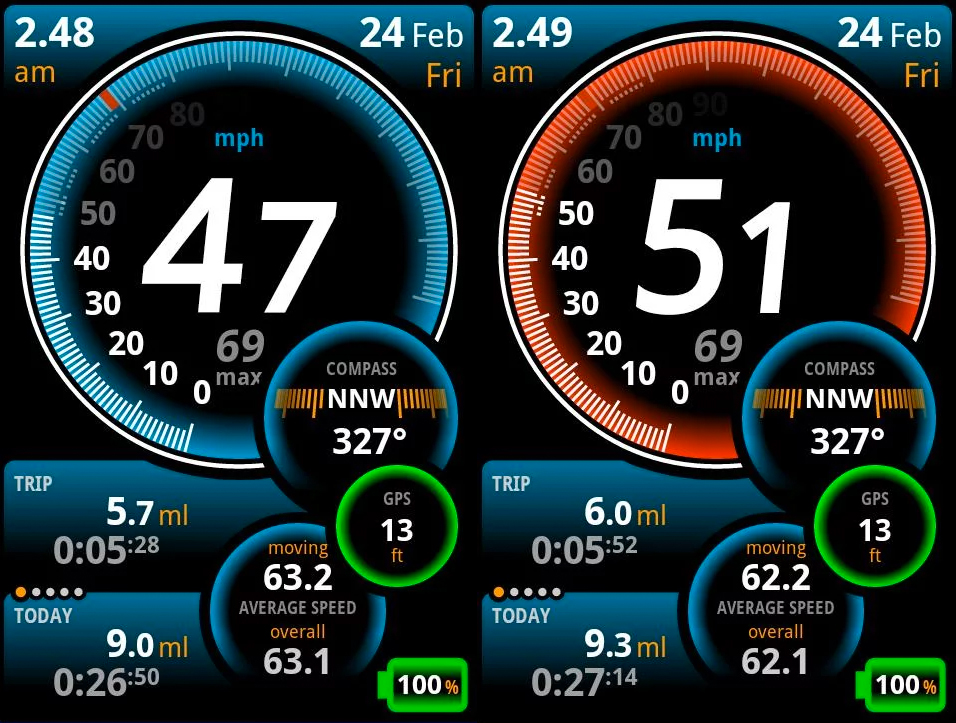 Here you can see the speed overlay while using the navigation function. The most important of all the functions. A close second, on the right, is a view of the trip meter/log which includes distance, time, date, and more.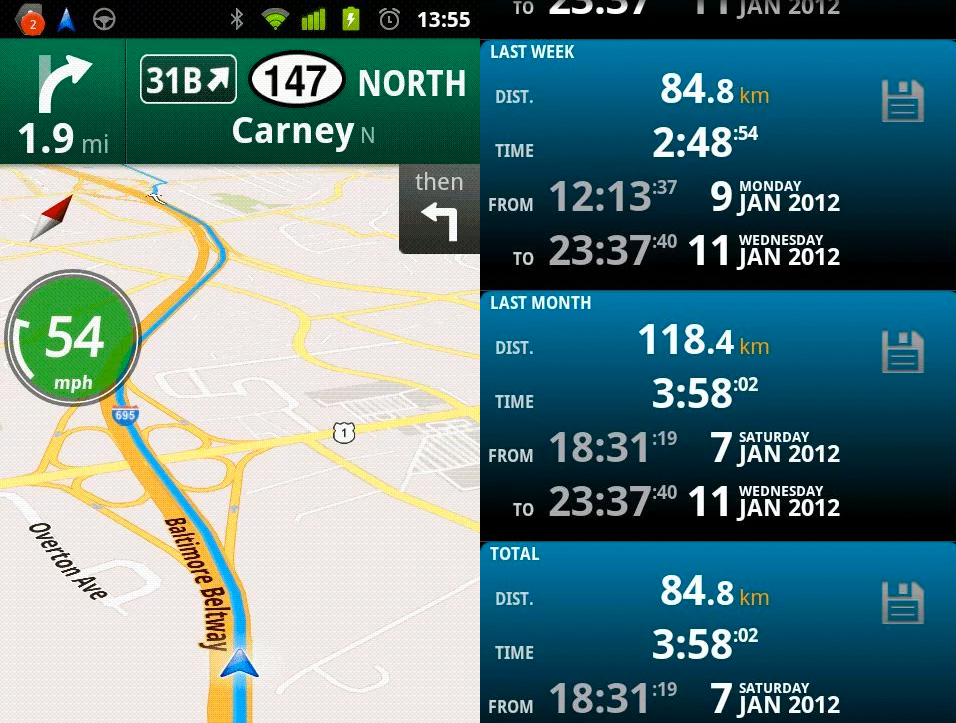 Wisepilot – As for you iPhone users (myself included) we actually got the short end of the stick on this one. Please send me a message and correct me if I'm wrong, but after looking through Apps, I could only find one that would do what I really needed. While it has many of the same functions of the aforementioned Ulysse app, they just don't work as well. If you exit out of the app, it may shut down the entire trip you set up and therefore won't keep your travel info including distance, average speed, and route. For instance I used it for a San Diego to Los Angeles trip (and return) twice. It only logged 51 miles of the first leg, and 32 of the second. Only a little bit helpful when, like me, you have no speedo, odo, or anything on your bike.
Next, the sound alerts for navigation will not go away. It's a terribly annoying sound, too. If you listen to music while you ride this will get really old really quickly. I don't like listening to music and it still annoyed the crap out of me. It does however warn you of traffic, road closures, speed limits (which is pretty handy when you missed that 30mph sign at your current speed of 65mph and want to avoid a hefty ticket.
Below you can see the live-nav mode and route overview functions. The speed is rather small on the screen on the bottom right, while the current speed limit is shown on top right- a red circle appears around it if you're speeding. It also gives you miles left on trip, or a guestimated arrival time depending on your settings. There is also a night mode function which is helpful.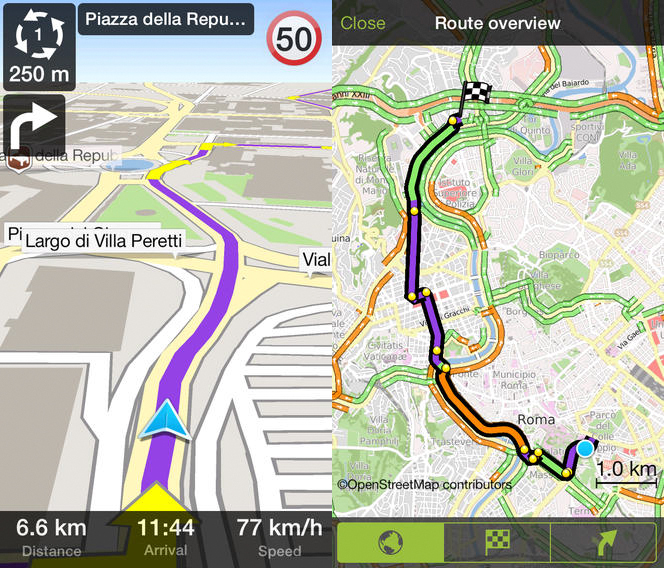 The trips functionality would be rather fantastic… if it worked all the time. On the left shows a list of trips and dates, and the right is the detail view which has starting and ending locations, distance, time traveled, and average speed.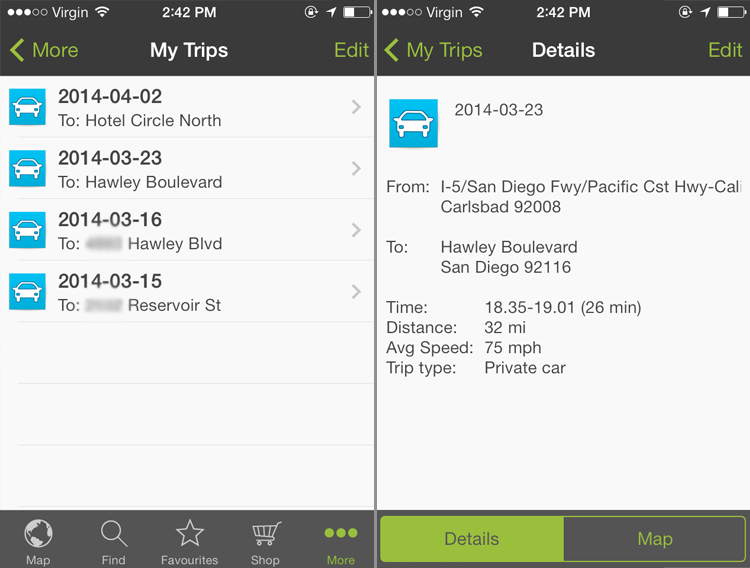 Past that kids, you're on your own. Let me know how your smartphone road trips go!

A childhood photo of the world's only female Ducati Master Tech, Hannah Johnson, hanging out with biggol' bikers.
Posted on July 14, 2014 in Blog, Gear & Gizmos, News & Features by Alicia Mariah Elfving
One Comment

for "Smartphone Tools for Smart Road Trippin'"