MotoLady Three Year Party Review
The MotoLady Three Year Anniversary was actually back on January 12th, as that was the day I started the website officially. However, the celebration took place on January 25th at Deus ex Machina USA in Venice Beach, CA at 7p.
It was a beautiful SoCal day, warm and a little bit breezy, I arrived in the nick of time (got stuck in traffic yayyyy) with a truck load of raffle items and of course Pandora. Getting her into the back of the Purple Prius Eater is always a bit of a challenge, but hell… I don't plan on doing it often.
Vince from UglyBROS USA helped me lay out raffle items which was a life saver. There were tons of amazing prizes:
The raffle was laid out almost like a silent auction where you could put your raffle tickets in for whichever prize(s) you want to win.
If you want to win the Twinline tail for your cafe racer project, you could put all of your tickets in for that. If you wear a size large Gringo helmet, you could put in for that.
Raffle tickets, Sailor jerry drinks, Pabst Blue Ribbon, and hot dogs… yay!
Brady Walker and Caroline Patterson of Ramming Speed manned the bar and BBQ all night. Thank you so much guys!
Tons of ladies folks showed up on bikes, many of them ladies on rad customs. It was really cool to see Yuri, who I've featured in the past.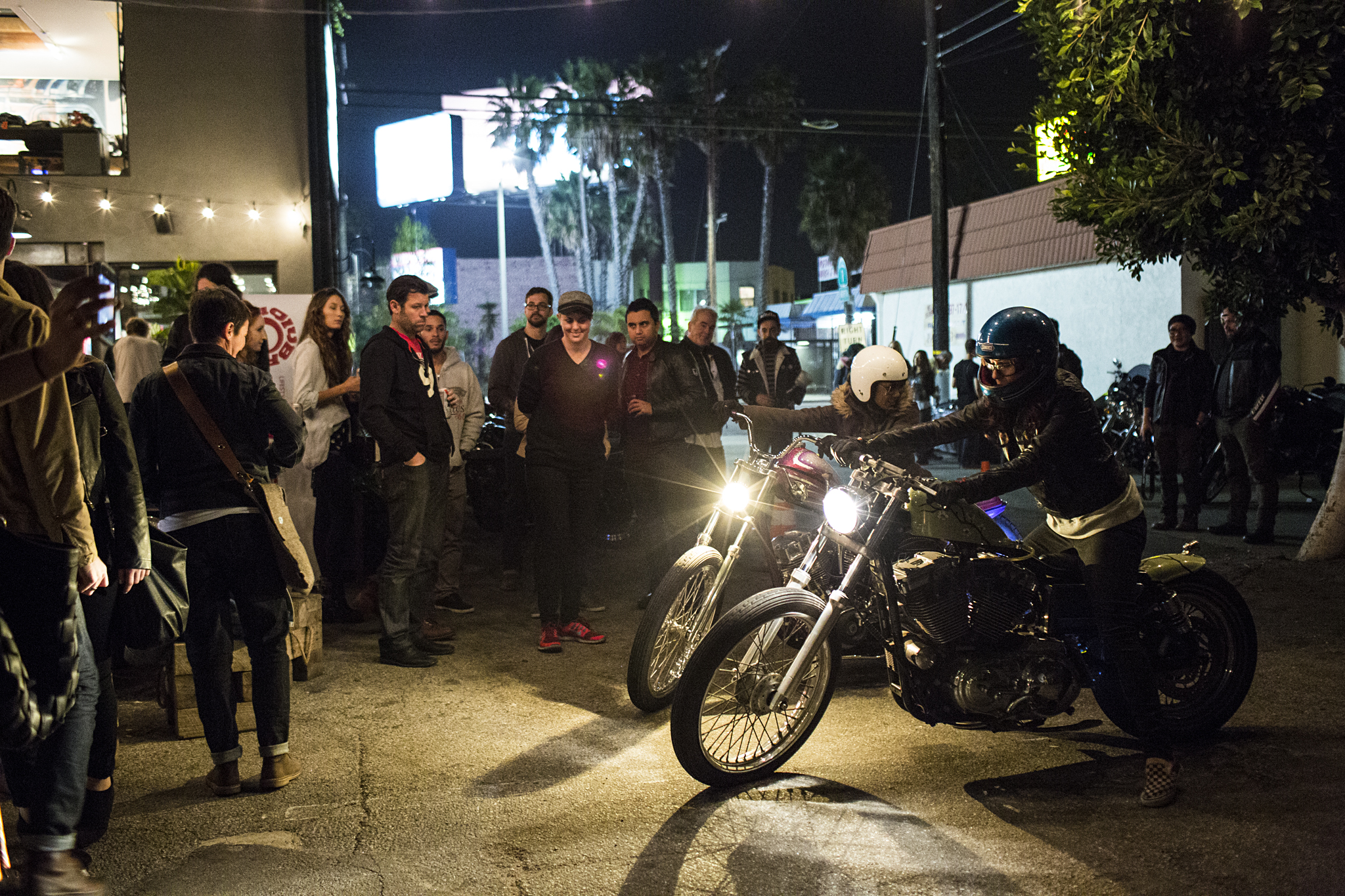 There were also some nice classics.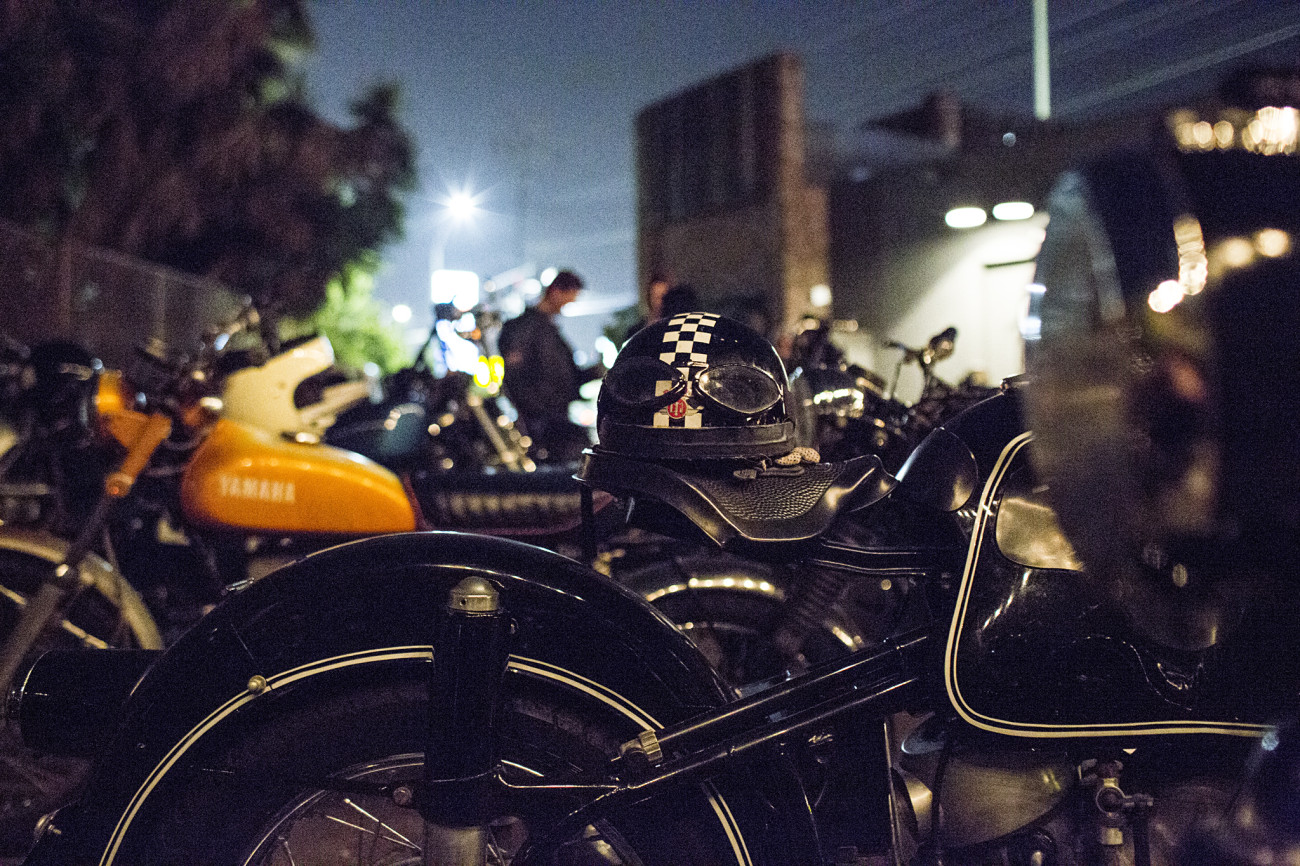 And some mopeds.
The crowd gathered to watch Two Wolves play- they came up from San Diego for the event.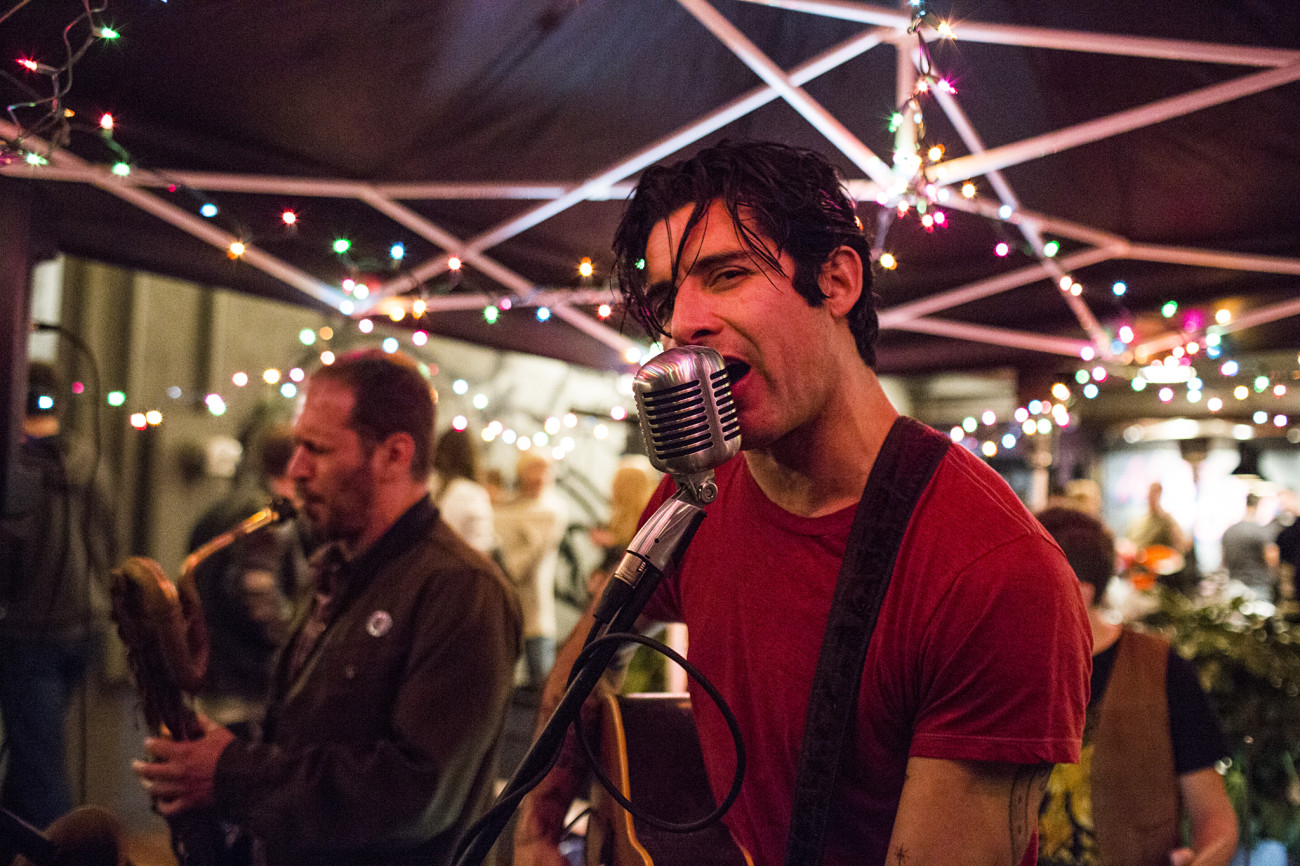 Really appreciated them coming down, their tunes are right up my alley… a little bit country and a little bit rock n roll.
My Monster was inside Deus in a nice bright area, letting people really see it in all it's sparkly glory and finished for the first time.
I can't describe the happiness I felt, finally having completed the project, just in time for the anniversary party.
Meanwhile, Christina Shook, author and photographer of the book 'Chicks on Bikes' had set up a photo booth for portraits of guests. If you had your photo taken, you can check the album here for more photos.
The lovely Stacie B. London made an appearance in one of the shots, even!
It was an absolute pleasure having Christina there to catalogue the beautiful and interesting people who came to the party.
After all the shenanigans and photos were had, drawing of the raffle winners began!
Super exciting Burly Brand slammer kit, went to a happy home!
Another motolady wins another prize- this time the Burly cafe seat.
This guy made out like a bandit, too- scored one of the Women's Moto Exhibit prints and Burly slammer kit.
This happy fellow scored the Zombie Performance 1" bars and the Bilterwell 1" waffle grips… nice!
The lovely lady who picked up a new Icon 1000 Akorp jacket.
New Icon 1000 Elsinores…
Red Hella 2 jacket….
Biltwell Gringo…
Shad was shocked to win the East Fork Supply Co. gift pack.
A very lucky winner, happy to have gotten the Twinline cafe tail.
The proud new owner of a Trophy Motorcycles hoodie, hat, calendar, gift certificate and more.
Kenny from LRMC snagged the beautiful custom helmet by Jeff Wolf. He doesn't look happy, but I assure you… he's smiling.
His lady friend took the liberty of translating his facial expression for us.
The UglyBROS gift cards went to a great home, too.
It was a wonderful night, I can't say thanks to Deus, Brady, Caroline, Vince, Jeff, Zemla, and everyone who attended enough.
Here's a few more fun shots from Christina Shook.
Thanks for three years- I appreciate you all!
All photos and content copyright themotolady.com 2014, photography by Nate Hassler, Sean Delshadi, Dave Rand, Vince Sohn, and Christina Shook.
You can see more photos/posts from the event here.
Women's Motorcycle Show photo booth gallery is here! This year Julio Bustamante ...
Learn more
Tags: anniversary, biltwell, black top society, burly brand, cafe racer xxx, california, christina shook, deus emporium, Deus Ex Machina, ducati, ducati monster, east fork supply co, event, ian halcott, icon, icon 1000, los angeles, ml three year, monster project, motolady, motorcycle, motorcycles, nate hassler, party, sean delshadi, trophy motorcycles, twinline, venice beach, why we ride, zombie performance
Posted on February 27, 2014 in Blog, Events by Alicia Mariah Elfving