Trinia and the Phoenix Project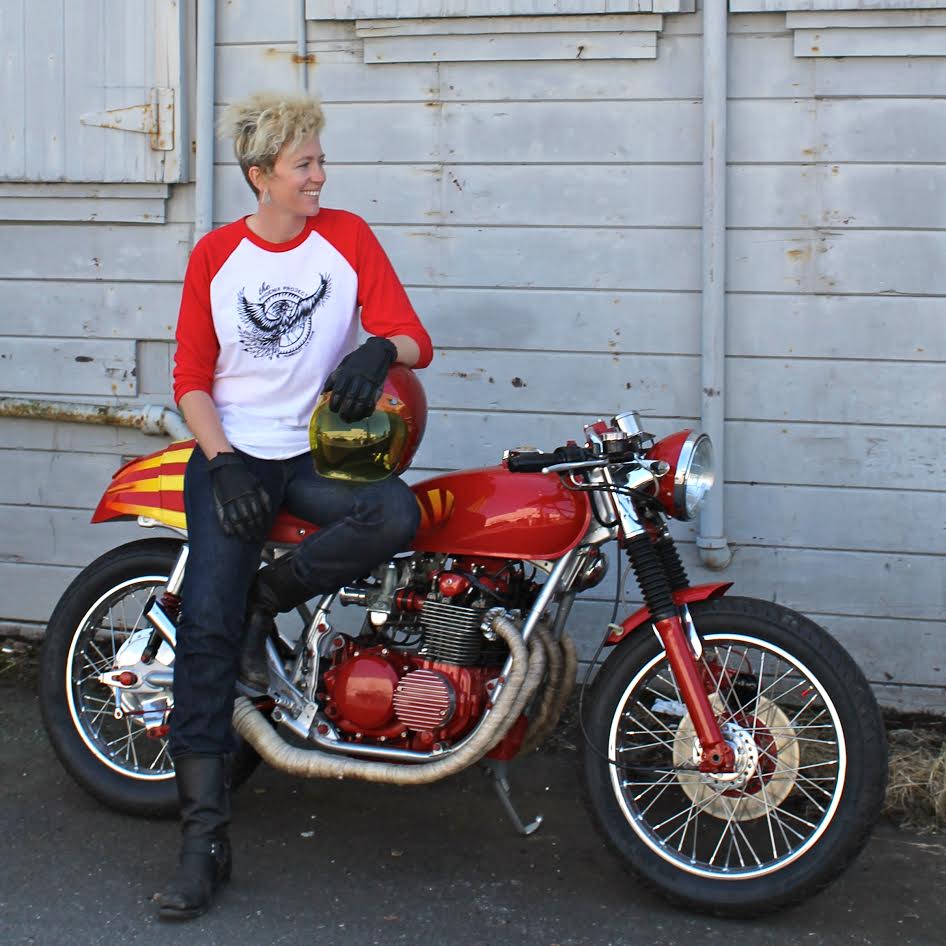 Trinia Jean is a motorcycling woman who currently lives in Humbolt County, CA. She and her wife run a screen printing business that creates awesome moto apparel called Hinterland Empire.
Last year she built a custom Honda Shadow for charity as part of the Phoenix Project, which is now in doing their second custom motorcycle and raffling it off for charity. A very interesting lady, she's lived all over the place, played professional Volleyball, studied Philosophy, and loves the outdoors. Well, anyway… I'll let her tell you about it.
"My name is Trinia, I'm 33 years old. I live in Humboldt County, but I haven't always. I played Volleyball in College at the University of Tennessee and New Mexico State University, and eventually professionally overseas. I've lived all over the US (and in Denmark) but my heart belongs in Northern California (I grew up in Sonoma County, CA). I love Humboldt because there are so many wonderful places to ride, fish, hike, and there aren't a ton of people (people are the worst). I studied English Literature and Philosophy in college, and most recently Graphic Design. My wife Jolene and I started a screen printing/design company last year in Humboldt, just about the same time I created the Phoenix Project. Our screen printing shop was also part motorcycle garage because of that.
The motorcycle I learned to ride on was a '70s Yamaha 250 my dad bought me, that disappeared not-so-mysteriously when my mom found out about it. I picked up riding again in my 30's and now it's all I wanna do. I'm currently rebuilding an '81 Moto Guzzi G5, and outfitting it with a Ural side car. I also have a '71 Honda CB350 at home that my wife is learning to ride on.
Two years ago I worked at Black Lightning Moto Cafe and I got to know a lot of really rad older guys who had amazing motorcycle building skills and were mostly retired. I created the Phoenix Project so I could learn to custom build motorcycles and hang out with my new moto savvy friends. I've built friendships with people I might never have interacted with had it not been for the project, and that's been the best part for me so far. There's also a pretty bad economy in Humboldt and the project has been a fun way to collect funds for local causes that we desperately need.
Last year's build was a '93 Honda Shadow that a local guy had in a shed. When he gave it to us it wasn't running and was pretty rough. This year we have a much nicer bike to start with, a '99 Ducati 748, that had a bad engine, which we are combining with a Ducati 996 that had been in a crash. I also have a lot more help with the project this year because last year's went so well. I had people call me crazy more than a couple times last year. This year everyone's on board.
We're selling 600 tickets for $20 bucks a piece. We sold out last year, and raised over 10k for the Humboldt Meth Abuse Awareness Project. This year we are raising money for CASA of Humboldt, which helps local kids in the foster care system."
The Honda Shadow after it's makeover: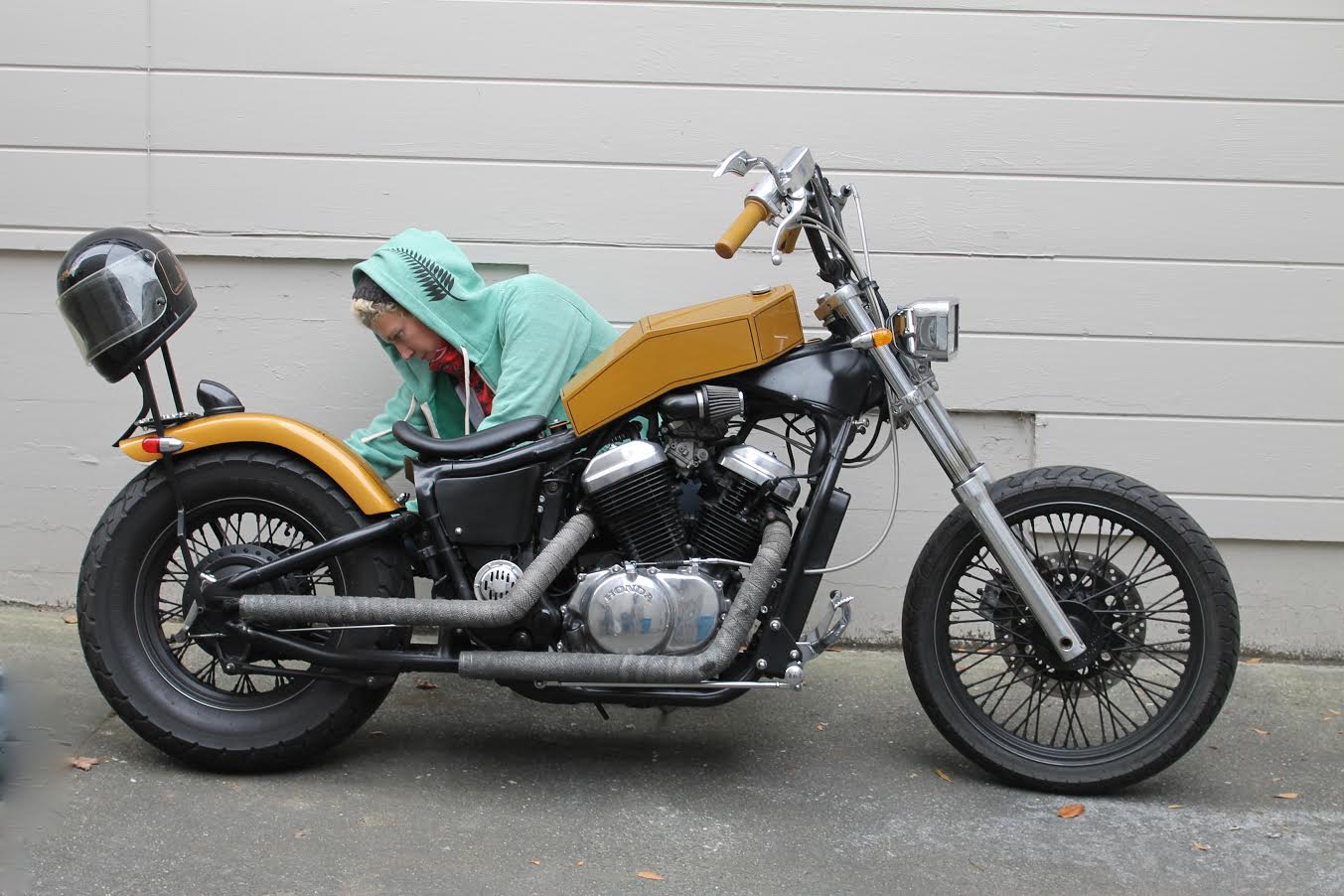 …and before!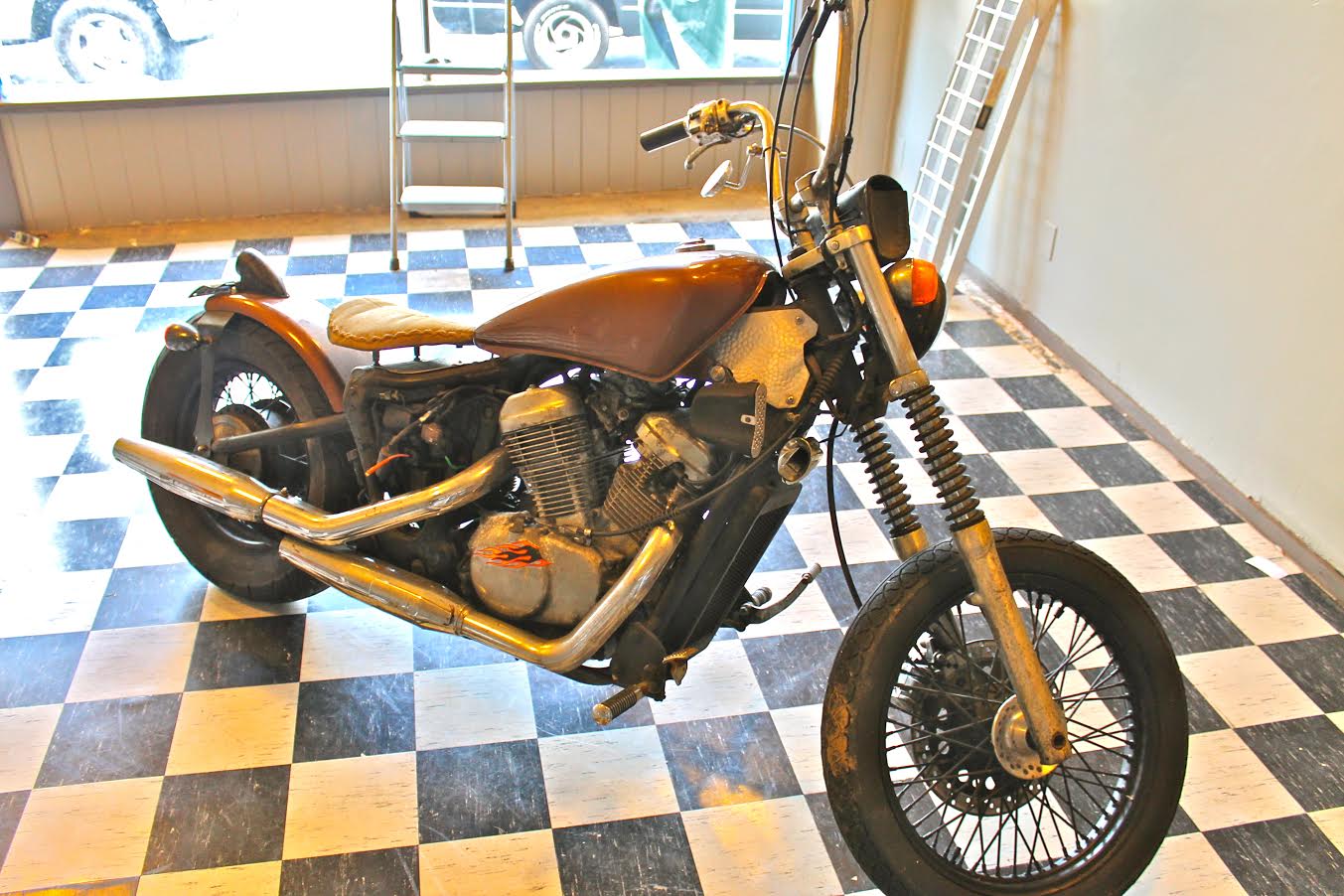 If you'd like to buy a raffle ticket, you can go to the CASA website linked above and use the donate button. Enter "motorcycle raffle" in the options and a ticket will be sent to you. Or, you can email Trinia at hinterland.empire@gmail.com.
Visit the Hinterland Empire website to see her cool creations! You can also follow the Phoenix Project on instagram.
Posted on April 14, 2015 in MotoLadies, News & Features by Alicia Mariah Elfving