Two Year Old Motorcycle Rider Kymmee Johnson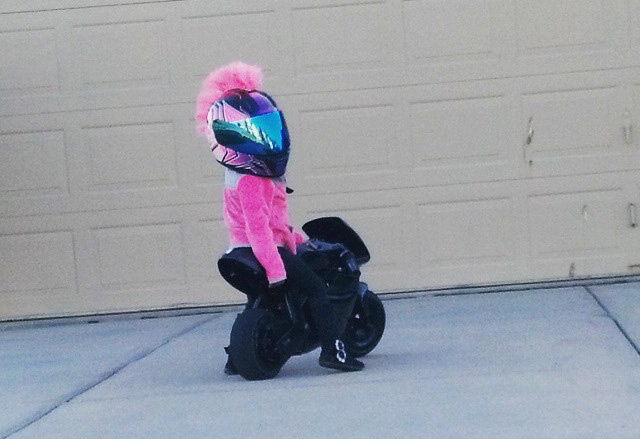 This toddler in Elkhorn, Nebraska, dons a full face helmet and hops on her minimoto pocket bike on an almost daily basis.
Kymmee Johnson is just two and a half years old and loves riding her motorcycle- and it all started at 15 months old when her parents gave her a big wheel. For her birthday in October, they picked her up a little bicycle which she stayed on 24/7- watching TV on it, riding around the house trying to race everyone, in the basement… they were inseperable. So, for Christmas, her mom Angelina bought her a pocket bike.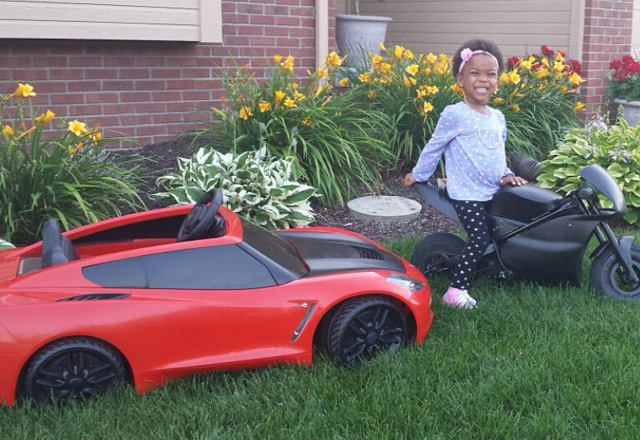 When they took her out to the side of the house to show her how to use the throttle, she got to the other side of the yard and promptly crashed for the first time. But, like any motorcycle maniac, she was unphased- she popped back up, hopped back on, and started again. At first she rode around the house, and after she got the controls down, they took her to a nearby park with paved walkways winding all around the grounds. "That's where she got her riding skills down," Angelina explained, "different parts of that trail helped her big time with leaning." This little girl shreds her tires- and while at first she was nervous to lean over, she's getting it down pat, now.  "The neighborhood loves her- eveytime she is out riding parents and kids stop what they're doing to watch her. Kymmee knows that they love her."
Kymmee's instagram page already has over 7,000 followers- and it's no wonder why. We're all super excited to see where her love for riding takes her!

As for the regular kiddo stuff- she loves all things two wheeled and speed related, her Doc McStuffins toy, and dressing up like a princess. Her fav food ever are cheese puffs- followed by strawberries, peaches, applesauce, and pizza!
Don't know 'bout y'all, but she sounds pretty awesome.. besides just being a two year old motorcycle rider. I also love strawberries, pizza, and all things speed related!
Visit her instagram @kymmee_johnson to see VIDEO of her riding!

Video, photo gallery, and party breakdown from the third annual Women's Motorcycle Show is here!
Posted on July 2, 2015 in MotoLadies, News & Features by Alicia Mariah Elfving
3 Comments

for "Two Year Old Motorcycle Rider Kymmee Johnson"