Women's Motorcycle Show 3 Review (video)
Without further ado, the third annual Women's Motorcycle Show video and review are here!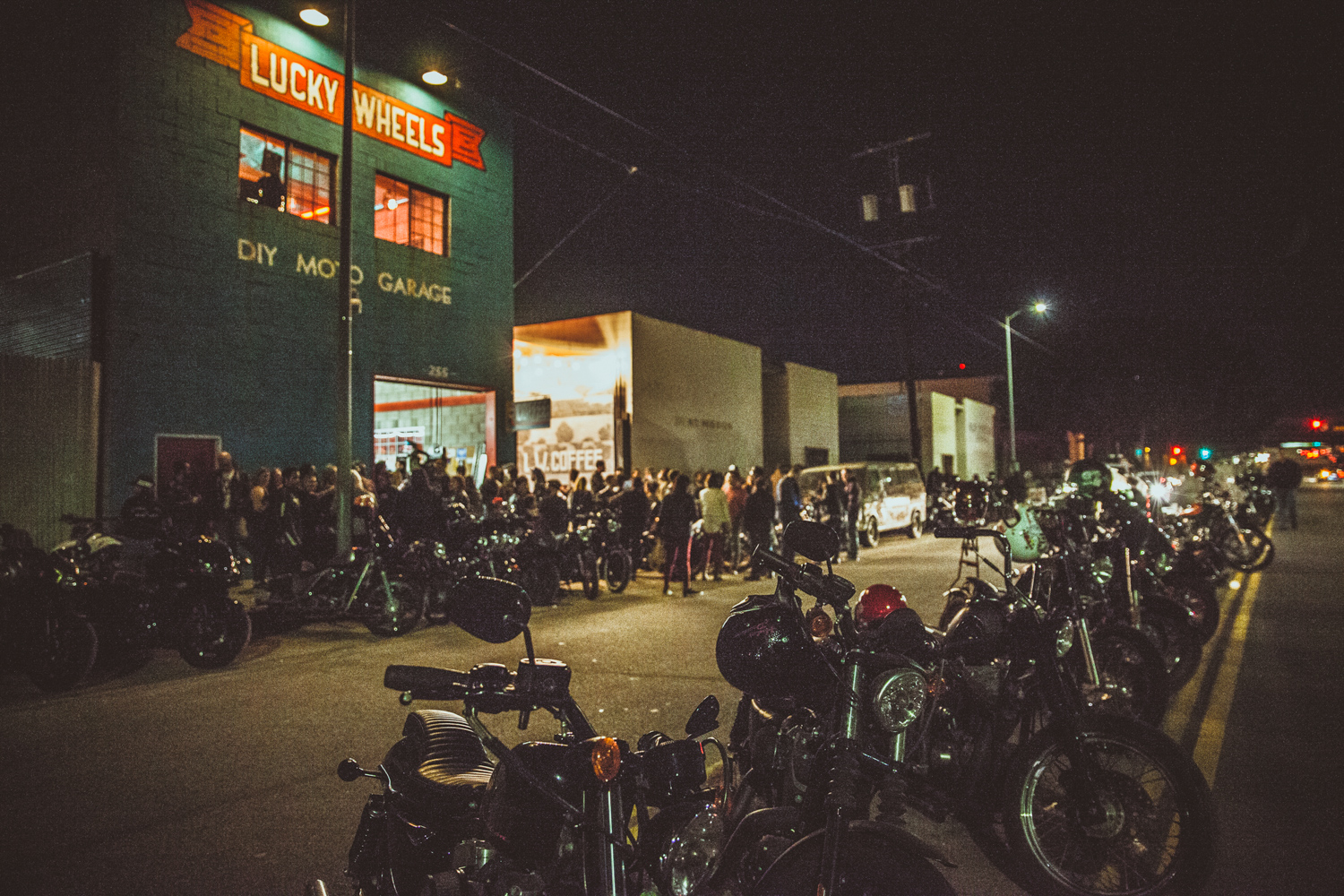 From hundreds of bikes lining the streets, live music and beautiful custom motorcycles, to the police shut-down just before the night was over… talented rider and writer Brittany Morrow paints a picture of the party from start to finish in this guest author Women's Motorcycle Show article.
For several years Alicia Elfving and a small dedicated staff have been throwing an anniversary bash to celebrate the launch and success of TheMotoLady.com. The most recent event, sponsored by Bell Powersports and held on January 13, 2018, answered the call, "If it's a party you want, a party you'll get." What is now solidly established as an annual must-attend affair, the Women's Motorcycle Show has evolved into a full-blown one-night extravaganza for embracing all things custom, quirky, badass and genuine.
Saturday night's festivities consisted of "a little something for everybody." Whether you were interested in socializing with your fellow enthusiasts over coffee, BBQ and/or PBR, oogling builder projects to the sounds of a scratchy-voiced crooner, one-on-one DIY demos, or just a chance at winning one of the substantially awesome raffle prizes – if you rolled up to Lucky Wheels Garage, you had come to the right place.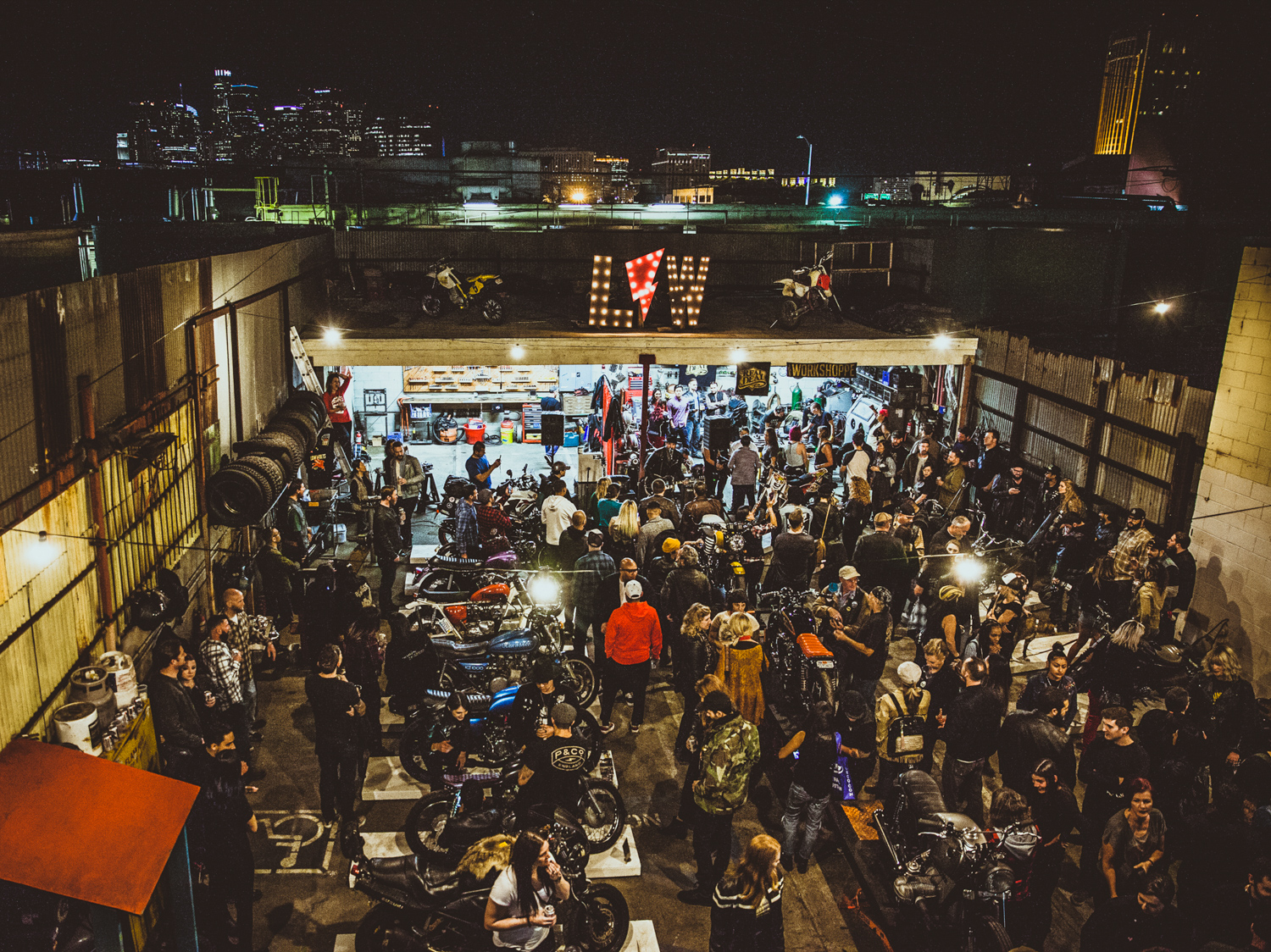 The first and most obvious aspect of a good show is the audience, both quality and quantity. The Women's Motorcycle Show has been growing in attendance every year, and there's no doubt this was the largest crowd to date with a conservative estimate of 1,000 people coming through. More important than the numbers though, and much more interesting, was the diversity of the group the event attracted. With just as many women as men, no specific cliques or groups outnumbered or overshadowed any other. There was absolutely no drama amongst attendees despite representation from all ends of every spectrum of human imaginable. In this aspect, the show succeeded with flying colors at bringing riders of all shapes, sizes, genders and backgrounds together in one place.
Loud, bustling, and a bit chaotic even before walking through the entrance, the atmosphere was everything but exclusive. The immediate options were wide open: grab a bite, a beer, a latte or a sweatshirt while conversing with friends both old and new. Standing in line felt more like an opportunity than a burden. Admittedly not the most intimate of settings, the only thing you couldn't find was a quiet corner in which to hide. However, if you happened upon the all-women handlebar arm wrestling competition upstairs, you were probably too busy vying for a better view to notice the close quarters. From the moment of arrival, one mantra rang true: No matter who you are, you can have a good time here.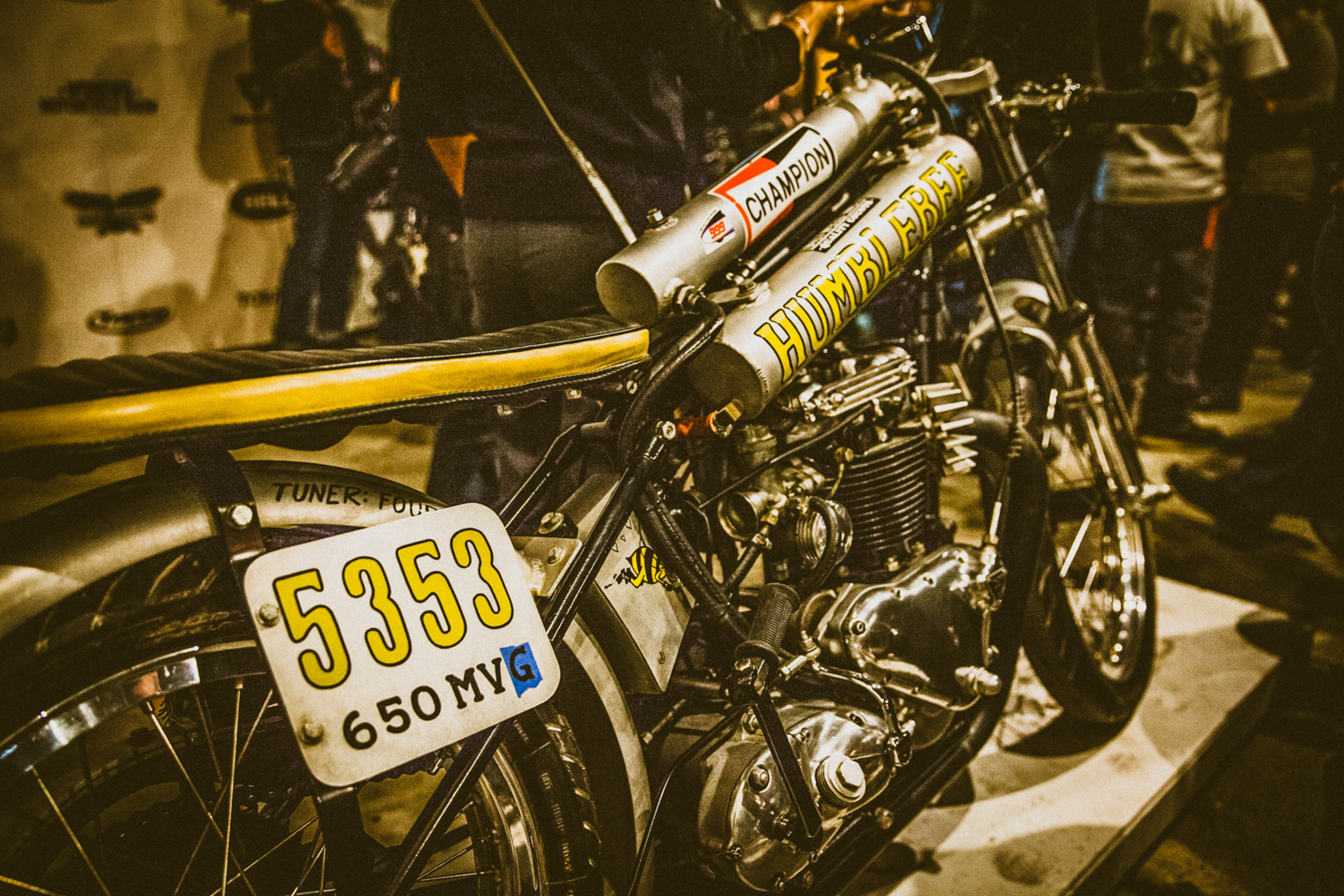 Clearly, the second main attraction of the night was the posse of custom and restored motorcycles – 27 of them to be exact. Like the Kathryn Heigel rom-com (can't make this up if I tried), each bike was a character and played a part in the saga that unfolded throughout the evening. Most of the machines had to speak for themselves because the accompanying music drowned out any attempts to identify or converse with the builders while in the show area. The party atmosphere reigned over any semblance of a museum with precious artifacts, and never did the show feel stuffy or haughty.
Unfortunately, the event was cut short by the police due to capacity, noise and parking issues (I did say it was a party, right?), so best in show, people's choice and other awards were not given in person at the event.
The third home run of the evening was the inclusion of live DIY demos, which we have seen before at events like Babes Ride Out. When it comes to the women of Real Deal, a feminine touch means so much more than expected. The DIY displays, which included tutorials from Jessi Combs, Theresa Contreras and Joy Fire, truly felt like living art with teachable moments thrown in for good measure. Not only did the skills being showcased rival the best in the business, but these women also added an air of patience and privacy not readily seen elsewhere. If a true hands-on experience makes your heart flutter, I dare you to watch Joy Fire blacksmith for 30 seconds without falling in love. I caught myself, and fifteen strangers, nearly drooling as we stood watching red hot metal melt and twist on demand. It felt almost voyeuristic, and gosh darn it, I liked it.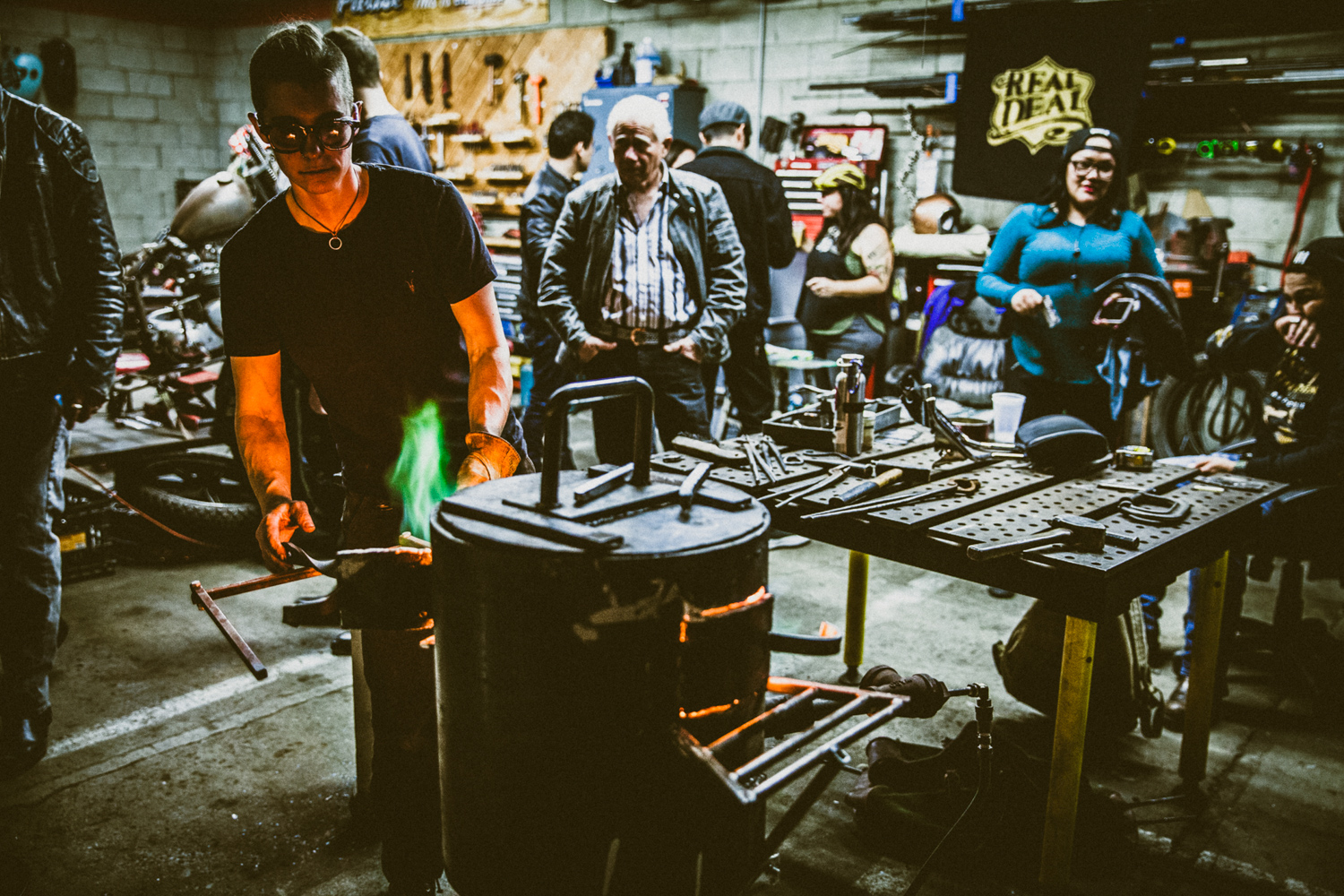 Last but not least, the Women's Motorcycle Show raffled off a slew of rad items donated by equally as rad sponsors. Although not planned as a social media give-away, the party's abrupt ending forced Alicia to announce winners live via Instagram on Sunday after the dust had settled. Surprisingly, this method was wildly successful and nearly 200 viewers watched in anticipation as ticket numbers were drawn and read. The highly coveted Bell Helmet certificates, ROAME shoes, REV'it certificate, Pirelli tires and ICON 1000 jacket were just a few of the many prizes people were collectively holding their breath over. A full list of raffle prizes and winning numbers can be found here. Lucky winners had until January 31 to claim their bounty.
Check out the video and photo gallery–it's your last chance to participate in what might be the biggest party of 2018. I think it is certainly up for the challenge.
I want to say thank you again to sponsors, in no particular order:
Bell Powersports, Throttle Roll, Distinguished Gentleman's Ride, Russ Brown Motorcycle Attorneys, The Ride of My Life, Torco Advanced Lubricants, Wolfman Luggage, Honda Powersports, REV'IT!, Tobacco Motorwear Company, Triumph of LA, Silodrome, and Sena Bluetooth.
Photos by Mariya Stangl, copyright Women's Motorcycle Show 2018.
related: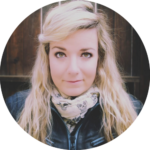 In 2005, Brittany was involved in a life changing accident as a passenger on a GSXR 750. She wrote a first-hand account of her experience on the first anniversary of the crash–that article went viral. Due to the overwhelming response to her story, Brittany's dedicated her life to the promotion of motorcycle safety, motorcycle gear, and rider education.
Albuquerque, NM | website ≫

MotoLadies unite! Hannah Johnson, me, and Janell Mattson outside MotoCorsa. We're holding the book "Chicks on Bikes" by Christina Shook.
Posted on April 6, 2018 in Events, News & Features by Brittany Morrow